Transform ordinary furniture into extraordinary centerpieces with these End Table Makeover Ideas! These are ideal for every room's aesthetic!
If you're looking for ways to revamp your home decor without breaking the bank, consider these End Table Makeover Ideas. With a little creativity, you can turn ordinary end tables into eye-catching conversation pieces.
Read the Best DIY Wood Coffee Table Ideas here
---
End Table Makeover Ideas
1. End Table Farmhouse Makeover
Transform your end table into a rustic farmhouse masterpiece by applying whitewash or chalk paint. Sand the corners for a distressed look, and finish with antique drawer pulls. This is an excellent project for individuals who have farmhouse-inspired home interiors.
2. Metallic Painted End Table
Instead of throwing your old end table, give it a touch of luxury with metallic paint in gold, silver, or copper. This works especially well for tables with intricate designs, highlighting their beauty.
3. Vintage Map Overlay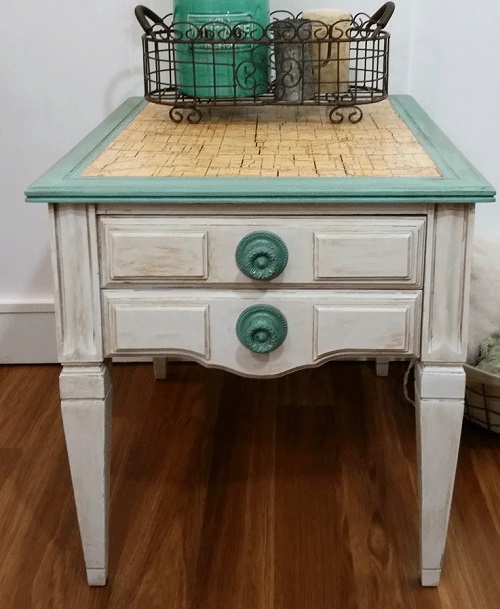 Give your end table a quirky makeover with a vintage world map. This adds a sense of wanderlust and a conversation-starter element to your living space. You can take this project to the next level by adding a layer of clear epoxy resin over the map. Hop to this detailed article to learn more about this project.
4. Stencil End Table Makeover

Use stencils and spray paint to create intricate designs on your end table. From Moroccan motifs to geometric patterns, the options are endless. Experiment with contrasting colors or gradients to add depth and dimension to your table's surface.
5. Monochrome End Table Makeover
Paint your table in a monochrome color scheme of black and white. This minimalist approach adds a touch of modern sophistication. To enhance this look further, consider incorporating matte and glossy finishes.
6. Industrial Edge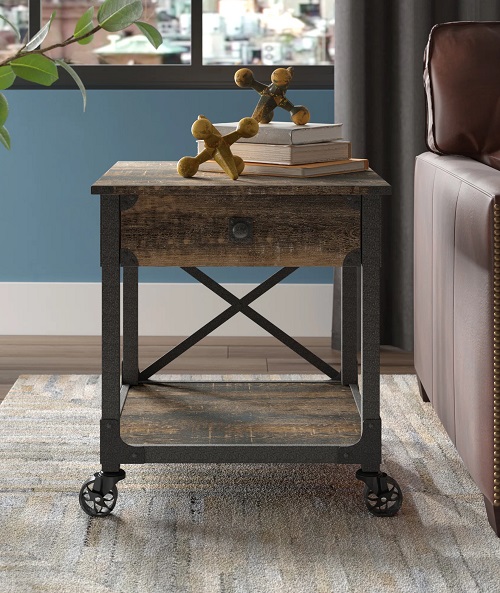 Add industrial wheels and metal accents to your wooden end table for a unique, functional piece. This look combines aesthetics with practicality. Additionally, you can attach a small, vintage-style plaque or label to give your table an authentic industrial feel. This not only makes the table visually appealing but also adds a sense of history and character to the piece.
7. End Table Mosaic Makeover
Create a mosaic design on the tabletop using broken tiles. Seal it with grout for a durable and eye-catching surface. To make this mosaic design stand out, select tiles pieces in various shapes and sizes to create a mosaic that's both visually captivating and unique. For this makeover project, you can use a color scheme that complements your room's decor.
8. Natural Stone Update

Swap out the tabletop with a natural stone like marble or granite. This will give the end table a luxurious and durable finish. To add a touch of elegance, choose a stone with striking veining or unique patterns. Additionally, you can seal the stone to protect it from stains and make maintenance a breeze.
9. Floral Decoupaged End Table

Elevate your end table's aesthetic by trying out floral decoupage. Beyond applying decorative paper with floral designs, you can enhance this idea by selecting papers that resonate with the season or your personal style. Don't forget to seal the decoupage with a clear, protective finish to ensure its longevity.
10. Leather End Table Update
Transform the look of your old end table by covering the tabletop with faux leather. This brings a warm, textural element to the room. Add decorative stitching along the edges or emboss a subtle pattern into the leather for visual interest.
11. Retro Revival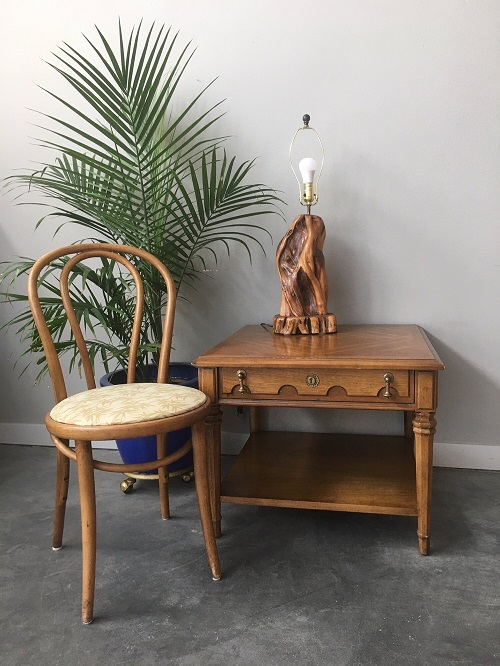 Paint your end table in vibrant colors like teal or mustard to evoke a retro vibe. Complete it with vintage hardware, like drawer pulls or knobs, with a retro design for added charm. Among the various end table makeover ideas, this project stands out.
12. Two-Toned End Table
Paint the legs of the table in a different shade from the top for a two-tone effect. Choose colors that complement each other for a balanced look. You can experiment with different painting techniques for the top and legs. For instance, use a distressed finish on the legs while keeping the top sleek and smooth.
13. Faux Marble Effect

Use a sponge and paint to create a faux marble effect on your end table's wooden top. Seal it with a gloss finish for a high-end look. To increase the visual appeal, create realistic veining patterns and subtle color variations. Additionally, you can apply multiple layers of clear gloss finish to achieve a polished, marble-like surface.
14. Lighted End Table With Glass Top

Transform your glass-topped end table into a functional piece of art by incorporating built-in lighting. Consider adding a dimmer switch or remote control to adjust the lighting intensity. Additionally, you can customize the glass top with etched or frosted designs to diffuse the light beautifully.
Read the DIY Chair Cushions here