Bring home the beachy appeal with these decorative seashell craft ideas. The best thing is that you can do most of these ideas with kids!
1. Seashell Balls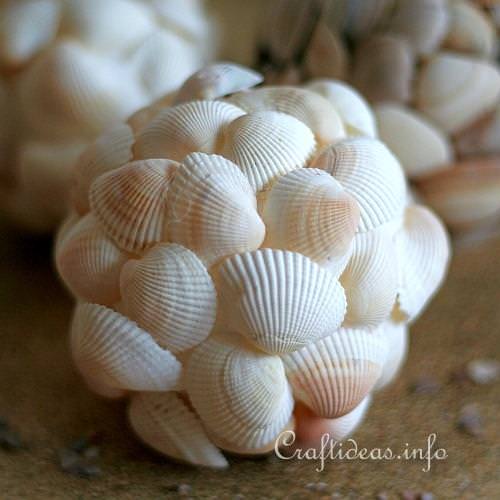 Decorative seashell craft ideas can easily transform the look of your interior. This simple idea can infuse a coastal aura to your boring side table. Visit craftideas for the tutorial.
2. Seashell Wreath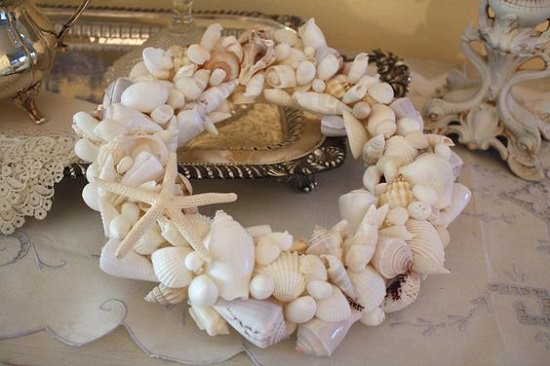 If you're guilty of collecting too many seashells that you can't figure out what to do with them, consider making this beautiful wreath for your front door. Get details here.
3. Seashell Heart Door Hanger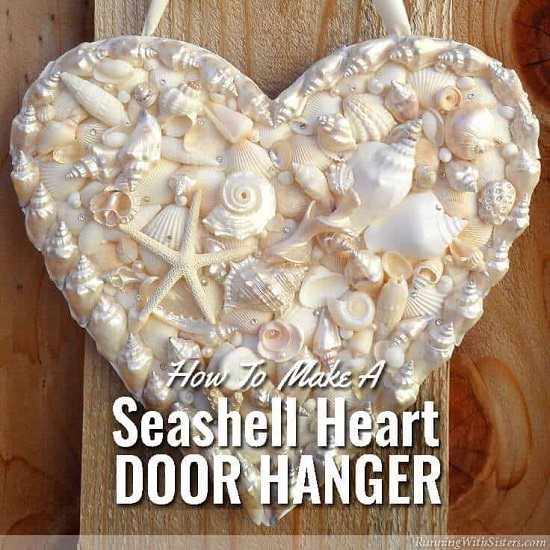 Flaunt the pearly beauty of shells by stringing tons of them into a summer-special door hanger. Check out this post for details.
4. Beach Drift Wood & Broken Shell Rattles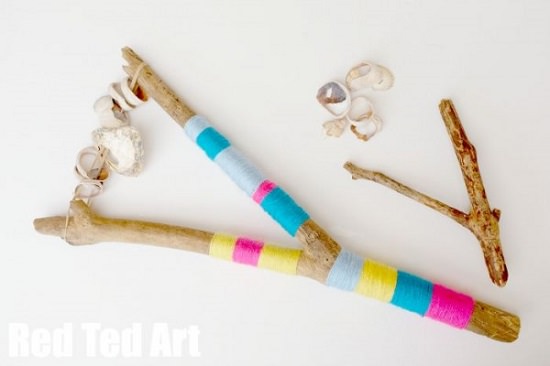 This charming rattle found here is the perfect example of upcycled nature finds.
5. Seashell Windchime Craft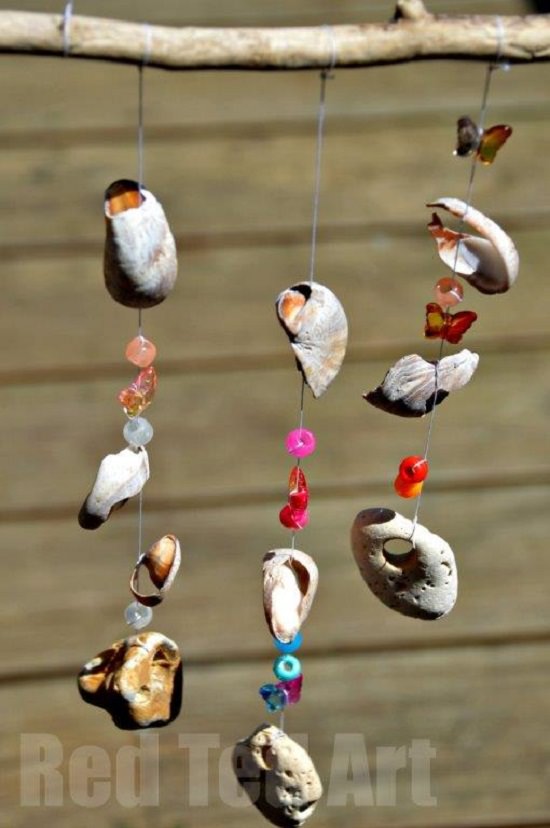 This seashell windchime is for feeling the sea with every breeze even when you're miles away.
6. Decorative Seashell Craft Ideas: Pendant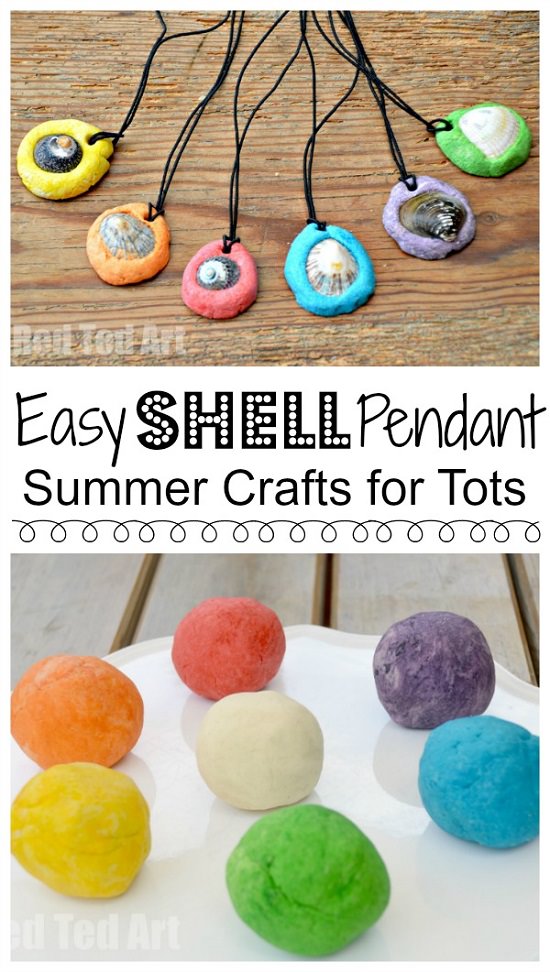 If you're looking for a fun and easy salt dough craft that kids will love, here is something for you.
7. Ombre Glittered Seashell Ornaments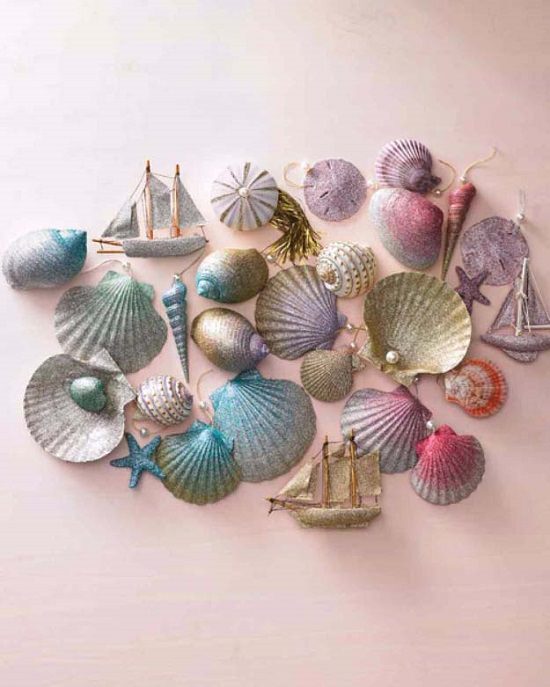 Dusting different seashells with colorful glitter makes them perfect as Christmas ornaments. The instructions are at MarthaStewart.
8. Decorative Seashell Craft Ideas: Keychains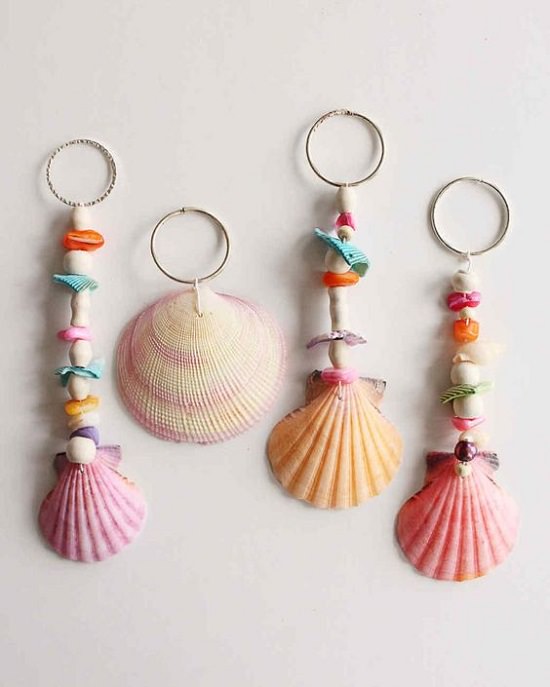 Strapping on these seashell DIY keychains to your backpack is an excellent way to carry summer freshness with you. Learn how to make them here.
9. Seashell Garden Pots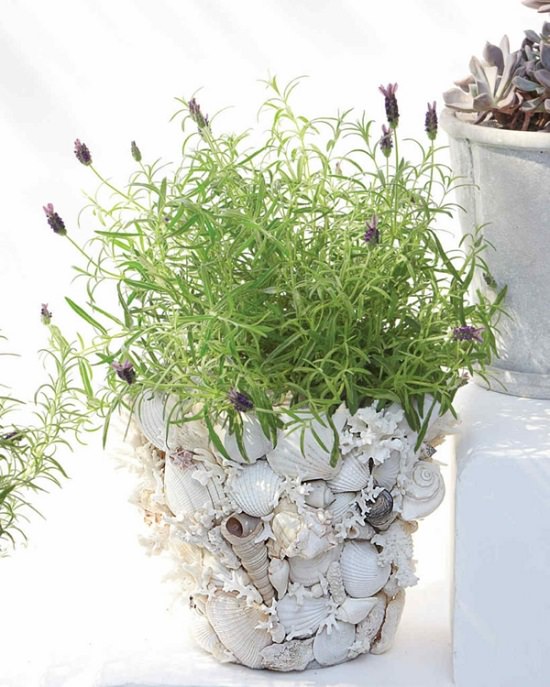 This seashell planter comes with tons of texture to complement the glossy green foliage of your houseplants. The step by step tutorial is here.
10. Seashell Votive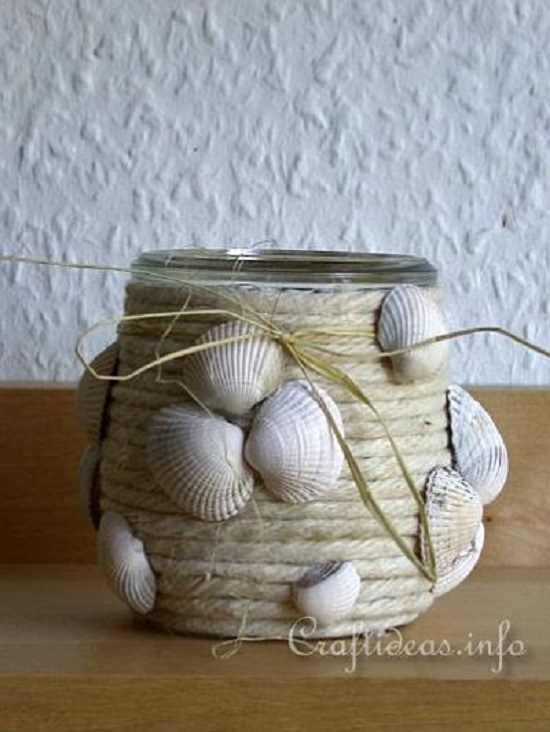 The soft, natural undertones of this seashell votive make it a nice addition to your meditation altar. To know more, click here.
11. Seashell Spoons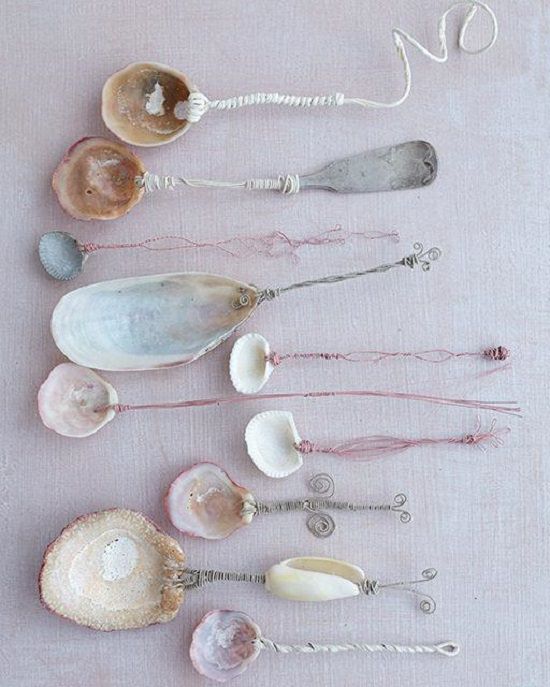 Take advantage of different sizes of seashells to measure out spoon size and serve food. This cool idea is available here.
12. Seashell Angels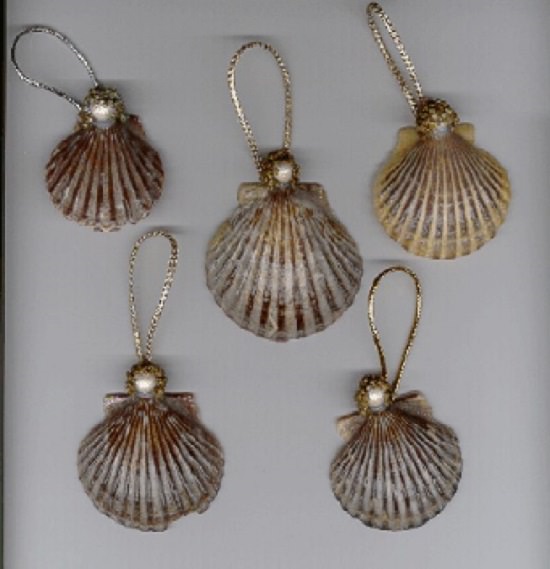 This dreamy artwork is a nice way to bring magic to your walls, as we found here.
13. Seashell treasure box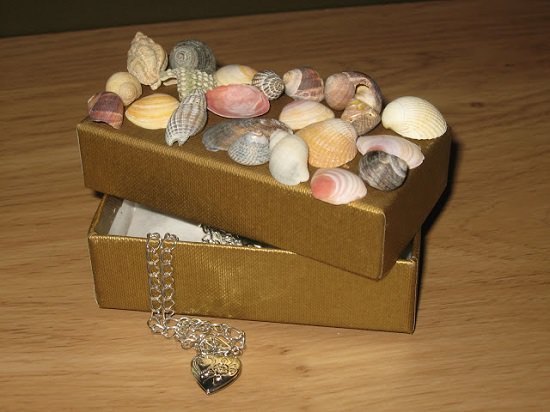 Here's the perfect solution for all you seashell hoarders. Safeguard them by utilizing this seashell treasure box.
14. Seashell Tote Bag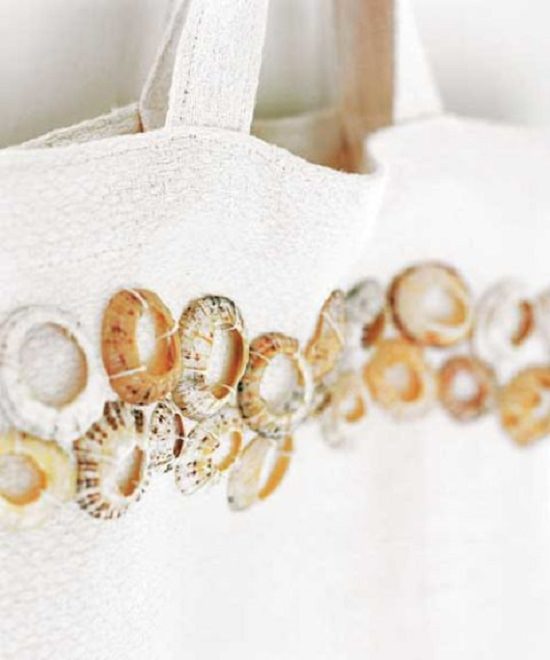 Can't get enough of seashells? Sew them on your favorite tote bag for a chic makeover. Visit CountryLiving to know how!
15. Metallic Seashell Candleholder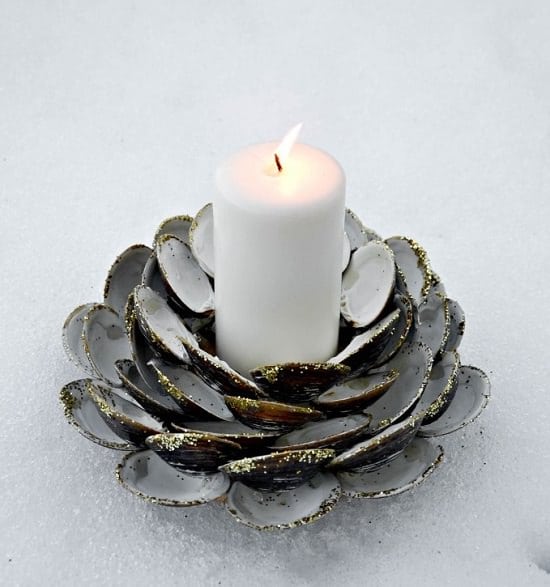 If naturally toned seashells are too mainstream for you, here's a cool way to give them a royal look.
16. Seashell Koalas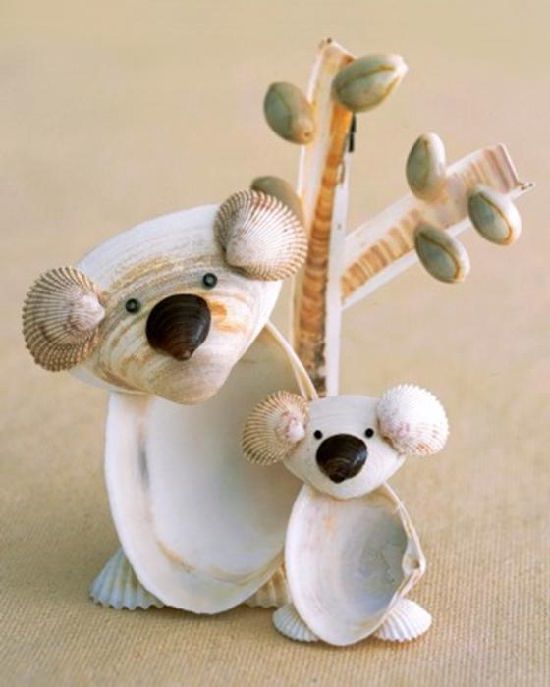 This adorable DIY idea will keep your kids engrossed in their vacation. See this post for instructions.
17. Shell Specimen Pedestal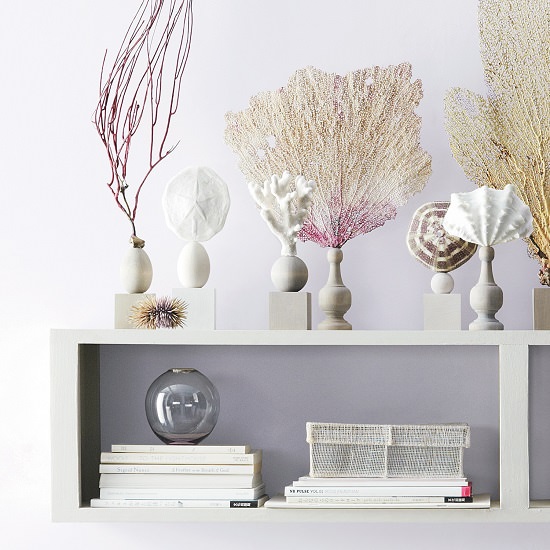 Handmade pedestals make sure your assortment of seashell specimens retain their charm. Know more by reading this post.
18. Oyster Shell Dish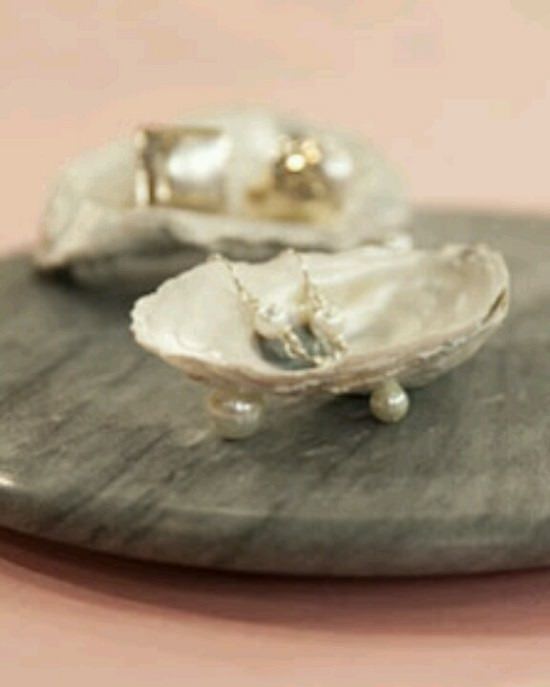 This ethereal oyster dish keeps all your regular accessories in one place. The simple steps to make it are here.
19. Decorative Seashell Craft Ideas: Frame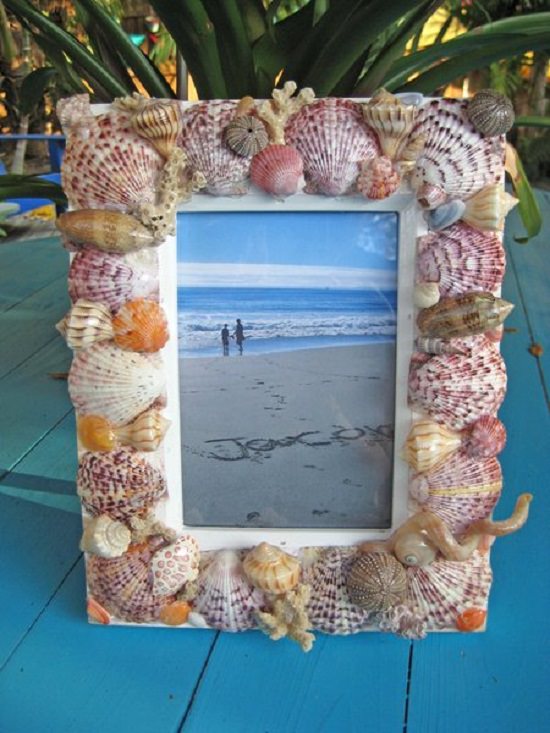 Preserve the pictures of your beach holiday in this charming seashell photo frame. Here's the complete tutorial.
20. Crushed Shell Frame and Candle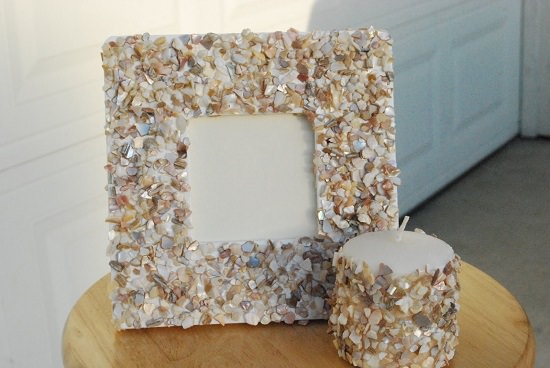 Embellish ordinary photo frames with crushed seashells for some beach bling. Take help from this post to make it.
21. Seashell Poetry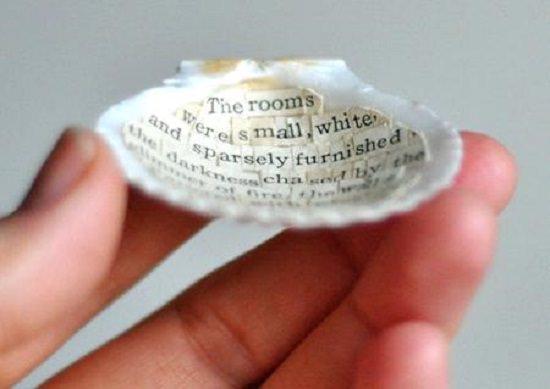 Combining poetry and art, this unique craft is a reminder of happy days. Check out this article for steps.
22. Painted Seashell Craft – sunset scenes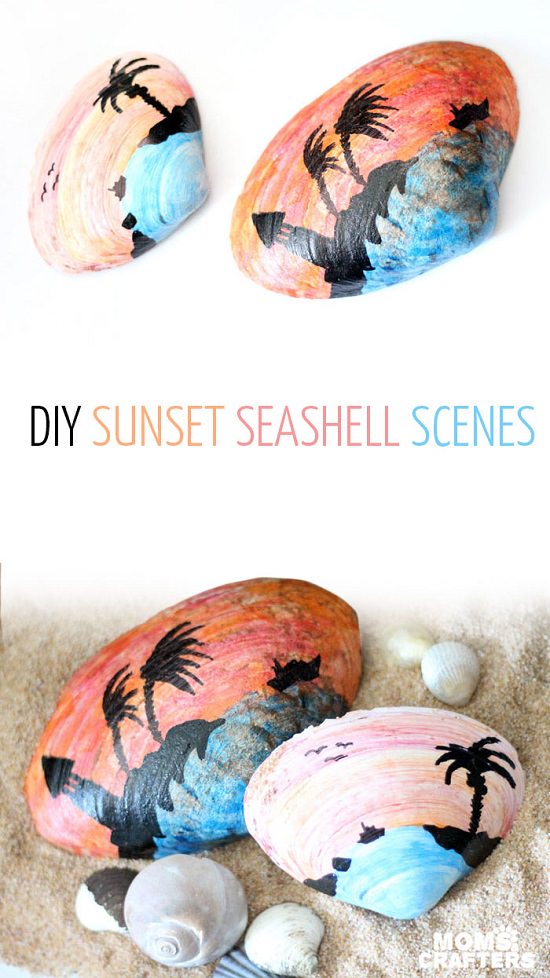 Large flat seashells are the perfect canvas for painting beautiful scenery. Check the tutorial here for this seashell craft idea.
23. Ocean Diorama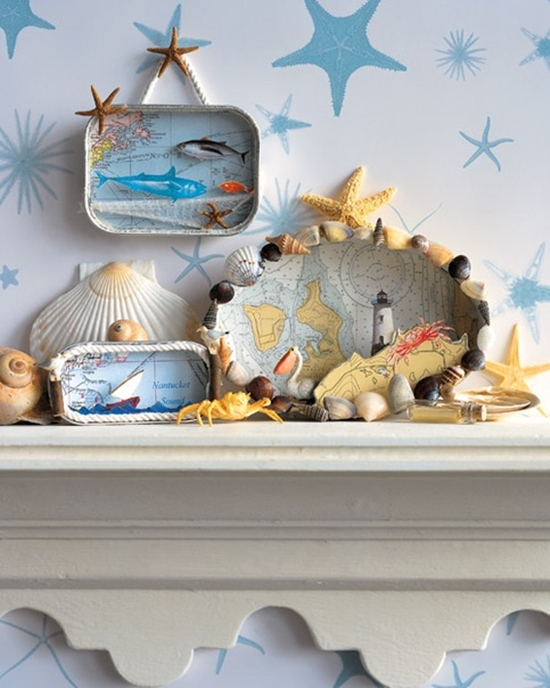 Capture a slice of ocean life with this mesmerizing piece of artwork involving basic craft supplies. Get instructions here.
24. Seashell House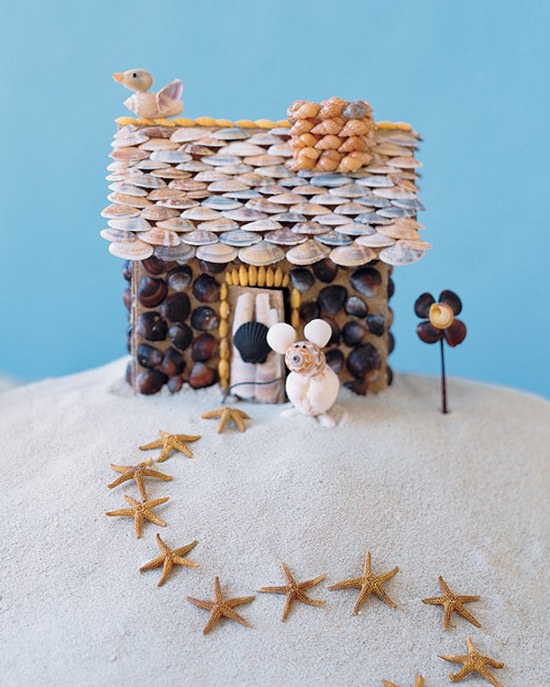 This cardboard beach house topped with seashells is enough to enhance the beauty of any space.
25. Seashell Soap Dish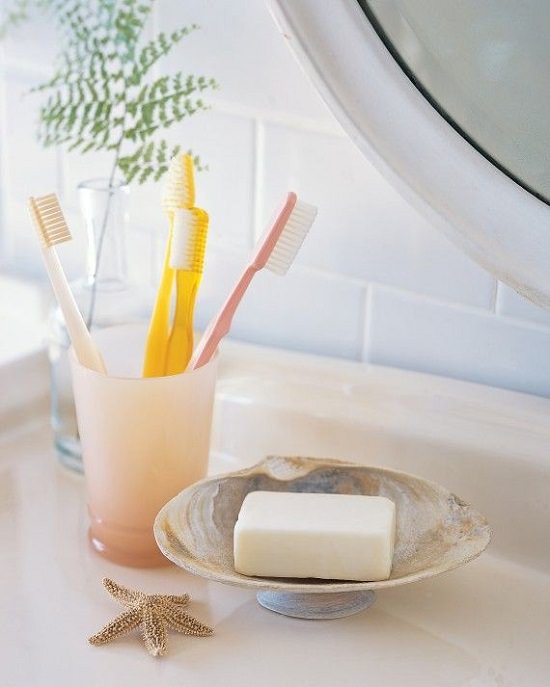 Get some bathroom use out of beautiful seashells with this simple DIY.
26. Seashell Napkin Rings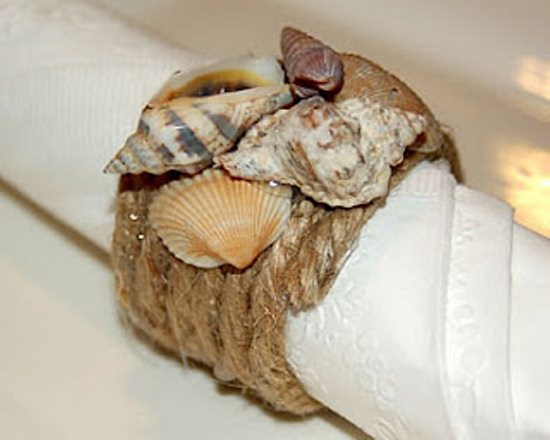 Seashell napkin rings are perfect for adding beachy vibes to your summer party. The instructions in details are here.
27. Seashell Stoppers
Seashell bottle stoppers help you chill in style in your leisure time. Follow this tutorial to make it.
28. Seashell Fish Craft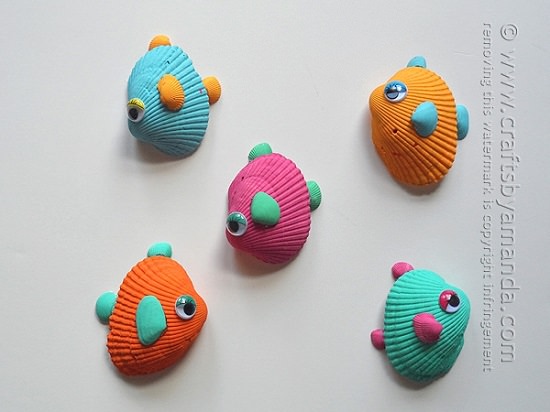 These cute and funky seashell fishes by craftsbyamanda are a great add-on to your kid's playroom.
29. Seashell People Crafts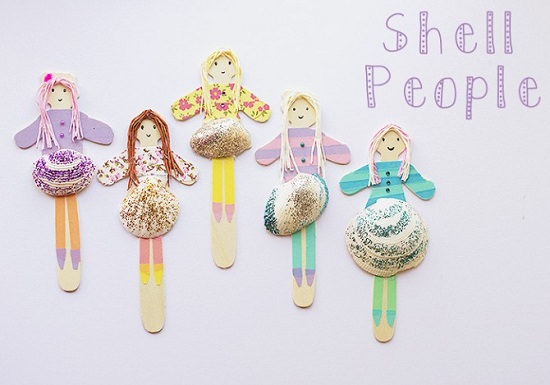 Have fun crafting out your favorite characters from seashells and sticks. Don't forget to display them for everyone to see with the help of this post.
30. Seashell Lights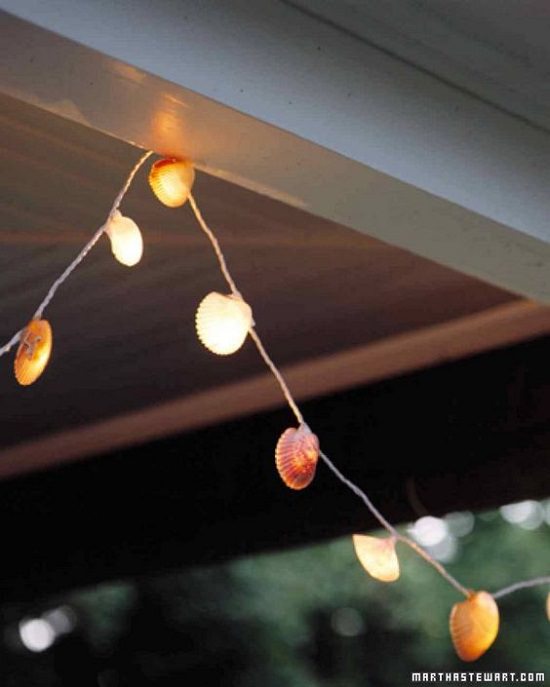 Go a step further from fairy lights and hang a string of seashell lights for your next barbeque. You can create it easily by following these instructions.
31. Seashell Planter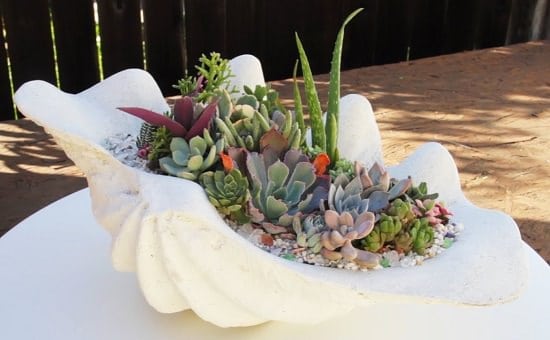 Nothing feels better than making a home out of pretty little seashells. Get the details here.
32. Shell Salt-and-Pepper Dishes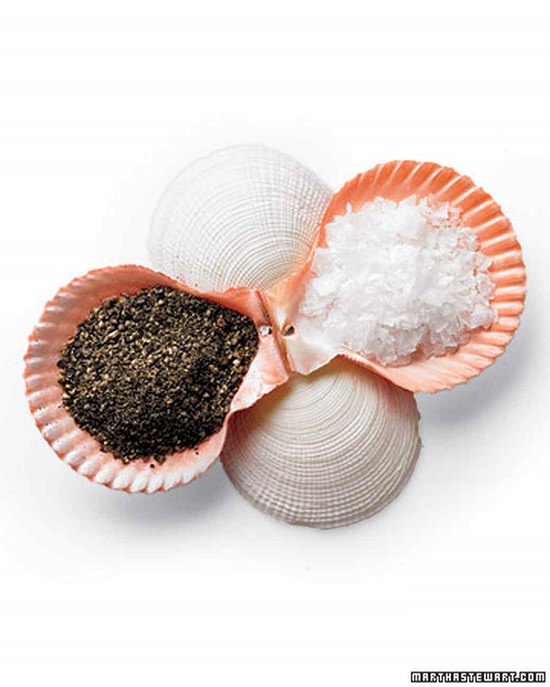 Using seashells for keeping you condiments means you never run the risk of going overboard with spices. For more details, click here.
33. Seashell Rose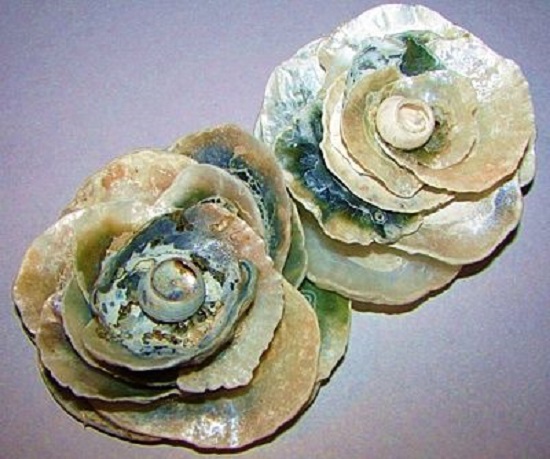 This gorgeous seashell craft is absolutely free of cost, especially if you live by the shore.
34. Simple Seashell Shadowboxes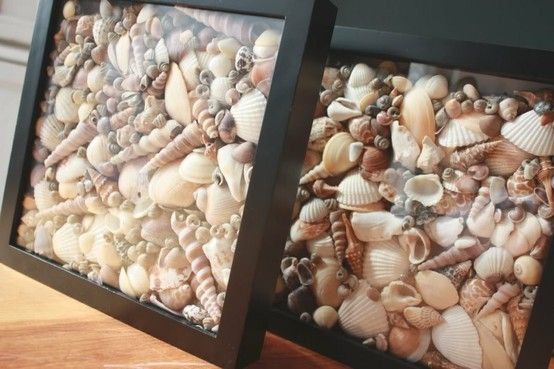 Bring a touch of the sea to your home with this beautiful display of encased seashells. The complete tutorial is here.
35. Seashell Wall Art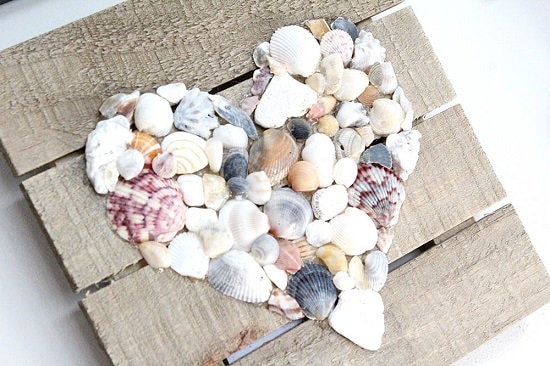 This fascinating art canvas uses little sea treasures of myriad shapes and colors to create a striking look. Here we provide more info on this project.
36. Seashell Night-Light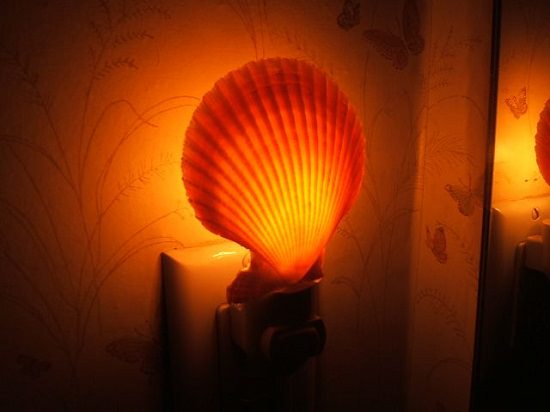 Convert a flat surface seashell into a lone light fixture with this DIY!
37. Seashell Mood Lighting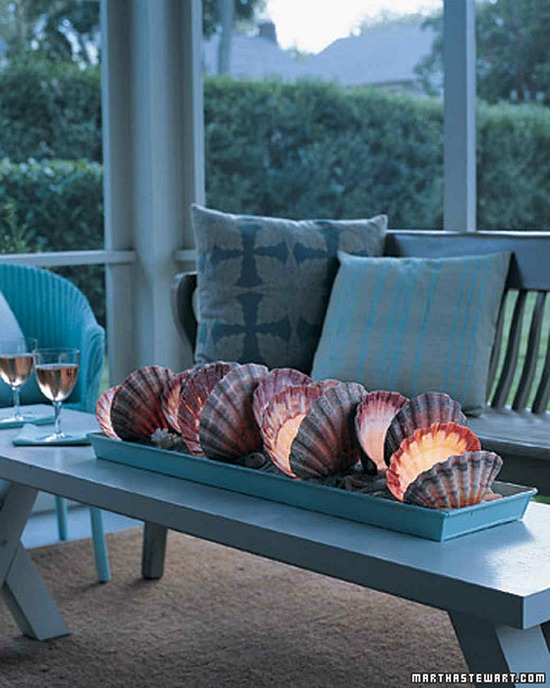 Oversized seashells nestled with lights help create romantic vibes for a quiet evening. See the steps here.
38. Flower Arrangement in a Seashell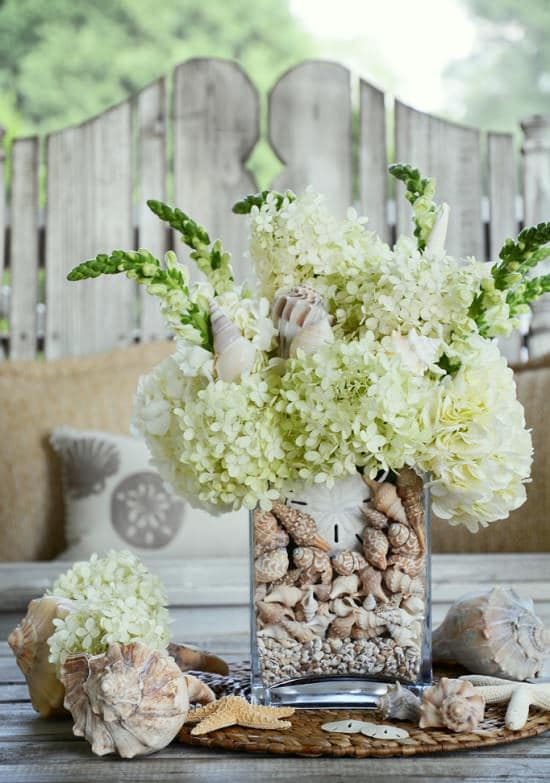 Fill up an empty whelk with flowers and foliage for a pleasing tabletop arrangement. Get inspiration from this post.