These DIY Fidget Spinner Ideas will help you to relieve your stress and boost your creative juices while you make them.
1. DIY Fidget Hand Spinner/Fidget Toy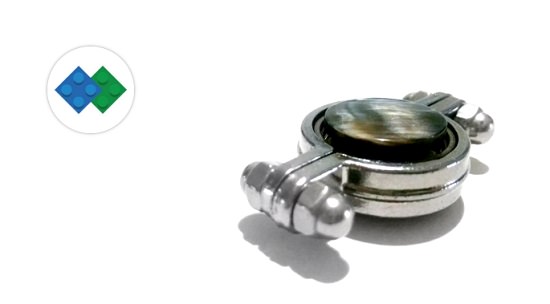 There's nothing better than this hardware-enriched fidget spinner design to attain non-stop spin for several minutes and relieve stress in a jiffy. Follow the DIY here.
Also Read: DIY Paper Craft Ideas
2. DIY Fidget Spinner With Paracord
Fidget spinners made from paracord are comparatively easier to build and can be twisted or bent in different ways to create unique ones every time. Get the DIY here.
3. Coca-Cola Fidget Spinner
The best thing about making fidget spinners is you can build them with limited supplies like when you don't have bearings, you can turn towards your collection of bottle caps instead. Check out this DIY for inspiration.
4. DIY Fidget Spinner Toy
When making fidget spinners for preschool kids, nuts and bolts are out, and attractive embellishments are in, like crayons for instance. Here's the DIY.
5. Simple Spinner Fidget
Sometimes it helps to get down to the basics, like this DIY for example. It shows you how to build fidget spinners using skateboard bearings for the center, and a rubber band for easy grip.
6. DIY Paracord Tri Spinner
Easy to work with and customize, these paracord fidget spinners are remarkably versatile and amenable to multiple rounds of spinning. Make them with these instructions.
7. Bike Chain Fidget Spinner
Made from assembling bicycle chains, this simple and cheap fidget spinner actually looks like something the aliens left behind on their last trip to Earth. Follow the DIY here.
8. Golden Fidget Spinner
Make a spinning toy that looks like a dancing disco ball as it rotates with this easy DIY involving a few nut bolt screws, golden glitter and the top lid of a container.
9. Cardboard Fidget Spinner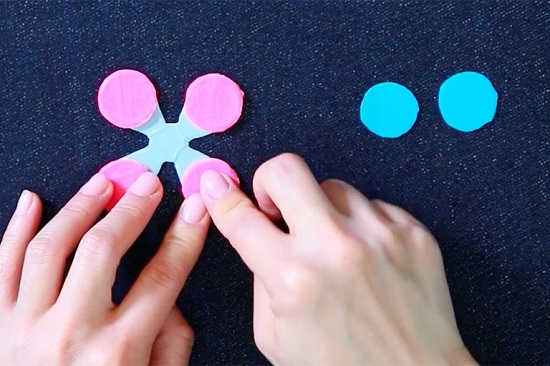 A frugal yet crafty twist on the latest twirling toy trend, this DIY uses cardboard cutouts for a spinning effect, and coins for a sturdy base.
10. Colorful Fidget Spinner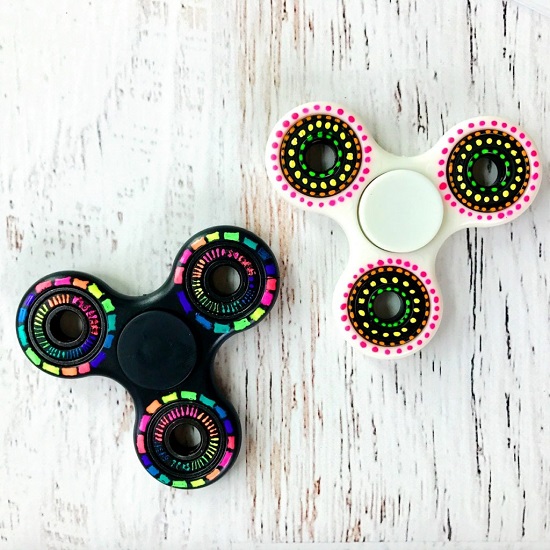 Bringing life to your kid's old, forgotten fidget spinner doesn't have to be tedious at all. All you need is some paint, colorful pens and a little help from this tutorial.
11. DIY Nuts Fidget Spinner
A little trip to the hardware store and a few extra pennies are all you need to create this mid-century looking fidget spinner. Here's the complete DIY.
Also Read: DIY Laptop Cases
12. Ninja Fidget Spinner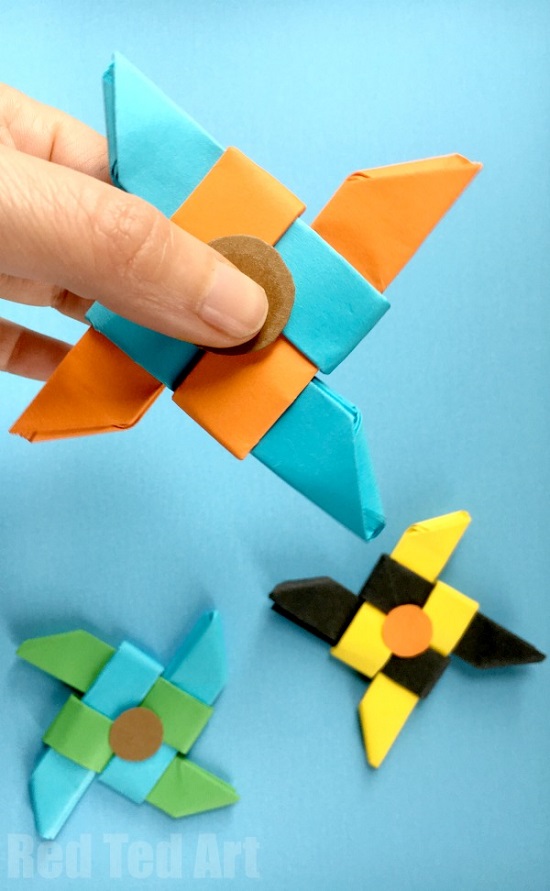 Inspired from origami Ninja stars, these no-template fidget spinners involve a secret, no bearing mechanism to make Ninja stars spin. Find out the complete hack here.
13. DIY Origami Fidget Spinner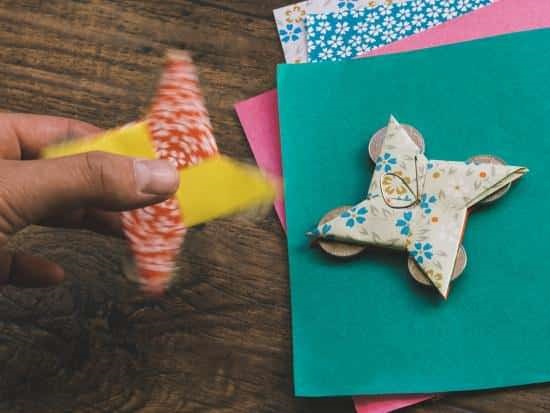 The best thing about these origami paper fidget spinners is that they're super easy to customize, which means you can make a bunch for your kids and their friends so they won't have to fight over who gets the prettier one. Just follow the DIY here.
14. DIY Spinner from Old Chain
Provided you have the tools at hand, this challenging yet fun DIY gives you a rather utilitarian-looking fidget spinner that looks like a relic of the past.
15. Metal Fidget Spinner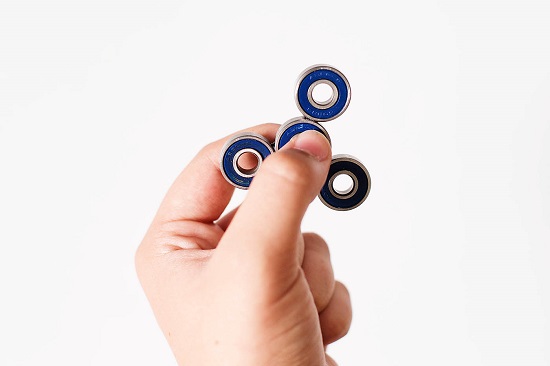 Made with supportive bearings and a shoelace for extra grip, these fidget spinners are great to fiddle around while reading a book or watching TV. Get the DIY here.
16. DIY LEGO Fidget Spinner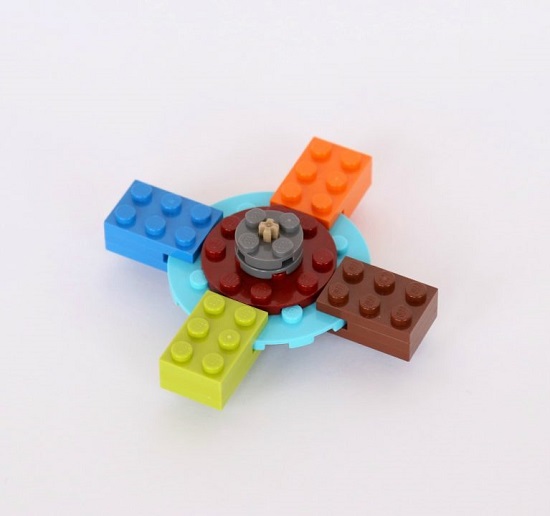 Aren't these DIY Fidget Spinner Ideas are coolest? This one is designed from LEGO bricks. Make one with these instructions.
17. DIY Printable Fidget Spinner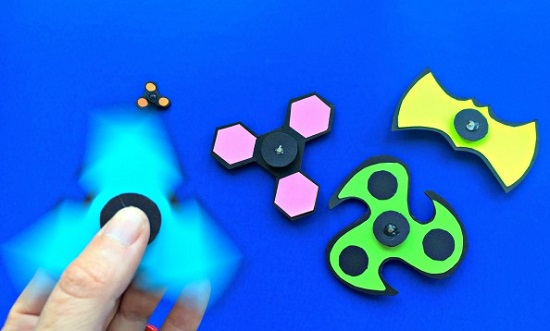 Made from craft paper, these fidget spinners are not only super fulfilling to twirl around but also have the functionality of post-it notes, thereby offering a fun pop of color to your kids' bedroom walls. Get the DIY here.
18. Starry Fidget Spinners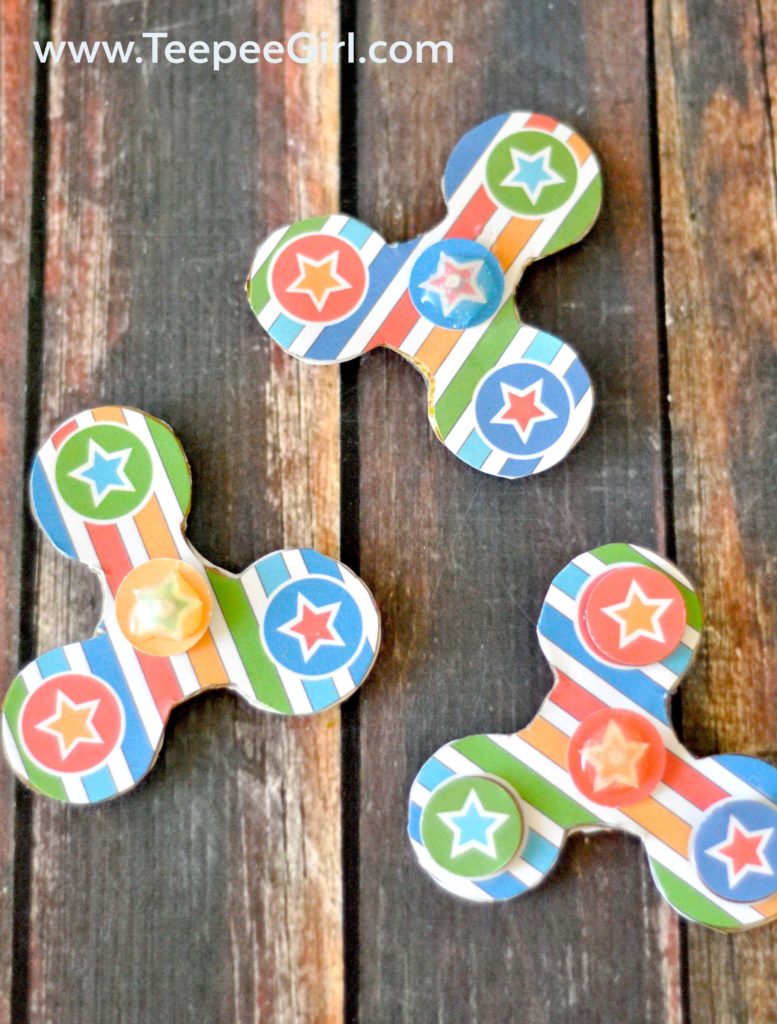 This fidget spinner DIY is particularly easy to execute. All you need is some cardstock paper for making the rotating blades and jump rings to make the spin extra fun.
Also Read: DIY Mosaic Ideas
19. DIY Fidget Spinners without Skate Bearings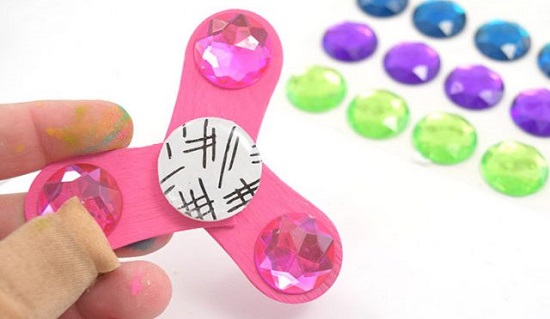 Dial down the cost of your homemade fidget spinner DIY further with this easy tutorial that involves zero reliance on those fancy skate bearings and just a single trip to the craft store.
20. Paper Fidget Spinners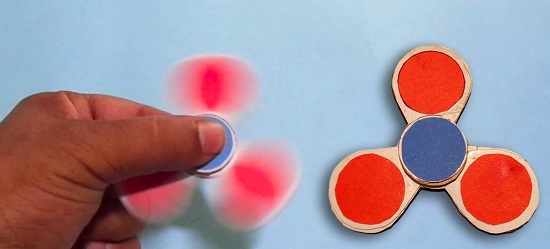 Made from four-square hard paper, this handy fidget spinner spins really fast and comes devoid of any safety concerns, making it a nice origami craft and toy for preschooler kids. Follow the DIY here.
21. Emoji Heart Fidget Spinner
Taking origami to the next level with this one-of-a-kind DIY fidget spinner that looks like a usual heart cut-out but actually rotates like a charm.
22. Glitter Fidget Spinner
Made with bottle caps glued together for the template and topped with glitter, this fascinating fidget spinner design looks easier than you think. And the best part is it's made without bearings. Here's the DIY.
23. DIY American Girl Doll Fidget Spinner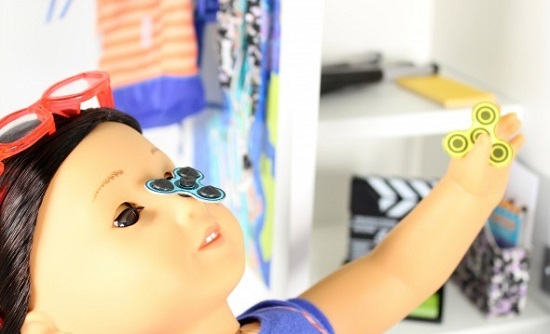 Made from recycled paperboard, these fidget spinners are almost addictive to make, meaning you will find it difficult to stop at just one. Make them with this DIY here.
24. Painted Fidget Spinners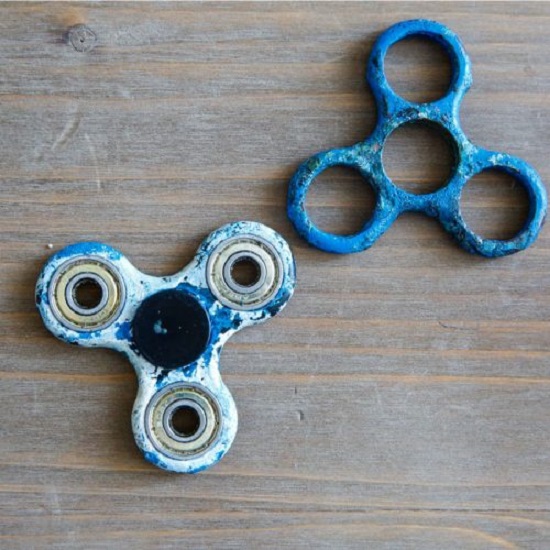 Combining two awfully fun playthings-fidget spinners and spray paint, this fabulous DIY might just end up becoming the favorite pastime of your elementary kids.
25. DIY Golden Snitch Fidget Spinner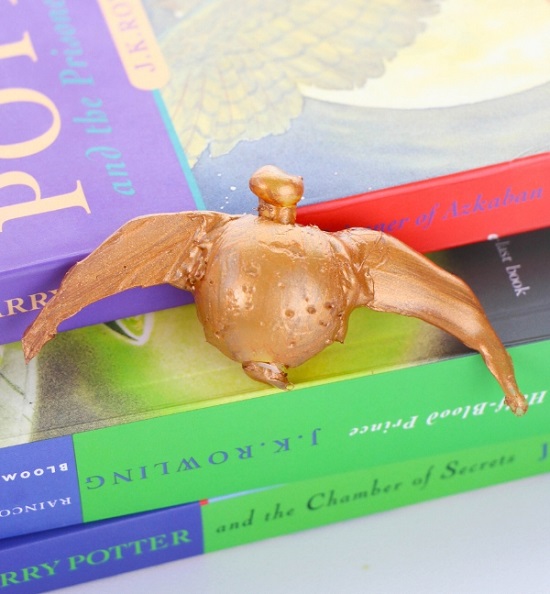 A great craft to engage your Harry Potter-loving kid, the golden snitch fidget spinner DIY involves hot glue and some low-cost materials. Get the printable instructions here.
26. Clothespins Fidget Spinners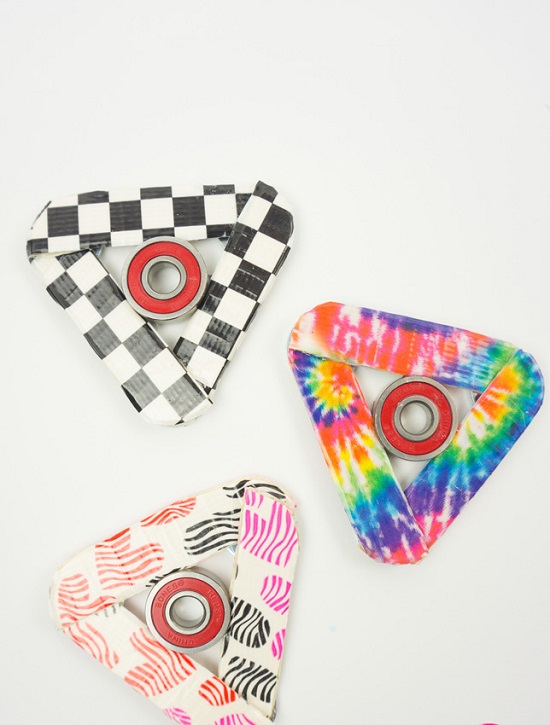 Make cool fidget spinners that will make you the envy of the class with this super easy tutorial using a few clothespins, craft sticks, and color paper/paint.
27. Crystal Beads Fidget Spinner
Thanks to beaded center, this beautiful fidget spinner design makes for a nice, last-minute gift to your beloved niece. Here's the DIY.
28. DIY Fidget Spinner without Bearings
Using magnets for weight and a foam cutout for the base, this simple, bearing-free fidget spinner design is insanely easy to make. Get help from this tutorial.
29. DIY Marble Fidget Spinner
Decorated with the cool, glittery colors of marbles on the rotating ends, these fidget spinners are fun to play with and look fancier than they actually are. Follow the DIY here.
30. Make Marble Fidget Spinner
Dotted with colorful marbles for a pleasing effect, this fidget spinner offers tactile stimulation while giving an easy spin. Here's the DIY.
31. DIY Cardboard Fidget Spinner Toy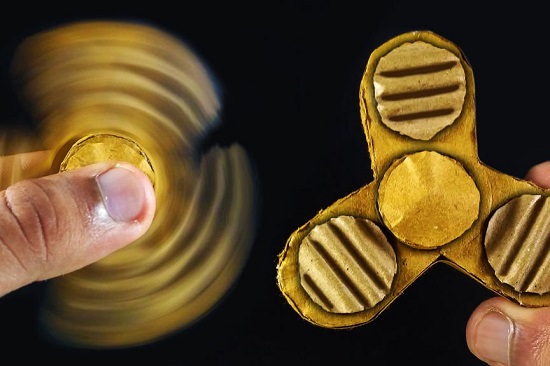 With some cardboard, coins and hot glue, you have got yourself a handy dandy fidget spinner that rotates fast and is light enough to carry around without weighing you down. Get the DIY here.
32. LED Fidget Spinner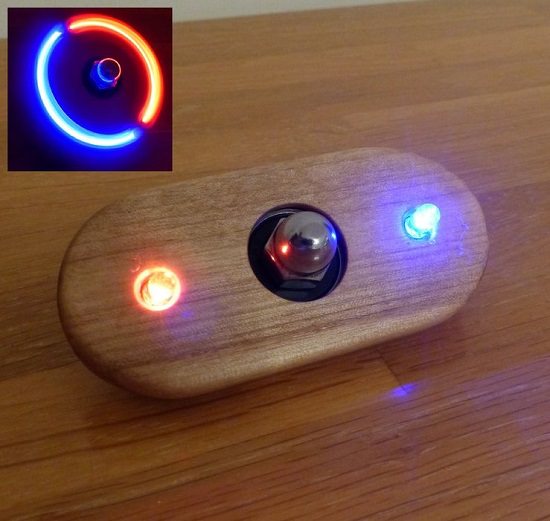 Equipped with a pre-programmed LED, this wooden fidget spinner generates interesting color changes as it spins, keeping your kids hooked for hours. Get the complete instructable here.
33. Origami Fidget Spinner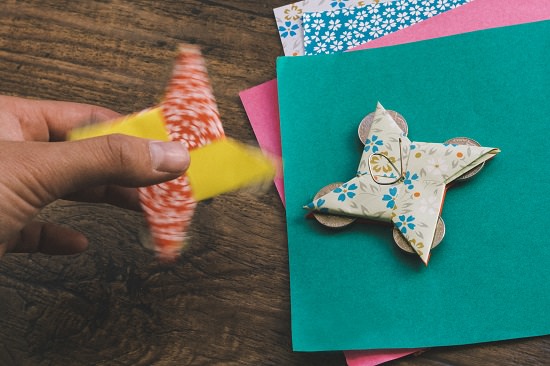 Personalize your own fidget spinner with two origami paper squares of your choice and four coins for support. Head over to this DIY for instructions.
34. DIY Fidget Spinner Electricity Generator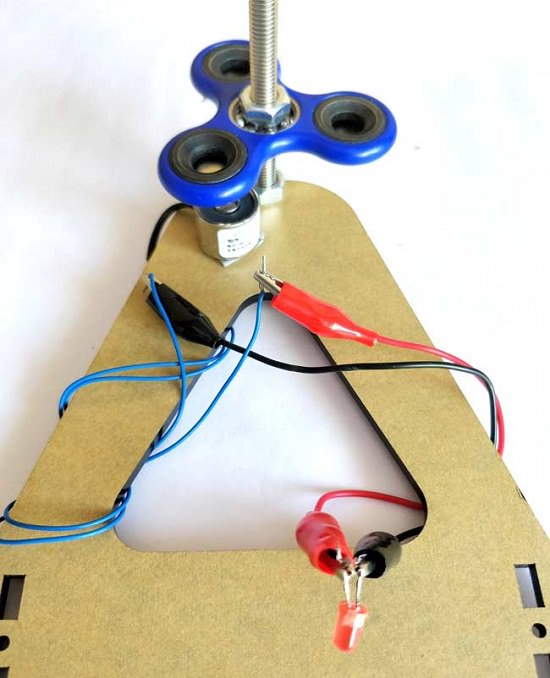 Making a fidget spinner was not the sole drive behind this DIY. Rather, it combines the rotating function of the spinner with the static properties of an electromagnet to produce low-voltage electricity and simulate a generator in the process'.
35. DIY Paracord Fidget Spinner
Make a paracord hand spinner toy easily with the help of this video tutorial.