These Macrame Wall Hanging Patterns are inexpensive and will multiply your bohemian style quotient with minimal effort!
Macrame Wall Hanging Patterns are the perfect way to elevate your home decor with a touch of bohemian charm. The best part—you can make them with simple supplies without investing much time and money!
Check out the best macrame keychain ideas here
---
Macrame Wall Hanging Patterns
1. Pom-Pom Tassel Macrame Wall Hanging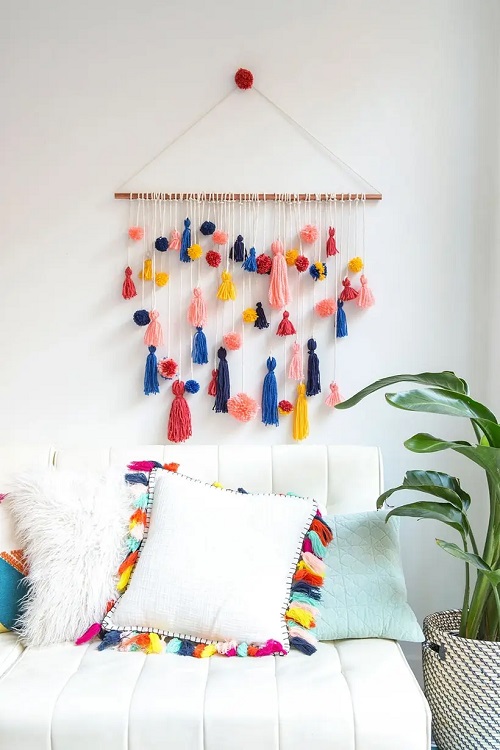 Featuring colorful tassels, simple macrame knots, and low-cost supplies, this DIY macrame wall decor is best for bland living rooms.
2. Copper Pipe Macrame Wall Hanging DIY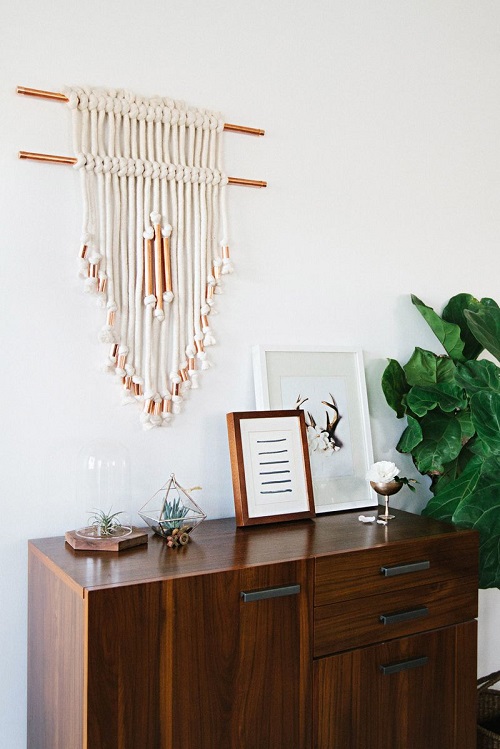 Brimming with metallic bling, thanks to the copper piping and tubes, this wall hanging gives a luxe feel at a low cost. Here's the DIY.
3. Macramé Curtain DIY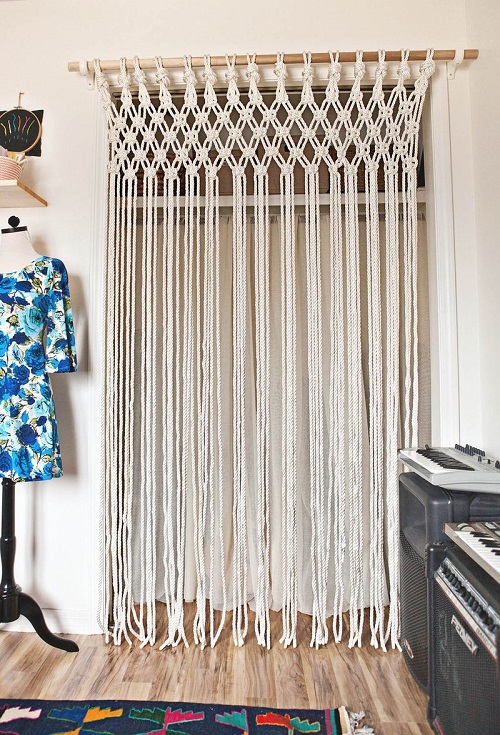 This macrame curtain acts as a privacy screen while adding interest and texture to a corner of the room. Read the details here.
4. DIY Macrame Tree of Life Wall Hanging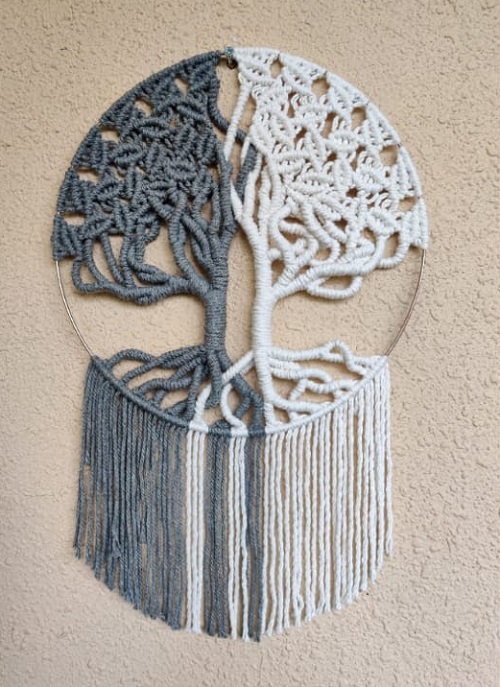 Looking to add a unique focal point to your home? This macrame tree of life wall hanging is a perfect choice. Get the inspiration here.
5. DIY Holiday Floral Macrame Yarn Hanging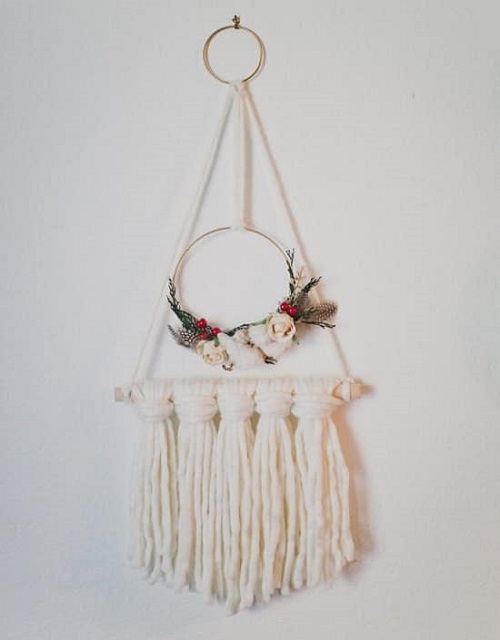 Although designed to infuse holiday cheer, you can always swap out the flowers for seasonal ones to create a more relevant wall decor year-round. Here is the step-by-step DIY.
6. Colorful Macraweave Wall Hanging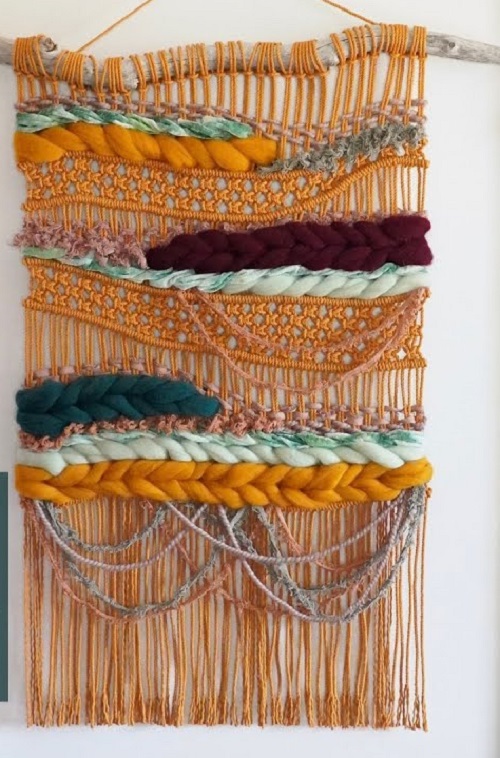 Add a vibrant touch to your space with this colorful Macraweave wall hanging. It's the perfect project to bring a burst of color and bohemian joy to any room.
7. Round Floral Wreath and Tassel Macrame Wall Hanging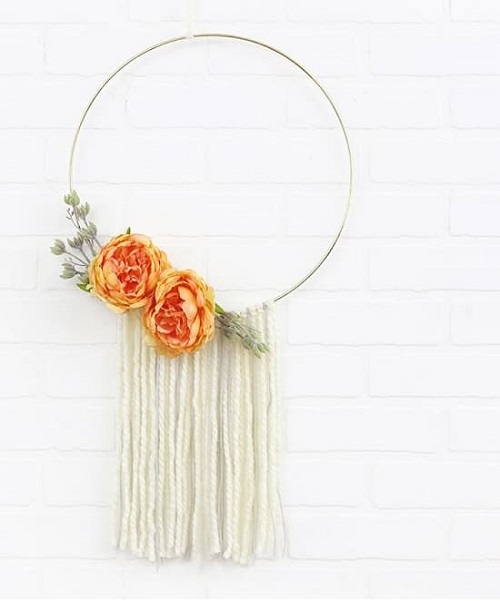 This macrame hoop wall decor focuses on seasonal embellishments like pretty foliage or fall flowers for some extra drama. You can use it as a front door wreath or bring it inside when the cooler days have come. The instructions are here.
8. DIY Macrame Halloween Ghost for Kids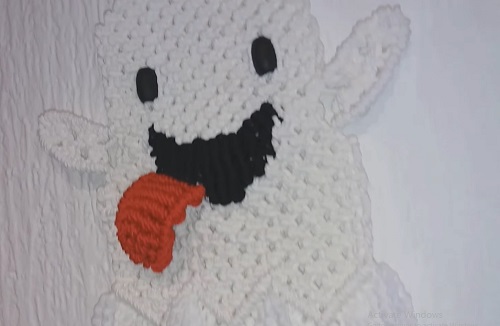 Get into the spooky spirit this Halloween with a fun and easy DIY macrame ghost project. Hang it by your entrance to greet trick-or-treaters, or let it sway gently in the breeze. Check out the detailed tutorial here.
9. Macrame Wall Hanging Dreamcatcher With Feathers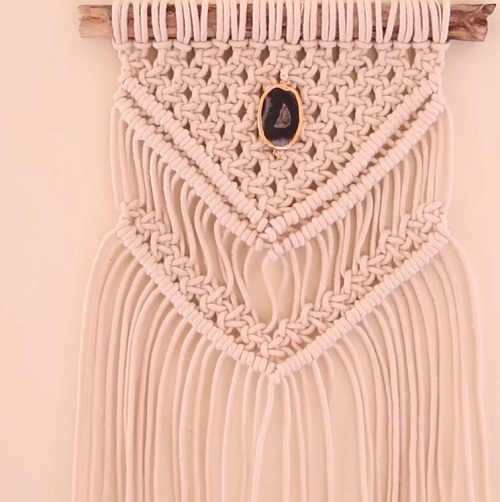 Featuring a host of eye-catching textures and feather trim, this chic macrame dreamcatcher is easy to make. Get the details here.
10. DIY Macrame Hoop Wall Hanging
Besides offering a vintage appeal, this wheel-style macrame hoop wall hanging is perfect for apartment life as it gives the illusion of more space and light. Here's the DIY.
11. Macrame Sequins and Weave Wall Hanging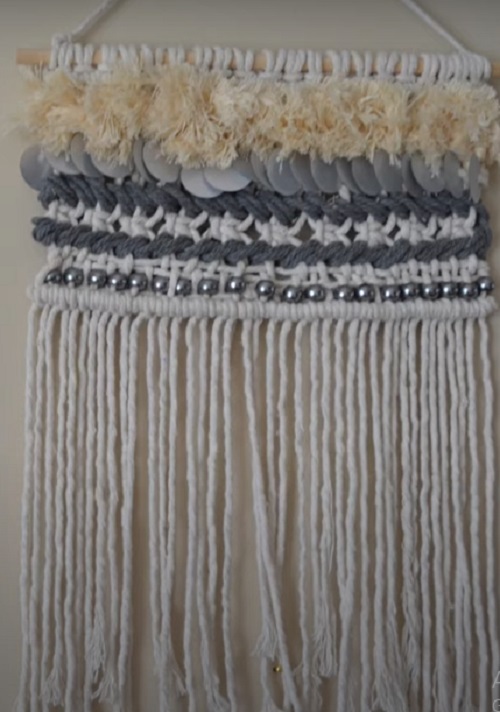 This funky wall hanging is a rather ambitious project to undertake; however, it involves a host of trinkets, beads, and embellishments, making it a nice wall accent for fall parties. Here's the DIY.
12. DIY Mini Modern Macrame Wall Decor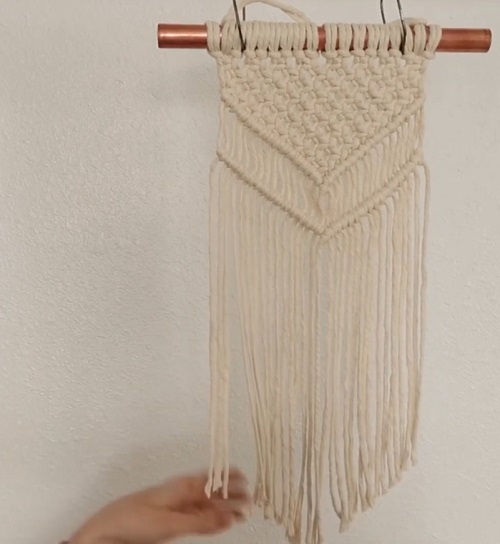 This sleek Macrame Wall Hanging pattern is super easy to replicate and a nice way to refurbish dull walls in no time. Here's the DIY.
13. DIY Macrame Wall Hanging Leaf Pattern
For an interesting twist to your routine macrame knotted patterns, go with the much-loved leaf pattern as a nod to Mother Nature for your next Macrame patterns for wall  DIY.
14. DIY Pink Macrame Wall Hanging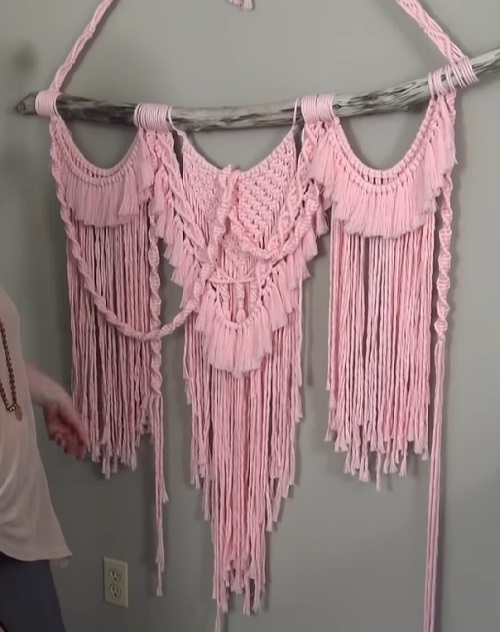 Your walls will thank you for this macrame decoration that is sure to liven up a room like never before. Get the DIY for this project here.
15. DIY Macrame Wall Hanging with Fringe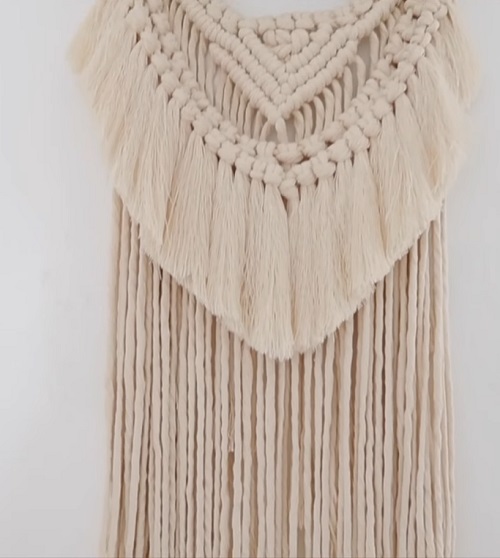 Give a cascading, free-fall appearance to your macrame wall hanging with fringes at the edges. Also, it's a secret little hack to produce texture without the hard work of tying individual knots. Here's the DIY.
16. DIY Macrame Semi-Circle Wall Hanging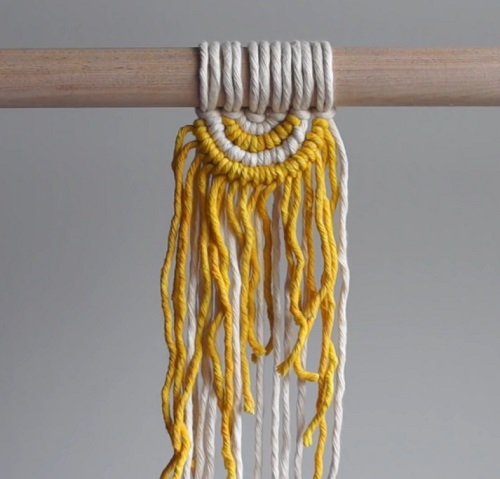 This neat arrangement of circles finished with straight lines in this compact semi-circle wall hanging is a treat to watch. Make one with these instructions.
17. Wooden Dowel Macrame Wall Hanging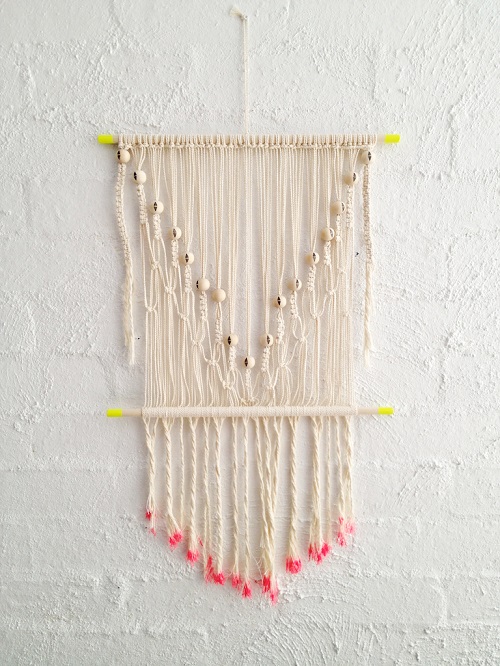 For fun, hip touch to your macrame wall hanging, consider adding a pop of color here and there. This DIY will show you how.
18. Ombre Macrame Wall Hanging with Copper Pipe Heart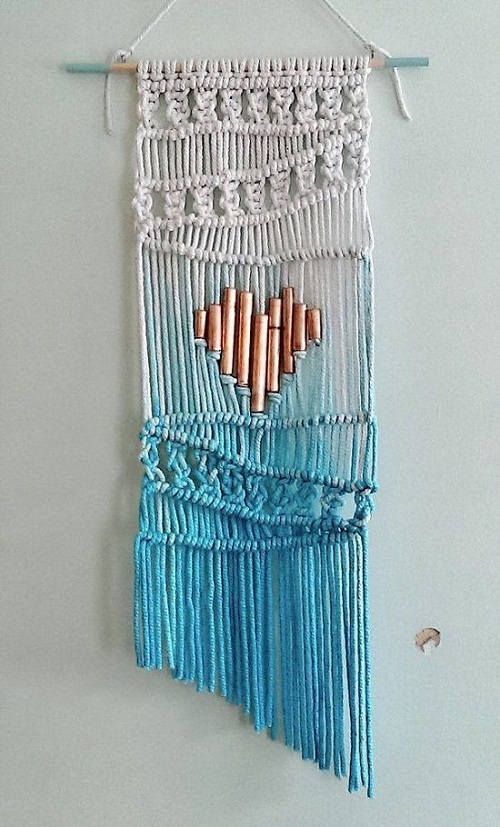 While the gradually intensifying ombre effect is definitely a fresh spin on your run-of-the-mill Free Macrame wall Hanging Patterns DIYs, what we love most is the copper piping at the center. Get more instructions here.
19. Jersey Fabric Macrame Wall Hanging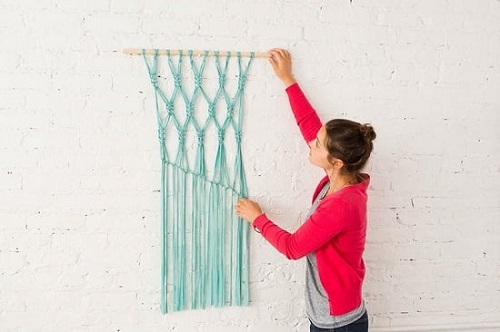 Using the rope for traditional Macrame patterns for wall hangings is too mainstream; make your own wall art rendition with jersey material instead. The results are gorgeous, as seen in this DIY.
20. Macrame Yarn Garland Pattern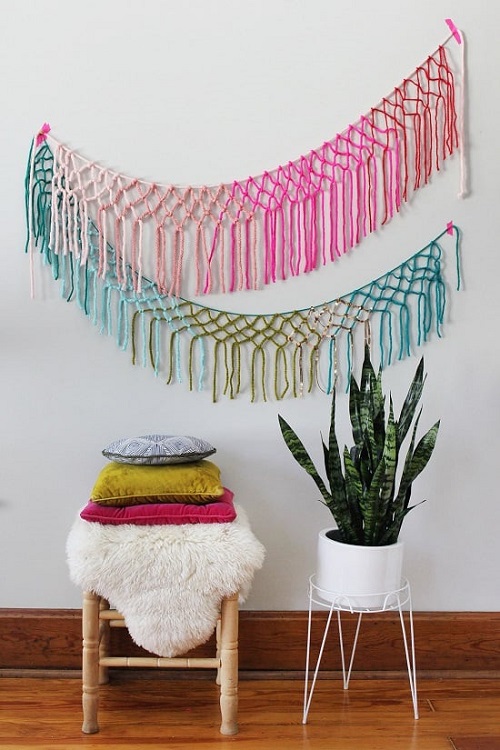 If you don't happen to have a white rope handy, we suggest you dig inside your weaving stash and grab some colorful yarn instead of creating this startling display that lends an instant cheer to dull walls with this Macrame Large wall hanging. Here's the DIY.
21. Wall Hanging For Beginners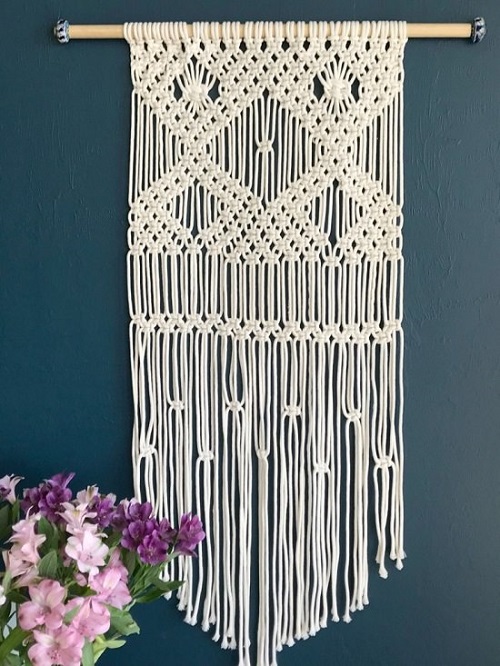 If you want to get your feet wet in the basics of Macrame Wall Hanging Patterns before delving into more complicated projects, here's the perfect pattern to help you get started.
22. Chic Macramé Wall Hanging DIY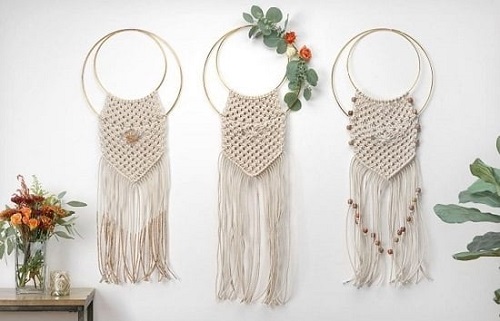 Featuring four basic knots that are easy to master, these Macrame hoop wall hangings get done in an afternoon, lending a Bohemian feel to your living space. Here's the DIY.
23. Stunning Macrame Wall Hanging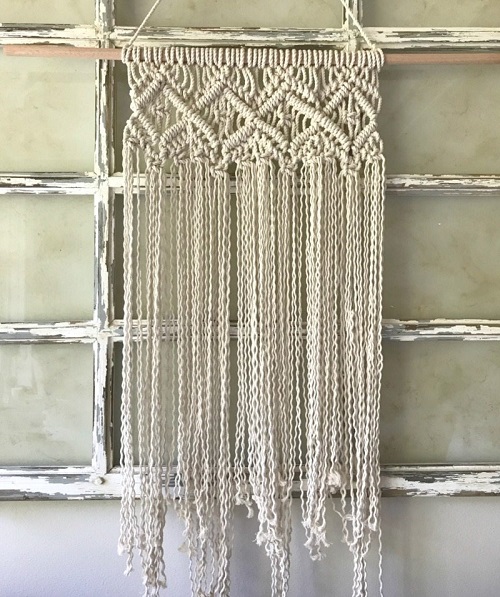 A wooden dowel, some cotton strings, and oodles of hard work are all you need for this Macrame pattern for wall hangings. Of course, a little help from this DIY wouldn't hurt.
24. Soft Macramé Tapestry Woven Wall Hanging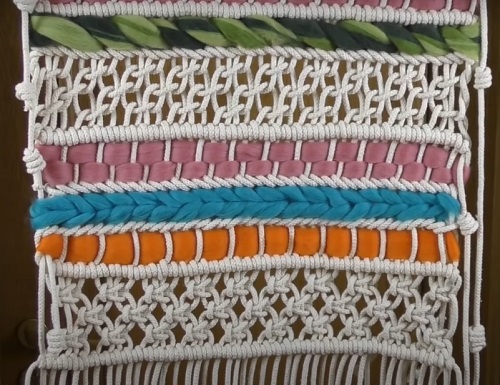 Make this nice and soft boho-chic accent for your home by watching the tutorial video. One of our favorite DIY macrame wall-hanging patterns on this list!
25. Tree Branch Macrame Wall Hanging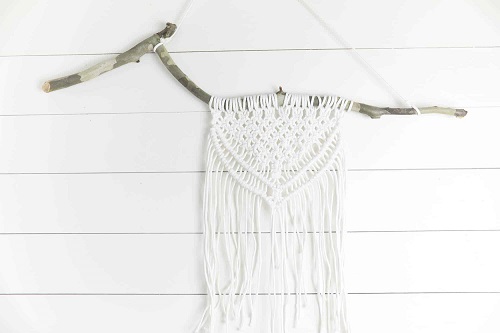 Using a branch as the base for a macrame wall hanging creates a unique, rustic accent that can uplift the look of any room in no time. Here's the DIY.
26. DIY Macrame Feathers Pattern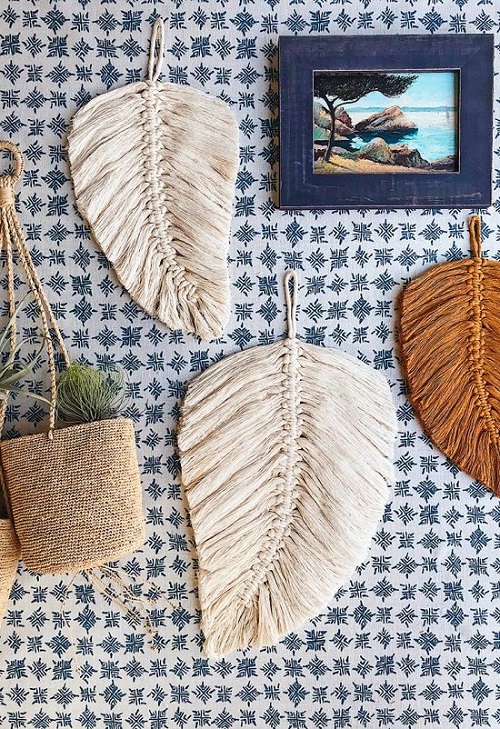 For soft, wispy macrame feathers that add more texture than tassels, consider adding a cat brush to your macrame-making supplies. Find more instructions in this Macrame Wall Hanging Pattern DIY.
27. Boho Macrame Wall Hanging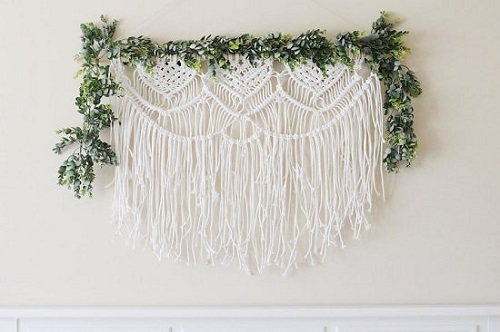 This beginner-friendly DIY Macrame Wall Hanging Pattern is easy to put together using simple knots and lends a gorgeous touch to empty walls.
28. Single Knot Wall Hanging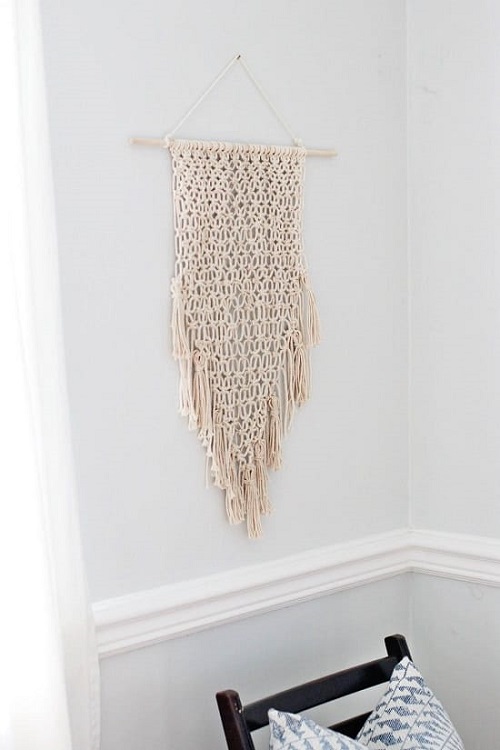 With this macrame wall decorative DIY, you get to replicate the beauty of woven wall hangings. Plus, the subtle charm of a single knotted pattern with tassel detailing at the bottom is sure to add warm tones.
29. Knot Spiral Stitches Macrame Wall Hanging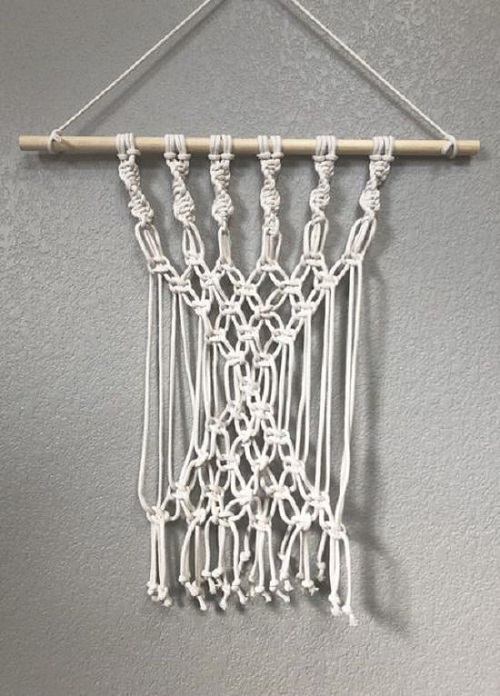 This DIY features Macrame Wall Hanging Patterns along with interesting patterns involving spirals and triangles, thereby giving you an easy way to lend a handmade touch to an urbane-style apartment.
30. Dyed Wall Hanging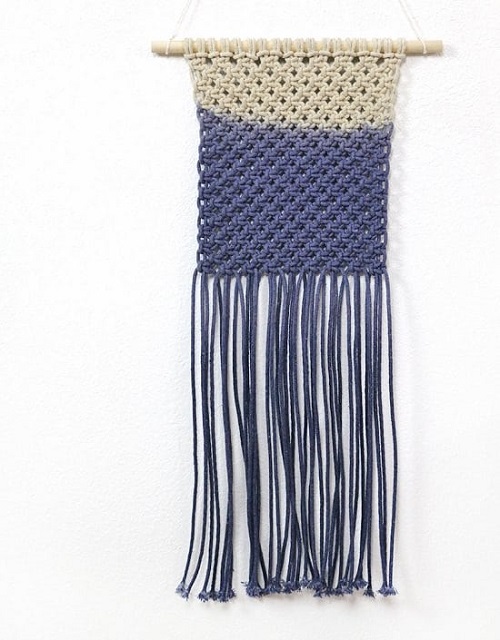 Add a startling combination of color and texture to your bedroom with this pretty DIY macrame wall hanging.
31. DIY Circular Macrame Wall Hanging with Amethyst Stone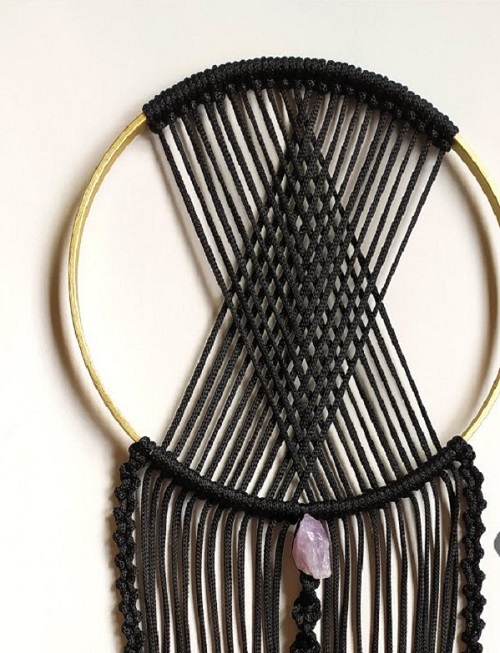 Simple and minimal macrame wall hanging on a golden color wooden hoop, with rough amethyst crystal stone. Hang this stunning wall art in your living room for added charm. The DIY is here.
32. DIY Macramé Wall Hanging with Shelf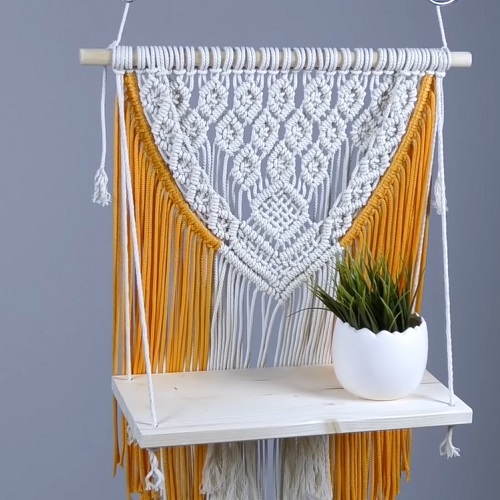 Using a macrame wall hanger as the backdrop of a hanging shelf is a great way to lay emphasis on decorative knick-knacks. Get the how-to here.
33. Macrame Wall Hanging for Beginners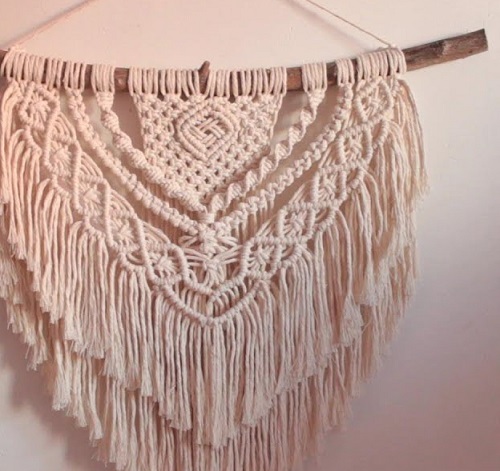 Make this lovely wall hanging with the help of this macrame tutorial. It's a beginner-friendly project.
34. Macrame Flower Wall Hanging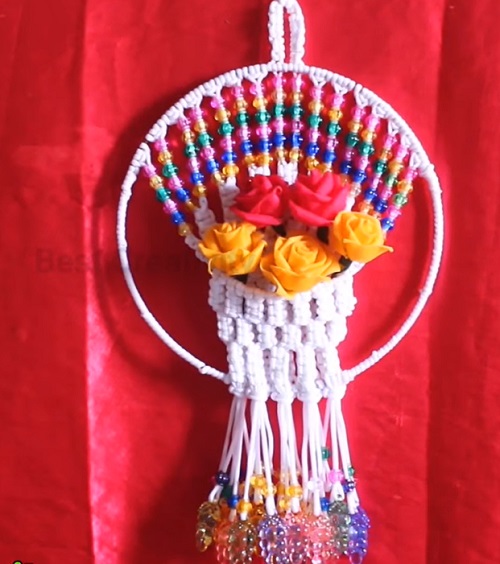 They say there's a macrame wall hanging for every mood. So when you want to infuse the festive mood in your house, consider going with this DIY. With a little customization here and there, you can even put it up as a wreath for some front-door cheer.
35. DIY Macrame Heart Wall Hanging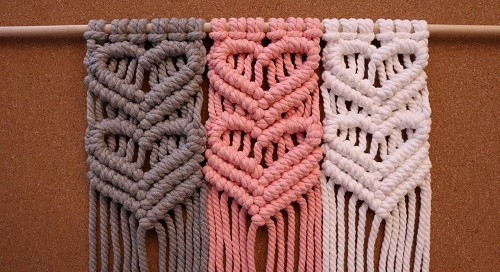 Get ready to turn heads with this eye-catching macrame heart wall hanging. The intricate patterns and delicate details make it a stunning addition to any home decor. Learn the details here.
36. DIY Macramé Diamond Mesh Patterned Wall Hanging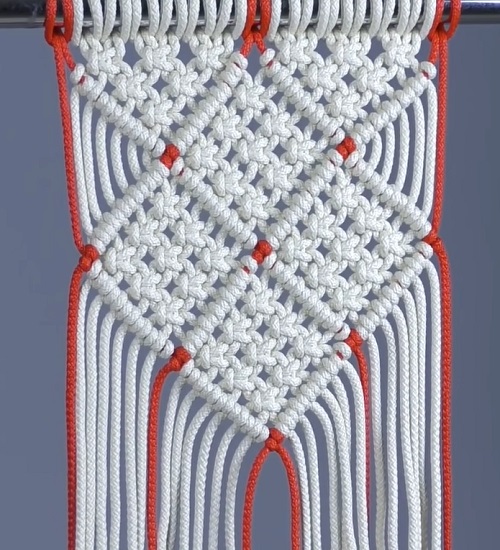 Intertwining both red and white threads for your macrame wall hanging is a subtle way to bring a pop of color to your vintage wall hanging project. Details are here.
37. DIY Boho Macrame Wall Hanging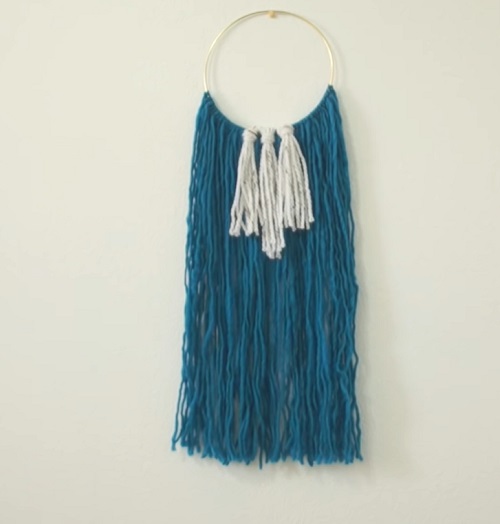 Paint your walls with the wild Bohemian spirit with this elaborate macrame decor featuring a variety of colors, textures, and patterns. Find the DIY here.
38. Macrame Dreamer Wall Hanging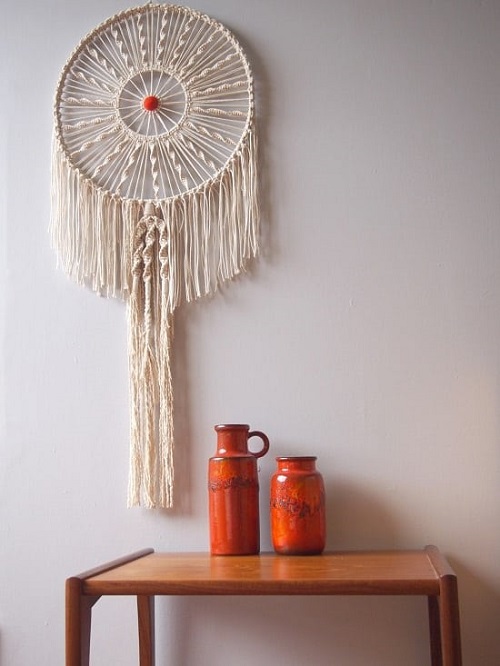 Inspired by the mystical theme of a dreamcatcher, this beautifully woven macrame wall hanging is a nice way to add pizzazz indoors. Here's the DIY.
39. Mop Refills Macrame Wall Hanging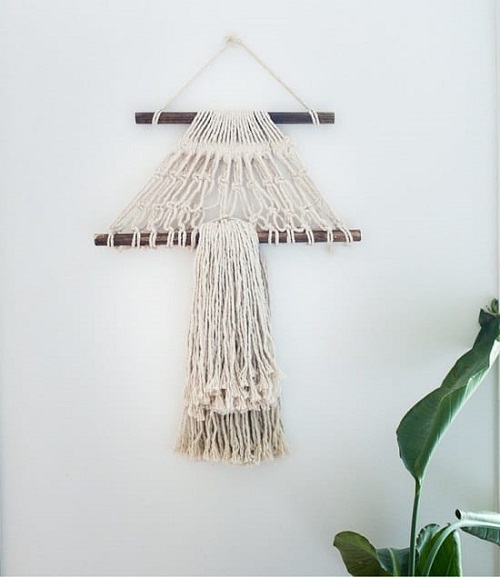 Who would have thought that mop refills could give way to something as beautiful as this macrame wall hanging? All credits go to this DIYer.
40. Square Knots Macrame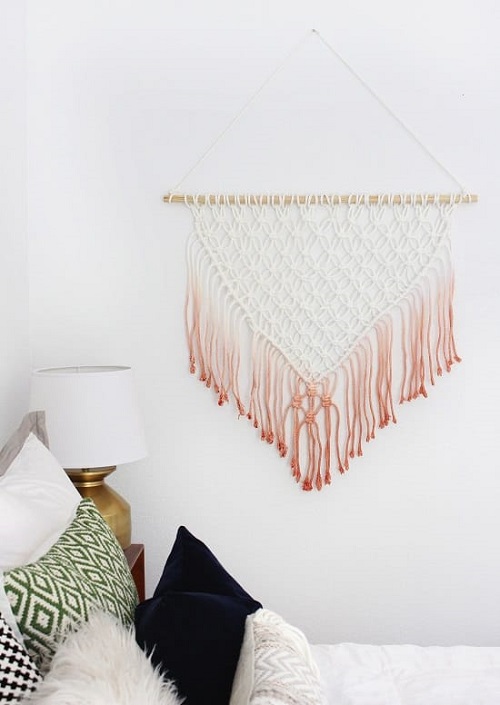 With the edges dipped in bright paint, this chic piece creates a beautiful contrast that is unusual to find in an ordinary wall hanging. Get the DIY here.
41. DIY Macrame Wall Hanging with Driftwood and Pebble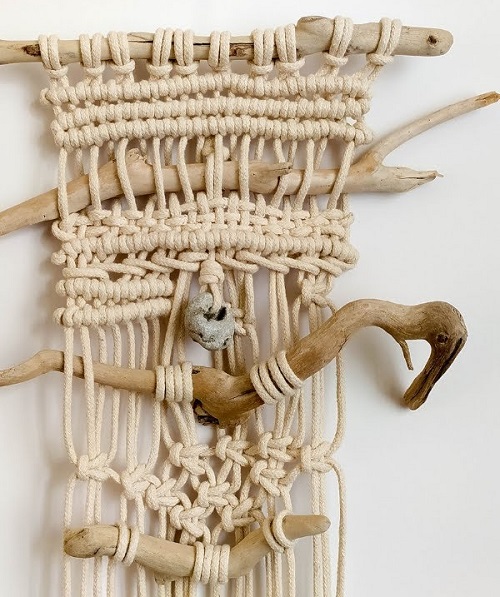 The combination of intricate knots, textured driftwood, and smooth pebbles create a visually stunning masterpiece that will breathe life into any space.
42. DIY Macrame Wall Hanging With Feathers And Trinkets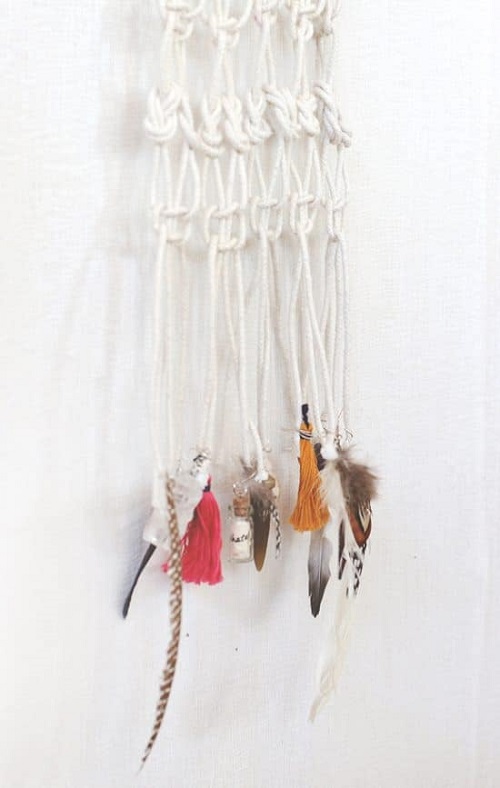 This super versatile wall-hanging DIY involves just two basic knots. If you want to craft one, follow this helpful tutorial.
43. Angled Macrame Wall Hanging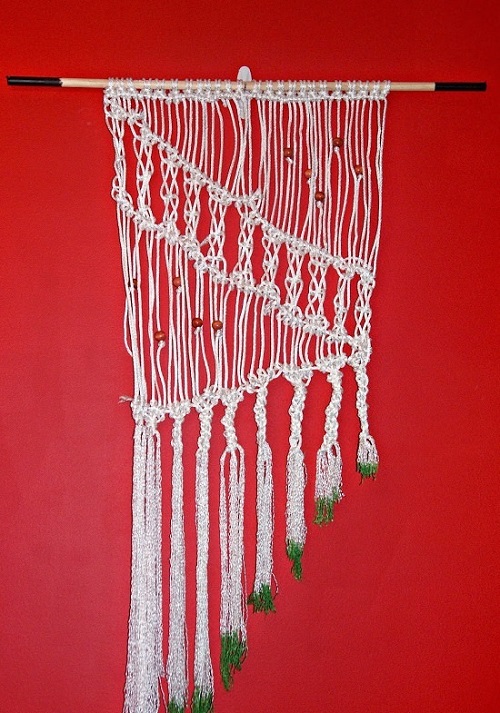 An off-centered piece like this macrame hanger creates a contemporary look complemented by the timeless appeal of wooden beads and edges dip-dyed in bright paint. Here's the DIY.
44. Simple Macrame Wall Hanging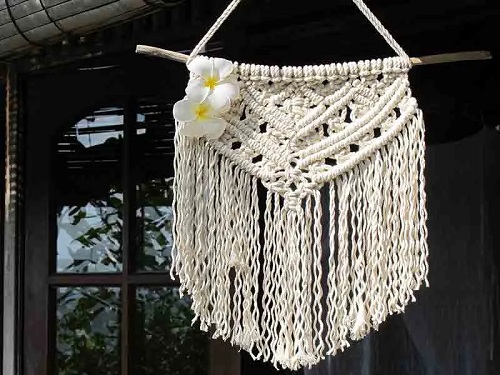 Weaving this elegant macrame wall decal is easy as it requires four basic knots, and the raw beauty of the finished result is sure to freshen up your home. Get the instructions here.
45. DIY Easy Macramé Diamond Pattern Wall Hanging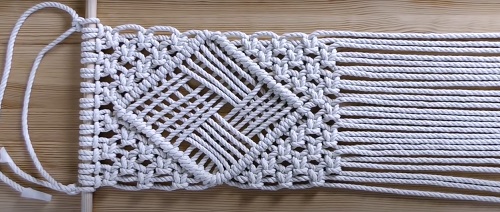 This macrame wall hanging  DIY is a fine example of how you can use simple knots repetitively to create an intricate arrangement of interesting patterns in a charming wall hanger.
46. DIY Macrame Wall Hanging With Daisy Pattern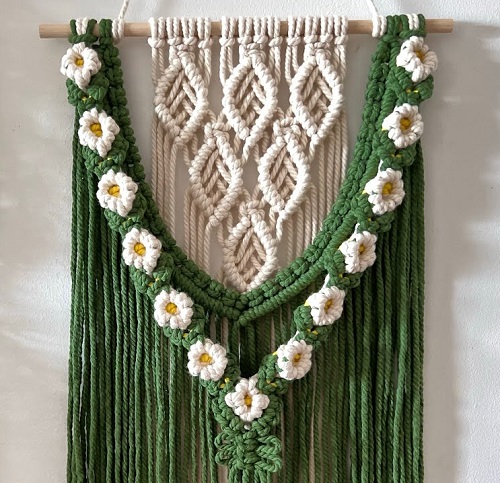 Make this easy and beautiful macrame daisy wall hanging to invite bright, cheery, and happy vibes into your room. It's a perfect present for Mother's Day or any special occasion. Watch this tutorial for inspiration.
48. DIY Mini Wall Hanging with Fringe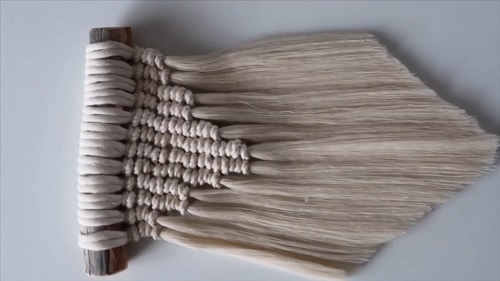 Weaving fringes as the edges for macrame wall hanging is a refreshingly different way to add another layer of texture while maintaining the macrame look constant. Here's the DIY.
49. Macramé Wall Hanging Butterfly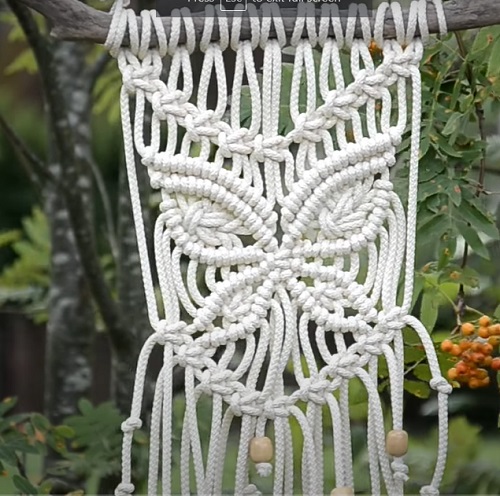 Bring a touch of the outdoors to your living room with this butterfly macrame wall hanging. You can also use it in the garden, patio, or porch. Check out the DIY here.
50. Large Macrame Wall Hanging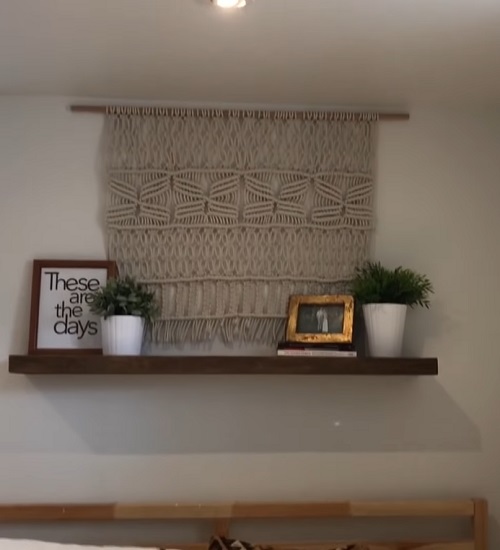 This wall hanging DIY is an excellent project to advance your macrame skills and create a warm-textured wall mural in the process.
51. DIY Macrame Mandala Wall Hanging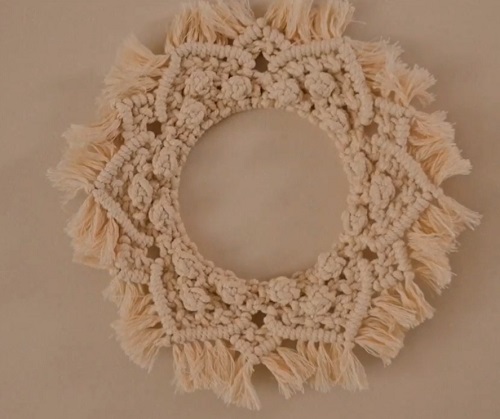 Ward off negativity and mimic omens of prosperity with this cute macrame hanging project.
52. Macrame Pocket Wall Hanging
As a thoughtful gesture or a wedding gift, this immaculate wall hanger exudes warm, fuzzy vibes when adorned with a planter. Here's the DIY.
53. Macrame Christmas Tree Wall Hanging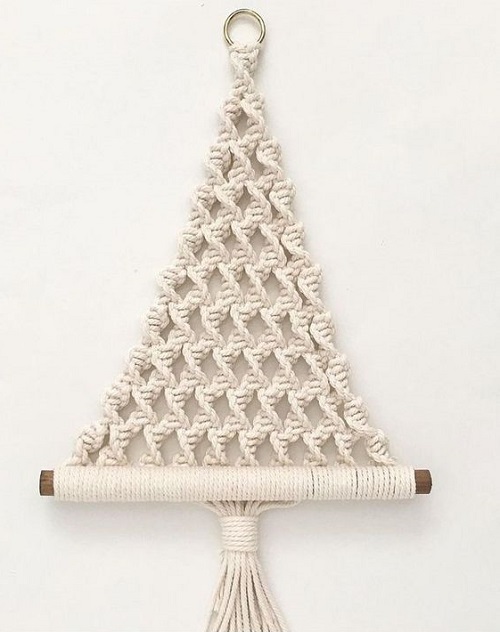 This Christmas tree wall hanging create an eye-catching look on a neat white wall. Take inspiration from this idea.
54. Gorgeous Macrame Wall Hanging Idea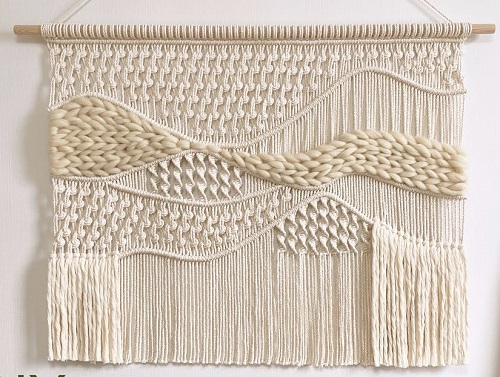 This gorgeous macrame wall hanging features intricate patterns that will instantly elevate the look, feel, and vibes of any space. Know more here.
55. Affordable Macrame Wall Art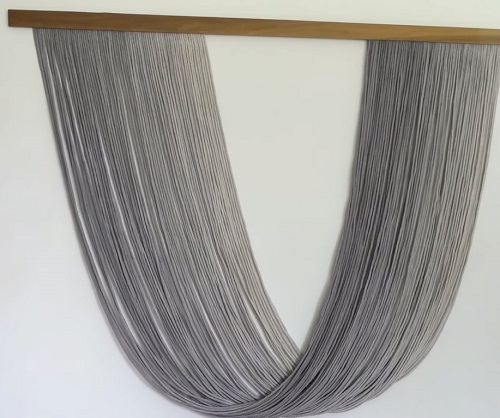 This DIY Macrame Wall Hanging pattern is great for adding a heavenly look to your indoors. Inspired by this DIY, it will enhance the aesthetics of your home.
56. DIY Modern Triangle Macrame Wall Hanging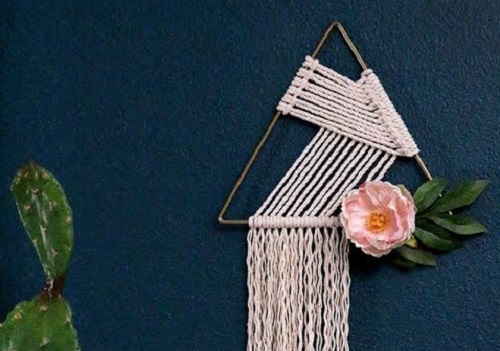 Give your walls a trendy makeover with this modern triangle macrame wall decor. Hang it in your bedroom, living room, or even your office for an instant boost of style. Check the idea here.
57. Rainbow Macrame Wall Hanging Pattern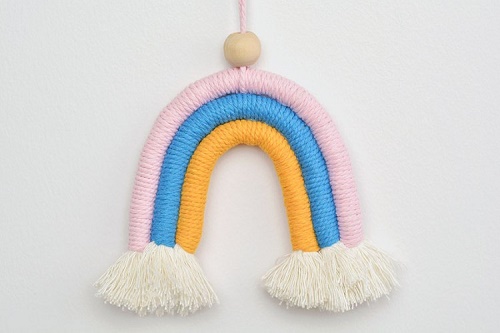 Inspired by a colorful rainbow, this macrame wall decor enhances the look of your room's darkest corner. It's one of the best macrame wall hanging patterns. Learn more here.
58. Tassel Macrame Wall Hanging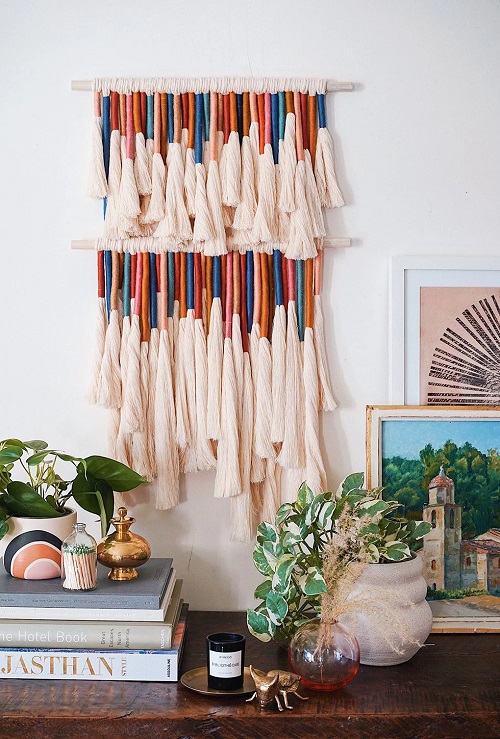 Why settle for ordinary wall decor when you can make something extraordinary? This DIY tassel macrame wall hanging is a statement piece that will turn heads and spark conversations.
Read the best family tree wall decor ideas here