Make super stylish phone cases right at your home with these 26 DIY Phone Case Ideas we have!
1. Nautical Anchor Case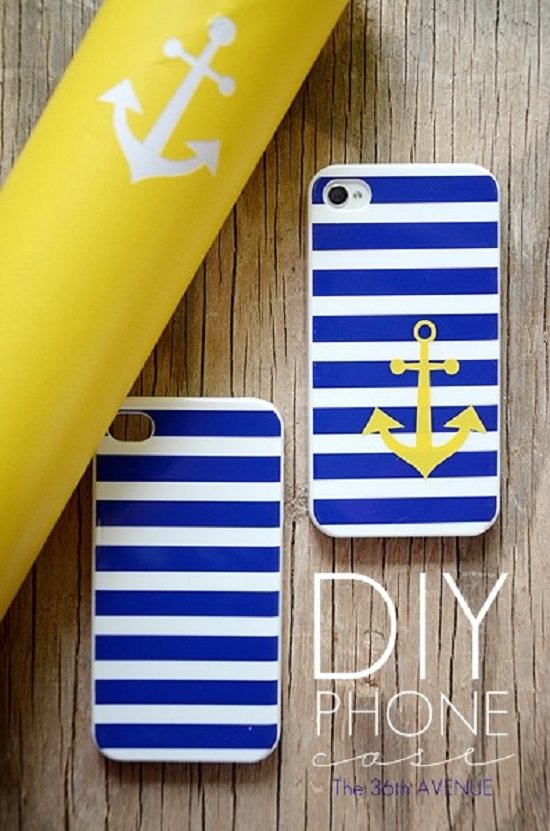 This one-of-a-kind nautical style DIY phone case adds personality to your phone. Visit The 36th Avenue for the tutorial
2. Repurposed Glitz Cases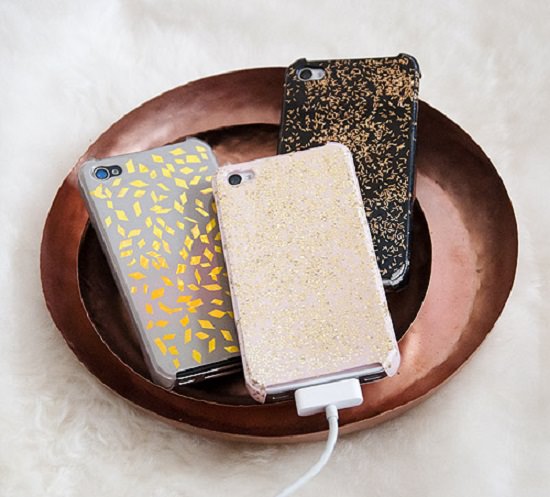 The website Design Sponge shows you an easy way to use leftover glitter and customize your phone cover for the festive season.
Here are some more glitter ideas.
3. Map Covered Cases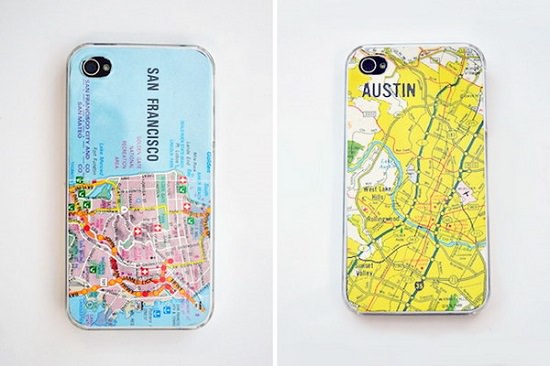 This DIY phone case idea is for those who love traveling. Get the tutorial here.
4. Geometric Printable Templates DIY Phone Case Ideas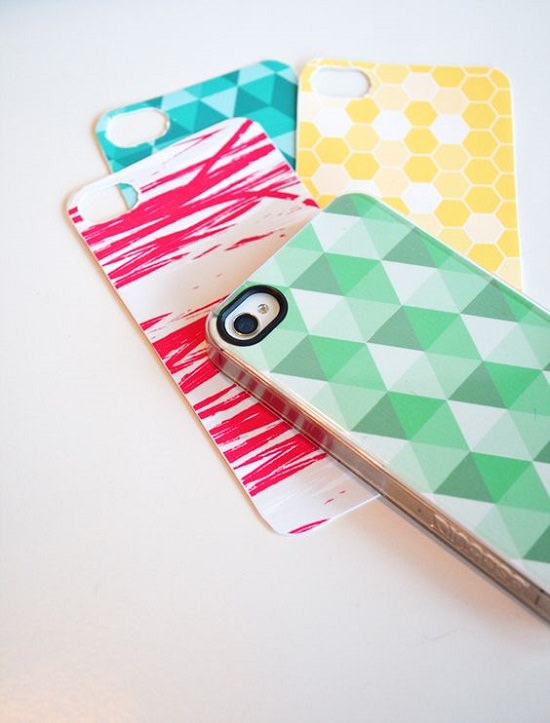 Visit this website to download the free iPhone case templates and beautify your ordinary mobile cover.
5. Washi Tape Mobile Case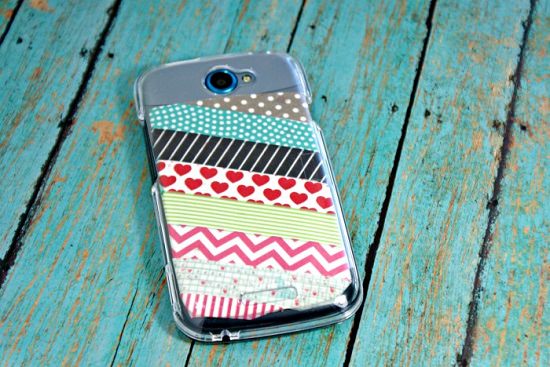 Pretty and complete the purpose–This washi tape phone case can be quickly in less than $5. Get the steps here.
6. DIY Pressed Flower Case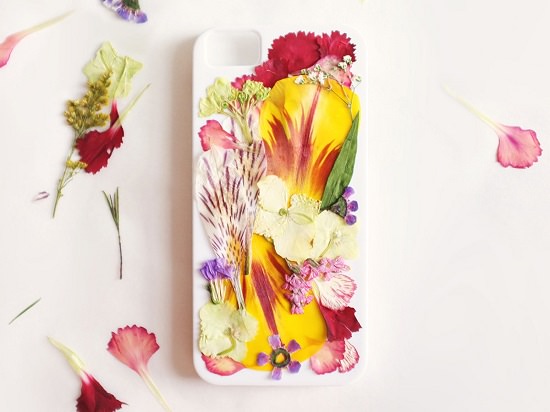 Imitate this beautiful pressed flower phone cover project with the tutorial available at Etsy.
7. DIY Pearl Mobile Case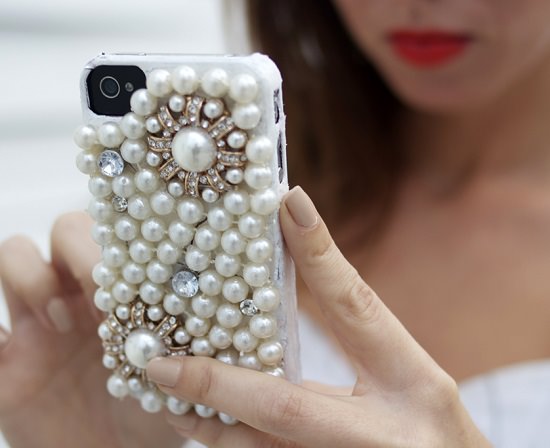 If you don't mind the extra weight, this pearl-and-rhinestone phone cover is sure to get those compliments rolling every time. We found the project here.
8. Leather Mobile Case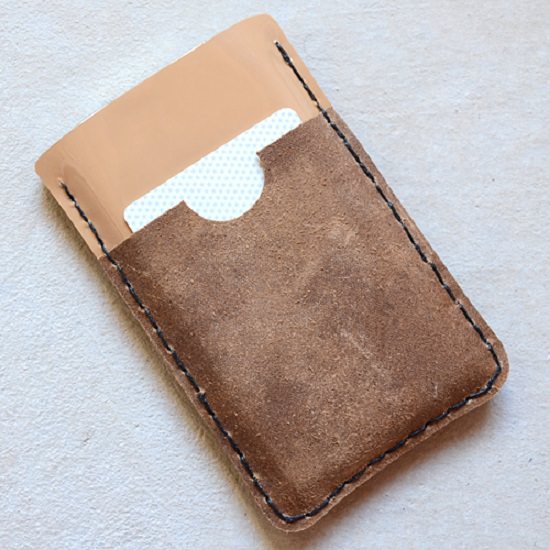 This DIY leather case is a nice last-minute gift for your lover this Christmas. Go to  Kojodesigns to get the directions.
9. DIY Customized Fabric Case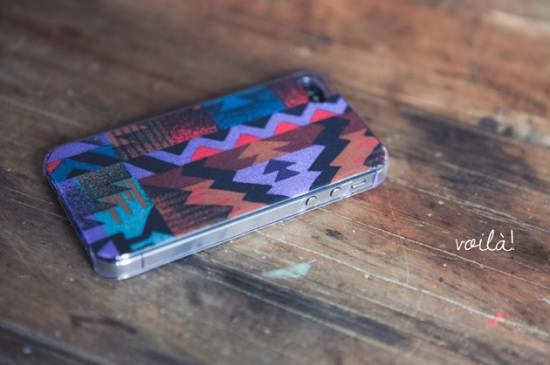 Whether you want a phone cover for the fourth of July or one that goes with the coat of your Manx cat,  Boat People Boutique hosts a bunch of styles for easy customization.
10. DIY Studded Case

Metallic studs combined with asymmetrical designs ensure a timeless style, so you don't have to change your phone cover again. This is one of the classiest DIY Phone Case Ideas, we found it at Unblushing.
11. DIY Neon Studded Phone Case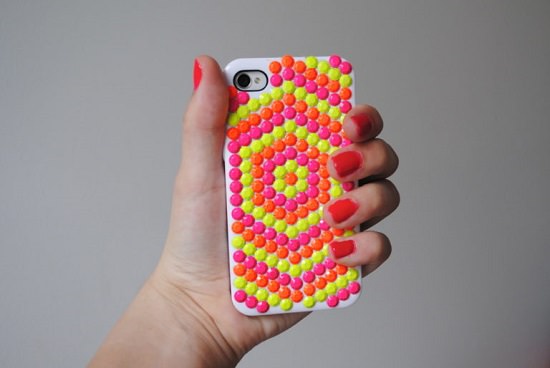 Bright neon studs are the perfect embellishment for a plain white phone cover. Click here for the DIY!
Also Read: Cool Laptop Accessories You Can Make
12. Leather Envelope Phone Case
This chic phone case is actually the combination of basic supplies and a printable template. The tutorial is here.
13. Nail Polish Stripes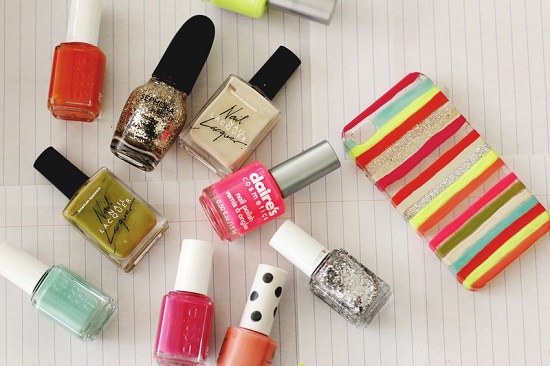 When in doubt, let your favorite shades of nail paint lend themselves to the back of a common phone case. Visit A Beautiful Mess. You'll find one more DIY project there.
Also Read: Amazing Nail Polish Craft Ideas
14. Chevron Glitter DIY Phone Case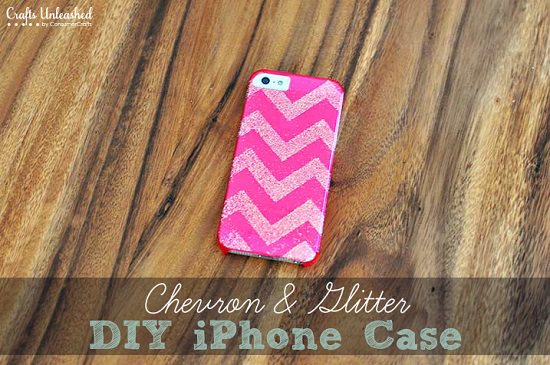 Chevron patterns laced with glitter are perfect for a princess-themed phone cover. Get the tutorial here.
15. Spy Striped Phone Case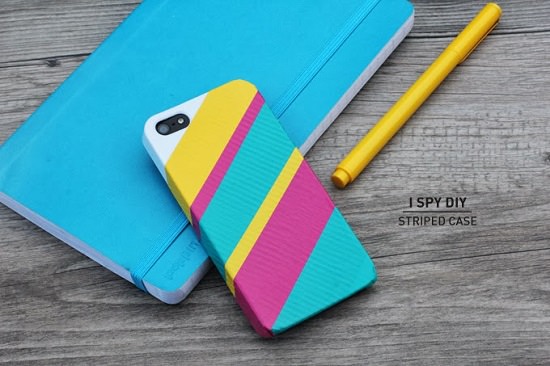 Unleash your creativity to envelope your phone cover with color-blocking patterns with the help of this DIY.
16. Cross-Stitch Phone Cases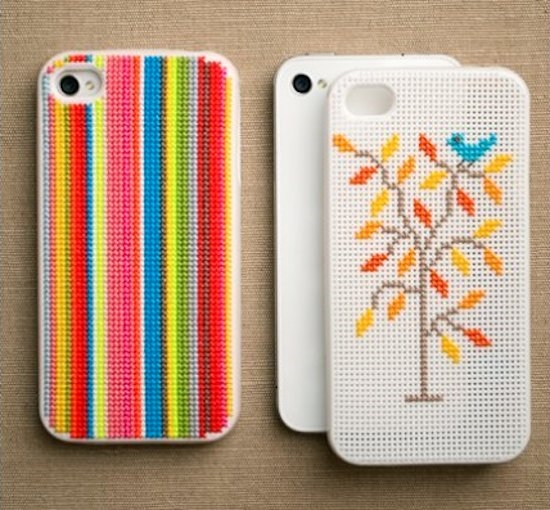 Add an aesthetic touch to your favorite piece of gadget with this impressive cross-stitch idea here.
17. DIY Watercolor Phone Case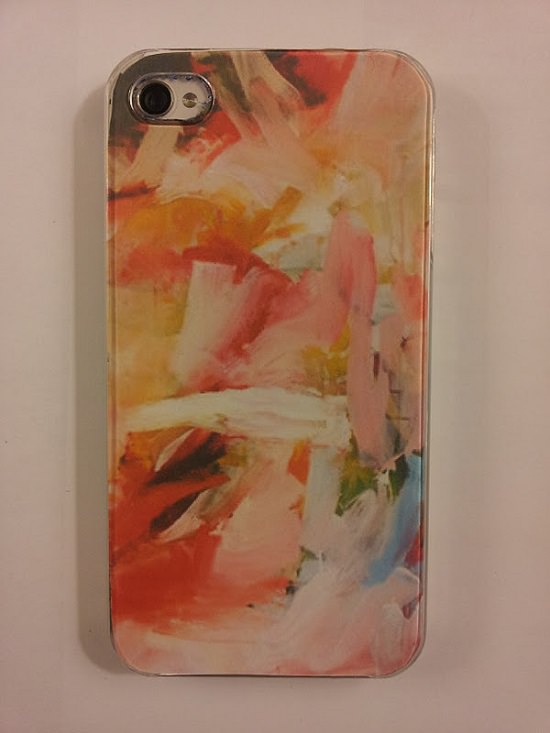 Printed pictures are embarrassingly easy alternatives to watercolor art for decorating your phone cover. The steps are here.
18. Lace Phone Case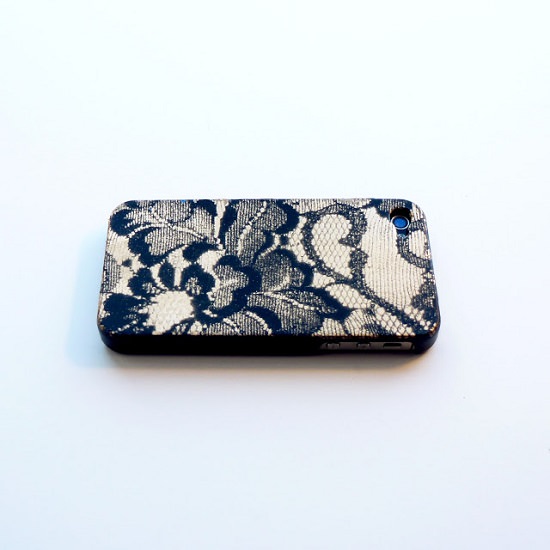 The lacy vintage look never goes out of style, bring it on the back of your phone with this DIY mobile cover idea here.
19. Easy Heart Felt iPhone Case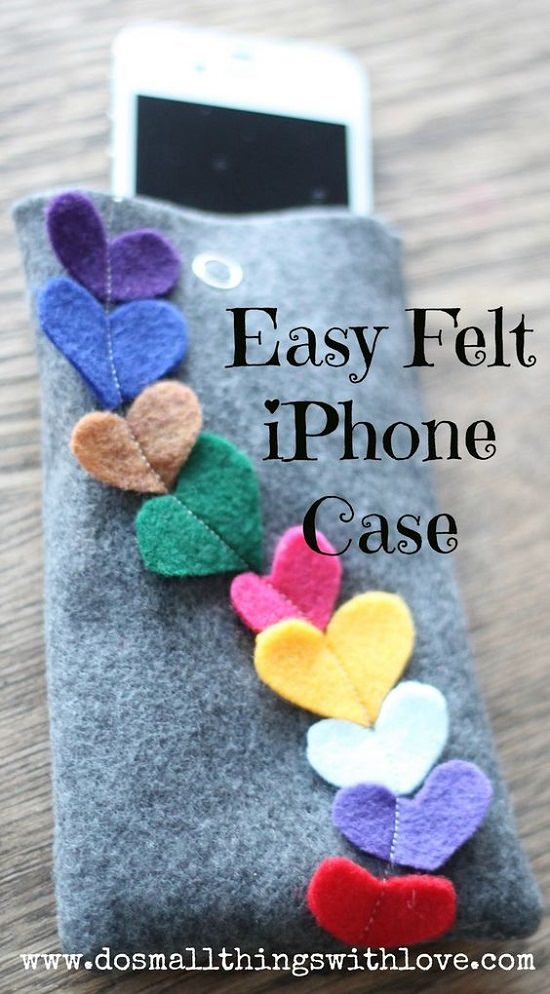 Give breezy Valentine's day vibes to your phone with tiny felt paper hearts. It's a good idea for winter as well. We found the idea here.
20. Metallic Polka Dot Phone Case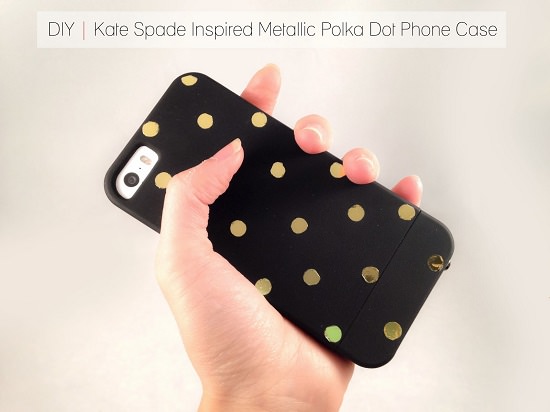 This eye-catching, polka-dotted style is for lazy DIYers who want a timeless touch to their phones. Head over to Cafe Craft Tea for more details.
21. Craft Paper Phone Cases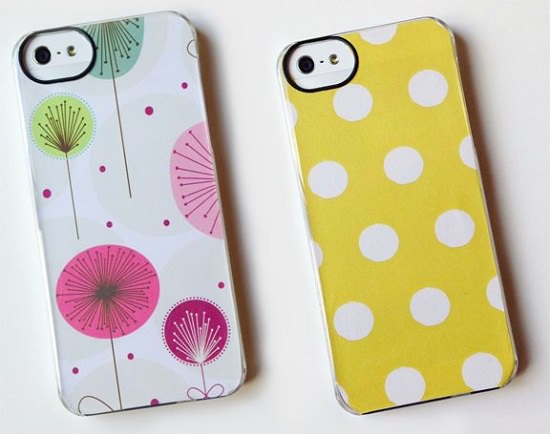 A clear phone case and art paper are two things you need to customize your phone at the drop of a hat. The tutorial is here.
22. Spiked Phone Case DIY using Jewelry & Metal Tabs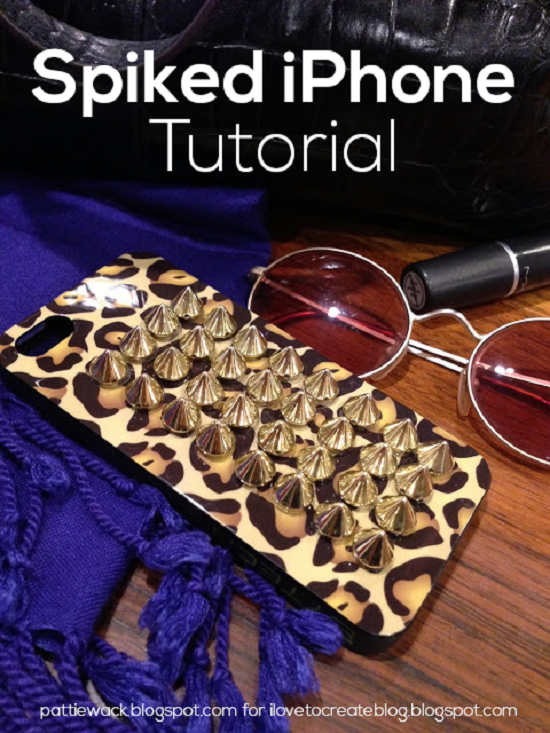 A trendier spin-off of the old animal print case, this spiked design is for those who prefer off-beaten tracks. Learn how to make it here.
23. DIY Confetti Phone Case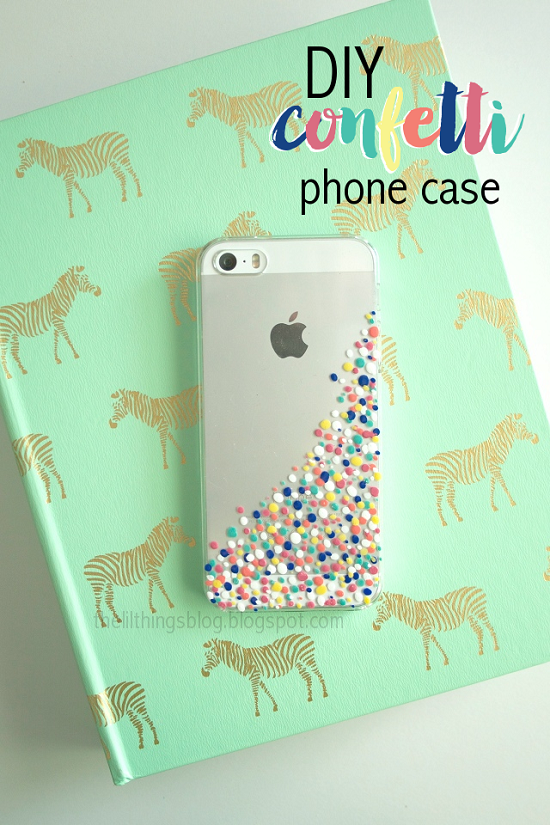 This colorful confetti themed phone case cheers you up when winter blues kick in. Click here for the how-to.
24. DIY Rainbow Button Phone Case
This easy phone case decoration idea can interest the kids as well in doing all the work for you.
25. Cover It With Glitter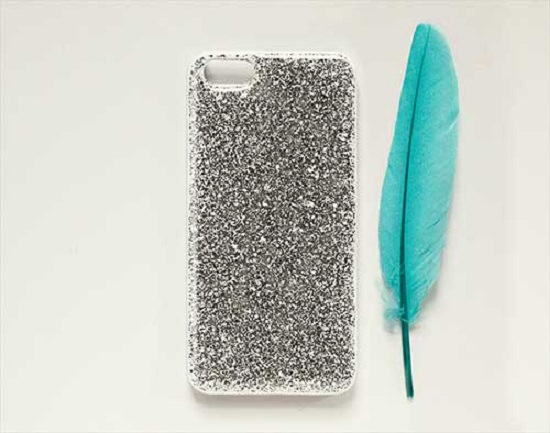 Here's an easy way to dress up your phone as well for the night party. We found it here.
26. DIY Rainbow Splatter Phone Case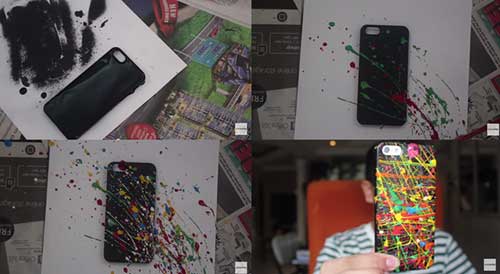 Spray paint this colorful abstract pattern on your phone case to become the coolest kid in your block. Watch this YouTube tutorial.