Explore some easy-to-make DIY Piggy Bank Ideas and teach your kids the importance of financing and money-saving. Read on to know more!
These DIY Piggy Bank Ideas will let you transform everyday objects into delightful penny banks for your little ones.
Check out the best penny projects here
---
DIY Piggy Bank Ideas
1. Ice Cream Fund Mason Jar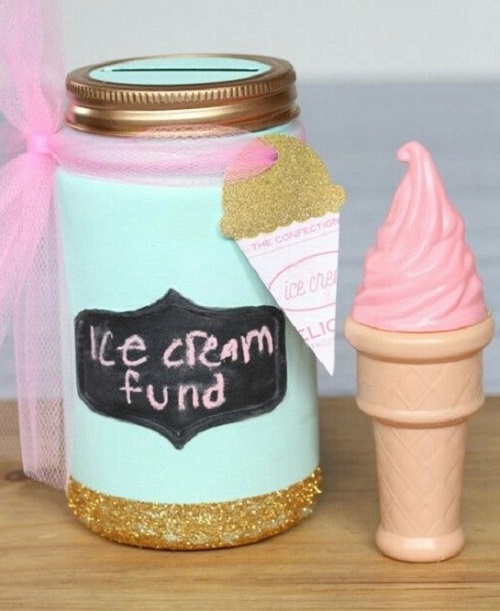 A dedicated mason jar for ice cream funds is a fun and effective method to instill the habit of saving in kids. Read the details here.
2. Cardboard Coin Bank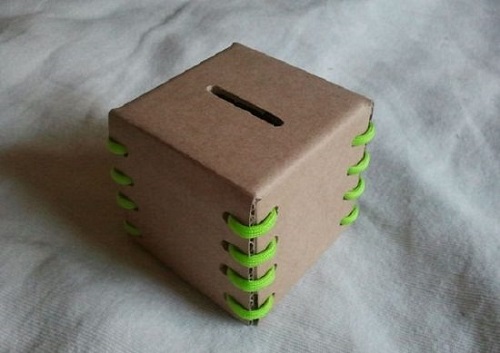 This coin bank is made from an old cardboard box, cord, and elastic tape. You can customize its size and appearance as well. Check out the DIY here.
3. DIY Spend, Save & Share Piggy Banks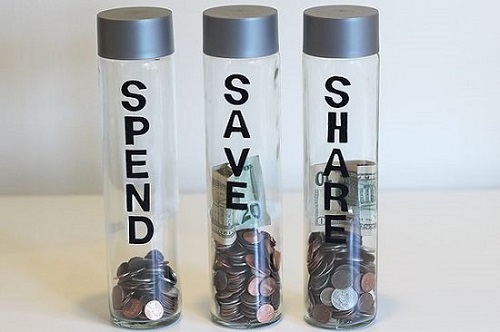 Make your kiddo learn the importance of saving, spending, and donating money with these three labeled piggy banks. Read this article for more info.
4. DIY Plastic Bottle Airplane Piggy Bank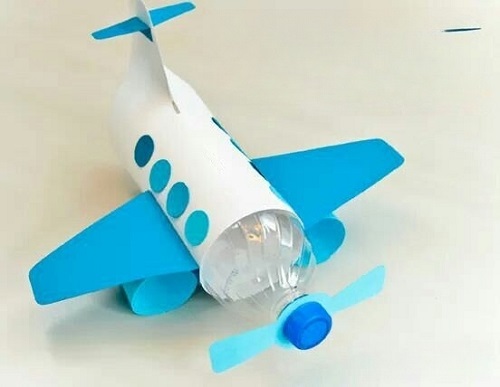 Here's another one of the funkiest piggy bank craft ideas, made from a plastic bottle, scissors, colored paper, and glue. Go through this article for the tutorial.
5. Totem Pole Banks from Cans and Duct Tape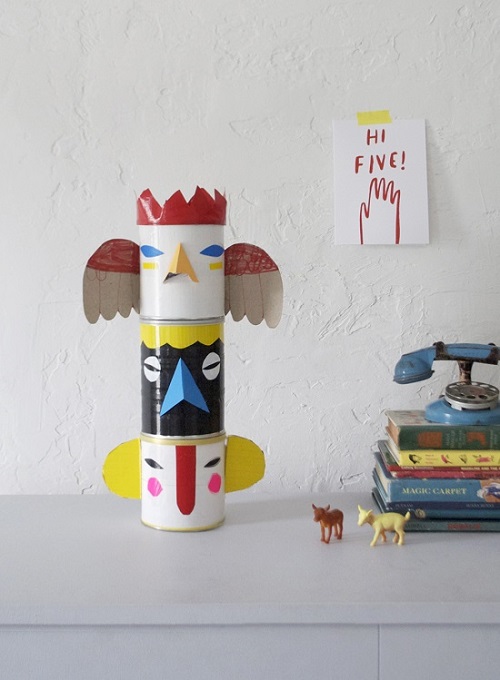 Teach your kids the virtues of saving money with this fun, colorful totem pole bank. Hop to this tutorial for more info.
6. Mason Jar Superhero Banks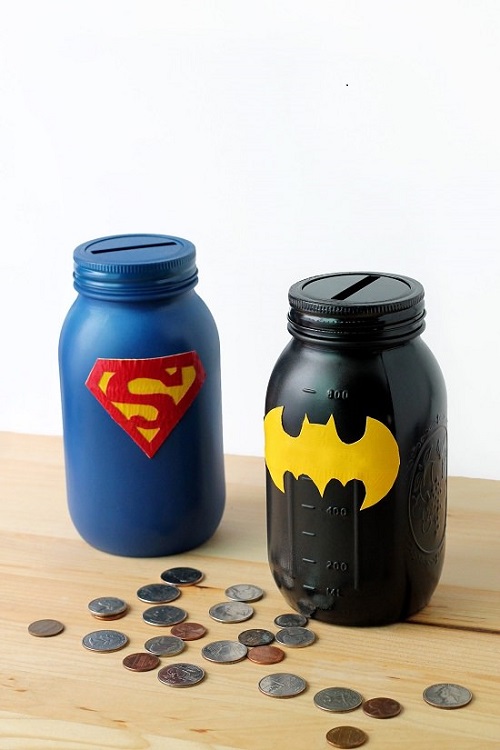 This superhero-themed piggy bank is a fun project to do with your kids. Follow the step-by-step instructions here.
7. Disney Savings Jar Bank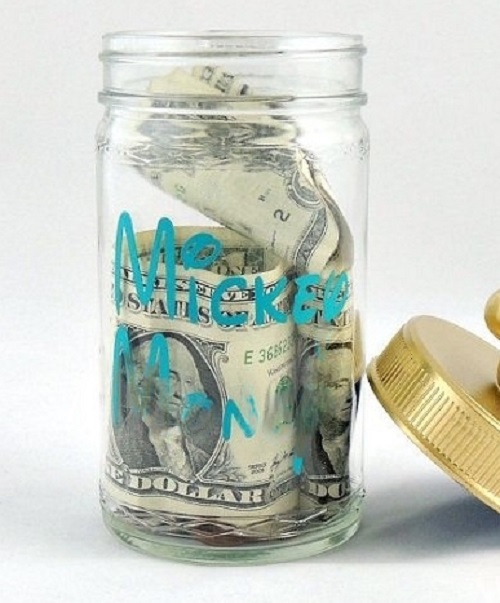 With this piggy bank, children can see their savings grow, fueling their anticipation for a magical Disney vacation. Get the tutorial here.
8. Stunning DIY Painted Globe Bank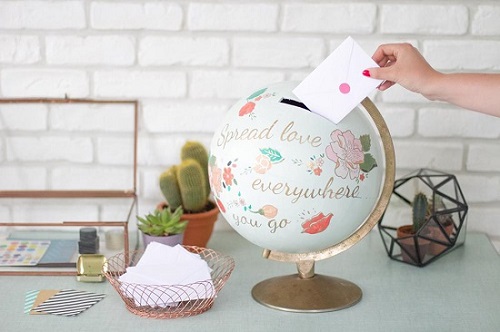 Learn how to turn an old globe into an eye-catching piggy bank in this tutorial. Get the instructions here.
9. Baby Wipes Container Piggy Bank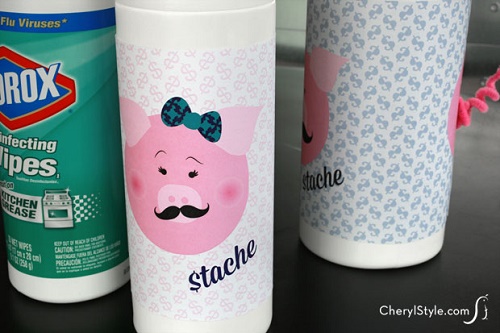 Encourage your kiddos to save their money in this wipes container piggy bank. It's super affordable and easy to make in a few minutes. The DIY is here.
10. Pringles Can Piggy Bank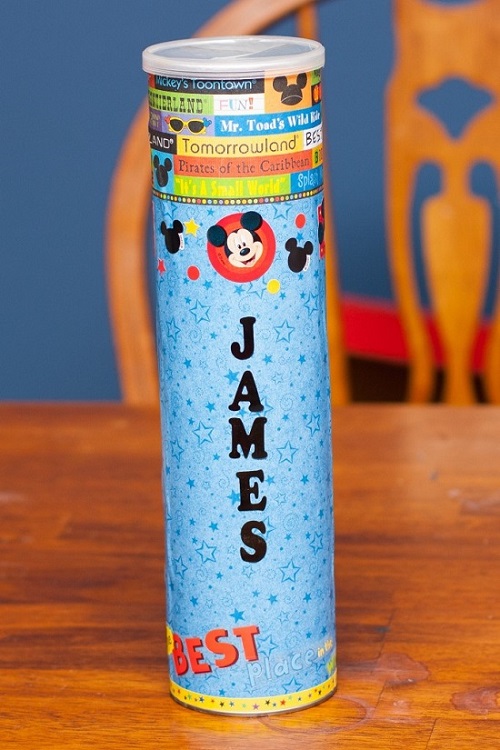 This DIY idea uses everything kids love, from Pringle cans to stickers and Mod Podge. Check out the steps in this tutorial.
11. Turtle Piggy Bank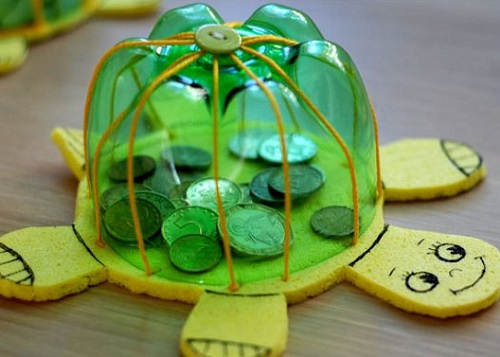 Make this turtle cash box using the bottom of a plastic bottle and some other supplies. Read the details here.
12. Silly 'Stache Jars Bank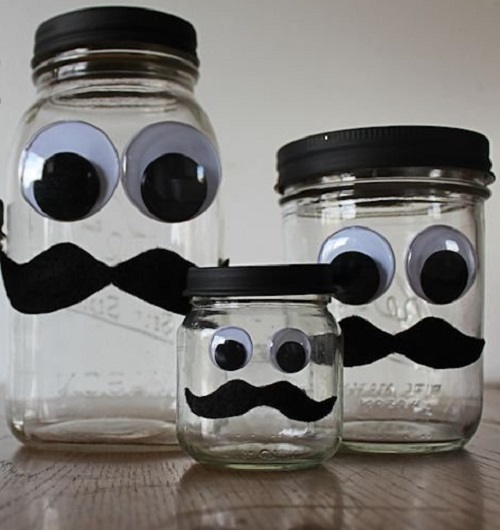 Glass jars, googly eyes, and stickers are all you need to create these decorative saving banks that let you display coin collections as well. Get the details here.
13. Soda Bottle Piggy Bank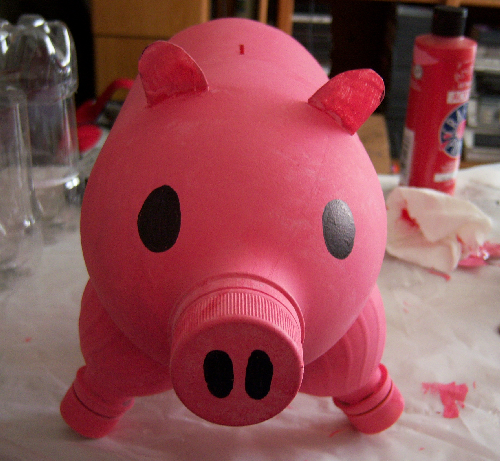 Upcycle a soda bottle to make this cute piggy bank. It's ideal for gifting purposes as well. See the instructions here.
14. Paper Mache Dino Bank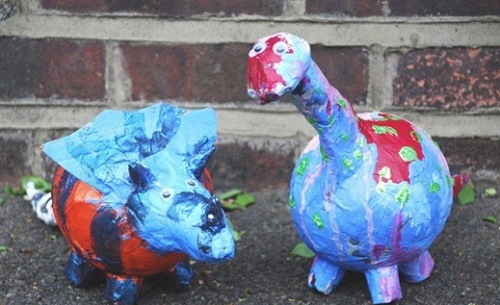 For a playful spin on the traditional piggy bank idea, consider crafting this paper mache dino bank. The details are here.
15. Pot o' Gold Piggy Bank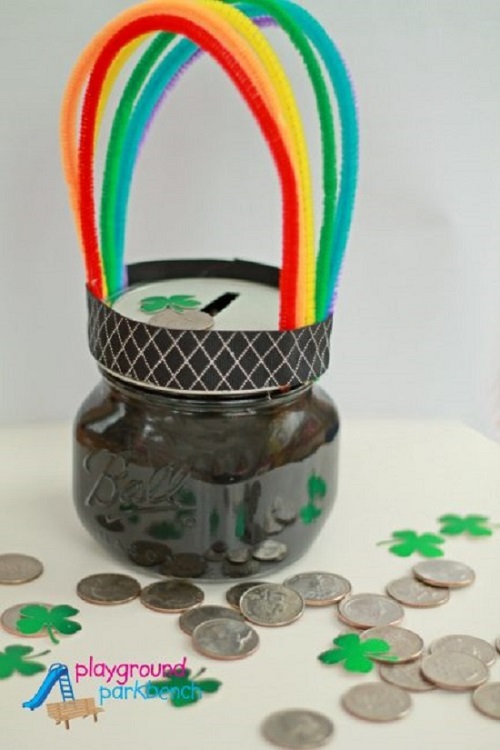 Inspired by an old Leprechaun legend, this rainbow-themed coin bank is a fun craft to do with kids. It's one of the most amazing DIY piggy bank ideas. Find the tutorial in this article.
16. Sparkle & Shine Piggy Bank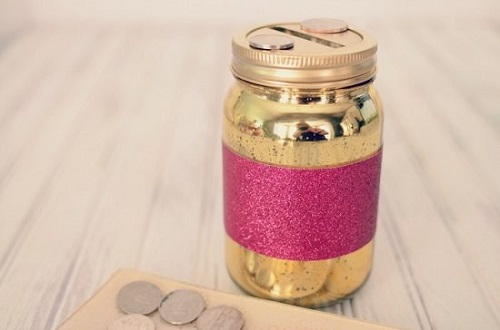 If you're looking for a glamorous piggy bank idea, consider trying this DIY that uses lots of glitters and metallic spray paint.
17. Handy Hamm Piggy Bank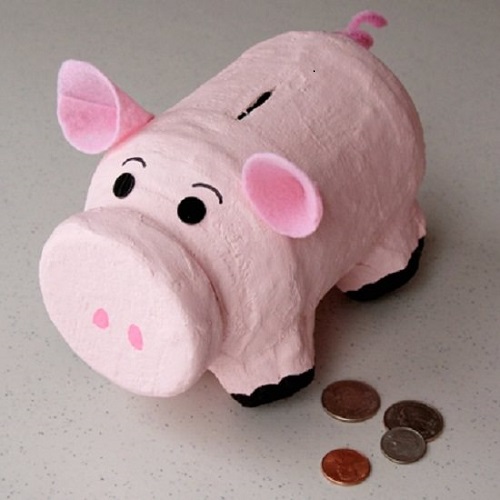 Grab a plastic jar, newspaper, plaster cloth, egg carton, paint, and a few supplies to craft this adorable piggy bank. Follow the instructions here.
18. Self-Sorting Coin Bank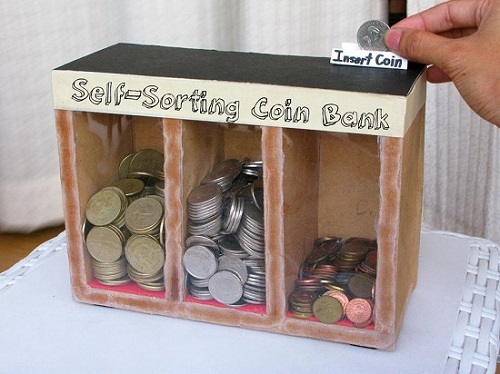 This wooden coin bank uses gravity to sort coins automatically. Plus, it doubles up as a penny-saving box. Get the DIY here.
19. Rainbow Mason Jar Piggy Bank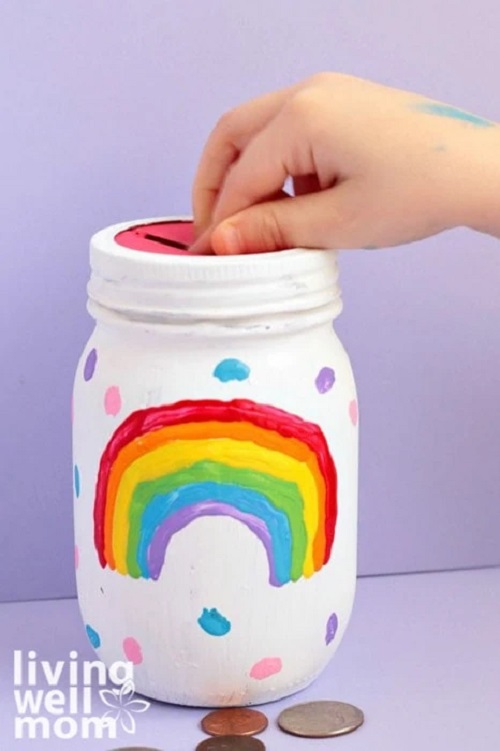 Make this colorful rainbow-themed piggy bank using a mason jar, acrylic paint, card stock, and this tutorial.
20. Piggy Bank From a Tissue Box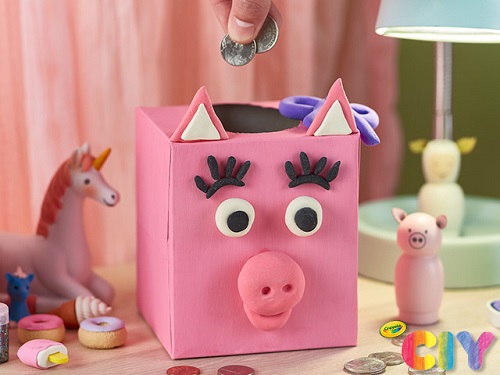 This piggy bank is a clever way to reuse an empty tissue box while encouraging healthy financial habits in kids. Here is the complete tutorial.
21. Banana-Patterned House-Shaped Coin Bank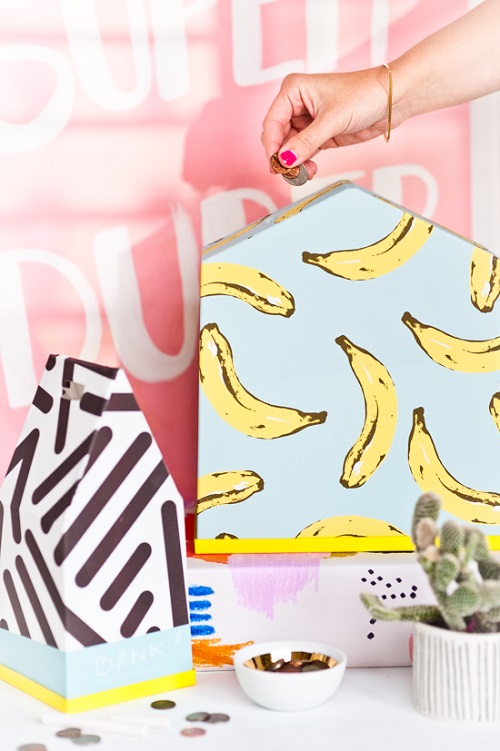 Using a milk carton as the base, you can fashion a chic house-shaped coin bank that makes a nice gift for the holidays, too. Check out the DIY here.
22. Robot Emoji DIY Piggy Bank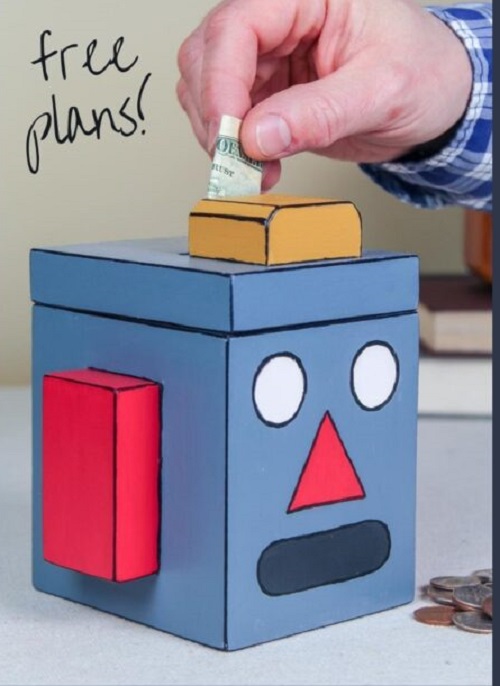 Shaped like a cute robot emoji, this DIY piggy bank is made with simple supplies like scrap wood and craft paints. Get the details here.
23. Cha-Ching Mason Jar Piggy Bank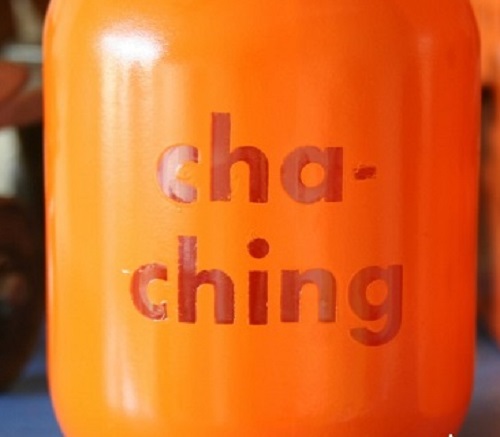 You only need a plain old mason jar to create a piggy bank. Learn more about this project in this DIY.
24. Papier Mache DIY Piggy Banks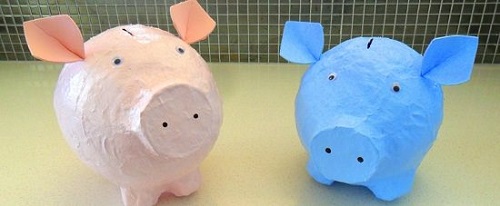 Encourage kids to start saving with their own personalized piggy banks. These paper mâché piggies are fun and easy to make from everyday items. Get the instructions here.
25. Minion Mason Jar Coin Banks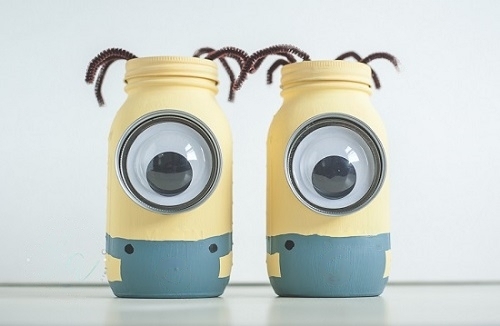 Is your kiddo a Minion fan? If yes, then these coin banks are the perfect weekend project for you. Go to this DIY for the details.
26. Minnie & Micky Mouse Mason Jar Money Banks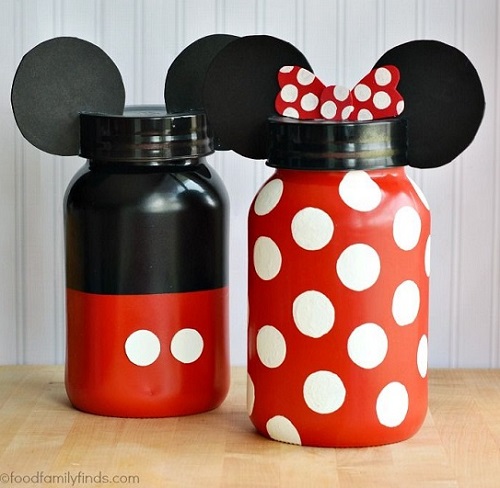 If Minions don't quite appeal to you, these twinning Micky & Minnie jars will seal the deal. They're equally easy to make and add a brighter pop of color to the rack. Get the instructions here.
27. Wooden Piggy Bank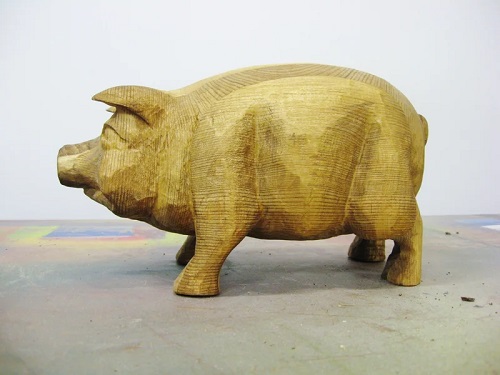 Carved from layers of scrap pine boards, this wooden piggy bank is a stylish money-saving tool. Make your own with this DIY.
28. DIY Car Coin Bank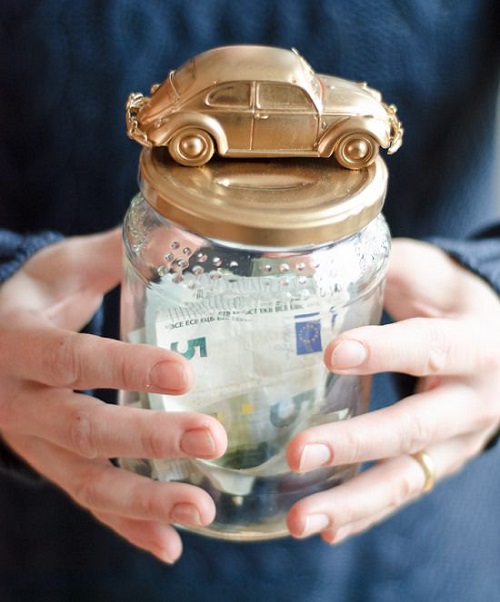 This is not a typical piggy bank. It's beautified with a gold-painted toy car. Read more about this project here.
29. Dollar Store Piggy Bank Makeover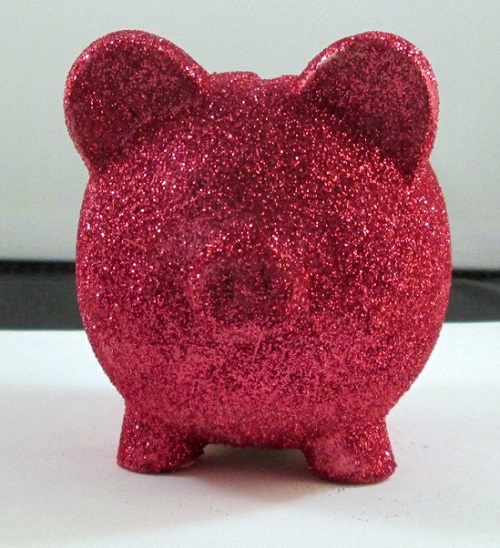 Rather than purchasing a new piggy bank, jazz up your kiddo's old one with lots of glitters. Get the DIY here.
30. DIY Shadow Box Piggy Bank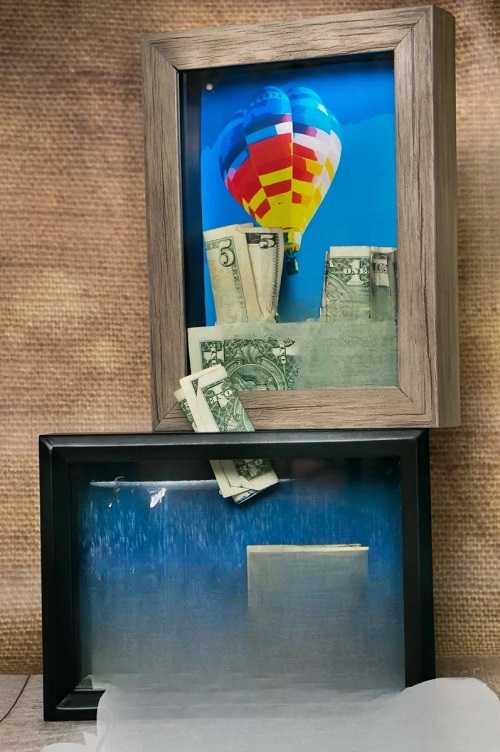 To recreate this custom shadow box piggy bank for yourself, check out this step-by-step tutorial.
31. Homemade Piggy Banks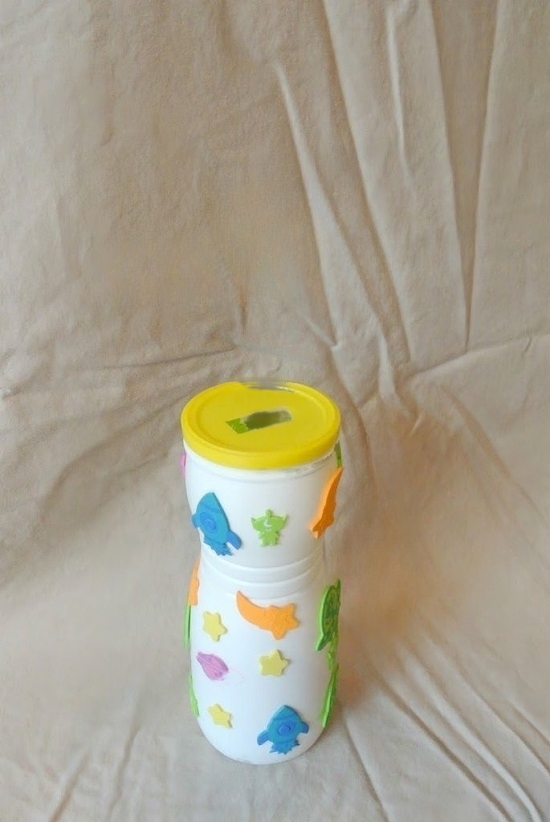 DIYing this puff bottle-upcycled piggy bank is easy and lets your kids have fun customizing it. Here's the tutorial.
32. DIY Spend, Save, and Give Jars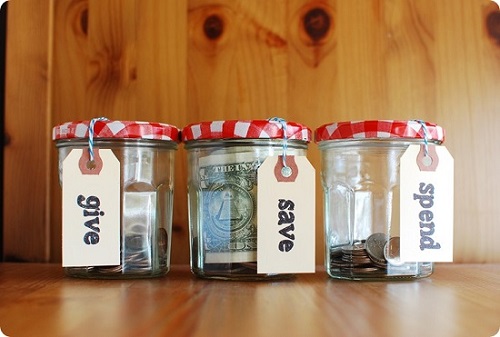 Learn how to transform ordinary jelly jars into coin banks and encourage your kiddos to spend, save, and donate. Follow the instructions here.
33. Formula Can Piggy Bank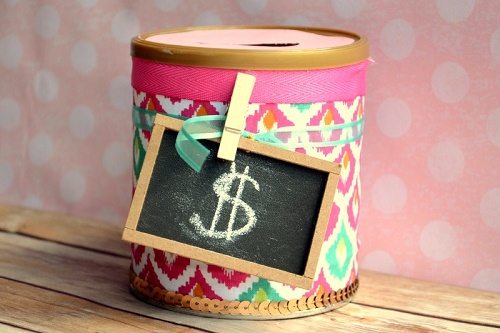 Embellish an old Formula can with decorative fabric, ribbons, and a dollar tag to create a chic coin bank. Get the DIY here.
34. DIY Giant Mail Tube Pencil Piggy Bank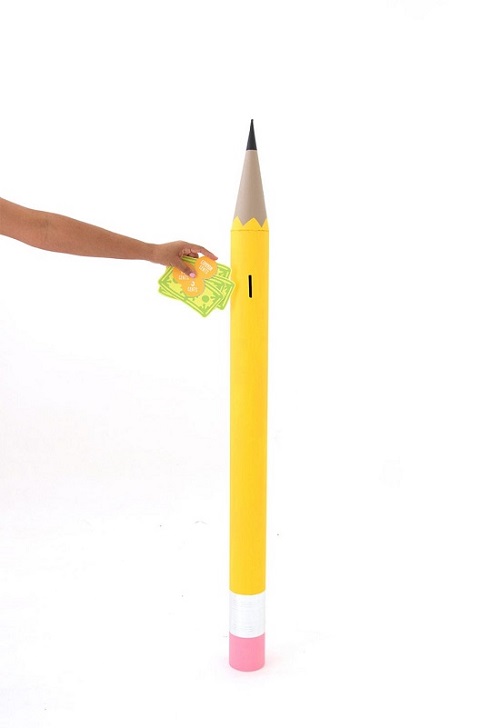 Shaped like a giant pencil, it's a one-of-a-kind storage container for pennies and dollar bills. The details are here.
35. Paper Plate Frog Coin Bank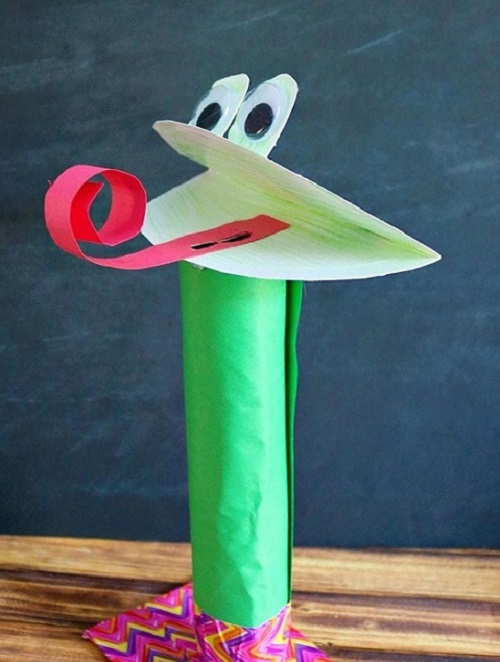 This is the perfect craft to create with your kiddos this summer! It's one of the best kid-friendly DIY piggy bank ideas. Follow the tutorial here.
36. Drink Container Bank
Made with a plastic bottle and pink foam stickers, this piggy bank looks like a festive prop. Make one with this DIY.
37. Crochet Piggy Bank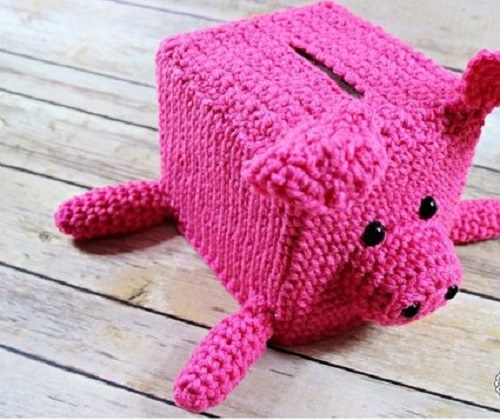 Instead of discarding the empty tissue box, convert it into an adorable piggy bank with crochet. The instructions are here.
38. Coffee Can Piggy Bank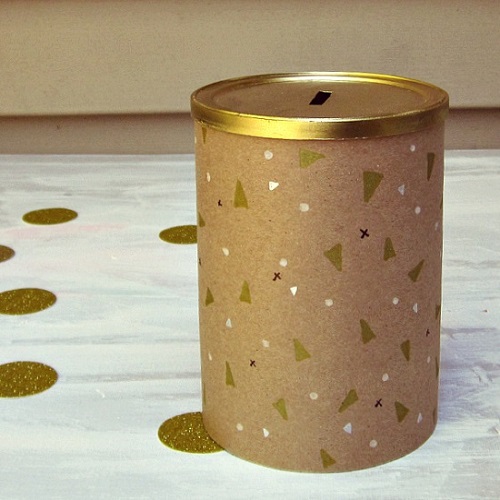 Transforming a drab coffee can into a purposeful and decorative item is fun and fulfilling. Give this DIY a try.
39. Piggy Bank Freebie Pouch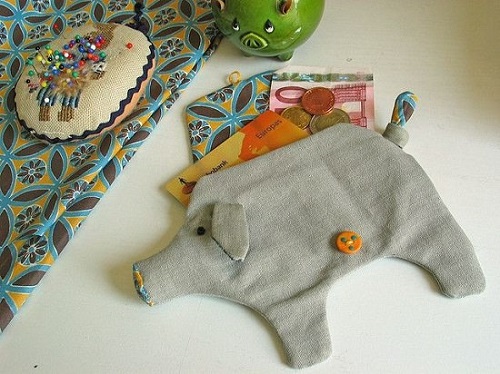 Follow this article to make a peculiar piggy bank out of fabric and basic sewing skills.
40. Painted Polka Dot Piggy Bank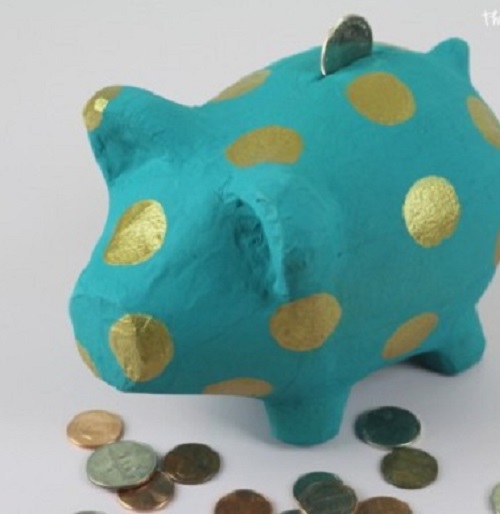 This cute polka-dotted piggy bank is an artsy offering to a contemporary-style dressing table and keeps your change handy when you're in a hurry. Get the DIY here.
41. DIY Leather Piggy Bank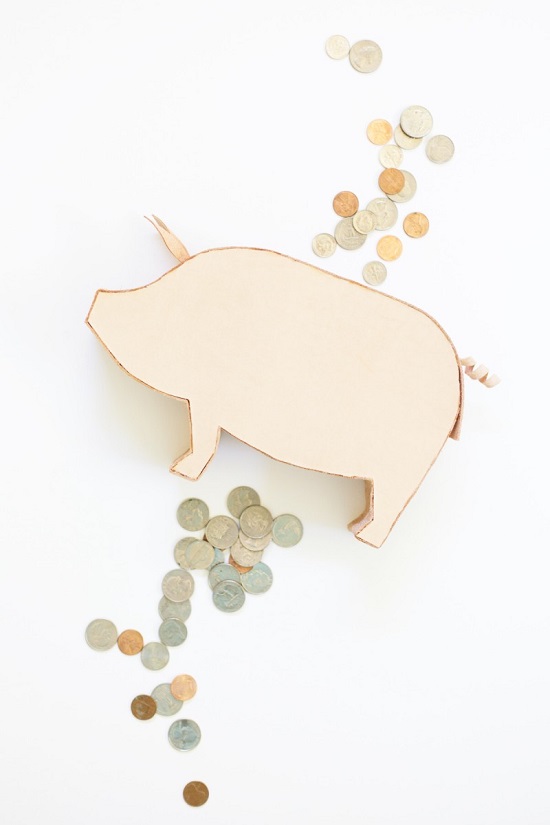 Adorable and space-friendly, this trendy leather piggy bank has a secret opening for emptying the coins, so you won't have to rip apart the entire thing. Follow the DIY here.
42. DIY Piggy Bank Gift Boxes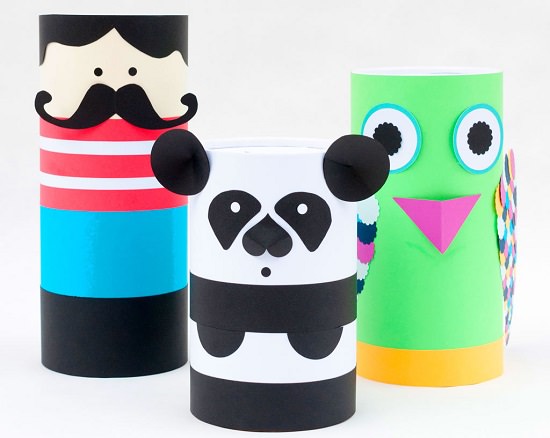 These piggy banks disguised as whimsical gift boxes excite your child's imagination, making it a fun challenge for them to save as many coins as they can. Make them with this tutorial.
43. Mouthwash Bottle Piggy Bank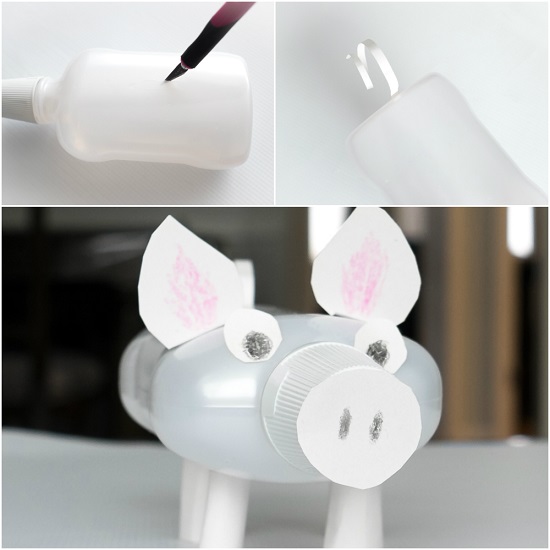 With recycled materials and cute cutouts, this zero-waste DIY piggy bank project makes a nice addition to your child's room. Get the instructions here.
44. DIY Cardboard Coin Bank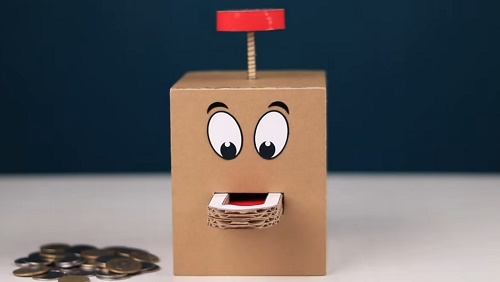 Create a super affordable piggy bank for your little one using cardboard. Follow these detailed instructions.
45. DIY Charlie Brown Coin Bank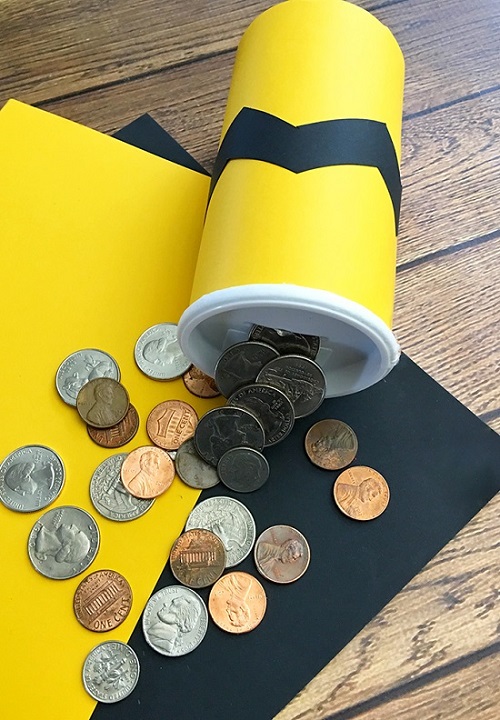 Salvaged from an empty roll can, this coin bank is super easy to make. See the instructions here.
46. DIY Yarn Fund Piggy Bank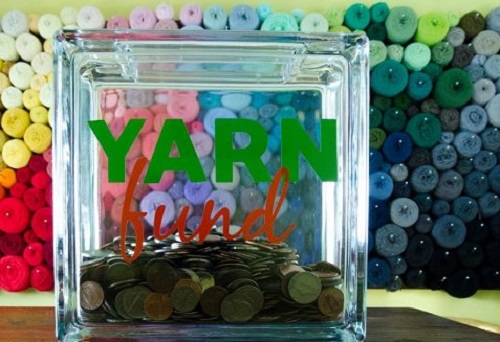 How would you like a glass block that not only adds to your decor but also lets you showcase your saved coins? This DIY is all about that!
47. Gold Piggy Bank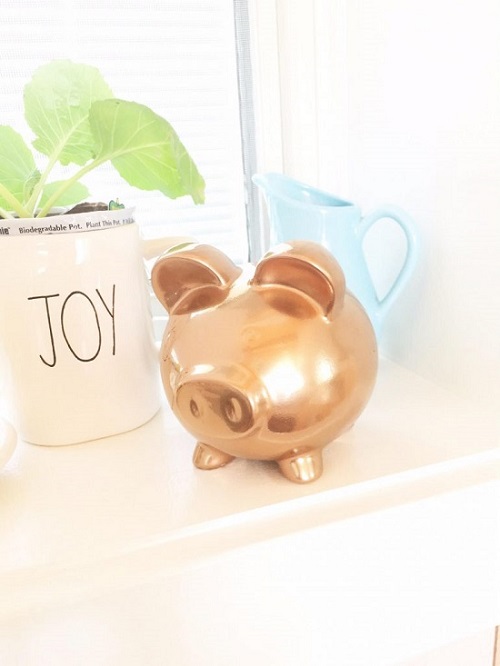 Looking for a special baby shower gift that won't break the bank? How about this trendy rose gold piggy bank? Check out the DIY here.
48. DIY Cow Piggy Bank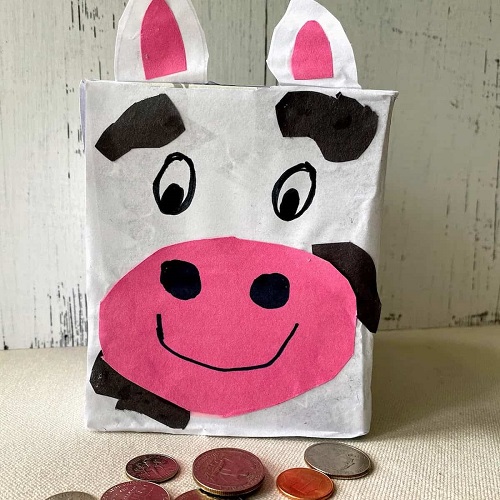 Transform an empty tissue box into a cow-themed piggy bank using this tutorial. It's a beginner and kid-friendly project.
49. Bus Piggy Bank Toy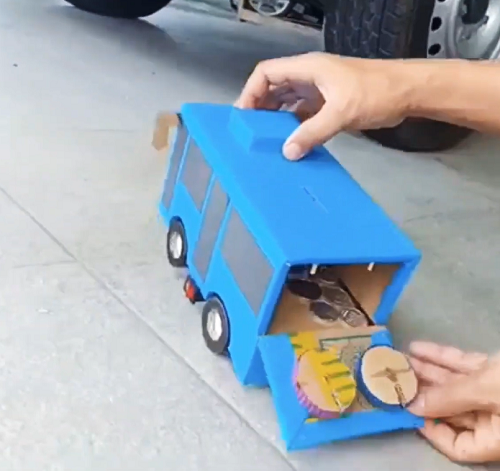 Watch this video to create a bus-shaped piggy bank that also doubles up as a fully functional toy.
50. Sequin Piggy Bank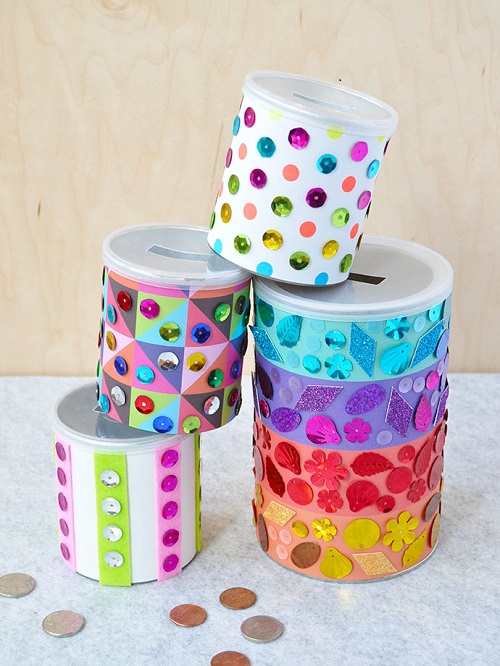 Adorned with rainbow-hued sequins, these glammy piggy banks are super easy to customize. If your kids are saving up for something special, these coin banks are just what they need!
Here are the creative beads craft ideas