Instead of buying chemical scrubs, meet these 66 DIY Salt Scrub Recipes to make your own homemade product for beautiful, exfoliated skin!
1. Sea Salt Hand Scrub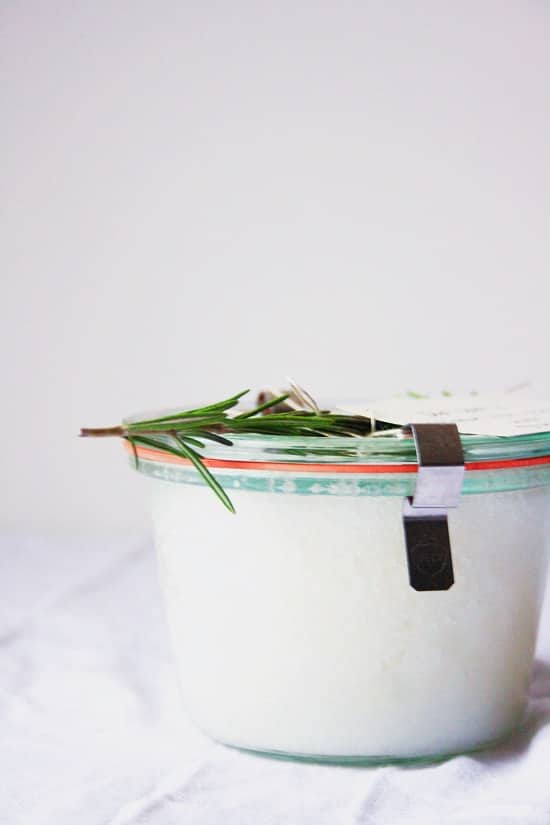 If your hands are crusty and dry from excessive washing, consider keeping this skin-renewing blend of sea salt and coconut oils on your kitchen sink. Follow the DIY here. Also, check out These 34 Sugar Scrub Recipes.
2. Rosemary Lemon Salt Scrub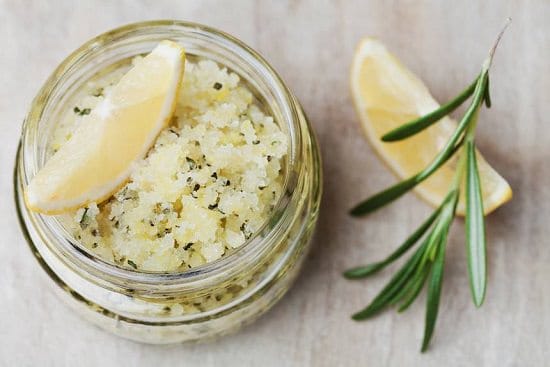 There's nothing quite like the refreshing aroma of this lemon-rosemary scrub to feel energized on dreary winter mornings. Using a base carrier oil makes for a nourishing blend that makes your skin feel pampered all day. Here's the recipe.
3. Own Salt Scrub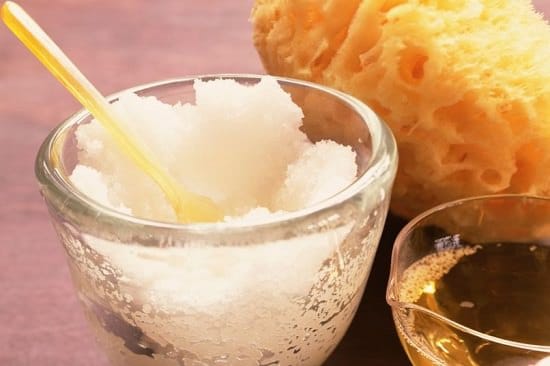 Enriched with the goodness of revitalizing essential oils like bergamot and lavender, this hydrating salt scrub nourishes flaky skin, making you beach ready within minutes. Get the recipe here. Don't miss these 20 Salt Uses Around the Home.
4. Sea Salt Body Scrub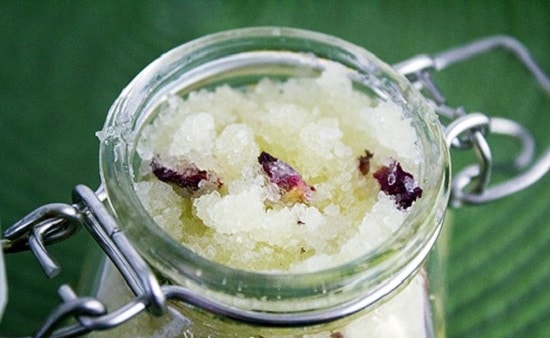 This versatile sea salt scrub recipe can be adapted in multiple ways to reduce cellulite, feel energized, or get glowing skin sans wrinkles and fine lines. This DIY has the details.
5. Salt and Sugar Scrubs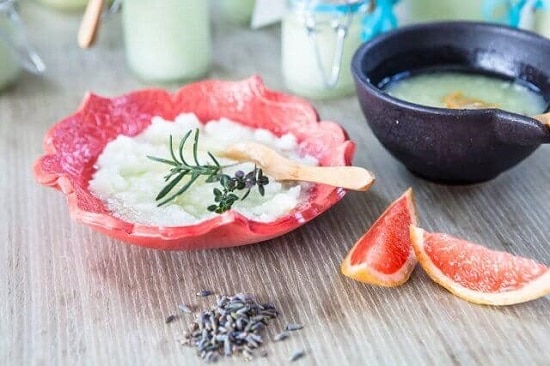 When you have just five minutes and two ingredients at hand, what you need is this insanely easy tutorial that shows you how to rustle up new recipes of sugar and salt scrubs to go with your mood.
6. DIY Himalayan Salt Scrub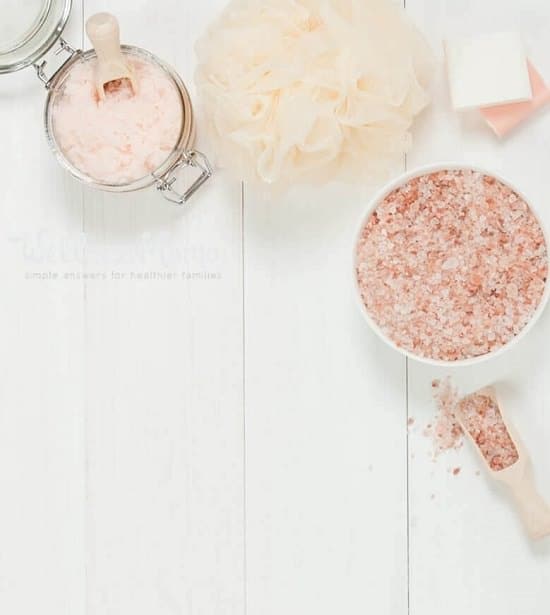 This grapefruit-Himalayan salt scrub goes beyond exfoliation; it evens out skin tone, helps fade blemishes, and even fights cellulite. What more can you ask for! Get the recipe here.
7. Chamomile Calming Salt Scrub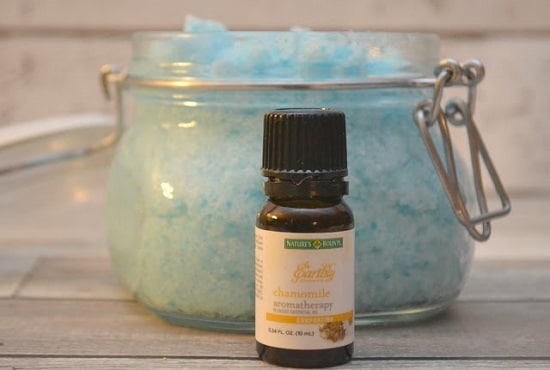 This post has DIY salt scrub recipes The soothing and nurturing scent of this chamomile salt scrub calms your senses, helping you unwind at the end of the day and get ready for bedtime. Get the recipe here.
8. Lavender Salt Scrub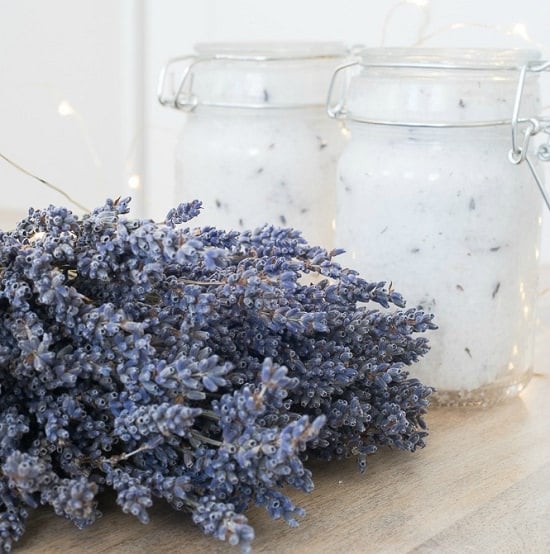 The uplifting aroma of this lavender-infused salt-coconut oil scrub is a great way to wake up for the day. You can even use it as a motivation to hit the gym in time. Here's the recipe.
9. Ginger Salt Scrub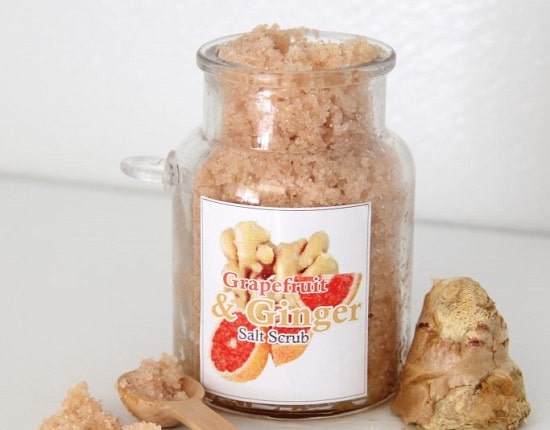 Downplay the aggressive scrubbing action of salt with a moisturizing blend of jojoba oil, vitamin E oil, and glycerin. Add in grapefruit extracts and ginger juice to promote tissue repair from deep within. Here's the recipe.
10. DIY Salt Scrub with Coconut Oil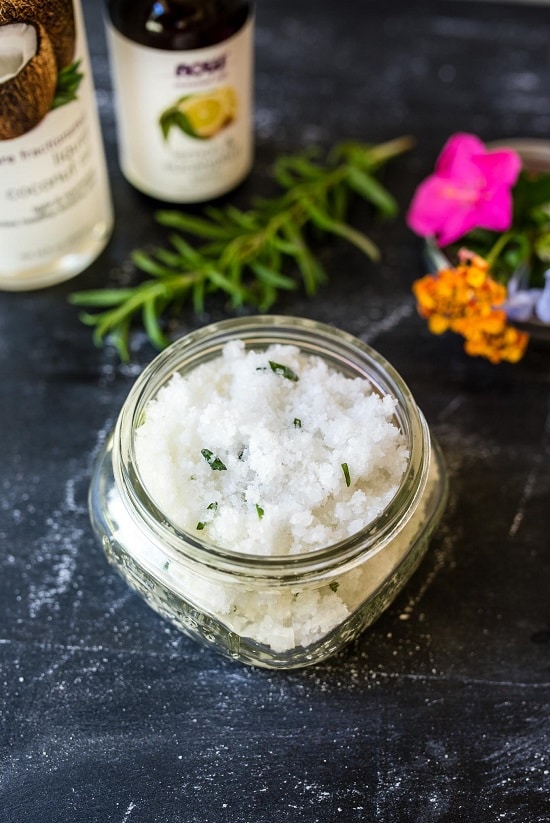 This basic salt scrub recipe is a nice way to get started on organic skincare at home. Also, it's so versatile that you can practically swap out ingredients, like sugar for salt and olive oil for coconut oil.
11. Honey Salt Scrub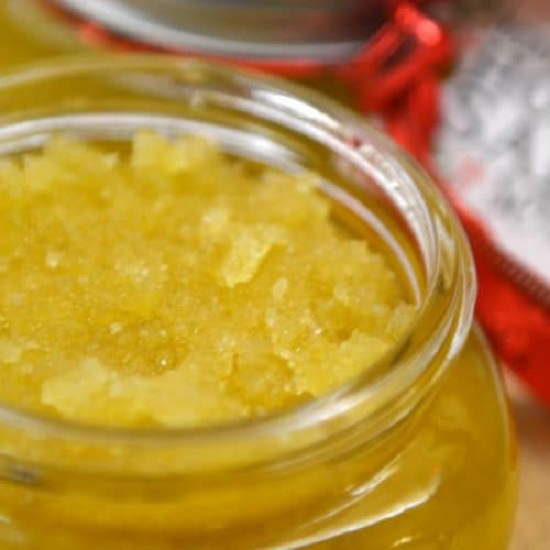 Don't be fooled by the simplicity of this two-ingredient DIY scrub. It employs the ultra-emollient nature of honey that keeps you hydrated all day, as well as unrefined salt to remove all the gunk.
Also Read: DIY Lip Scrub Recipes
12. Homemade Ocean Salt Scrub
This sea blue-hued scrub lathers up like a charm and creates a refreshing experience all the while, thanks to the presence of citrus oil and avocado extracts. Here's the full recipe.
13. DIY Lush Ocean Salt Scrub
Replicate the lovely blue shade and skin-conditioning properties of Lush's very own ocean salt scrub with this insanely easy, five-minute DIY at home.
14. Lemon Salt Scrub
Bits of lemon and salt whipped to a creamy goodness with drops of castile soap added for extra frothiness make for a lovely scrub that nourishes as it exfoliates, making your skin just like that of a baby. Here's the recipe.
15. Epsom Salt Body Scrub
The innocent little Epsom salt scrub does wonders, despite its short ingredient list. It's particularly great at calming tense and tired muscles, promoting relaxation and eliminating worries for the day. Here's the recipe.
16. Pink Salt & Coconut Oil Scrub
With an appearance so lovely that you'd be tempted to take a lick, and an aroma equally refreshing that uplifts your mood, this humble blend of pink salt and coconut oil is great for detoxifying your skin in a snap. Here's the recipe.
17. Raspberry Jam Salt Scrub
There's nothing quite like raspberry to invigorate your senses. Add that to a layer of pink salt whipped in coconut oil for a delicate scrub formula that intensifies moisture absorption and healing. Here's the recipe.
18. DIY Peppermint Sea Salt Scrub
The refreshing aroma of peppermint gives you an instant boost to kickstart the day, while the grainy texture of salt offers heavy-duty exfoliation, making it one of those early morning rituals you just can't miss. Find the recipe here.
19. DIY Vegan Salt Scrub
When you're looking to relax at a staycation with a self-indulgent body scrub, this one containing dead sea salt, olive oil, and lavender extracts is a great way to go. Find the DIY here.
20. DIY Salt Exfoliating Body Scrub
led with the moisturizing goodness of olive oil and coconut oil, this DIY salt scrub replenishes dry, flaky skin, making it perfect for the winters.
21. DIY Pink Lemonade Solid Salt Scrub
With light coconut oil as the base, few drops of lemon essential oil for a subtle aroma, and salt for exfoliation, this DIY scrub is super easy to spread and absorbs easily into the skin.
22. DIY Salt Foot Scrub
Add a blend of essential oils, and dead sea salt to your hot water soak takes care of tired feet riddled with calluses, giving you delicate baby soft toes when you step out. Here's the full recipe.
23. Healthful Salt Scrub Cubes
Never miss out on your self-care routine no matter how far you're from home. These DIY salt scrub cubes are the answer.
24. DIY Shea Butter Body Scrub with Dead Sea Salt
Infused with a touch of shea butter and olive oil, this dead sea salt scrub heals skin inflammation and seals the outermost moisture coating of the skin, making it a must for winters. Here's the recipe.
25. DIY Rose Body Salt Scrub
Pamper yourself like never before with the uplifting scent of rose in your bath. Adding dead sea salt ensures a thorough scrubbing experience to flush out damaged cells and promote renewal. Here's the recipe.
26. Salt & Oatmeal Body Scrub
When daily chores leave your hands as coarse as sandpaper, turn towards this hydrating oatmeal-salt blend for healing. It does short work of eliminating grime buildup, leaving your skin smooth and glowing. Here's the recipe.
27. Grapefruit Salt Scrub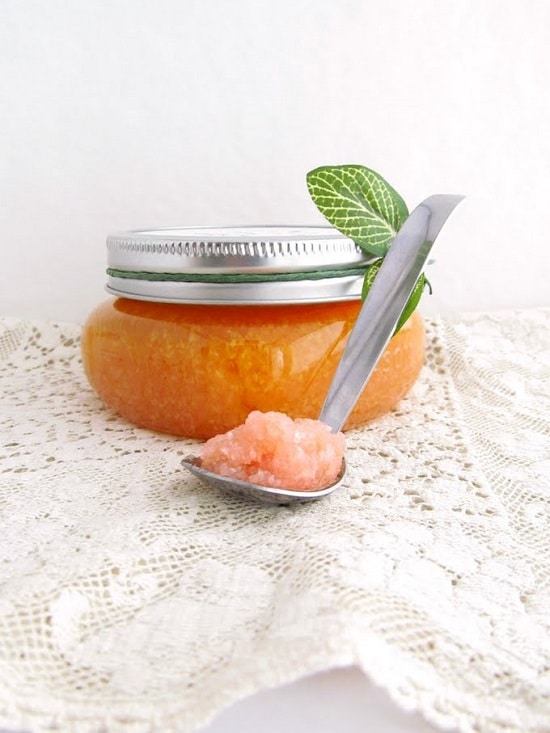 If your skin is sensitive to rough exfoliation, consider using kosher salt instead. It has a finer texture and absorbs easily. Add that to honey and grapefruit for a beautiful afterglow. Here's the recipe.
28. Mint Himalayan Scrub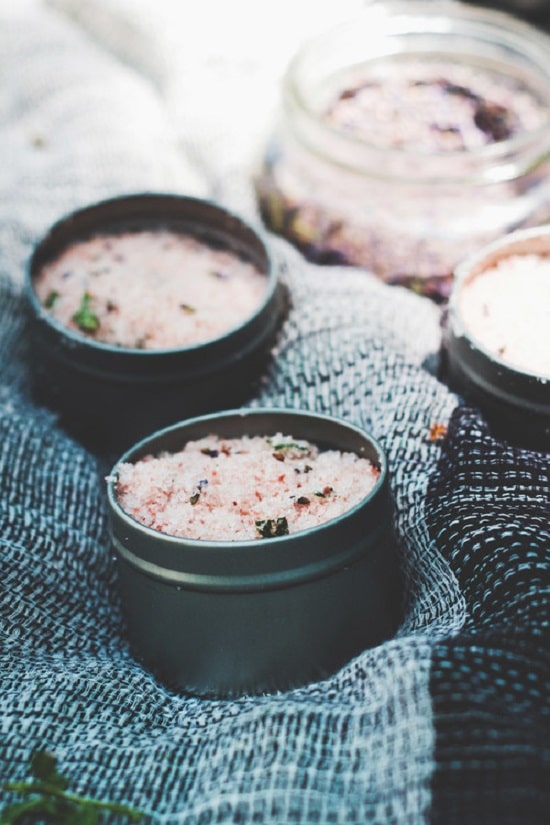 If your skin seems to be in desperate need of nutrients, consider using this DIY salt scrub as a soak instead. Infused with the delicious scent of lavender and the cooling, astringent properties of mint, it penetrates deep inside the skin, replenishing its vitamin C content.
29. Orange Rosemary Salt Scrub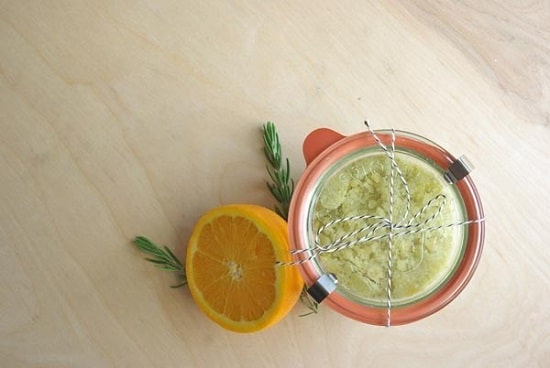 The crisp, woodsy aroma of rosemary coupled with the exfoliating and lightening properties of lemon makes for a rejuvenating scrub perfect for the hands and feet. Here's the recipe.
30. DIY Herbal Salt Scrub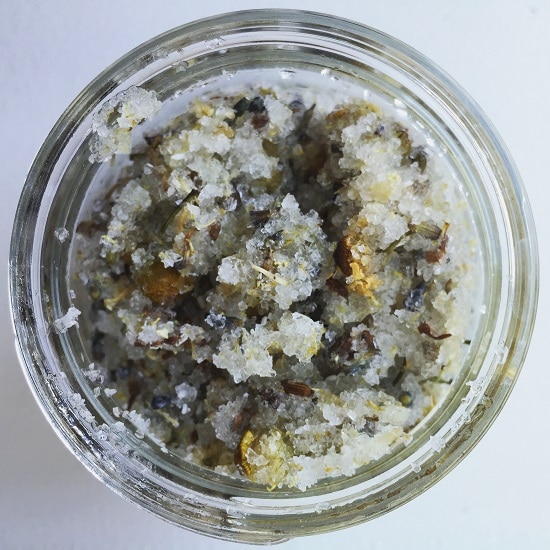 This luxurious scrub has lavender and chamomile extracts that soothe and cool inflamed skin, as well as coconut oil to seal in moisture. Adding salt makes for an exfoliating mix that removes dead cells and promotes skin renewal. Get the recipe here.
31. Moisturizing Evergreen Salt Scrub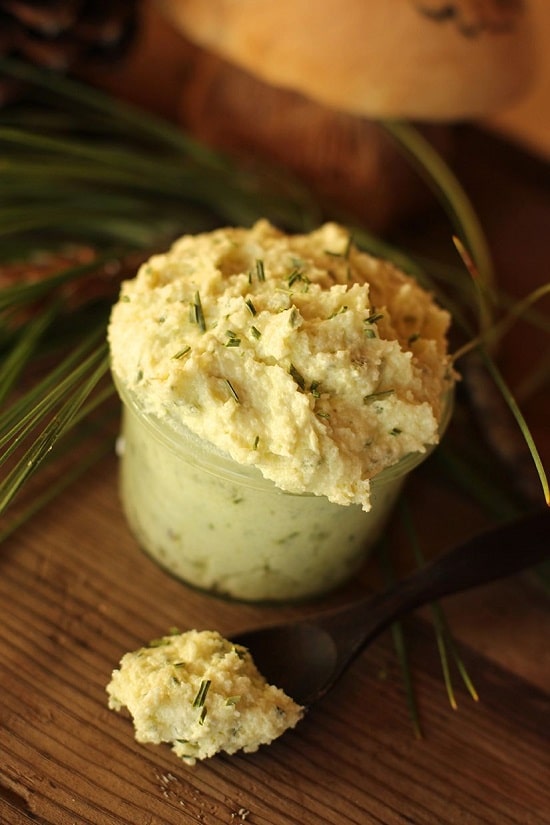 Combining salt, shea butter and coconut oil makes for a deeply nourishing mix that compensates for the drying aftereffects of exfoliation, making it perfect for repairing dry skin in winters. Follow the recipe here.
32. DIY Salt Lime Scrub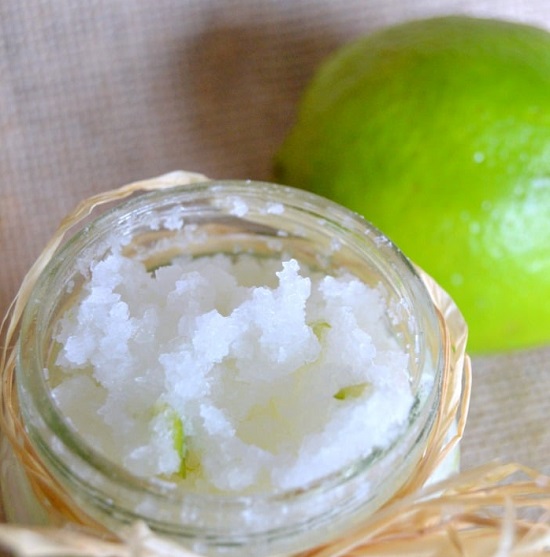 Using olive oil as the base, this refreshing lemon-scented salt scrub is a delight to treat your skin to, leaving it soft and bouncy while keeping flakiness at bay. Here's the recipe.
33. Pumice & Sea Salt Scrub DIY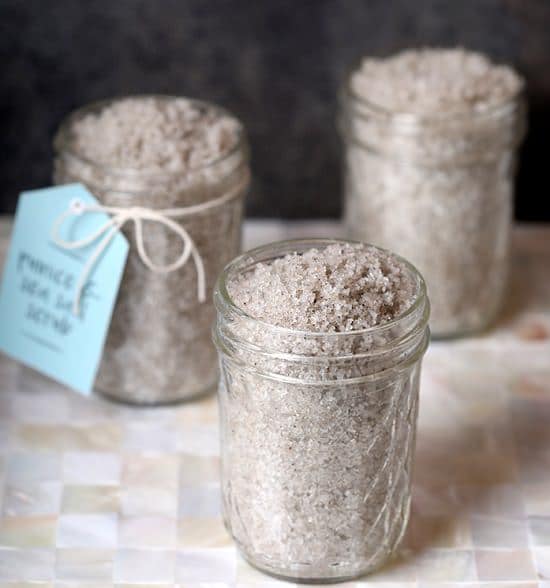 When you want deeply moisturized skin with a youthful glow, there's nothing like these two Oriental beauty secrets- pumice rock and seaweed extract. Adding a few drops of olive oil and some salt makes for a powerful scrub perfect for pampering dry elbows, knees, and feet. Find the recipe here.
34. DIY Citrus Salt Scrub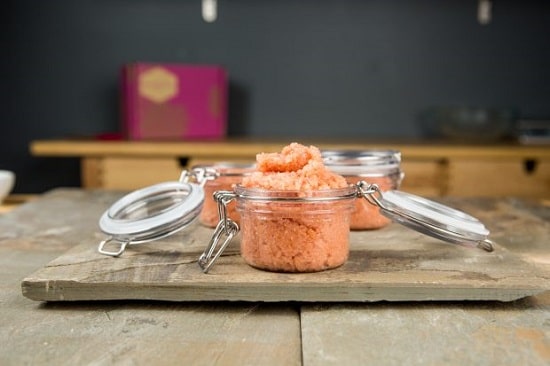 This five-minute DIY has the healing properties of dead sea salt that pamper parched skin, and the nourishing effects of olive oil that help lock in moisture.
35. DIY Vitamin C Salt Scrub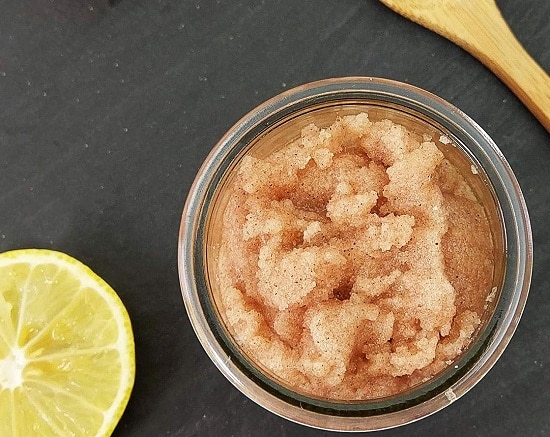 Take the mineral content of ordinary salt scrubs a notch higher by using pink Himalayan salt instead. Add coconut oil or olive oil and any choice of essential oil for a refreshing zest. Here's the recipe.
36. Japanese Cherry Blossom Salt Scrub
This fascinating concoction of baby oil, herb extracts, and ground Himalayan salt will make you wonder why you ever splurged on fancy body scrubs in the past. Details are here.
37. DIY Chocolate Coffee Sea Salt Scrub
Take your exfoliation game to the next level with the dual benefits of ground coffee and cocoa powder. This deliciously scented scrub could even double as a dessert, on second thought. Here's the recipe.
38. Whipped Salt Scrub
Containing pink sea salt, jojoba oil, and shea butter, this body scrub recipe packs a powerful punch, making it great for de-clogging pores. moisturizing and replenishing all at once.
39. DIY Anti-Age Salt Scrub
Coconut oil, with its skin-softening benefits, forms the prime ingredient in this DIY salt scrub recipe. Adding rosehip oil and carrot seed oil is optional.
40. DIY Strawberry Salt Scrub
Rich in free radicle-fighting antioxidants, this strawberry-salt scrub eliminates dead cells, paving the way for cell renewal and bouncy skin. Get the recipe in this video.
41. Sweet Orange Salt Scrub
Wake up to the zesty fragrance of this uplifting sweet orange body scrub that lathers like a dream, leaving spa-like scents in your bathroom. Here's the DIY.
42. Saffron Sea Salt Face Scrub
If you're looking for a scrub formula that exfoliates, moisturizes and lights skin tone, making you look more and more youthful every day, then this is the recipe for you.
43. Witch Hazel Salt Scrub
Adding this witch hazel salt scrub to your nighttime skincare routine will bring you to ground state, helping you sleep uninterrupted all night and wake up feeling refreshed. Here's the DIY.
44. Green Tea Salt Scrub
If you're prone to skin allergies, then heavy exfoliation is not the answer. Try this green tea scrub instead; it pumps up dying skin cells, giving you a refreshed look that stays all day. Here's the recipe.
45. Scented Salt Scrub
Using Epsom salt instead of regular unrefined salts in your scrub will help in relieving tension stored in the muscles and relax you further. The coconut oil component will form a protective barrier on the outer layer. Here's the complete recipe.
46. Natural Salt Scrub
This decadent salt scrub comprising of dried herb extracts, olive oil, and sea salt is a treat for dry, flaky skin, making it perfect for those times when you need extended bath sessions to feel renewed again. Here's the recipe.
47. Poppy Seed Salt Scrub
The mixture of poppy seeds, orange peel powder, and salt is meant for in-depth exfoliation. Follow this recipe.
Also Read: Homemade Peel-Off Mask Recipes
48. DIY Rock Salt Scrub
Filled with over 60 trace elements, this DIY rock salt scrub is the easiest way to restore the mineral component in your skin and heal it from deep within.
49. DIY Eucalyptus Sea Salt Bath Scrub
When you want a scrub that moisturizes and relaxes more than it exfoliates, consider this deeply nourishing blend of eucalyptus oil, lavender oil, vitamin E and of course, salts. Here's the recipe.
50. Luxurious Sea Salt Scrub
Carrier oil mixed with few drops of melted coconut oil form a moisturizing base for this grainy salt scrub with a frosting-like consistency that is a dream to work with. You can even use the same recipe with some variations to create a personalized body butter.
51. Celtic Sea Salt Scrub with Organic Oils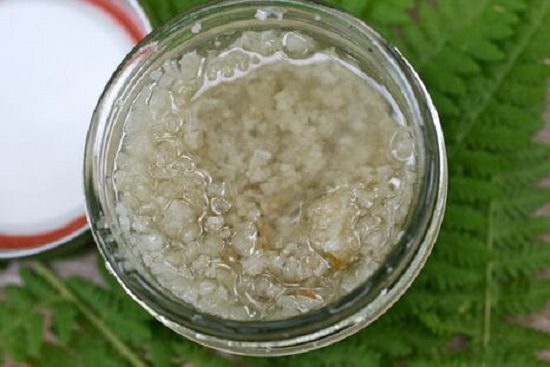 This revitalizing blend of cold-pressed organic oils, unrefined oils, and essential oils are sure to take your bathing experience to the next level. Find the recipe here.
52. Whipped Lemon Salt Scrub With Shea Butter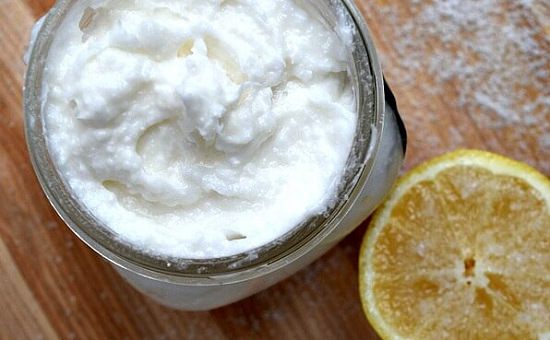 The combination of lemon drops and salt makes for the most exfoliating scrub you can whip up at home. Add a few drops of coconut oil to that, and you'll never have to postpone scrubbing in the winter months again. Here's the full DIY.
53. DIY Margarita Salt Scrub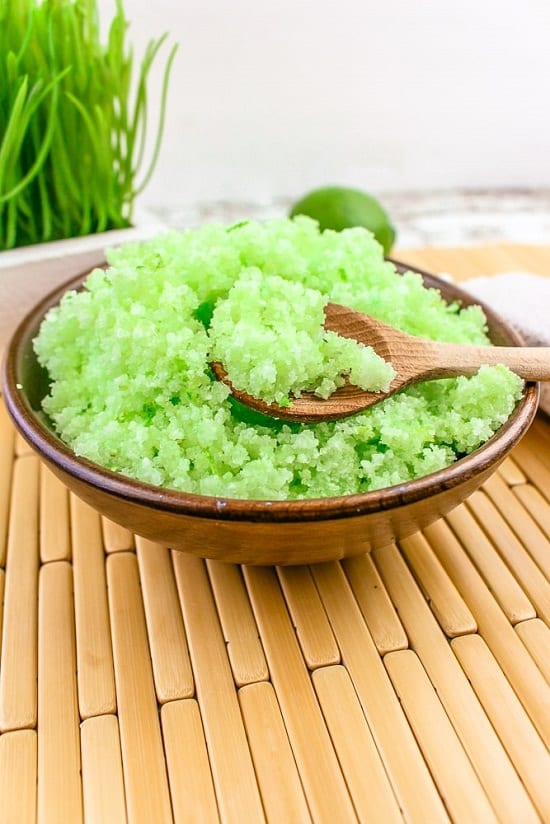 The heady aroma of this lime salt scrub coupled with its interesting neon green hue makes it great for gift-giving, especially on occasions like bridal showers. Make yours with these instructions.
54. Olive Oil Exfoliating Salt Scrub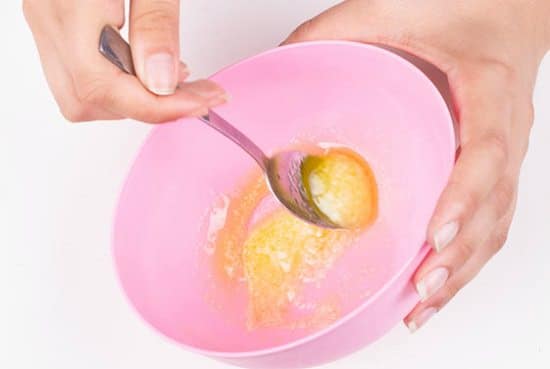 With potent hydrating and anti-aging properties, this honey-olive oil scrub not only removes grime build-up from the outer layers of skin but also fights acne-causing bacteria, thereby smoothening skin tone and making you naturally radiant. Follow this recipe.
55. DIY Foaming Salt Scrub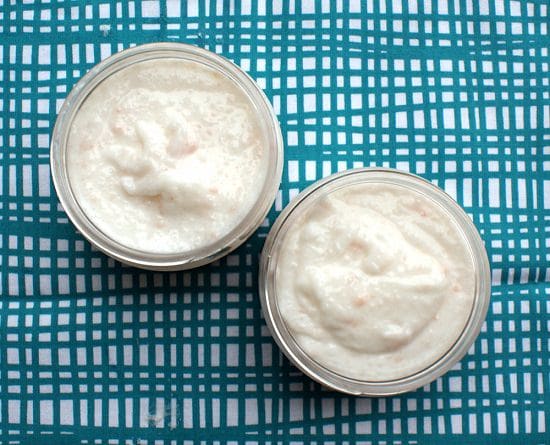 This luxurious DIY salt scrub combines the potent exfoliating properties of dead sea salt and Himalayan salt, together with the foaming power of soap. It also has shea butter and grape seed extracts to soothe inflamed skin, making it perfect for people with topical allergies.
56. DIY Charcoal Salt Scrub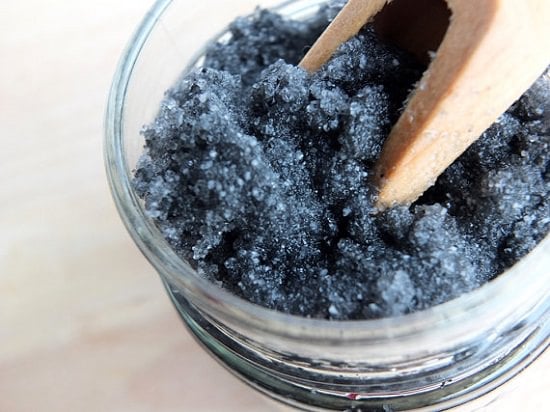 Whether you want a light exfoliation to revive your inner glow or a thorough skin detox in a jiffy, this DIY charcoal scrub has got you covered.
57. Sea Salt Scrub with Printable Labels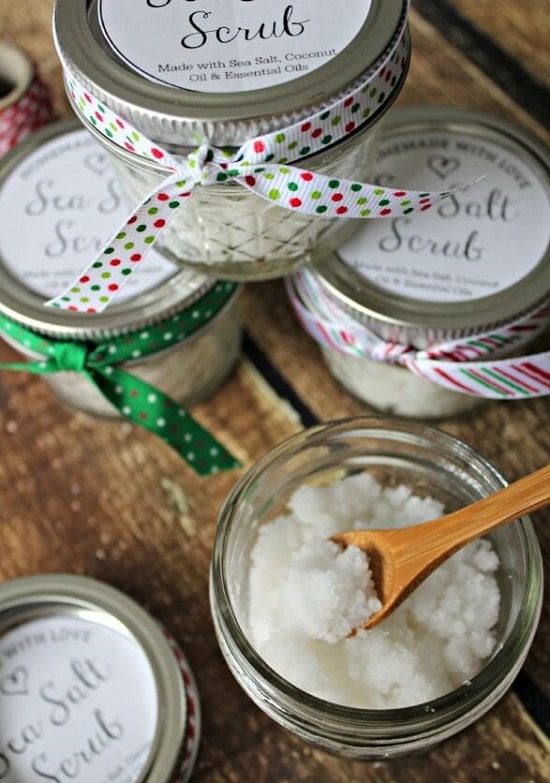 Filled with antioxidants and minerals, this invigorating scrub containing sea salt and coconut oil is a boon for parched, flaky skin in dire need of some care. Here's the recipe.
58. Tallow Salt Scrub
Though not vegan, but this is one of those heavy-duty scrub recipes that are sure to work when others won't, especially when you're looking to repair damaged skin in rough, bumpy areas of the feet callus, knees, and elbows.
59. DIY Himalayan Salt Cinnamon Body Scrub
Enriched with the remineralizing properties of Himalayan salt, and the vitamin-rich profile of cinnamon, this foaming salt scrub is must-addition to your nighttime skincare routine. Here's the recipe.
60. DIY Spa Salt Scrub
Why spend a ton of money on spa treatments when you recreate the same experience at home with the help of your favorite essential oils and of course, some Epsom salts for excellent scrubbing action. Find more details here.
61. Menthol Salt Scrub for Shower
Adding menthol crystals to your regular salt scrub is sure to take your experience to a whole new level, creating a fresh, tingling sensation that will help you unwind after a hot day of running about. Here's the full recipe.
62. Lemongrass Salt Scrub
If you want to deodorize and renew damaged feet calluses or coarse hands that have worked hard all day, consider going with the rejuvenating properties of this ginger-lemongrass DIY scrub.
63. Cacao Body Salt Scrub
The DIY cacao body scrub is a treat not just for the skin but also to the senses. Add some castile soap for a nice foaming experience and a few drops of honey for a radiant glow afterward.
64. Vodka Face Salt Scrub
Vodka for skincare may come as a shocker to many, but it is actually a great astringent with the ability to fight bacteria and even out skin tone. This scrub recipe is about that and much more.
65. Rainbow Bath Salt Scrub
The rainbow body scrub is a delight to make at home, with all the fun colors involved, and the best part is that none of them will do harm to your skin. Here's the recipe.
66. Cotton Candy Salt Scrub
When you're looking to give away your homemade body scrubs gift, just the ordinary salt-coconut oil mix won't suffix. Elevate your recipe with cotton candy. This DIY will show you how.