Maintaining and cleaning dreads can be a harrowing experience. Read this informative article on how to clean dreads with apple cider vinegar to ease the process.
Apple cider vinegar, better known as ACV, is a type of vinegar that is produced by the fermentation process. It's a popular ingredient in soups, cooking, skincare, and haircare. Furthermore, apple cider vinegar is an effective treatment for different health ailments because of its numerous therapeutic properties. Below, you'll find out how to clean dreads with apple cider vinegar and some important notes to consider.
What Are Dreads?
Dreads, famous by the names, dreadlocks, or locs, are rope-like clumps of hair that can be formed by different techniques. Locs are not only a hairstyle, but it has political, historical, and religious importance as well. There is a general belief that dreads are dirty. But locs are only dirty if not washed properly.
How to Clean Dreads With Apple Cider Vinegar?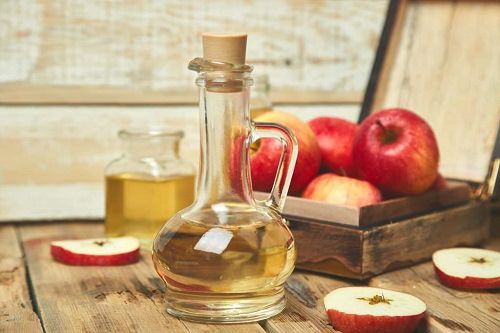 It's hard to maintain dreadlocks daily. To make cleaning dreads easier, try the below method, which is enriched with the goodness of apple cider vinegar, rice water, peppermint essential oil, and lemon juice, that not only cleanse your dreads but also nourishes them as well.
Supplies
A cup of Apple Cider Vinegar
3 Cups of Water
1/2 Tbsp of Lemon Juice
Rice Water
10-15 Drops of Peppermint Essential Oil
Empty Shampoo Bottle
A Bowl
Towel
Small Funnel
Directions
Pour a cup of apple cider vinegar, 1/2 tbsp of lemon juice, with 3 cups of water into a mixing bowl and stir them well.
Then, transfer the liquid into an empty shampoo bottle.
Remember to shake it well before using it.
Now, apply it thoroughly on your dreads from roots working towards the end and let it sit for 10-15 minutes.
Once your strands are dried, fill a sink or an inflatable hair washbasin with a few inches of rice water and 10-15 drops of peppermint essential oil.
Then, wash your dreads properly with this liquid solution and air dry as usual.
You can repeat this homemade recipe twice a week to take care of your lovely dreads.
Notes:
Many websites suggest using baking soda. But don't include it in your dreads care regime as it makes your hair and scalp dry.
If you have any kind of scalp related issues, then don't use apple cider vinegar on your dreads to avoid mishaps.
Don't let apple cider vinegar get into your eyes. If it happens, wash them with lots of tap water. Call your doctor immediately in case of any eye problem.
After reading the above article, you'll get to know how to clean your dreads with apple cider vinegar. Besides, check out this article to know some of the unbelievable and unique uses of vinegar in daily life.