Step up your garage organization with these best Jack Stand Storage Ideas. These space-saving solutions prioritize safety and accessibility!
Are you constantly tripping over jack stands in your garage or struggling to find them when you need them the most? Discover efficient Jack Stand Storage Ideas that will help you declutter your workspace while ensuring the accessibility of your equipment.
Read the Best Chainsaw Storage Ideas here
---
Jack Stand Storage Ideas
1. Wall-Mounted Hooks

Install heavy-duty hooks on your garage wall to hang jack stands. This keeps them off the floor, saving space and making them easily accessible. Make sure to use wall anchors for added stability. To enhance this setup, opt for heavy-gauge steel hooks that can hold significant weight for safety and durability. Always compare the weight capacity of the hooks with the weight of your jack stands to prevent accidents. If you're interested in aesthetics, consider painting the hooks to match your garage's color scheme.
2. Repurposed Milk Crates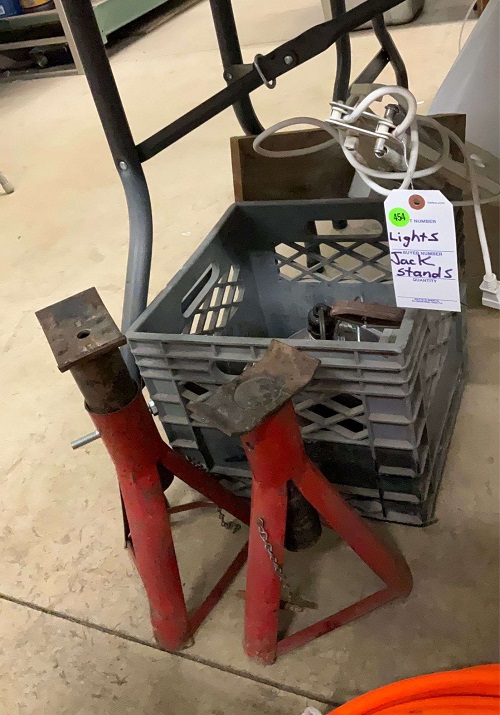 You only need a milk crate to corral your jack stands in your garage. This extremely affordable and quick solution provides good ventilation and easy access. To create a more uniform look, consider painting the crate. For added organization, label the crate by the type or size of jack stands it holds.
2. DIY Jack Stand Storage Cart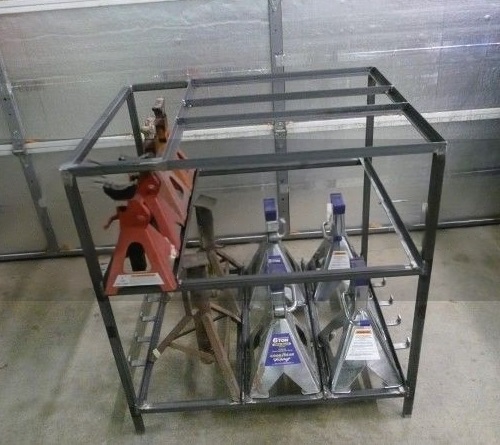 Incorporating a mobile storage cart into your garage setup offers the flexibility of relocating your jack stands with ease. Ideal for large workspaces or multi-purpose garages, these carts eliminate the hassle of manually carrying each stand.
3. Old Suitcase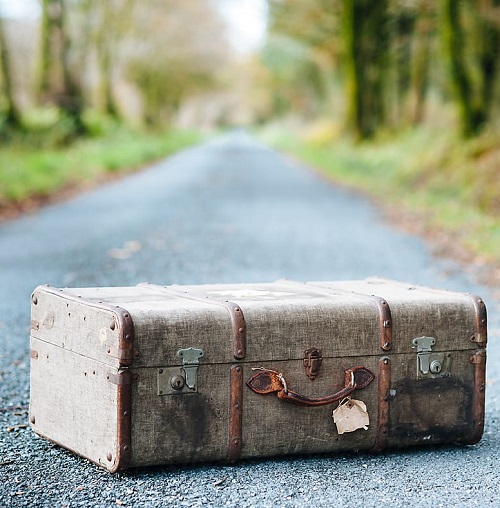 An old, hard-shell suitcase can be repurposed to store jack stands. Just add some dividers inside for the organization. This option is particularly useful for transporting jack stands to different locations. For added security, select a suitcase with a combination lock and consider lining the interior with foam to protect the jack stands during transit.
4. Wooden Jack Stand Storage Rack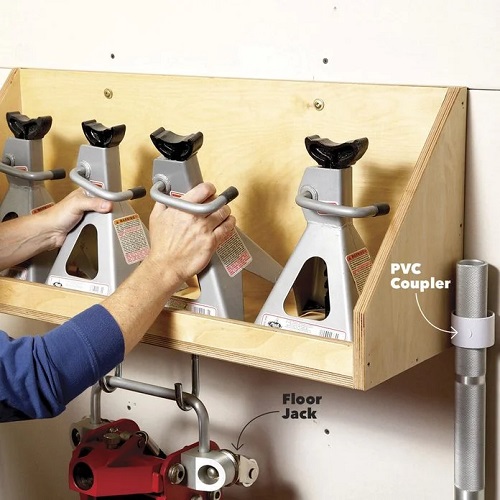 A wall-mounted wooden storage rack is best for jack stands and other garage accessories. Unlike metal options, wood adds a warm, natural aesthetic that can be easily customized to match the surrounding décor. You could opt for hardwoods like oak or maple for superior durability and longevity.
5. Garage Jack Stand Storage Tower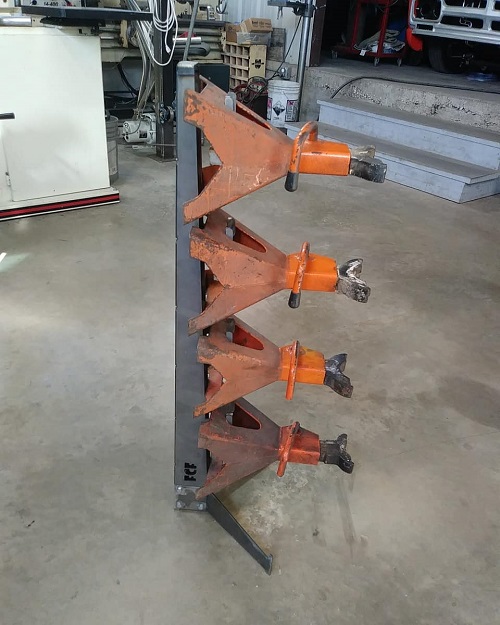 A jack stand tower is an excellent vertical storage solution for garages with limited floor space. The tower involves stacking the jack stands on specially designed brackets. Place the heaviest jack stands at the bottom for added stability.
6. Pegboard with J hooks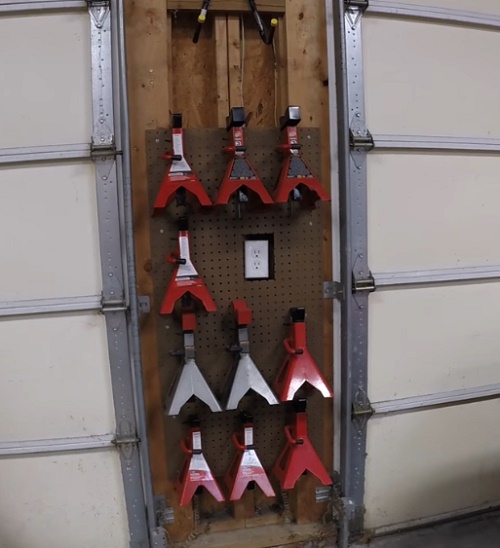 A pegboard equipped with J hooks is a versatile and easily customizable storage solution for jack stands. This setup also accommodates additional accessories, such as small baskets, for storing related items like gloves or small tools. It offers adaptability and expandability for your garage storage needs.
7. Jack Stand Rack Wall Mount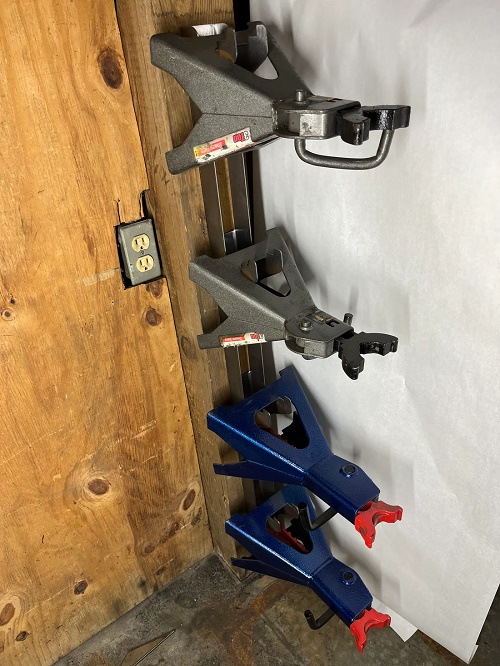 A wall-mounted rack is a custom-built, metal storage solution designed to keep the jack stands organized and upright. To enhance functionality, consider incorporating a locking mechanism for added security.
Read the Best Ammo Storage Ideas here