With less space during camping, these camping organization ideas would back you with more items in less room!
1. Hanging Organizer for Camping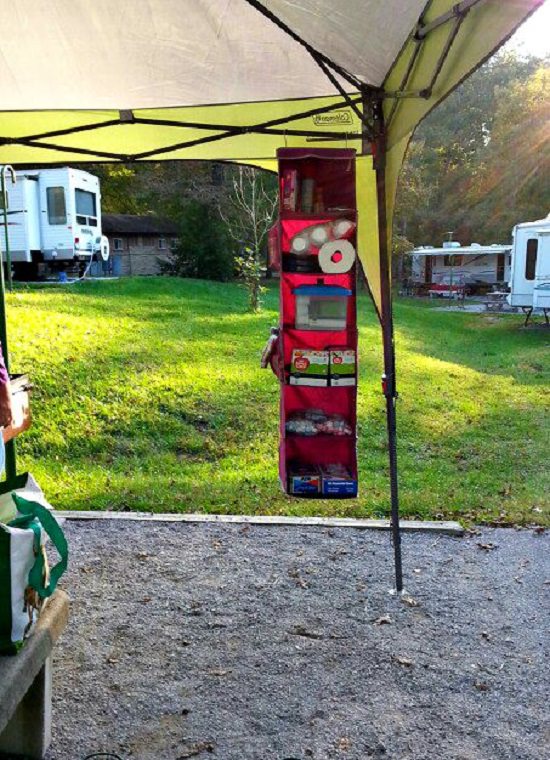 Having an organized kitchen stash for your camping trip means you have more time to enjoy meal preps in the lap of Mother Nature. This DIY collapsible camping organizer is a great way to ensure that.
2. Store Charcoal in Egg Cartons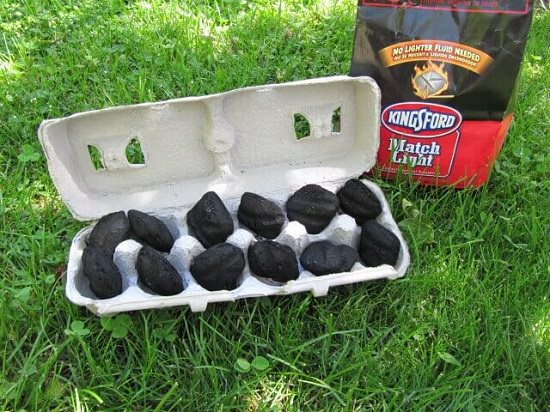 Simplify your fire-starting kit by filling match-light charcoal blocks inside cardboard egg cartons. Instructions are here.
3. Belt & Hooks on Tree to Hang Pots & Pans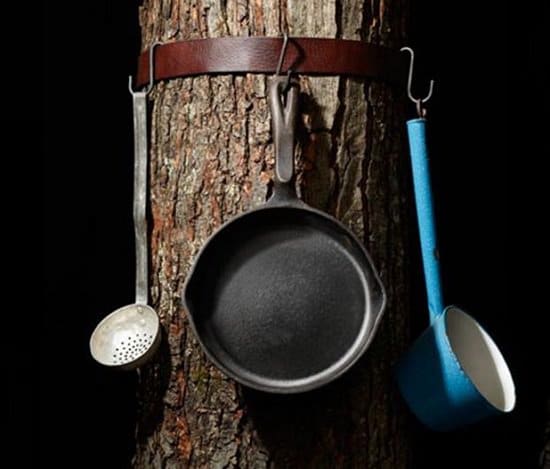 This minimalistic DIY hack involves using a belt and few hooks to keep your pots and pans hanging while you're out in the woods.
4. Organizer Containers for Health Supplies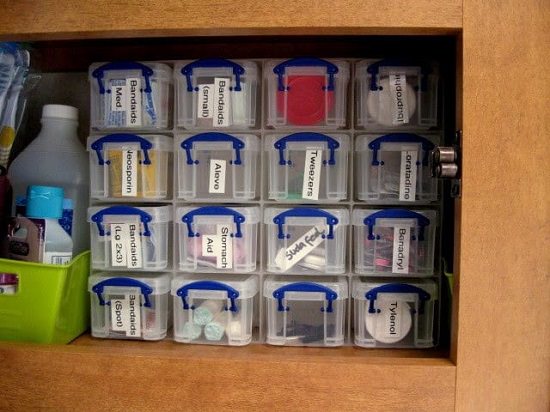 Storage can be decorative as well! This DIY uses plastic containers stacked up in a linear fashion and doubly labeled to contribute to RV decor.
5. Pegboard in Under Storage Walls Camping Organization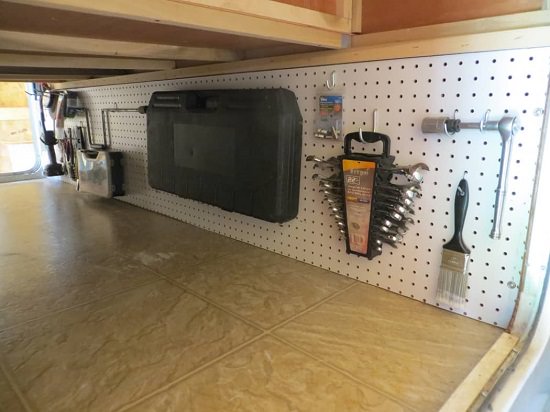 Having a storage bin for your camping supplies is not enough. Knowing which item is in which bin is still a challenge. Instead, use a pegboard organizer to keep things displayed and ready for use. Here's the DIY.
6. Fishing Rod Organizer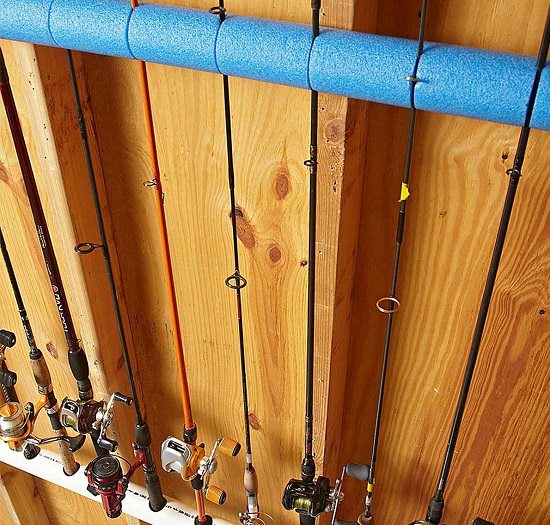 If you're tired of having to entangle your fishing rods before every camping rod, take the help of this DIY and fashion an organizer from 3′ PVC pipes and a swimming pool noodle.
7. Camping Supplies Organization
From large items to life jackets to tiny ones like a penknife, this DIY shows you how to incorporate all of them in a single Rubbermaid bin for handy storage.
8. Organizer Cooler for Camping
Instead of getting separate coolers for food and beverages, consider organizing a single one by the type of meal eaten or the day it will be eaten. Watch the video DIY for more details.
9. Overland Camping Gear Bin Organizer
The organization is the key to having all your camping stuff in one bin and knowing exactly where to look to fish out what you need at the moment. This easy little DIY will give you the hacks.
10. Pack Your Food For Car Camping Trip
Imagine the nightmare of having to dig into the back of your car in the hope of a can of food! Scared yet? Check out this elaborate tutorial to know exactly how much food to pack and how to pack it for your camping trips.
11. Camping Gear Organization
Come measly wasps, deadly snakes or travel sickness, nothing should come in the way of your wanderlust. This DIY first aid kit is here to help. Make one with the instructions in the video.
12. Rolling Kitchen Camping Organizer Ideas
When you tend to hit the road often, what you really need is to consolidate your equipment into grab-and-go containers that makes it a breeze to load the truck. Here's the DIY to get you started.
13. Camp Chairs Storage And Organizer
This DIY shows you how to store foldable camp chairs neatly in handmade wooden drawers without having them get in the way of everything you do and eating up floor space.
14. RV Cupboard Organizing While Camping
For the aspiring camper that loves to plan impromptu trips, having an overhead cabinet with supplies ready for packing is a must. This DIY gives you easy hacks to get that done yourself.
15. Camp Toiletry Essentials Organizer
Sorting out your toiletry is the first step of packing for a camping trip. This detailed tutorial gives you beginner's hacks to decide what to pack and how to pack them for instant access.
16. DIY Camping Organizer Bin
Customize a storebought bin with a little woodworking for adding dividers that keeps your stuff sorted and accessible for quick use. This DIY bin makes storage easy when work is done.
17. DIY Camp Trunk Organizer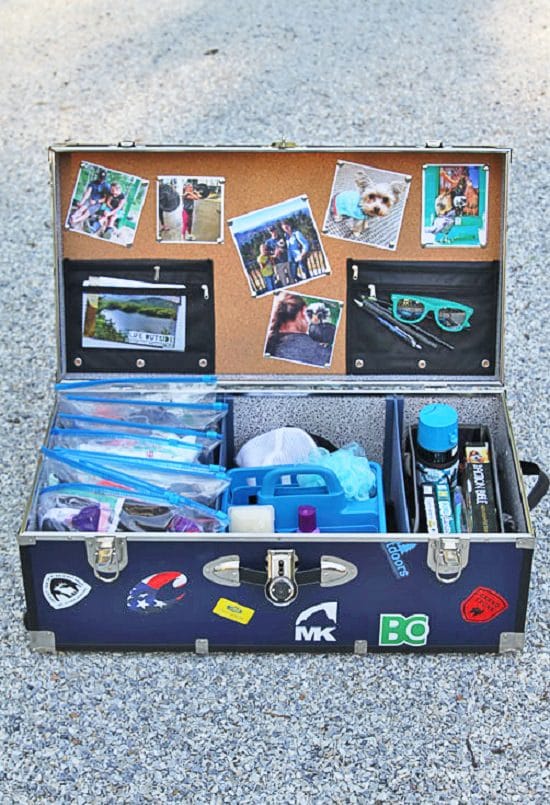 This detailed trunk organization DIY is a must for sailing through those packing jitters. It shows you how to compartmentalize your stuff in an intuitive manner so you're always on guard.
18. Plastic Container Camping Organizer Ideas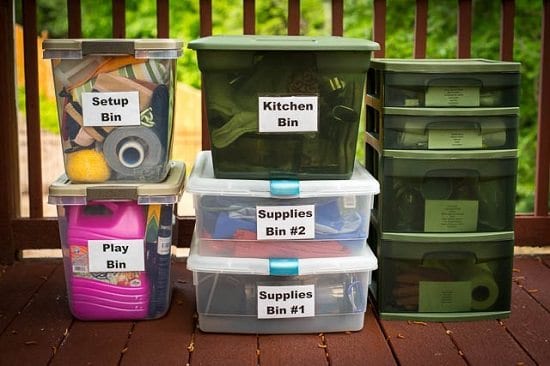 When organizing supplies for your camping trip, take a cue from this DIY and label bins on both sides, one containing the name of the bin and one containing a list of the contents. This is an easy hack to ensure nothing gets missed.
We hope these camping organization ideas helped you in making your camping experience easier! If you've more camping organization ideas like this, feel free to share them in the comment section.