Transform your dull and mundane storage space into a conversation-worthy focal point with these ingenious DIY Closet Door Ideas!
Are you tired of staring at the same old wardrobe doors day in and day out? Inject a breath of fresh air into your space with these awesome DIY Closet Door Ideas!
Check out the closet curtain ideas here
---
DIY Closet Door Ideas
1. Faux Shiplap French Closet Doors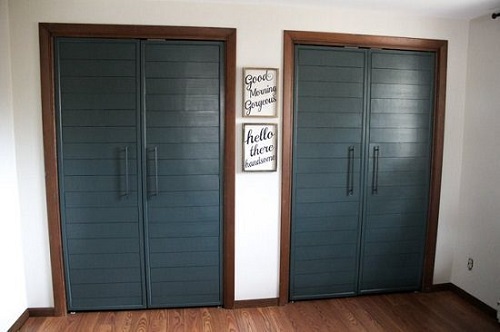 Look how this DIYer turned old bi-fold closet doors into incredible french doors with DIYing skills and some supplies.
2. Old, Plain Closet Doors Makeover
Give plain wardrobe doors a fresh lease of life with a pair of ceiling medallions and paint. Follow this DIY for more details.
3. DIY Chalkboard Closet Doors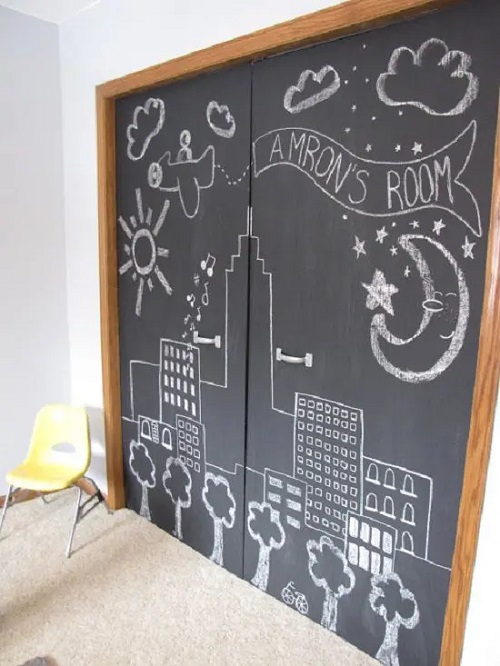 Transform boring, ugly closet doors into Graffiti fun for your kids with this helpful tutorial. The DIY is here.
4. Mirror Closet Doors
Upgrade your old wardrobe doors with mirrors using this article. It's one of the best DIY closet door ideas.
5. DIY Closet Doors
Get the full know-how of building standard wooden wardrobe doors from scratch with this easy DIY. Complete with dimensions and pictorial detailing, it's excellent for beginners.
6. DIY Circle French Closet Doors

Give your space a pop of color and style by installing these circle french closet doors. Get the step-by-step instructions here.
7. Flat Panel Closet Door Makeover

Adding panel moldings is a great way to transform the dull look of basic, flat wardrobe doors. The best part is this DIY doesn't require power tools.
8. Attractive Cork Board Closet Doors

Spice up the look of your old closet doors with corkboards and a bit of patience. Here's the step-by-step tutorial.
9. Custom Bifold Closet Doors

This DIY gives a polished and sleek look to old, unfashionable bifold doors with minimal supplies and tools.
10. Faux Barn Laundry Closet Door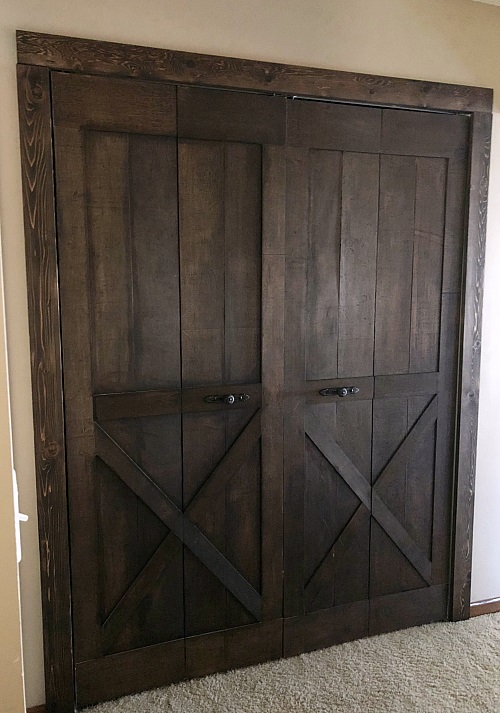 With a pint-sized budget and little help from this tutorial, you can build a faux barn door for your laundry room closet.
11. Easy DIY Sliding Closet Doors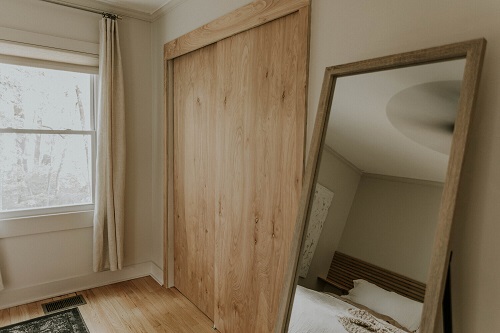 Sliding doors are easy to operate, take up minimal space, and add personality to the room. Make one for yourself using this tutorial.
12. Stunning Sliding Pallet Barn Doors

Here's the easy-to-follow article about building a rustic sliding pallet barn door. It's one of the excellent closet door ideas.
13. DIY Mid-Century Modern Sliding Barn Door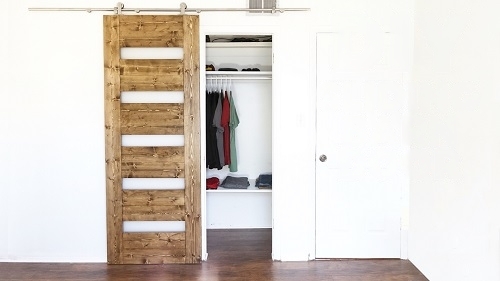 Get a touch of the countryside into your living space with this DIY sliding barn door tutorial.
14. Shoji Style Sliding Closet Doors
Do you want to give your closet a high-end look inexpensively? Install shoji-style sliding doors. Get the instructions here.
15. DIY Bead Board Closet Door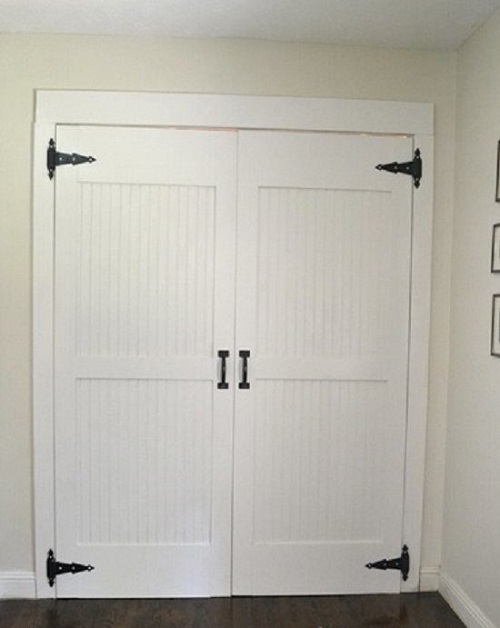 In this article, the DIYer transformed hollow core doors into vintage masterpieces with bead board and contrasting hardware. Here's the full DIY.
16. Contemporary 4-Panel Barn Closet Door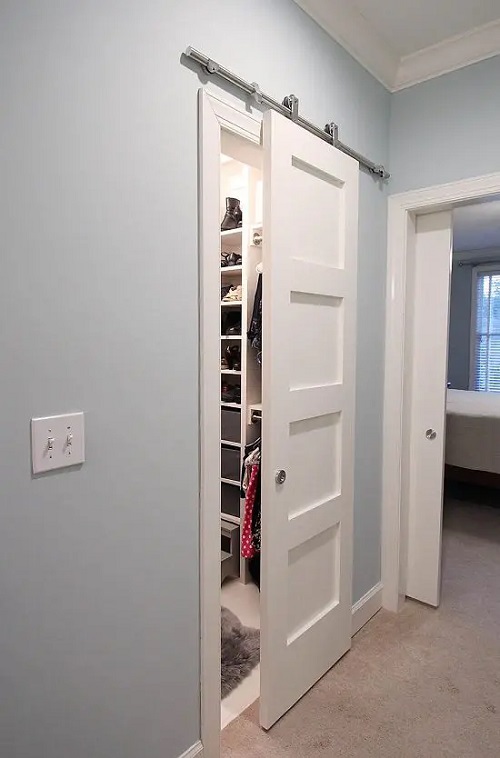 If your wardrobe fits awkwardly in a narrow space, this sliding, four-panel door is a great solution. Learn more about this project here.
17. Old Shutter Door
With just two old shutters, you can create this beautiful shabby chic closet door. It's one of the most frugal DIY closet door ideas. Take inspiration from this article.
18. DIY Craftsman Style Closet Doors
These five-paneled, craftsman-style doors have a bit of a vintage and modern look. Click here to learn more.
19. DIY Cane Closet Doors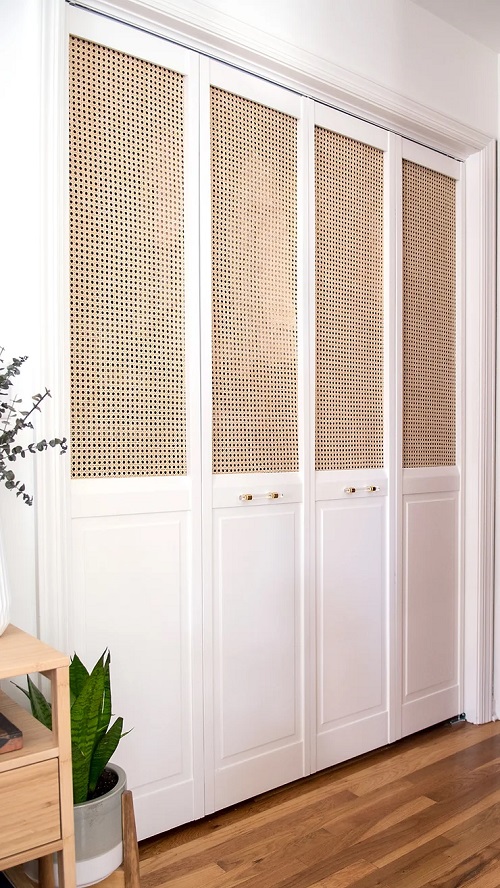 Enhance the visual appeal of your living space with these amazing cane doors. Follow this detailed tutorial for more info.
20. Closet Doors With Trim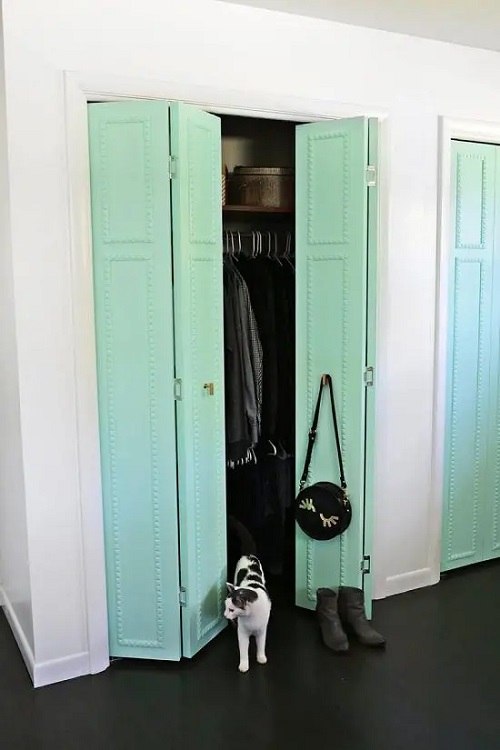 Customize closet doors with trim detailing to give your room a chic and expensive Parisian feel. This DIY has some tips to get you started.
21. DIY Pink French Closet Door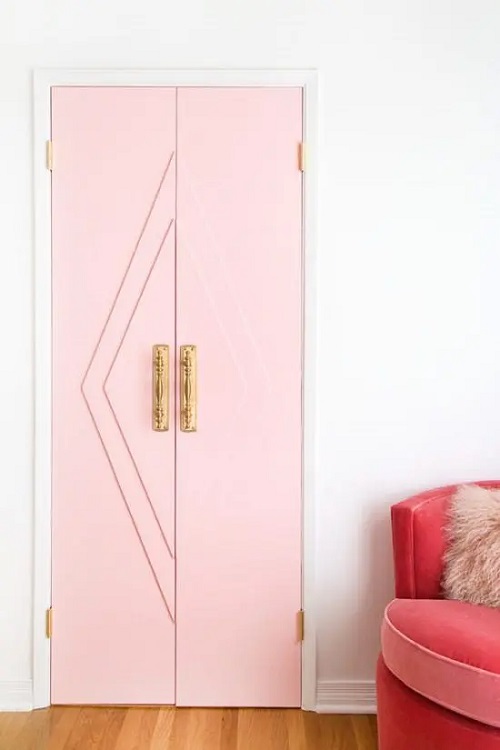 If you have existing bi-fold or French doors, this DIY will help you add a 3-D element to them for a whole new look.
22. Star Trim Closet Door DIY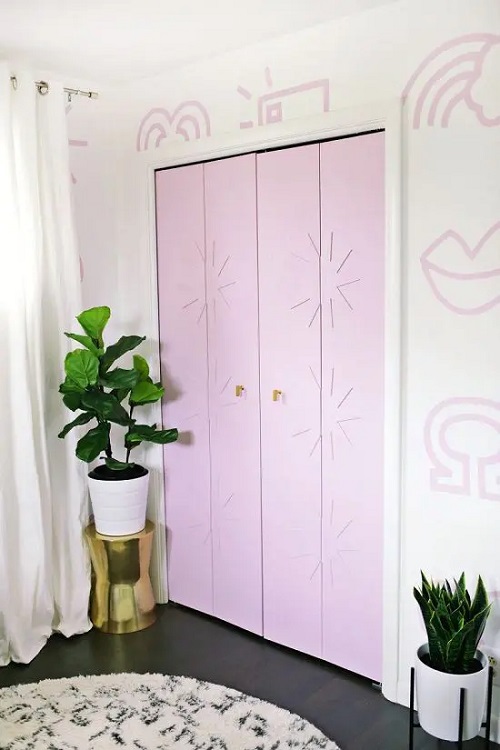 Add some personality and pizzazz to your bedroom with these attractive star-studded wardrobe doors. Hop to this article for the details.
23. Modern Farmhouse Double Bypass Closet Doors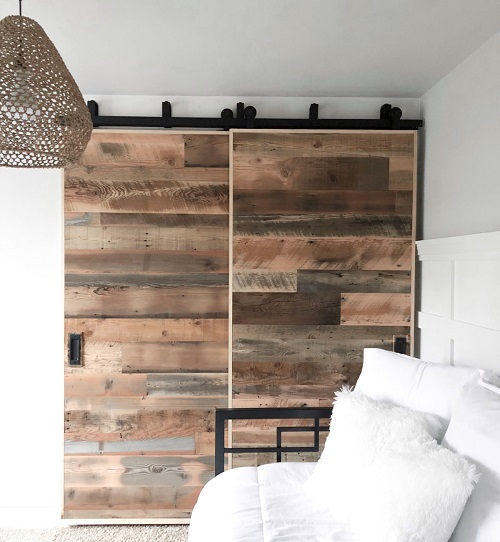 Fill your apartment with modern farmhouse vibes by installing these double bypass closet doors. The DIY is here.
24. Custom 3-Panel Doors DIY

Want to create custom doors for your closet? These simple 3-panel doors are easy to build. It's one of the wonderful DIY closet door ideas.
25. Sliding Doors With Floral Decals

Don't have enough budget to install new doors? Check out this tutorial in which old doors are updated with trim and floral decals.
26. Closet Door Upgrade With Fabric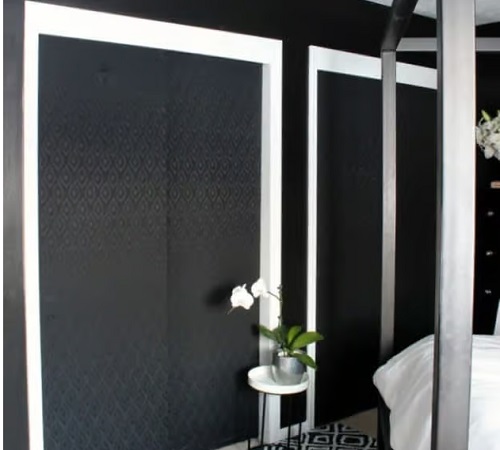 You only have to wrap your cupboard door with desired fabric, and you're good to go. Read the details here.
27. DIY Sunburst Bifold Closet Doors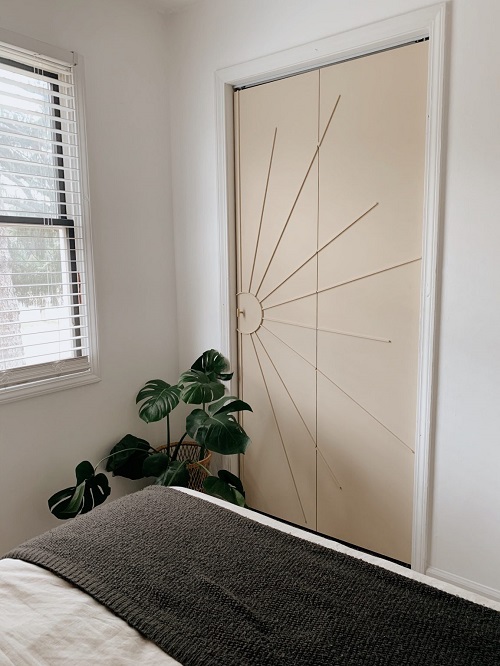 Here's how to make sunburst bifold doors to achieve the mid-century modern look. It's a simple way to do a stunning upgrade without making a hole in your pocket.
28. DIY Faux French Door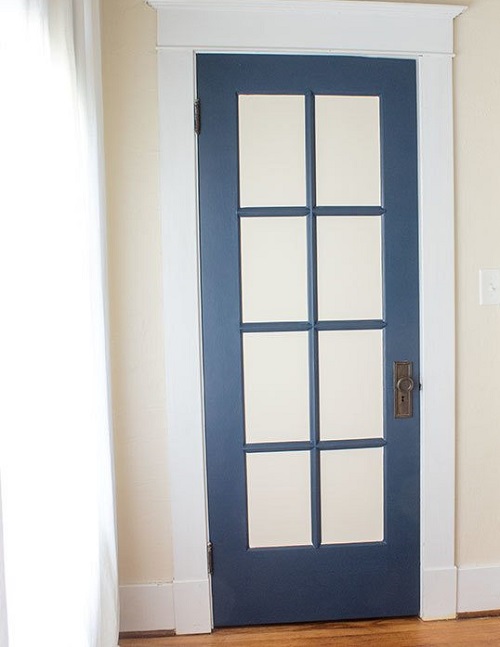 Add trim to the center panel with a few coats of paint, and your closet door project is done. Get the details here.
29. Sliding Closet Doors With Faux Trim Effect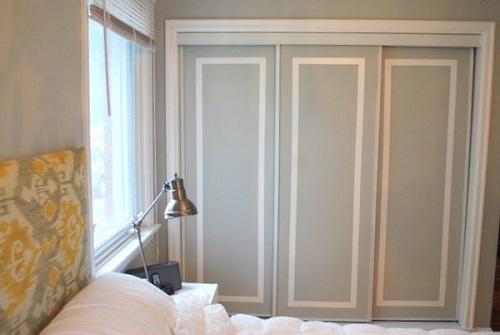 Give an instant makeover to your dull closet doors with painter's tape and paint, just like the DIYer did in this article.
30. Inexpensive Closet Doors DIY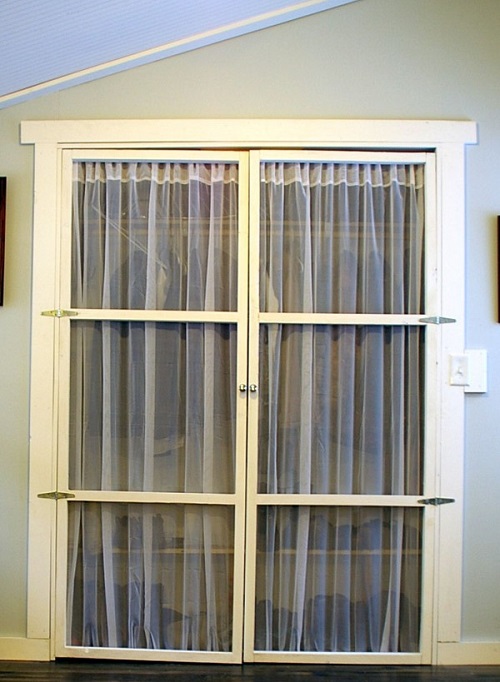 Are you looking for an affordable and easy wardrobe door plan? This project is only for you. It's one of the great DIY closet door ideas
31. Steel Framed Slatted Closet Doors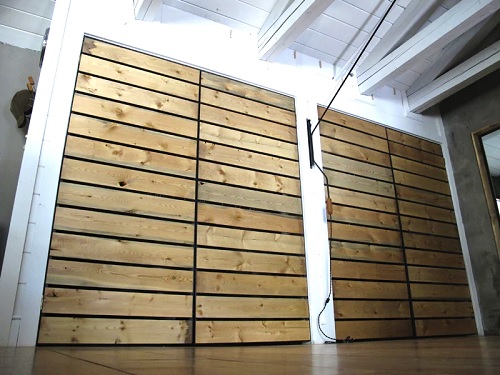 These sturdy and aesthetically pleasing closet doors are made out of steel, wood, and hardware.
32. DIY Tintable Chalkboard Closet Door Idea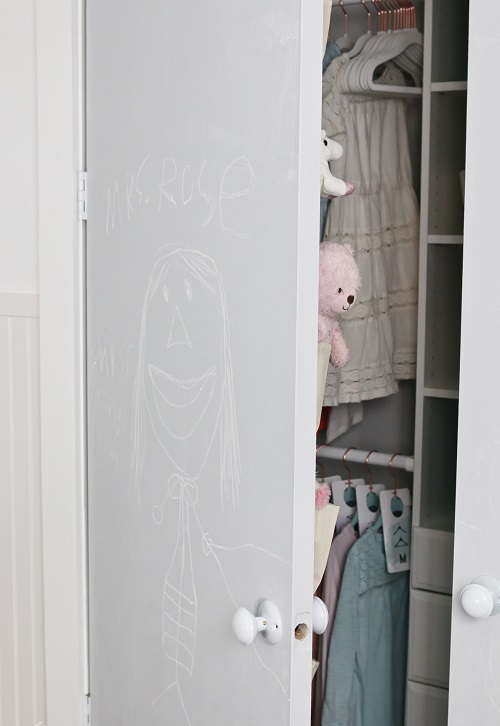 Spruce up a flat paneled wardrobe door with tintable chalkboard paint to make it a fun and creative surface for kids.
33. DIY Coral & Glam Bi-Fold Closet Door Makeover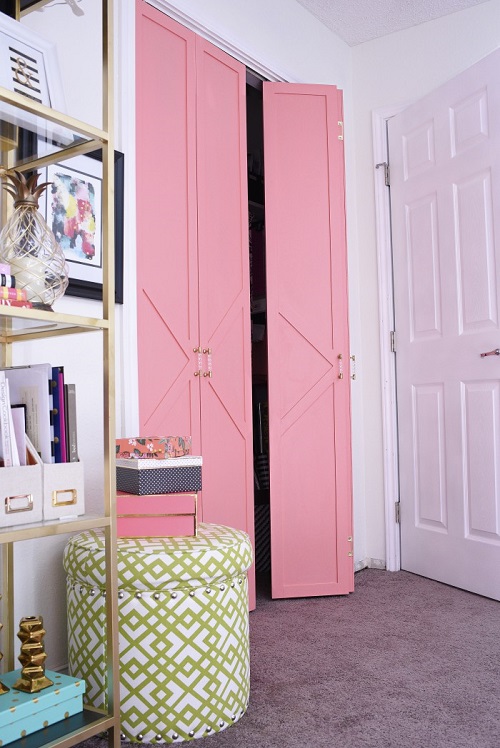 Give your wardrobe an Instagraom-worthy focal point by updating the doors with glammy coral paint and lovely knobs.
34. "X" Patterned Closet Door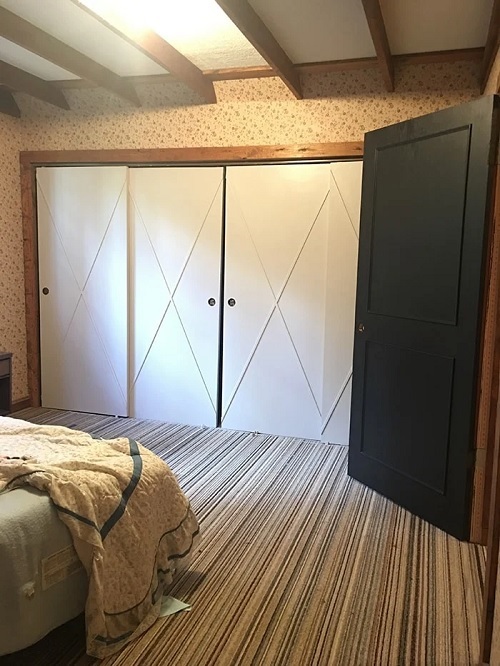 Here's another one of the fantastic DIY closet door ideas featuring an 'X' pattern and white paint.
Here are some DIY baby fabric gate ideas