53 decorative and functional DIY Makeup Vanity Ideas for every WOMEN using repurposed items to help you get ready quickly and smoothly!
1. DIY Makeup Vanity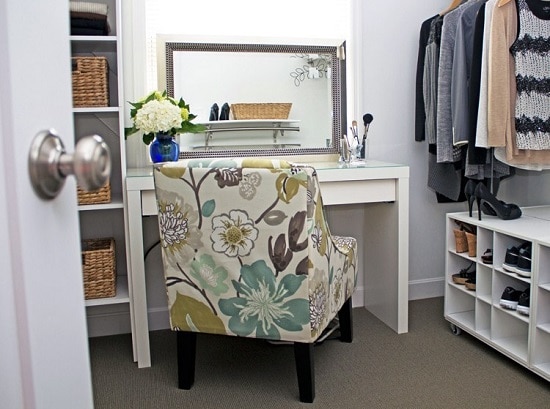 Gone are those days when you had to lean at awkward postures to put your mascara; this plush cosmetic organizer, coupled with a comfortable chair, gives you a cozy corner to look your best every day. Follow this DIY.
2. DIY Wall Makeup Vanity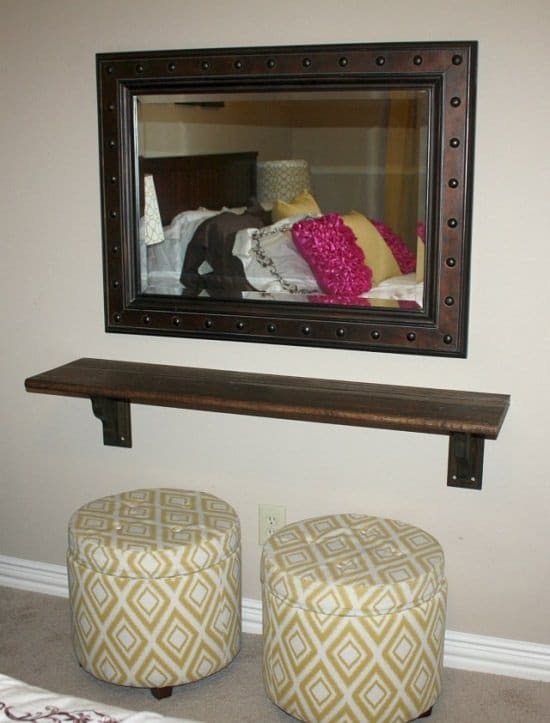 Hang a mirror, screw in a shelf, place two storage stools below and bam, you have a personalized vanity nook without using up too much floor space. Here's the DIY.
3. DIY Makeup Vanity from a Vintage Sewing Table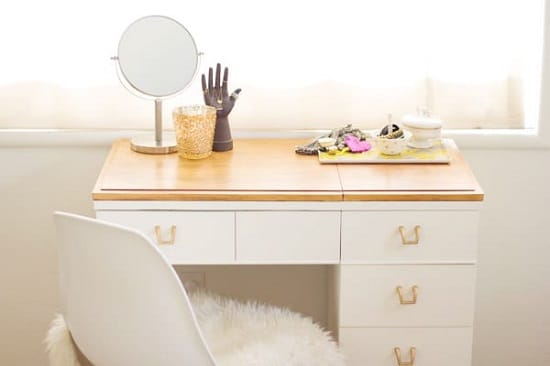 Who would guess that this elegant vanity used to be a humble sewing machine table once! Easy on the budget, and perfect for using up old pieces of furniture lying around. Here's the DIY.
4. Small Apartment Makeup Vanity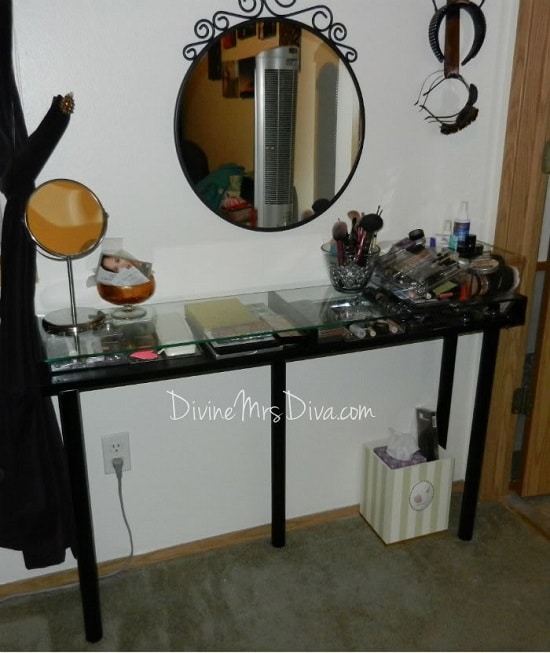 With a few hardware enhancements and a little bit of drilling action, you can create this fabulous DIY vanity and that too without breaking the bank. Get the instructions here.
5. DIY Budget Makeup Vanity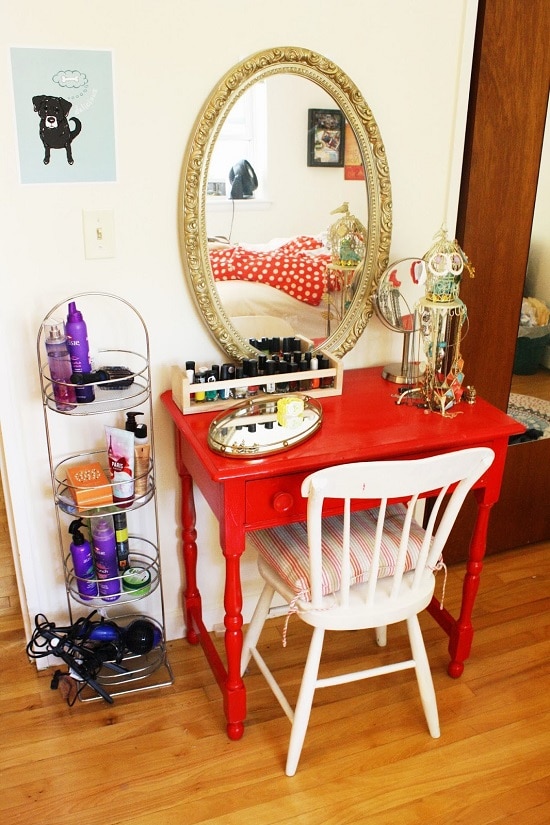 For this DIY, you'll need a spice rack, cutlery holder, nice mirror and of course the table. Here's the DIY.
6. Repurpose Kitchen Barstools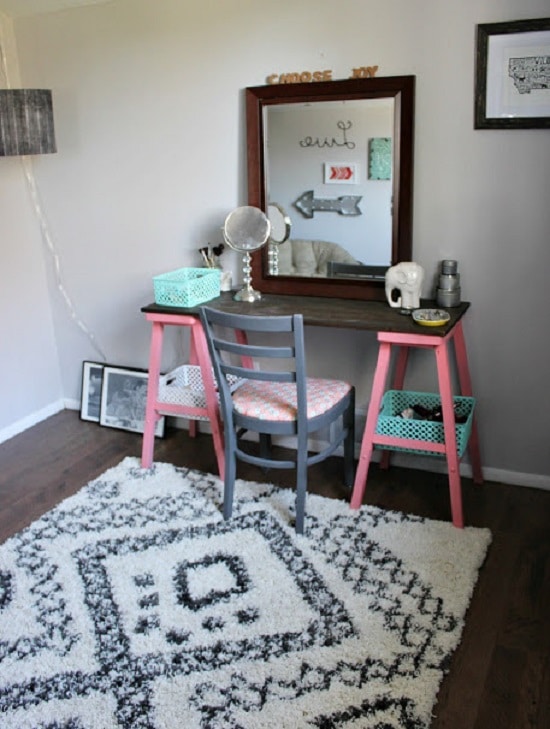 Stained in dark wood, this piece of reclaimed wood gets a beautiful upgrade in the form of a teen girl's dressing table with wire baskets for a pop of color and extra storage. Here's the DIY.
7. DIY Glass Top Makeup Vanity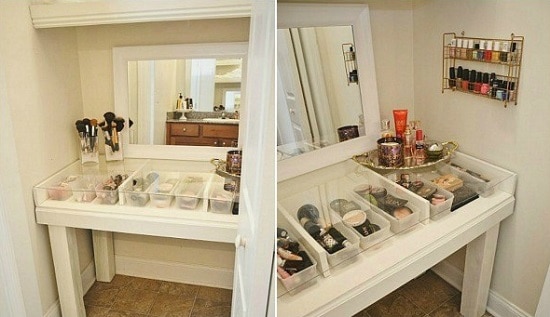 With a plexiglass top for durability and separate compartments to segregate your makeup within, this is one of the best DIY Makeup Vanity Ideas in this list. Follow this DIY to make your own.
8. DIY Makeup Vanity for Under $50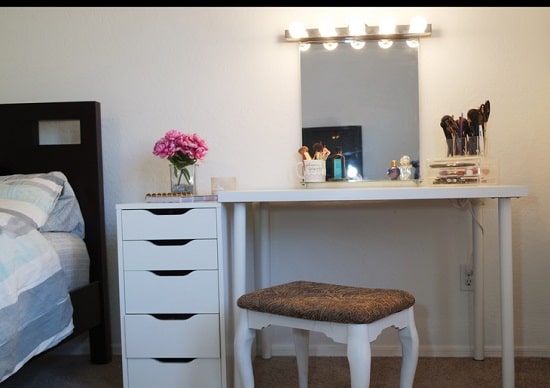 Made by assembling an Ikea table top, Ikea legs and drawer units, this stylish piece of furniture gets done in under $50, making it a feasible option for pennywise homeowners. Follow the DIY here.
9. DIY Makeup Vanity for Under $100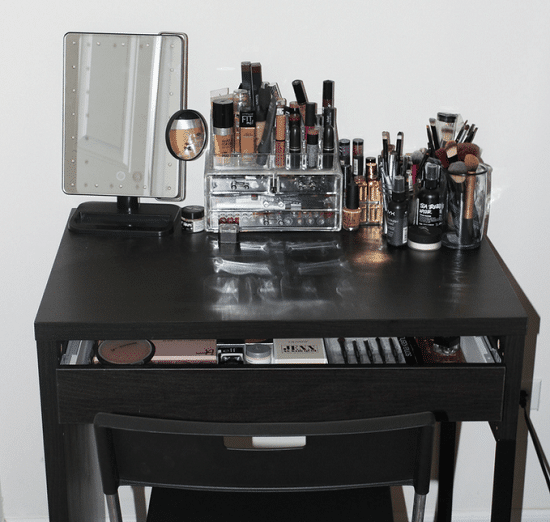 A moveable vanity mirror and a makeup organizer are all you need to convert a boring desk into a dresser. Here's the DIY.
10. DIY Pine Makeup Vanity Guide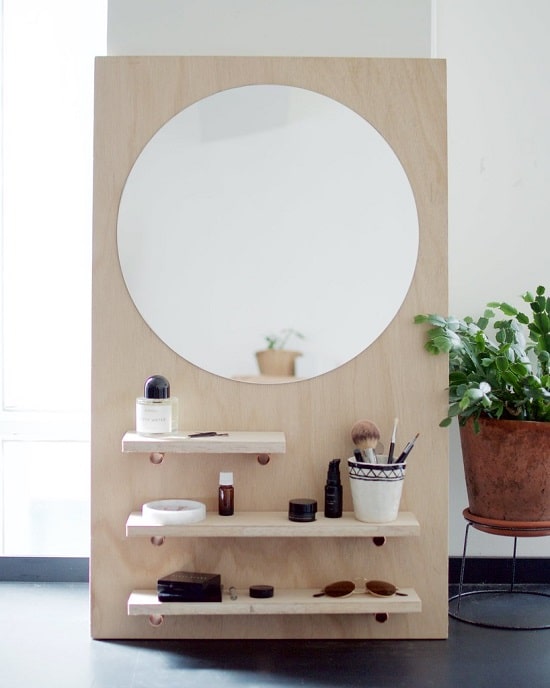 Pinewood shelves mounted on a pinewood frame offer a nice contemporary touch, making it perfect for any part of the home. Find this awesome DIY makeup vanity idea here.
11. Small Space Makeup Vanity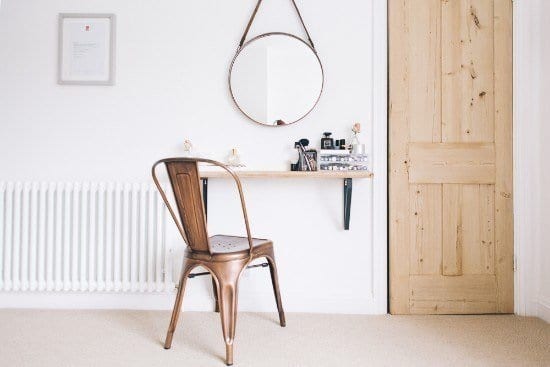 This miniature beauty station has all the detailing to fit your personal requirements. Plus, the wall-mounted table top plank for offering easy access to your makeup utilities. Here's the DIY.
12. DIY Chalk Paint Makeup Vanity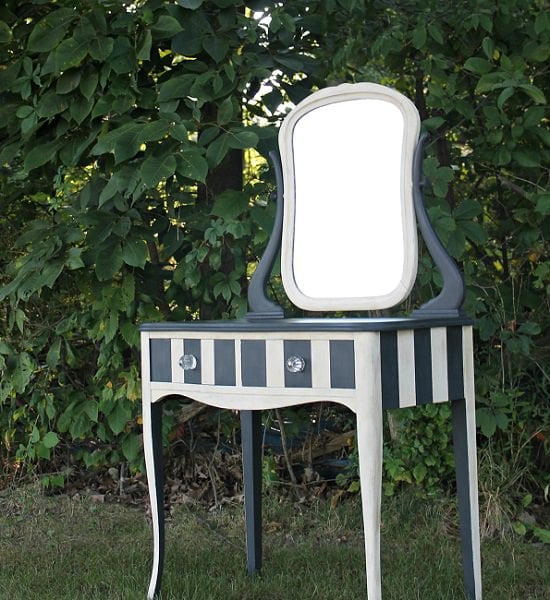 Sanded and painted in chalk white color, this beautiful yet sturdy piece of furniture is a nice addition to the teenage girl's room. Follow the DIY here.
13. DIY Corner Makeup Vanity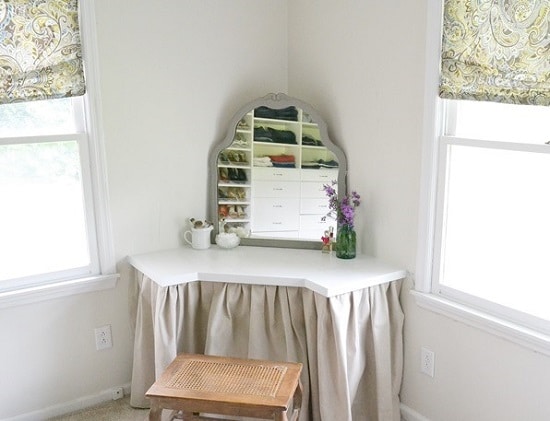 A corner table propped up with a mirror and matching curtains for a cozy touch brings warmth to the bedroom, making your morning routines easier. Find the DIY here.
14. DIY Silver Leaf Makeup Vanity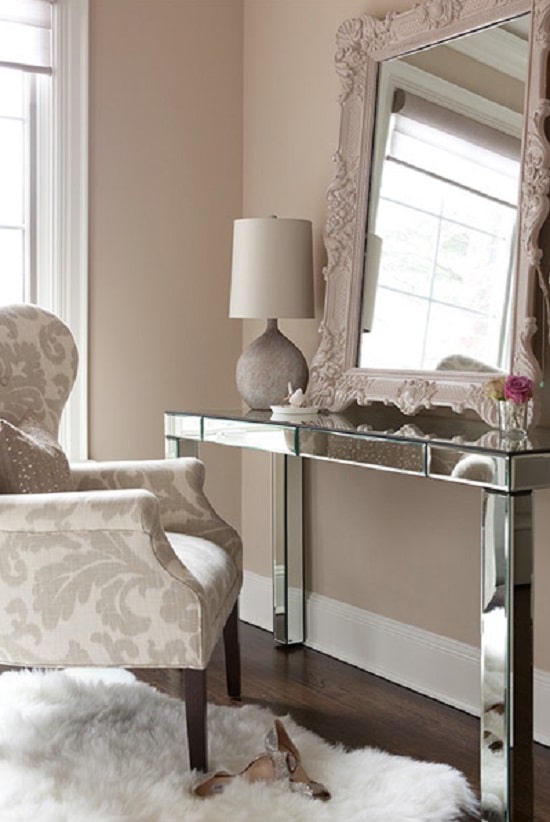 The neat lines of the plexiglass mirror and the sheen of silver leaf glitter come together to create a charming makeup vanity nook fit for royalty. Here's the DIY.
15. DIY Cardboard Makeup Vanity
If you're looking to create a beautiful dressing table for your little girl on a budget, there's nothing better than this cardboard DIY.
16. Hollywood Makeup Vanity
Made from spare parts salvaged from old pieces of furniture and a little help of your garage toolbox, this quick and easy DIY makeup vanity gets done in a single afternoon.
17. Dream Makeup Vanity On A Budget
With ample storage space for all your cosmetics and a decent bit of seating as well, this DIY wooden makeup vanity is a nice solution that helps to get ready quicker.
18. DIY Vanity Desk and Mirror with LED Lights Dupe
Combine two organizers with a tabletop and place a mirror on the wall for an adorable makeup vanity accentuated by the warm glow of floor lamps. Here's the DIY.
19. DIY Simple Makeup Vanity
With extra storage for makeup and a design that easily adapts into a desk, this vanity station is an answer to your space-constrained apartment. Follow this DIY.
20. Marble And Silver Makeup Vanity
Using crates for makeup storage and a marble table top, this upscale looking makeup vanity adds a modern flair to the bedroom. Here's the DIY.
21. Metal and Wood Makeup Vanity
The combination of walnut wooden countertop on a metallic table makes for a durable yet stylish piece of furniture with a mid-century feel to it. Here's the DIY.
22. Floating Makeup Vanity DIY
The floating makeup vanity concept is a nice way to utilize a bare wall while preserving your makeup and making your mornings hassle-free. Here's the DIY.
23. Cheap DIY Makeup Vanity
If you're on a budget this cheap makeup vanity project will help you.
24. DIY Sewing Machine Turned into Makeup Vanity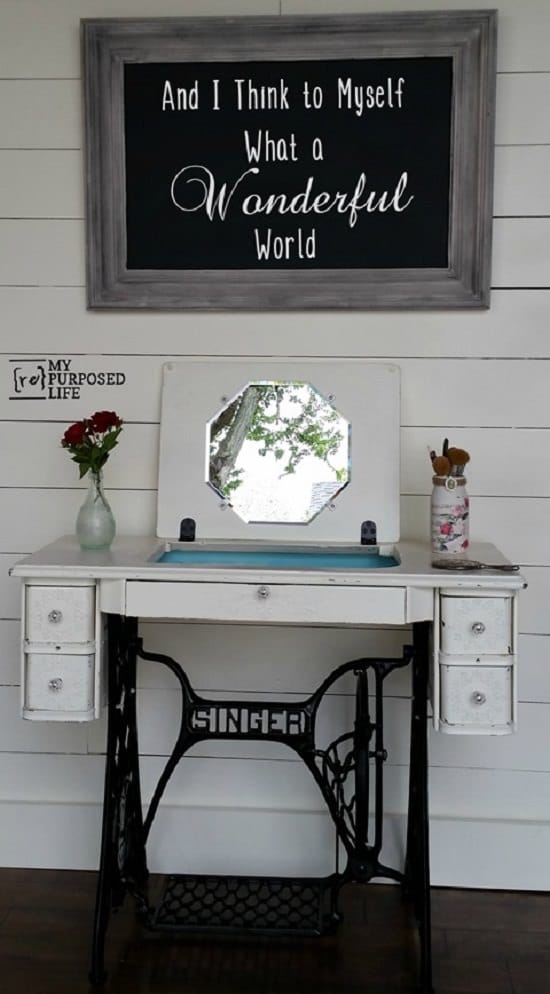 Convert a vintage-looking sewing machine into a neat little side table-cum-vanity that keeps your makeup in place while hiding all the crap and broken supplies from plain view. Here's the DIY.
25. DIY Flip Top Vanity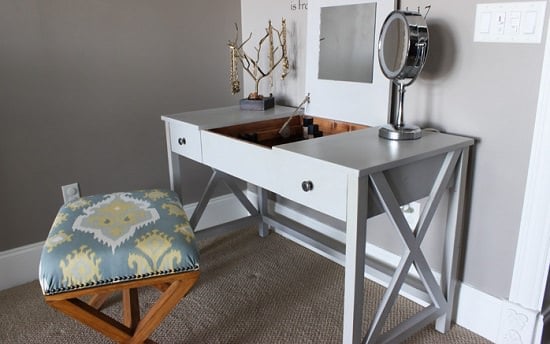 A vanity that doubles as a desk when not in use is the perfect answer for your inner geek. Also, it's one of those stylish, space-saving solutions that you will cherish. Here's the DIY.
26. DIY Three Compartment Makeup Vanity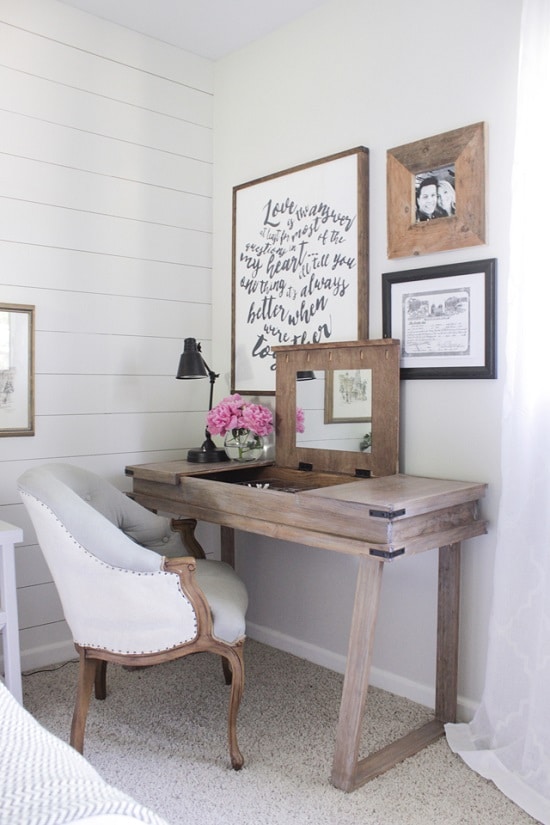 With enhanced compartmentalization, the three compartment desk made from plywood makes for a lovely rustic addition to the bedroom, thanks to the weathered finish of Oakwood. Follow this DIY.
27. DIY Vanity From a Vintage Sewing Table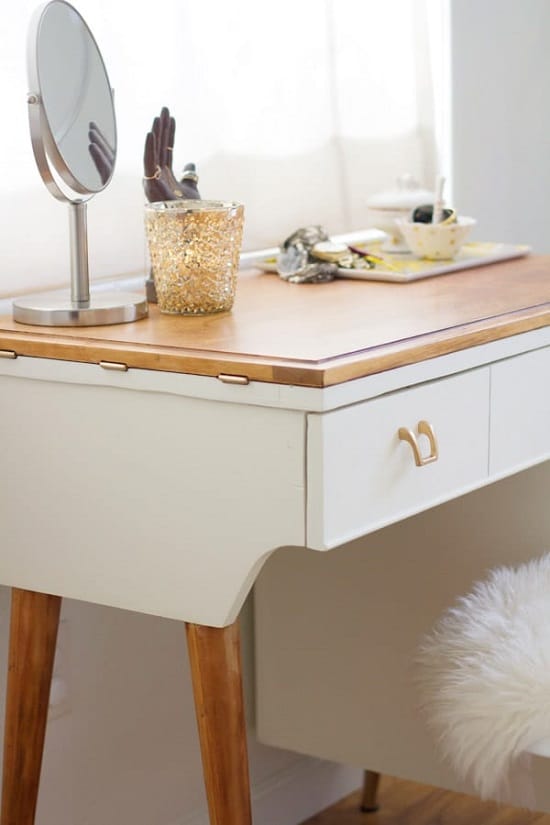 Upgrade an old study table into an opulent vanity with extra drawers for storage, and brass drawer pulls as accents. Get the DIY here.
28. Hairpin Makeup Vanity with Flip Top Plans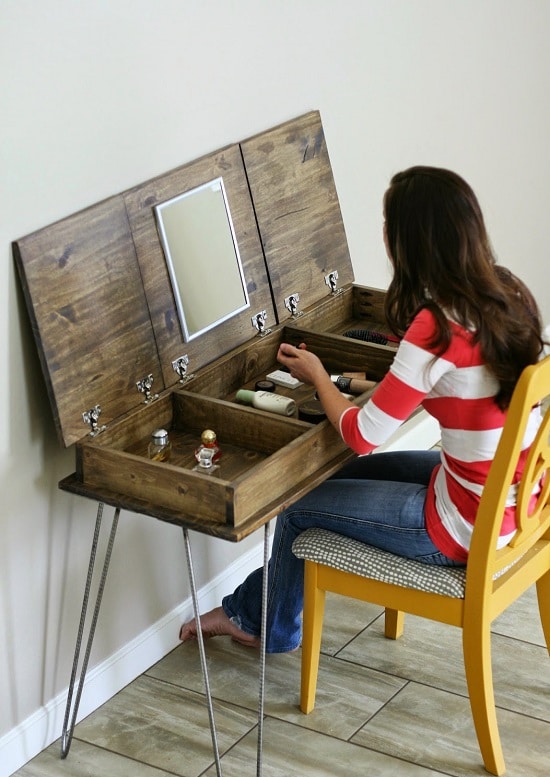 If you like clean, modern lines to go with your urban-style bedroom, consider repurposing a desk with hairpin legs into a personalized vanity. This DIY has the details.
29. Beautiful Makeup Vanity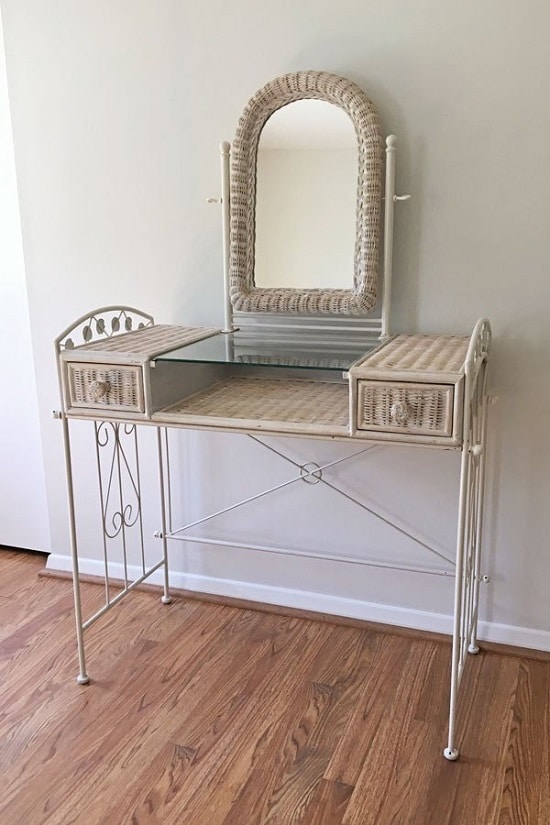 With plywood make, X-style legs for a vintage feel and brass drawer pulls as decorative accents, this stylish yet functional piece of furniture is sure to bring class to your bedroom. Find the DIY here.
30. Wall Mounted DIY Makeup Vanity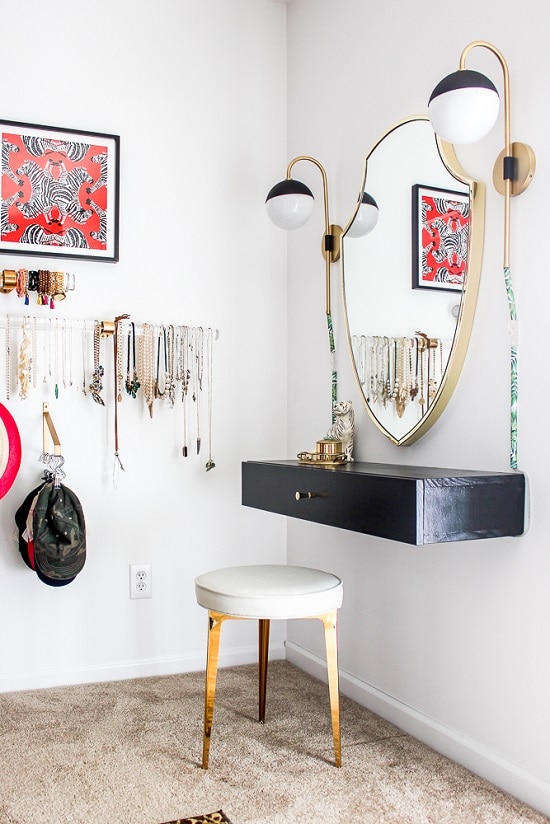 A floating vanity table with extra storage space for all your makeup is a nice way to utilize an empty nook. Get the details here.
31. Makeup Vanity Made From Reclaimed Wooden Pallets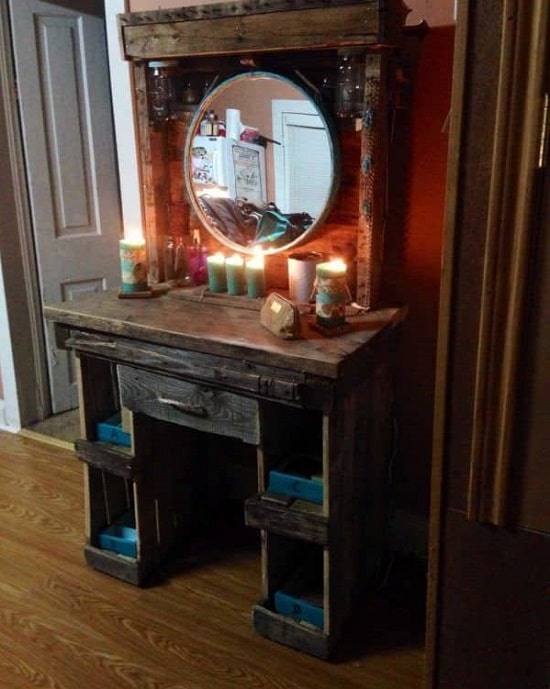 Made from salvaged wooden pallets and lamps for a mystical glow, it's one of the coolest DIY Makeup Vanity Ideas you should follow. Here's the DIY.
32. Kid's Makeup Vanity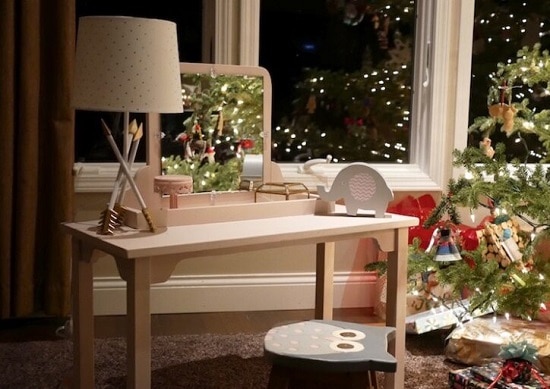 For the little girl and teenagers that love to dress up–This miniature makeup vanity with a versatile layout that can fit the oddest of corners makes for a nice gift. Here's the DIY.
33. DIY Dresser into Makeup Vanity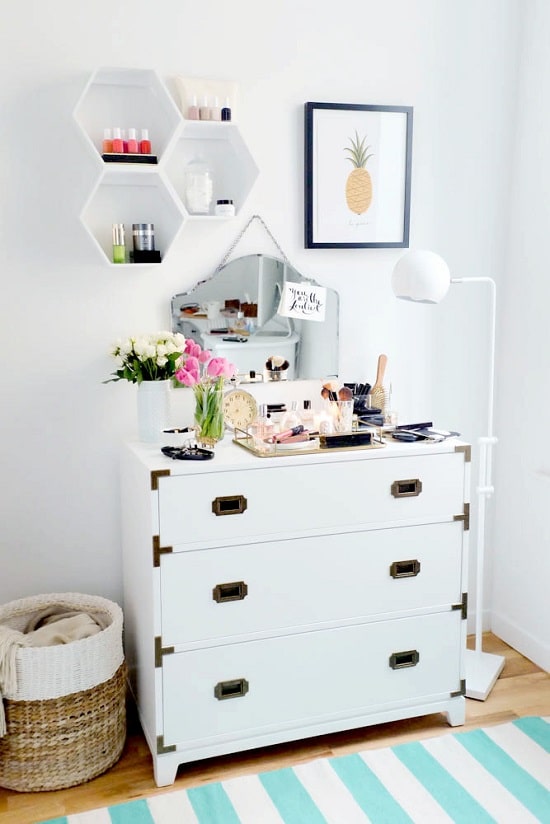 Style up a campaign dresser into a personalized vanity van with a mirror, several trays, and containers for makeup storage and a floor lamp for a modern touch. Here's the DIY.
34. DIY Modern Makeup Vanity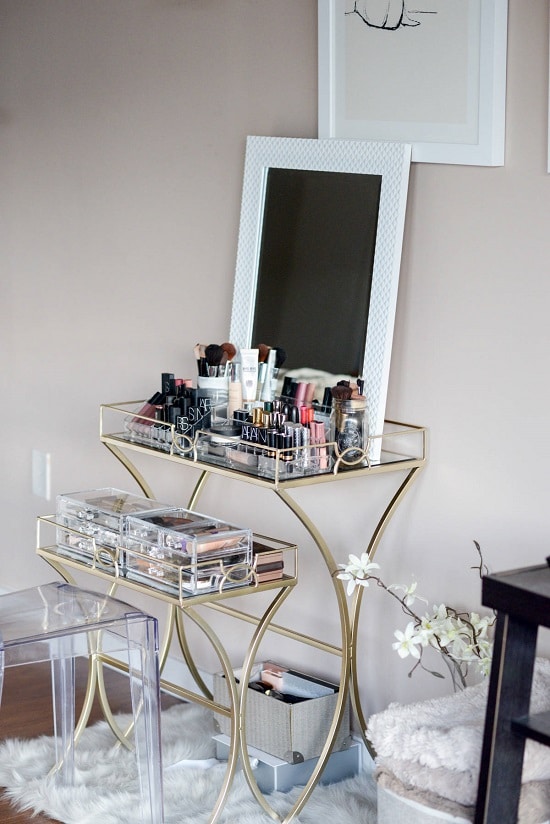 Assemble different heights of mirrored accent tables and pair up with a cute mirror for a makeup vanity that is sure to enhance your makeup organization. Here's the DIY.
35. DIY Makeup Vanity from IKEA Parts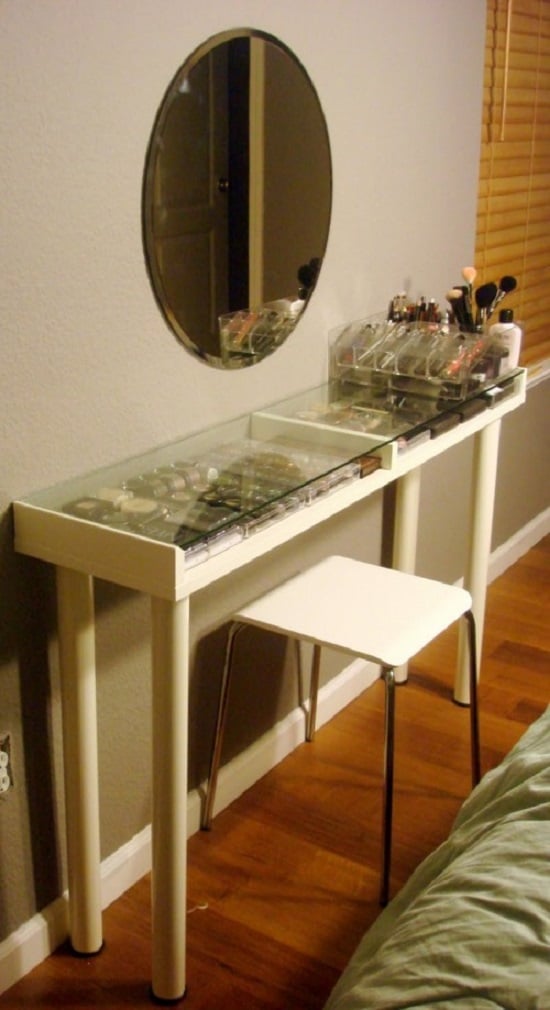 Made with salvaged Ikea parts, this low-cost DIY makeup vanity has a glass top that allows you to survey your available makeup options at a glance while keeping everything safe and compact.
36. DIY Plastic Makeup Vanity
If you're faced with the challenge of creating a vanity corner at the lowest cost and for the tiniest corner of your room, consider starting off with a bunch of plastic boxes. Here's the DIY.
37. Dollar Tree Cube Organizer Makeup Vanity
If you want to display your lovely cosmetics while storing them in a single place for easy reach, this sturdy yet low-cost dollar store cube organizer is a great solution. Here's the DIY.
38. DIY Make Up Travel Vanity with Lights For $20
Never lose touch with your favorite makeup essentials in this unbelievably economic and portable makeup vanity that is tiny enough to fit in your travel bag. Here's the DIY.
39. Inexpensive Makeup Vanity DIY
Sometimes a combination of warm pastel colors, the sheen of a mirror and the glow of lamps can work wonders to transform an ordinary side-table into a gorgeous makeup vanity. Follow this DIY.
40. DIY Glam Elegant Vanity Makeup
If you don't have the room to fit in a full-blown makeup station, consider this miniature version. All you need is an empty drawer cabinet, a glass countertop and some glitter for embellishments. Here's the DIY.
Also Read: 34 Seashell Jewelry Projects
41. DIY Ring Light for Makeup Vanity
The modern accents of ring lights amp up the glam quotient of an ordinary vanity, making it undoubtedly the plushest corner of your room. Here's the DIY.
42. Makeup Vanity BUDGET FRIENDLY Under $40
Budget-friendly and small enough to fit in awkward corners, this wall-mounted vanity adorned with fairy lights has an ethereal feel to it, and may as well become your personal spot for daydreaming. Here's the DIY.
43. Rustic Farmhouse Style Makeup Vanity
The timeless look of lightly stained wood makes this rustic dressing table a permanent part of your bedroom furniture set. Get the DIY here.
44. DIY Vanity with Dimmable Lights for Under $300
For a regal touch to your makeup vanity, consider an all-white palette to match the walls and dimmable lights for a surreal finish. Follow this DIY.
45. DIY Faux Marble Vanity
Building a vanity at home is easy when you have a marble study table at hand. All you need is a mirror and lights. Here's the DIY.
46. DIY Makeup Vanity with Stenciled Unicorn and Glittered Mirror
Inspired from the fun colors of the rainbow theme and unicorn symbols for that extra charm, this cute little vanity makes for a lovely addition to the little girl's playroom. Here's the DIY.
47. DIY Shabby Chic Makeup Vanity
If you don't have the skills or tools for a makeup vanity project from scratch, consider using a bedside table as the base. Get hold of a pretty piece of fabric, and you're good to go.  Here's the DIY.
48. DIY Floating Hardwood Vanity
This particular floating vanity design features a basin, and an extra drawer tucked in below for fresh towels, making it a contemporary addition to a spacious bathroom. Find the DIY here.
49. Vintage Desk Turned into Vanity Makeup Table
If you are the proud owner of an exhaustive collection of makeup items that deserve to be preserved in style, consider fashioning your vanity from an antique side table. Its multiple compartments and elaborate countertop are great for accommodating prolonged makeup sessions. Here's the DIY.
50. DIY Vanity with Dimmable Hollywood Lights
A refreshingly easy and low-budget way to replicate the look of Hollywood makeup vanity at the comfort of your home, this DIY relies on the beauty of dimmable lights, a mirror, and a vintage chair to do the job.
51. Good Morning Makeup Vanity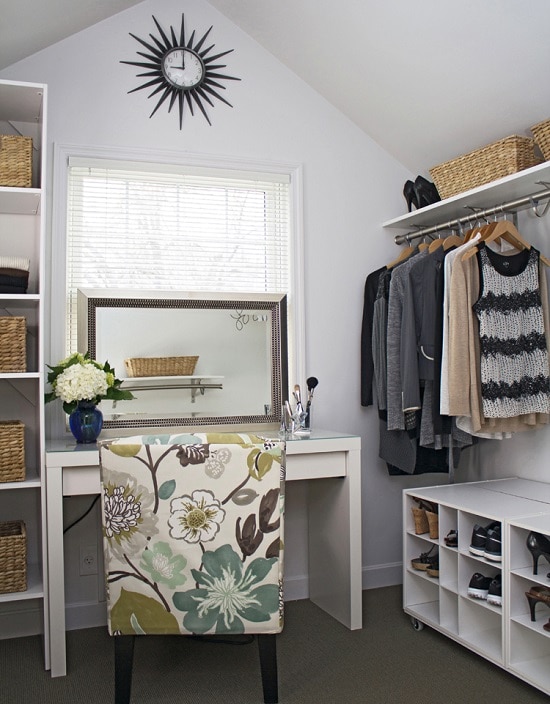 The idea of using a mirror on a privacy screen rather than the bare wall gives you a cozy nook to do your makeup without getting bothered by the outside world. Follow the DIY here.
52. DIY Gorgeous Makeup Vanity Desk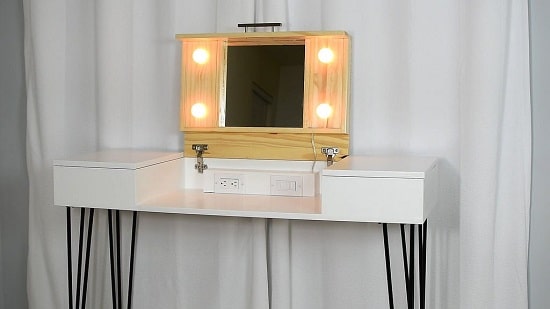 Made from a laminated pine board, this aesthetic makeup vanity includes all the basic details in a tiny footprint. Plus, you can take inspiration from this design to create an office desk as well. Follow this modern DIY makeup vanity project here.
53. DIY Makeup Vanity Out of Wall Mounted Shelves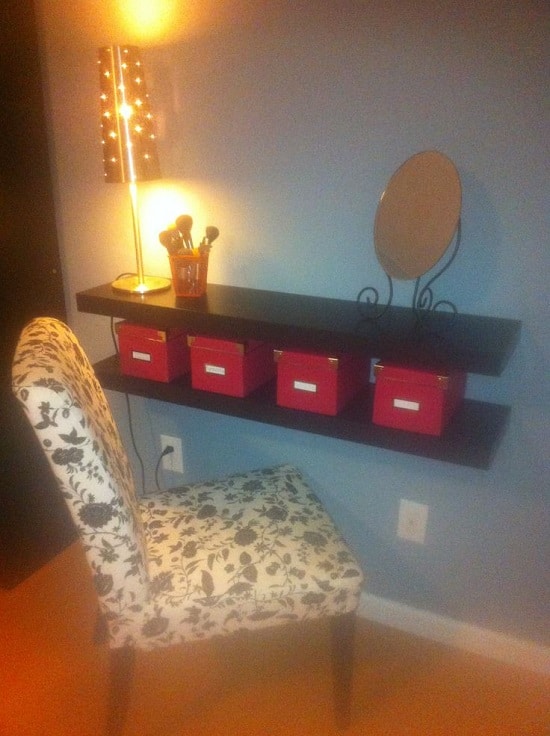 If using floor space is not an option, take help of wall-mounted shelves and a bunch of bathroom storage cabinets to create a makeup vanity in the lone corner of your bedroom. Here's the DIY.
Also Read: DIY Corner TV Stand Projects