Follow these DIY mirror decor ideas to give a quick and chic makeover to a boring wall in your space. Most of these ideas are cheap and easy to make.
1. Spraypainted Doily Lace Mirror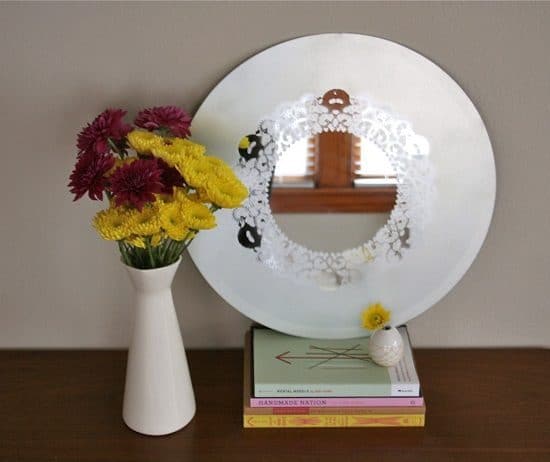 Give a classy update to your vanity with this uber cute frosted glass doily mirror. It's easy to create with just three supplies and goes perfectly with the modern woman's vibe. Here's the DIY.
2. Outdoor Window Mirror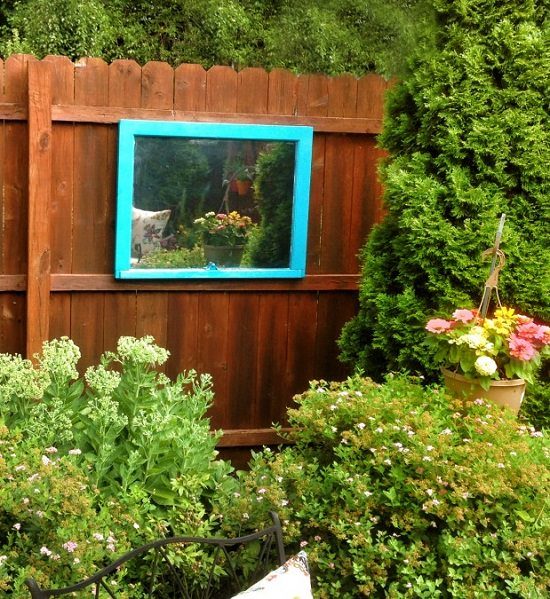 Having a reflective element in your garden brings a delicate sense of aesthetics, making the greenery seem more alive than usual. With this DIY, you can get that done using a spare window and a few hardware tools.
3. Styrofoam Convex Mirror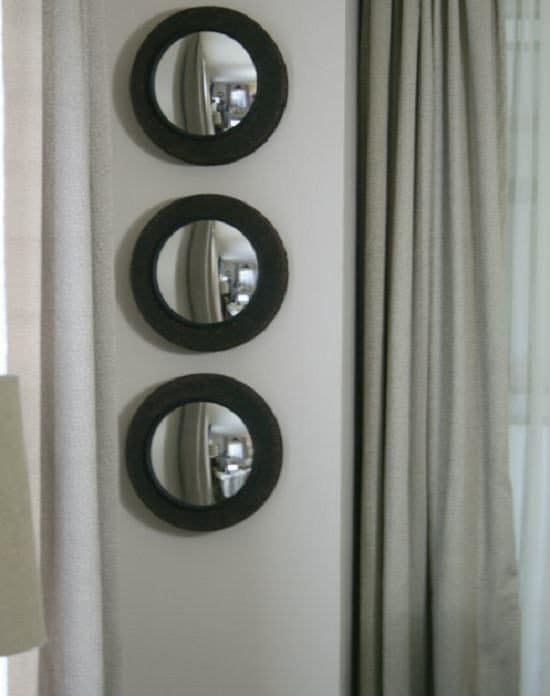 Convex mirrors are a unique way to create a midcentury vibe; combine that with styrofoam wreaths for a one-of-a-kind look. Here's the DIY for inspiration.
4. DIY Farmhouse Mirror Made From Shims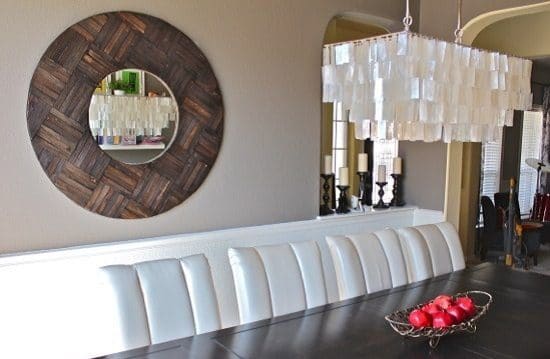 Made from solid wood shims, this unbelievably pocket-friendly mirror is quite a statement piece to have on a bare wall, like above the bed, or in the dining room. Here's the DIY.
5. Starburst Mirror DIY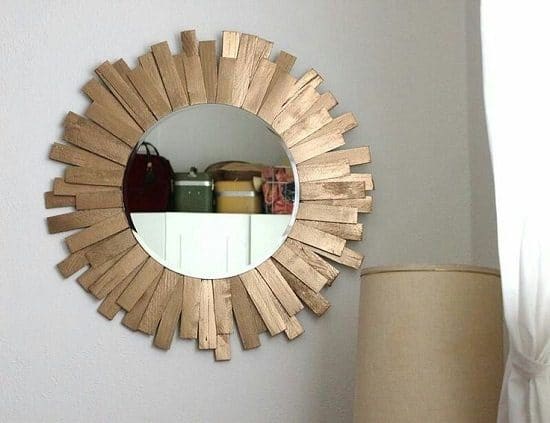 Add instant happy vibes to a dark corner with this DIY starburst mirror gold-painted shims. Make it with this tutorial.
6. Classic Mirror in a Distressed Frame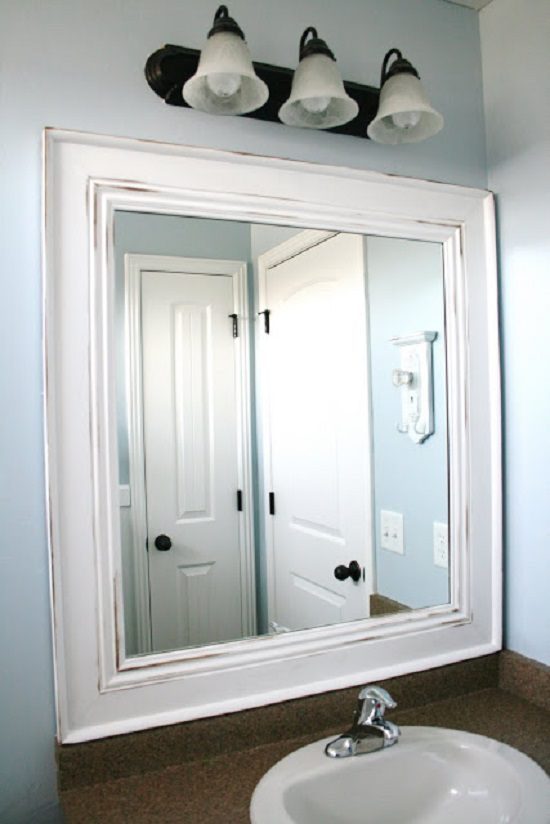 When matching your bathroom mirror with the vanity, use a thick baseboard frame and sand it down with ink and semi-gloss paint. Instructions are here.
7. Decorated Gemstone Mirror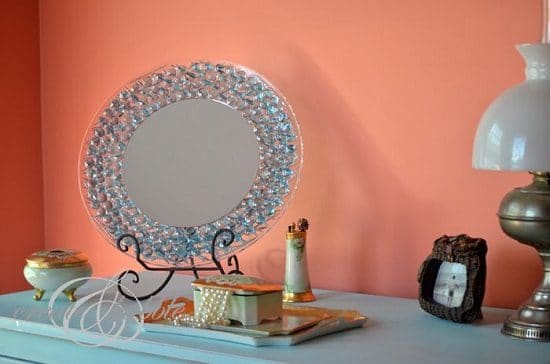 Assemble a round mirror studded with gems on a plate stand to get just the right amount of glamor and sparkle on your dressing table. Here's the DIY.
8. DIY Pottery Barn Eagan Mirror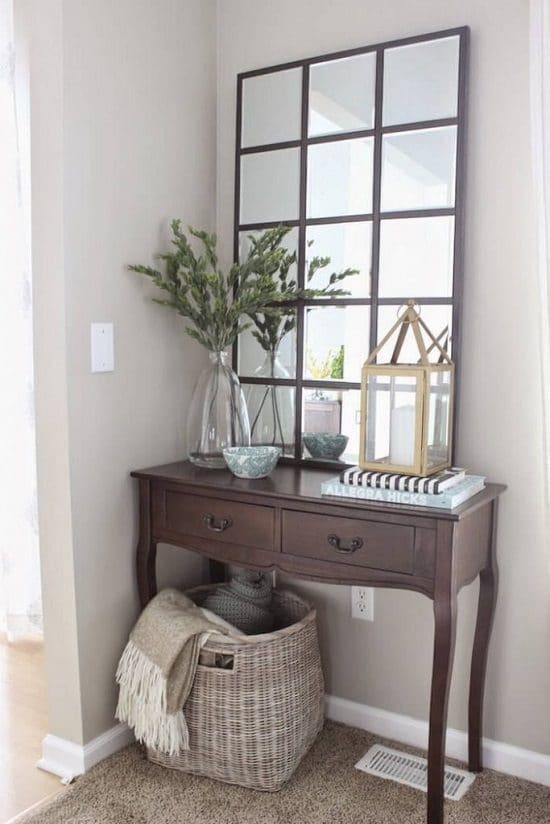 This DIY shows you how to create your own rendition of Pottery Barn mirror with particleboard and spray paint, and achieve the same look in under $100.
9. DIY Seashell Mirror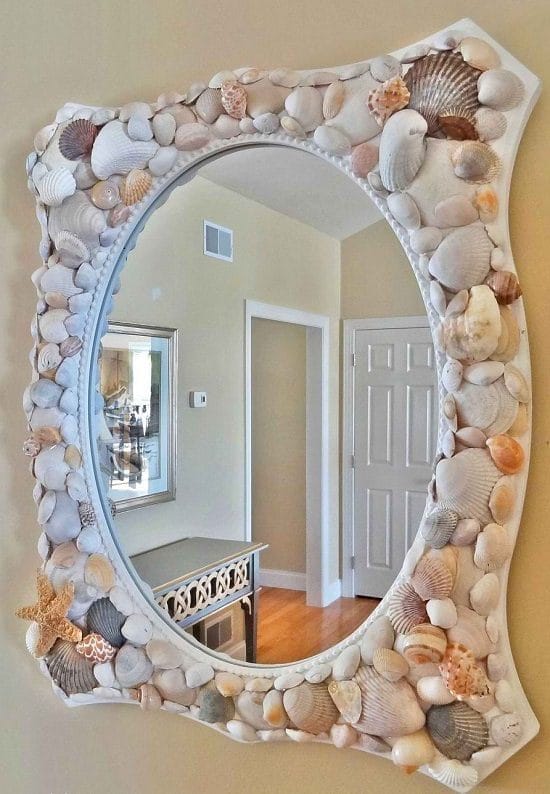 Whether it's summer outside or snowing, this beachy seashell mirror makes a soulful addition to the walls that are always very relevant year-round. Get the DIY here.
10. Diy Wall Mirror Decor For Homes Inexpensive
Add dimension and detail to a tiny wall mirror with this unique sunburst design created using plywood, board strips, and metallic silver paint.
11. Large Decorative Wall Mirror Decor (30 inches)
Here, gems, tiny mirrors, and wooden skewers come together to create a charming radiating pattern, reminiscent of the sun rays. Get it done with this DIY.
12. Glam Wall Mirror Decor
This DIYer used cutouts from a cereal box instead, and spray painted them metallic silver to create the perfect complement with plastic spoons, for a delicate balance of textures.
13. Patterned Wall Mirror and Lighting
A lovely hack for lazy DIYers looking for a living room update, this DIY patterned mirror is created using felt table runners. So, find your favorite one and get started with this tutorial.
14. Modern Entryway Wall Mirror
For a completely different kind of a look, try this contemporary-style arrangement of square mirrors on canvas board. It is a great decorative element to add to a modern entrance.
15. Metal Clip Wall Mirror Decor
Make the most of the mirror's shine with the sparkle of gems and metal clips to add a generous dose of bling on the walls.
16. Mirror Decor Using Plastic Spoons
Give a glamorous makeover to plastic spoons with golden spray paint for a modern update to an old mirror.
17. Dollar Tree DIY Glam Wall Mirror
For a budget-friendly mirror makeover, add dozens of popsicle sticks to the base, and a few beads along the circular frame for some bling.
18. DIY Whirlwind Wall Mirror
This DIY is the perfect chance to show how creative you are without actually having to work too hard. All you need is some board, golden paint, and a mirror, of course.
19. DIY Unique Turquoise Mirror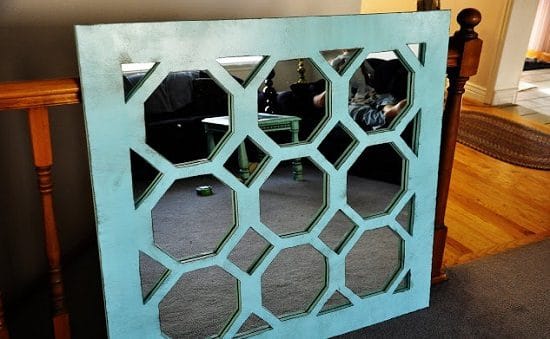 Spruce up a plywood honeycomb cutout with teal blue paint and adhere to it on your vanity mirror to create a beautiful piece of art. Here's the DIY.
20. Rope Mirror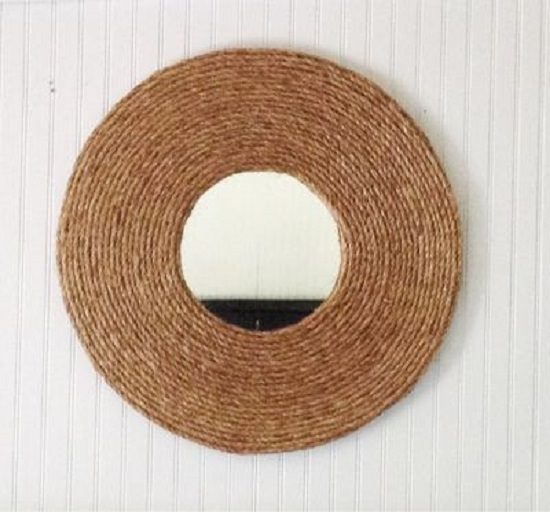 For a shabby chic update to the walls, consider this rope-encased mirror. It gives a nice cottagey feel to the bedroom as well. Here's the DIY.
21. Zebra Mirror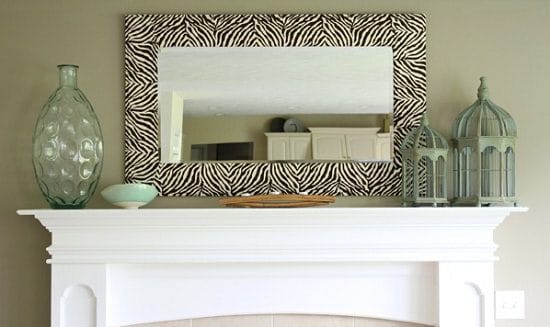 Encase your mirror in a wooden frame wrapped with zebra-printed fabric for a contemporary-style decor for a mantelpiece. Here's the 10-minute DIY.
22. DIY Mirror Decor Ideas

Decorating a framed mirror with tile is incredibly easy and with the variety of color options, you're sure to come up with something unique and personal. Follow this DIY.
23. Color Wheel Mirror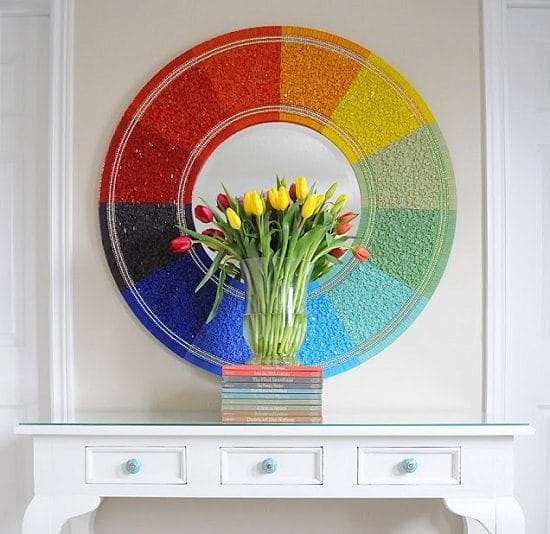 This mirror decor idea here features a rainbow theme brought to life using colorful mosaic tiles; the best part is you can swap out tiles for anything else, from glitter dust to beads.
24. Wood Ruler Mirror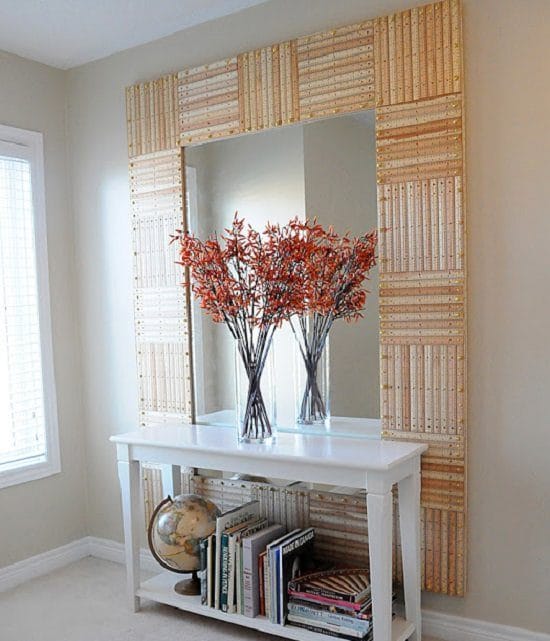 With mirrors, the bigger they are, the better. Border the edges with wooden rulers for a chic, back-to-school update of the bedroom. Take inspiration here.
25. Stars and Stripes Pencil Mirror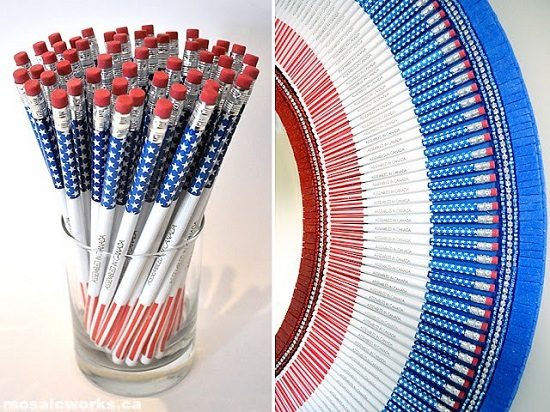 Including bits of leftover tiles, beads, and pencils, this inspirational DIY mirror keeps the color theme very patriotic, making it a subtle way to infuse fourth of July vibes to your space.
26. DIY Sunburst Mirror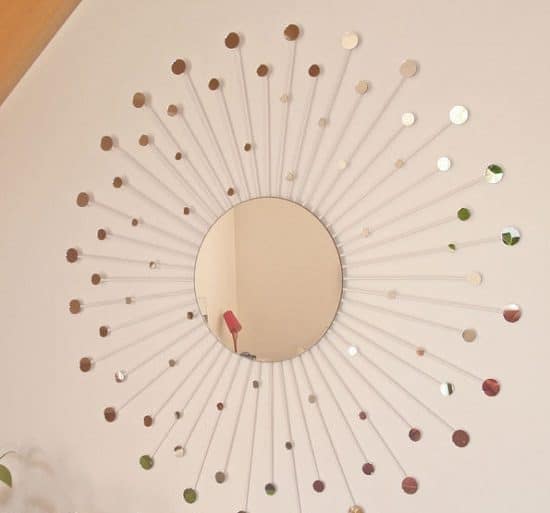 This DIY is probably the easiest way to create a fancy sunburst mirror without having to deal with the $100 price tag. All you'll need are some small mirrors and wooden skewers.
27. Crystal Stone Mirror

If there comes a time when you don't know what to gift your friend, consider making them this beautiful DIY amethyst mirror. Details are here.
28. DIY Succulent Mirror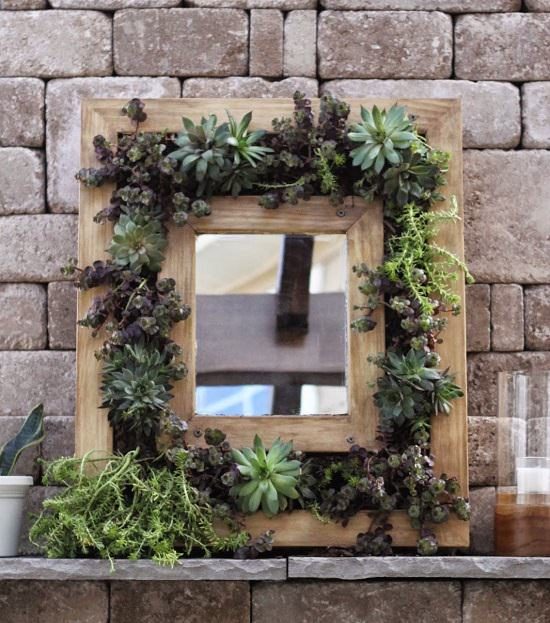 This is one of those DIYs that take time and labor to manifest, but once it's done, the results are nothing short of amazing. Mostly, it's best for those who want to create a low-maintenance, outdoor focal point. Details are here.
29. Sweet Floral Wreath Mirror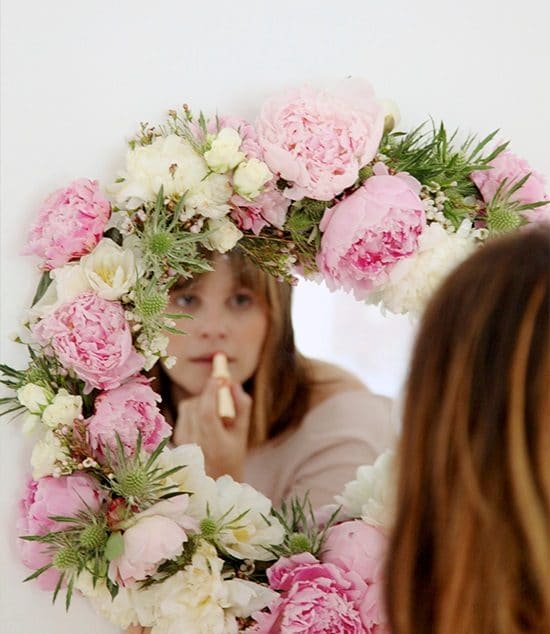 A wreath of handpicked garden posies is all you need to give a boost of natural freshness to your living room mirror. And the best part is you can swap it out for new blooms with every season. Here's the DIY.
30. Geometric Mirror with Metallic Trim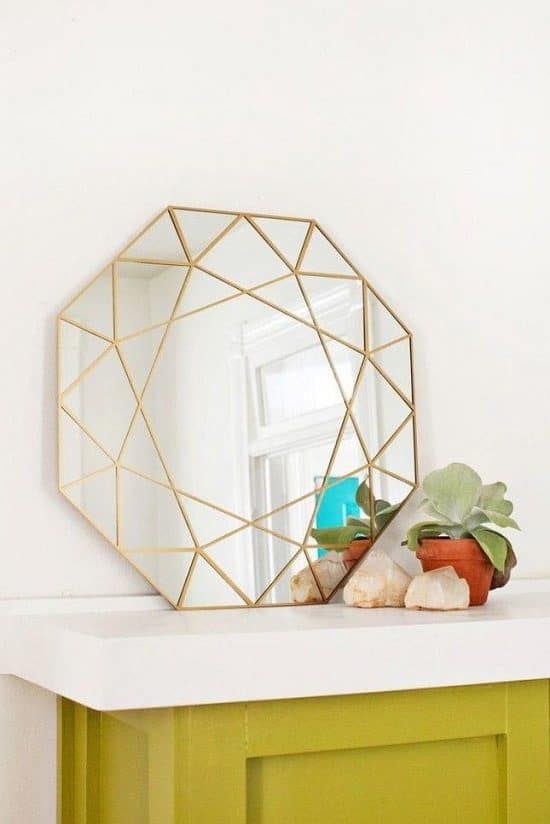 This DIY discusses a secret, no-fail glass cutting technique to get this asymmetrical mirror DIY right up your alley.
31. DIY Tray Turned Mirror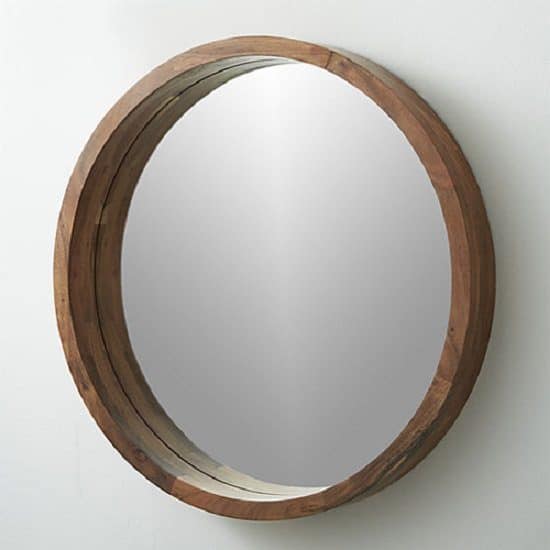 If you're looking for a last-minute DIY to update a mirror, consider this one. It may not be amazing in an obvious kind of way, but the simplicity and elegance of pure wood are worth a second look.
32. DIY Sunflower Mirror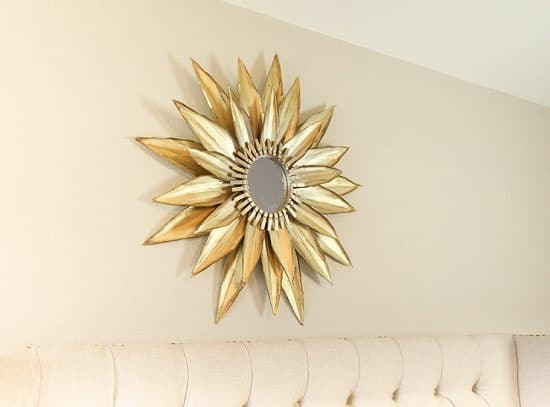 Made with cardstock paper and metallic paint, this captivating sunflower-themed mirror is an easy way to create a focal point in the room and shift focus from the chipped wall paint. Here's the DIY.
33. DIY Gold Mirror Decor
Using cupcake liners and gold spray paint, this DIY shows you how easy it is to add a royal touch to the walls. Honestly, it would be a shame to stop at one.
34. Red Spoon Mirror
Spray painting plastic spoons to a bright red color and then gluing them into a sunflower-like shape onto a circular mirror. Now isn't that a fun activity for the weekends?
35. DIY Rhinestone Vanity Mirror
Pay tribute to your inner queen with this stunning, rhinestone mirror decor that makes you feel truly beautiful every morning.
36. Oval Wall Mirror Decor
Using poster board cutouts and some gold spray paint, this DIYer crafted out chic metallic accents to compliment her oval-shaped mirror, while also creating a radiating sunburst look.
37. Glam Mirror Dupe
Nothing like iridescent lighting and glitter dust to complement the shine of mirrors. Coupled with ambient lamps, this DIY mirror infuses a relaxing mood to your bedroom at night.
38. Glam Mosaic Mirror
Who knew that broken pieces of old DVDs glued together on a black poster frame could look sp gorgeous! Get this look for your basin mirror with this DIY.
39. Light Up Glam Mirror
Glam up an artificial string of feathers with LED lights to create the perfect festive-themed frame for your mirror. Or, you could swap out feathers for flower garlands as well. This DIY gives you options.
40. Floral Wall Mirror w/LED Lighting
The combination of flowers and light can never go wrong. Include it in your next DIY mirror decor for a lovely show of light and color that will instantly brighten the space.
41. Wood Slices Mirror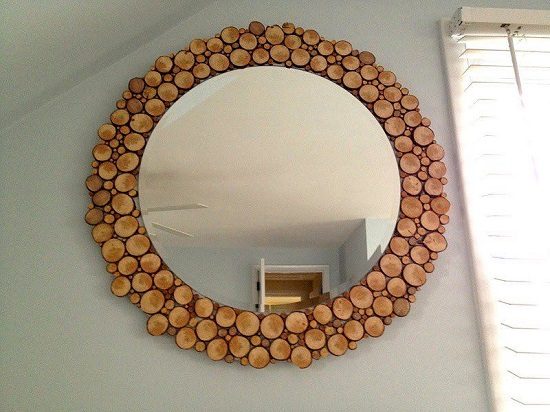 For an all-round fall-ready look, consider cutting wooden discs from fallen branches and use it to frame a circular mirror. The result is unique and livens up the room. Here's the DIY.
42. Driftwood Mirror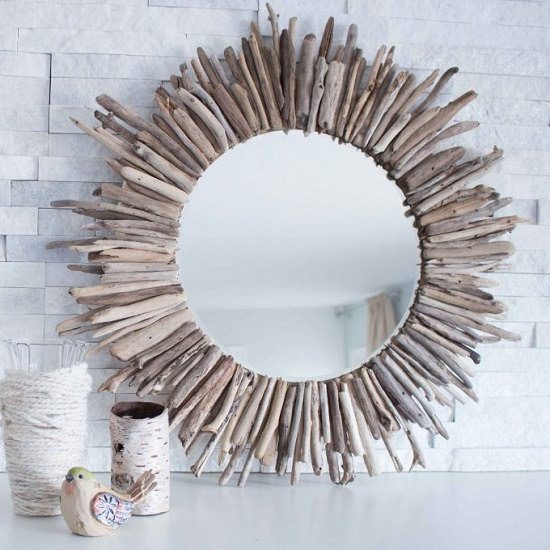 With assorted driftwood pieces and a beveled mirror, this DIY sunburst mirror brings a cabin-like feel to your bedroom, cozying it up for the winters. Here's the tutorial to make one.
43. DIY Bone Inlay Painted Mirror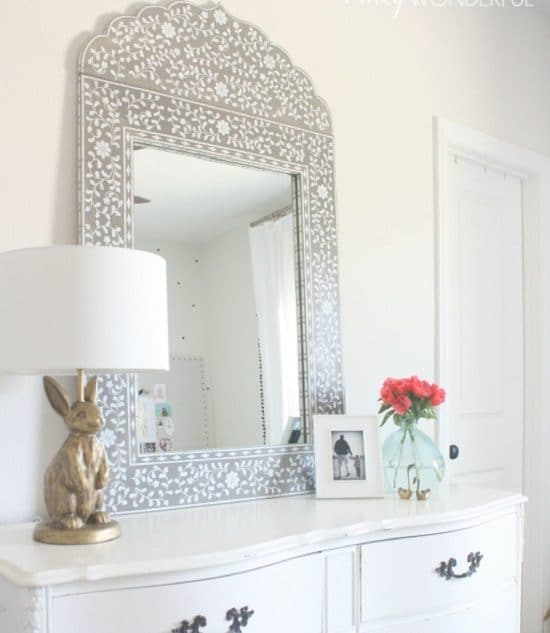 Revamp a plain sheet mirror with a wooden frame and inlay stencil to create an intricate pattern of bone inlay work at a fraction of the expected cost. This DIY gives you the details.
You can customize these DIY mirror decor ideas as per your liking to suit your interior and give a makeover at the same time!