These DIY mermaid tail costume and craft ideas are a spellbinding activity to do with kids and take them to an imaginary world of mermaids!
1. DIY Mermaid Tail

For maximum leg movement without compromising on your mermaid look, consider creating this knee-high mermaid skirt from stretchy jersey material. Here's the DIY.
2. DIY Mermaid Tail Costume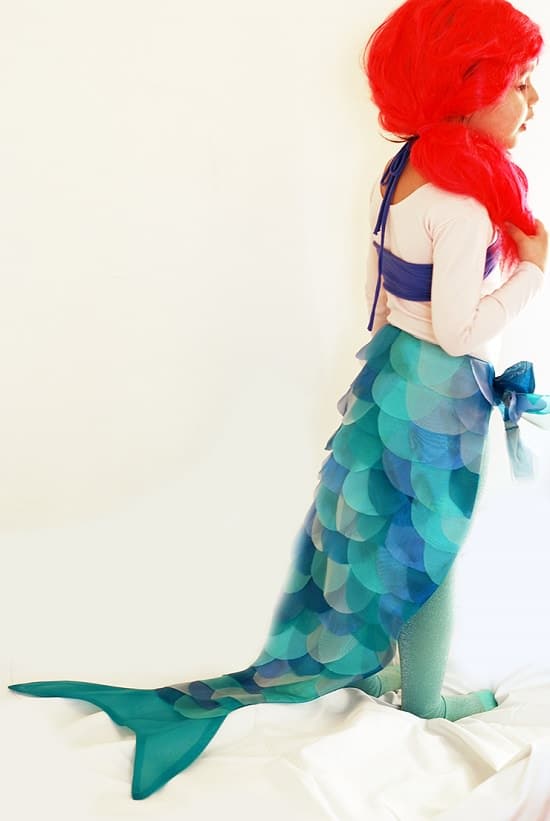 Using organza in different shades of blue and green and an old jersey for the top, you can create this charming mermaid costume that will give your kids nonstop fun for hours. Follow this DIY.
3. Mermaid Tail for Swimming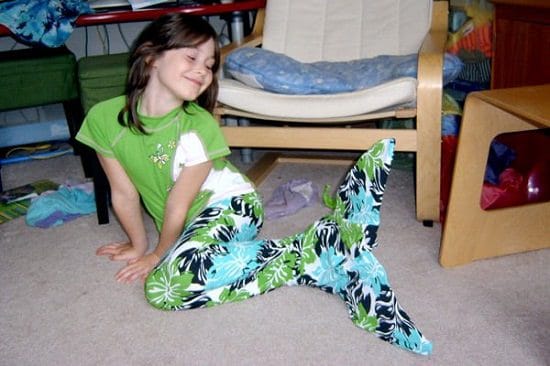 Make a cute, swimmable mermaid costume for your little using three simple supplies- swim fabric, monofin and elastic. Detailed guidelines are here.
4. Silicone Mermaid Tail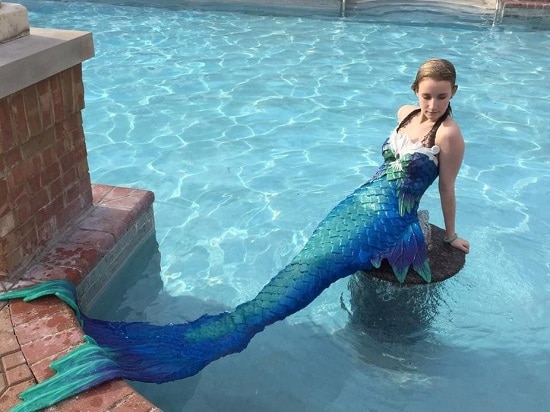 The silicone mermaid tail DIY is not for the faint-hearted, as it can bind your legs together, restricting movement underwater. Also, it can get pretty heavy. However, if you want to try something different for your mermaid costume this year, it's worth a shot.
5. Sparkly Foam Sheets Mermaid Tail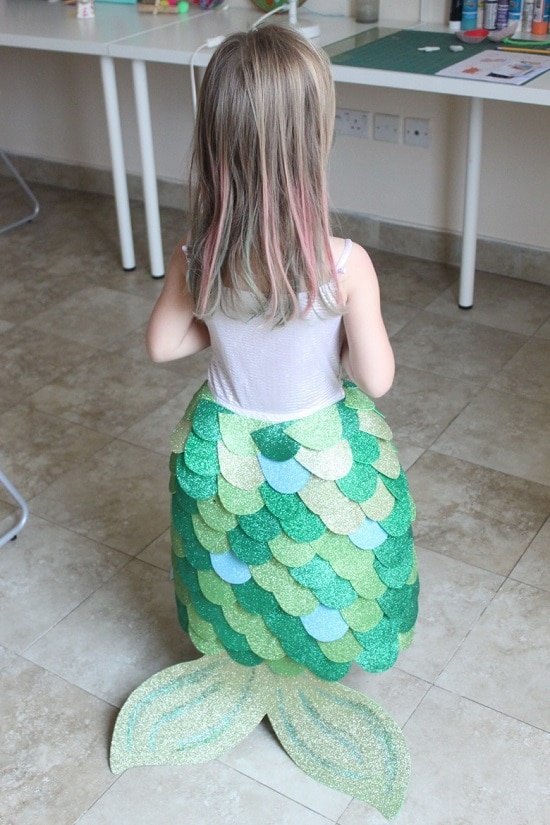 Create maximum impact with minimum effort by using foam sheets as the base for sea green dark-green colored glittered in this baby girl-special mermaid tail. Follow this DIY.
6. Shimmery Green Mermaid Tail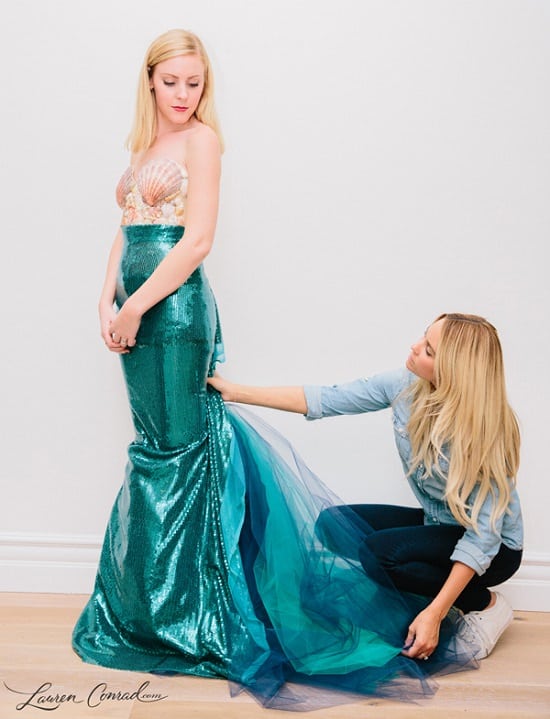 Combining witchy magic with the scintillating nautical vibes, this mermaid outfit makes you look like an ethereal creature of the sea, even if you decide to go with your bare face on. Here's the DIY to follow.
7. Detachable Mermaid Tail
The makeshift mermaid tail is a definite plus for kids that tend to get bored with wearing the same outfit for a long time. Make one with this DIY.
8. DIY Mermaid Tail Blanket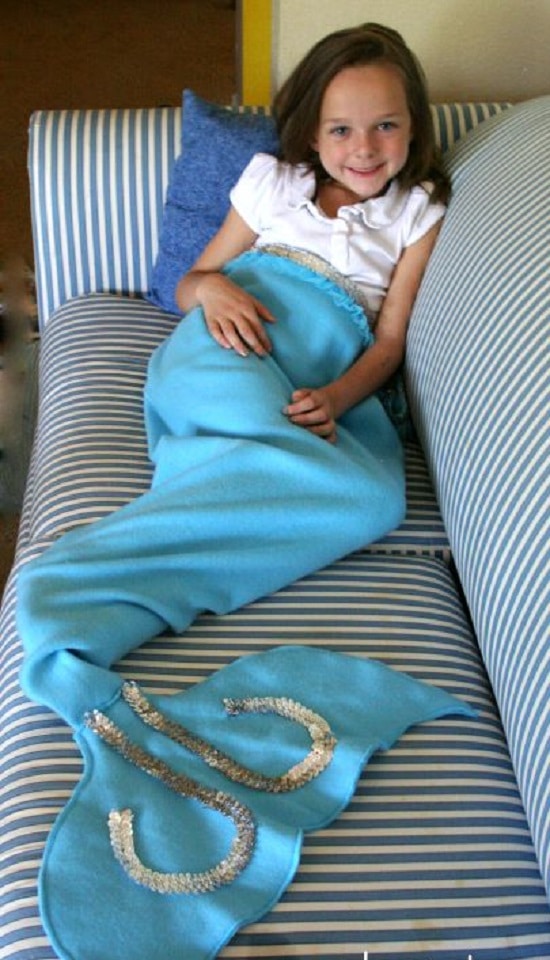 Watch your kiddo transform from a couch potato into a pretty couch mermaid with this sheer blue mermaid tail made from stretchy Lycra fabric for extra comfort. This DIY has the details.
9. DIY Mermaid Tail with Monofin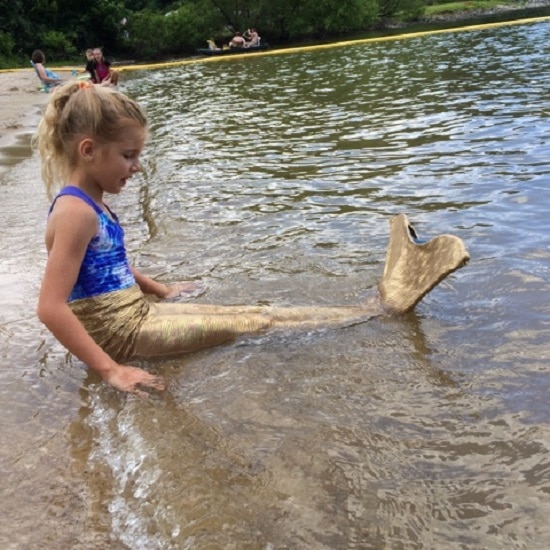 This no-sew swimmable mermaid tail with a monofin allows your kid to splash and play about in the water all she wants without going out of character. Here's the DIY.
10. DIY Mermaid Costume…with a REPOSITIONABLE Fin!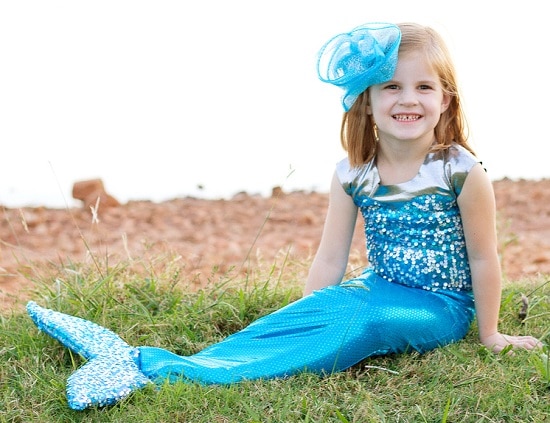 This clever mermaid costume DIY allows plenty of walking freedom, so your kids can attend trick-or-treating and parties all they want while looking like mermaids all the while.
11. Beautiful Mermaid Tail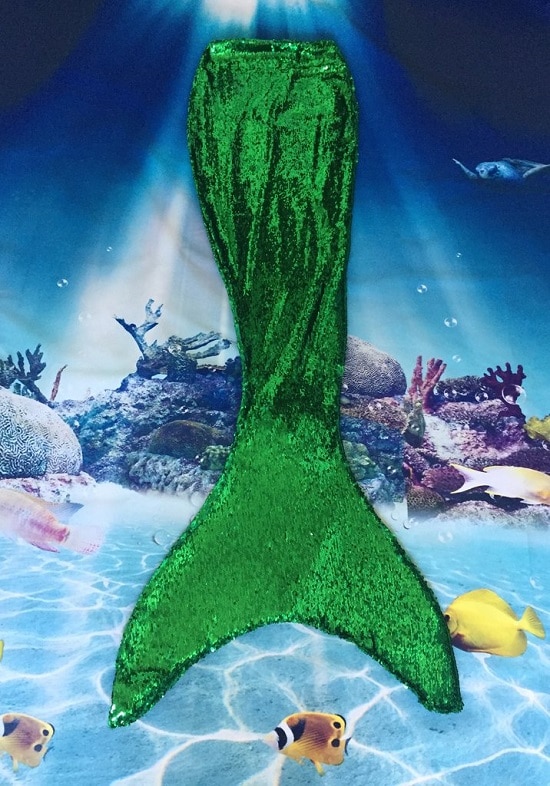 This tutorial requires a sequined fabric as the base for the tail and a layer of mesh fabric to create the look of scales, creating a comfortable and lightweight costume for Halloween.
12. Mermaid Tail
This simple and inexpensive under $20-project involves some simple tracing and gluing action, giving you a costume that puts the commercially available ones to shame.
13. Swimmable Mermaid Tail
Create a mermaid tail from scratch with your own individual dimensions and some little help from this DIY.
14. Amazing Swimming Mermaid Tail
For the complete mermaid experience, swimming with your tail is a must, which is why you need to create this Spandex-covered tail with the help of this tutorial.
15. DIY Kid's Swimming Mermaid Tail
If you don't want to go through the trouble of fashioning an entire mermaid costume from scratch, just get hold of sequinned fabric and monofin. This DIY will give you the remaining details.
16. DIY Ribber And Silicone Mermaid Tail
When you want a more durable mermaid costume that will last you a couple of occasions, consider creating this rubber and silicone fishtail with this DIY.
17. Winter Mermaid Tail Blanket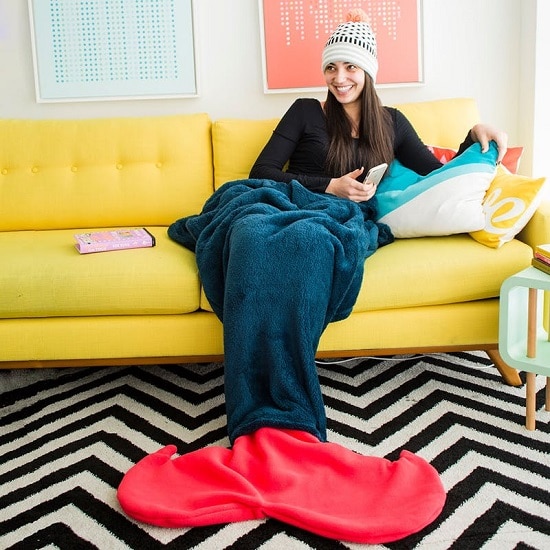 The mermaid tail blanket is a clever hack to ensure you can cozy up at the comfort of your couch no matter how low the temperature dips outside. Here's the DIY.
18. Barbie Mermaid Costume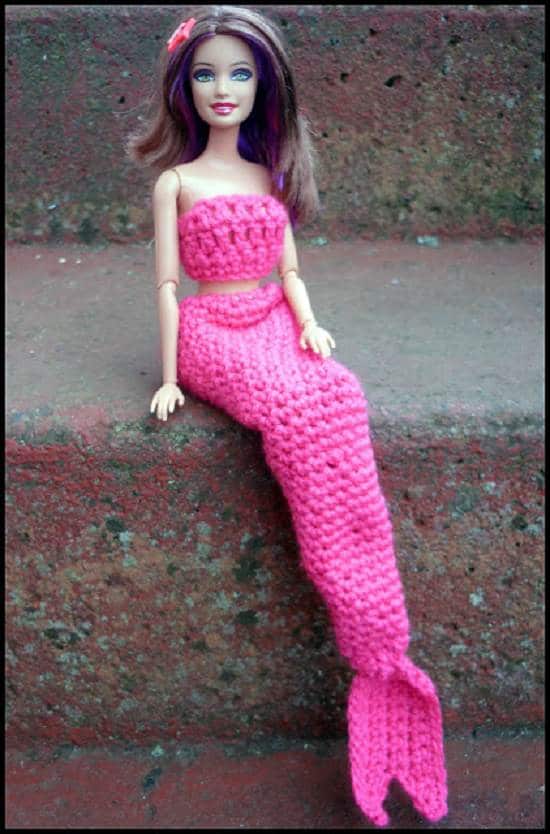 If you're looking for cute and unique stuffings for Christmas stockings, consider creating these mermaid-themed Barbie outfits on a lazy afternoon. Here's the DIY.
19. Stripes Crochet Mermaid Tail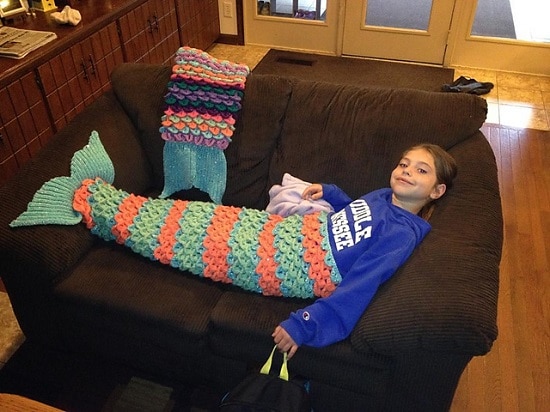 Lounge in style with this lightweight and compact mermaid tail blanket that keeps you warm and snuggled in cold days. Get the DIY here.
20. Mermaid Tail ChapStick Holder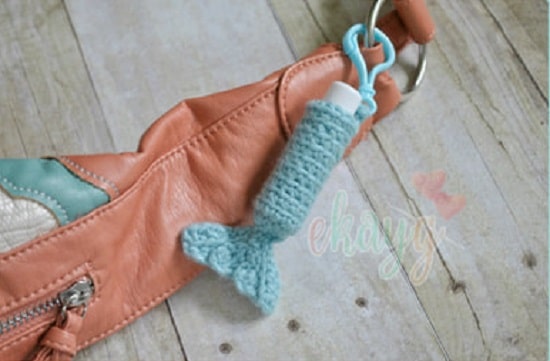 For the mom who's always too busy to take care of herself, these mermaid-themed chapstick holders come as a real boon, helping her ensure that her chapstick is never too far from reach. Follow the DIY here.
21. Easy DIY Mermaid Tail Crochet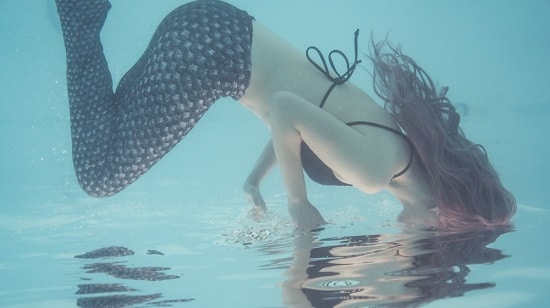 This cute and cuddly mermaid blanket is a perfect gift for little girls that love to look pretty while cozying up on the couch. Here's the DIY.
22. Adult Mermaid Tail Blanket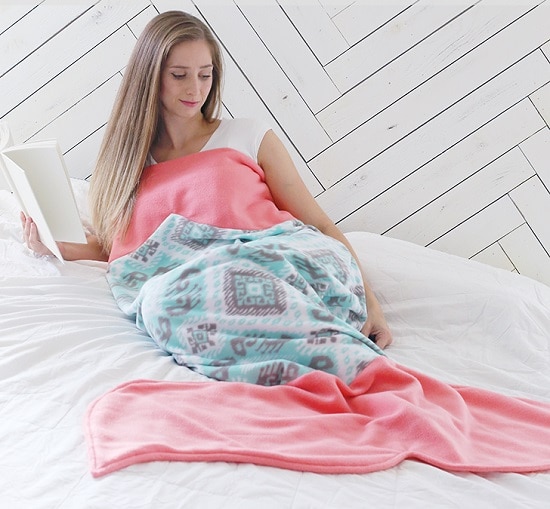 The thought of sipping your hot coffee while curling up in this warm and toasty mermaid tail blanket is all the motivation you need to whip up one right now. Follow this DIY.
23. Painted Mermaid Tail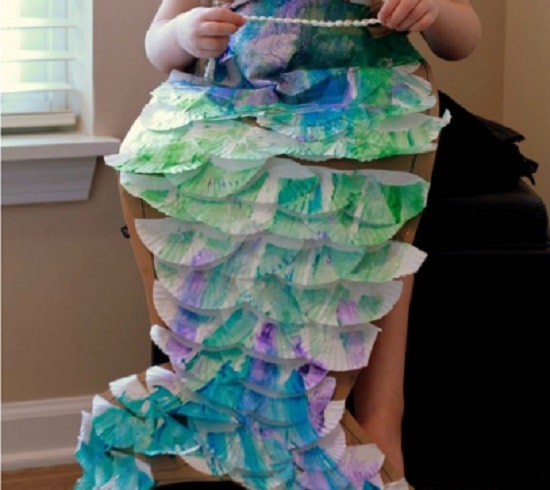 If you lack the fabric for a complete mermaid look, choose the off-beaten path with handpainted coffee filters instead. This DIY has the details.
24. Colorful Cardboard Mermaid Sock Tails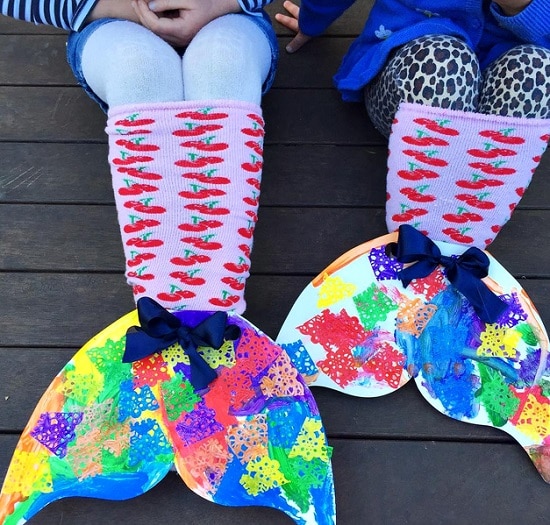 Using a combination of doilies for scales, cardboard cutouts for the template and lots of fun colors to fill the gaps really makes this DIY mermaid look a tad refreshing from the more monotone ideas on this list.
26. Sewn Mermaid Tails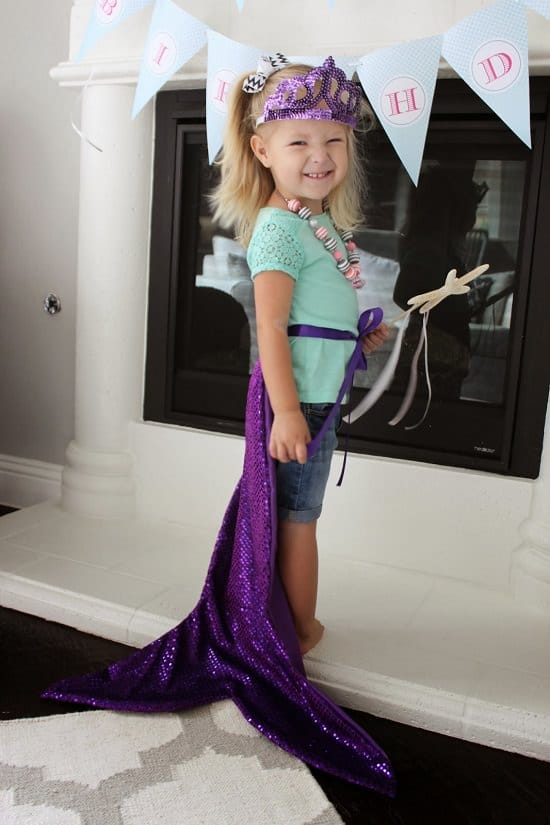 These sequinned tails are delightfully easy to create and customize and require minimal sewing skills. Here's the DIY.
26. DIY Sparkly Doll Mermaid Tail
Capture the light of a thousand stars in this otherworldly mermaid tail design that is sure to make you look like the Disney character herself.
27. Origami Mermaid Tail
Get started on the basics of origami with this fun craft involving craft paper, acrylic colors and the much-loved mermaid theme.
28. Quick and Easy Mermaid Tail
This DIY shows you how to make a mermaid tail with satin fabric and tracing paper. It involves minimal sewing and can be customized to fit any dimensions.
29. DIY Mermaid Tail Wine Bottle
Add the look of scales and tails to empty wine bottles and use them on your garden table for your next nautical-themed party.
30. DIY Walkable Mermaid Tail
This mermaid tail DIY is a genius in itself; it makes you look like a million bucks and even lets you walk fuss-free. Get the complete hack in the video.
31. DIY "No-Sew" Mermaid Tail Costume
If you have to show up at a cosplay event and are looking for a gorgeous, last-minute outfit, consider this no-sew mermaid tail DIY that requires a piece of shimmery fabric, nylon strings, and a glue gun.
32. DIY Sequin Mermaid Tail
Involving a neoprene frame studded with an array of scales in myriad shapes and colors, this DIY mermaid tail is surely for the hard-working DIYer; however, the results definitely make it worth a try.
33. DIY Mermaid Tail Pendant
If you lack the panache to pull off a full-fledged mermaid tail, consider the understated version of it- DIY mermaid tail pendants in ethereal colors that exude a magical glow as they reflect light.
34. DIY Baby Mermaid Tail
Let's face it- ordinary onesies won't do justice to your gorgeous baby. Make him summer-ready instead with this stunning mermaid suit that involves little sewing skills.
35. Mermaid Tail Cute Ring Holder
Give your dressing table a one-of-a-kind update with this captivating mermaid tail ring holder that doubles up the beauty of your jewelry collection by manifold.
36. DIY Mermaid Tail Charms
Personalized pendants and friendship bands are all too mainstream, don't you think! Try thinking out of the box with these fascinating mermaid tail charms that will have you daydreaming about the beach for hours.
37. Child Mermaid Tail Costume DIY for Under $10
This super cute mermaid costume featuring ruffles and sequins is perfect as a low-budget Halloween outfit that is likely to be repeated year after year just because of its sheer persona. Follow the DIY in the video.
38. DIY Mermaid Tail Hairpin
Get your little girl all pretty and ready for her birthday party with these charming mermaid-themed hair clips created from paper and glitter.
39. Mermaid Tail Stocking
Somewhere between fishnet stockings and Christmas stockings are these mermaid-themed ones that make for some frame-worthy pictures, especially when accentuated by the crackling fire. Follow the DIY.
40. Mermaid Tail Bow
If you have exhausted your tiny tot's party funds, and there's nothing left to spend on party favors, consider turning to your craft supplies and this little video for help.
41. Custom Fabric Mermaid Tail
Now, this is the real DIY challenge for all mermaid-loving seamstresses. It uses handpainted fabric along with some advanced-level sewing to create sharp-angled corners and ruffles.
42. DIY Cardboard Mermaid Tail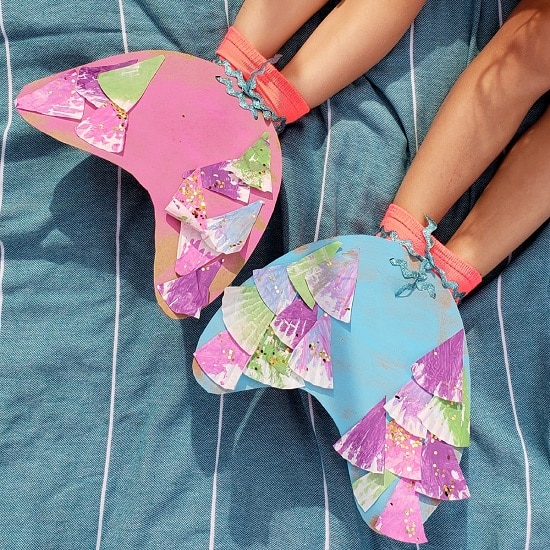 If a beach vacation seems impossible this time, consider bringing the beach to your home instead. These mermaid tails made from cereal box cutouts and handpainted cupcake fillers are a great start. Here's the DIY.
43. Mermaid Tail Soaps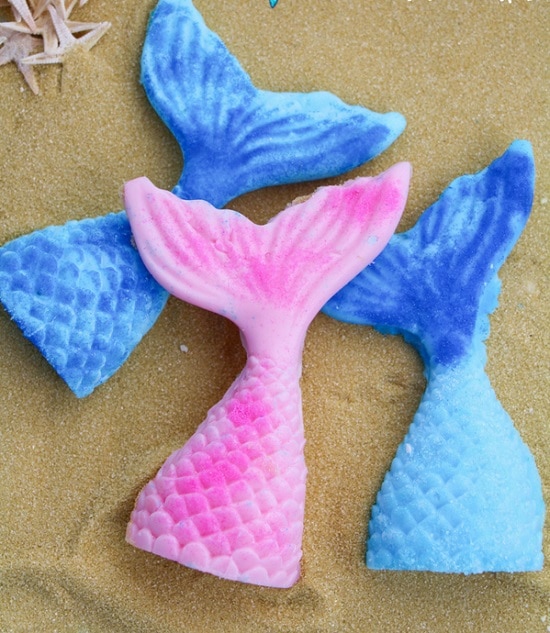 These DIY mermaid soaps might just end up becoming a nice motivation for your kids to get geared up for bathtime or wash up after messy activities.
44. Mermaid Tail Glitter Resin Keychain Charms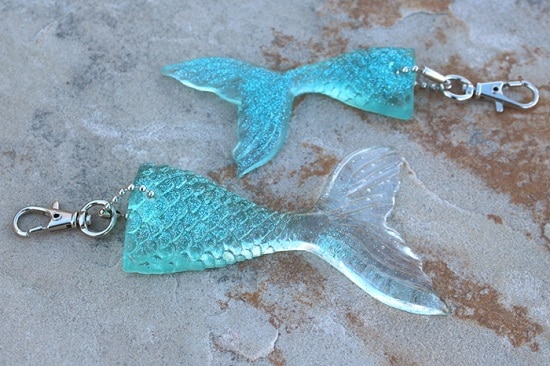 Whether you want to keep track of your keys, or are looking for lovely enhancements for your zipper pulls, these DIY mermaid charms are the answer.
45. Sparkling Chocolate Mermaid Tail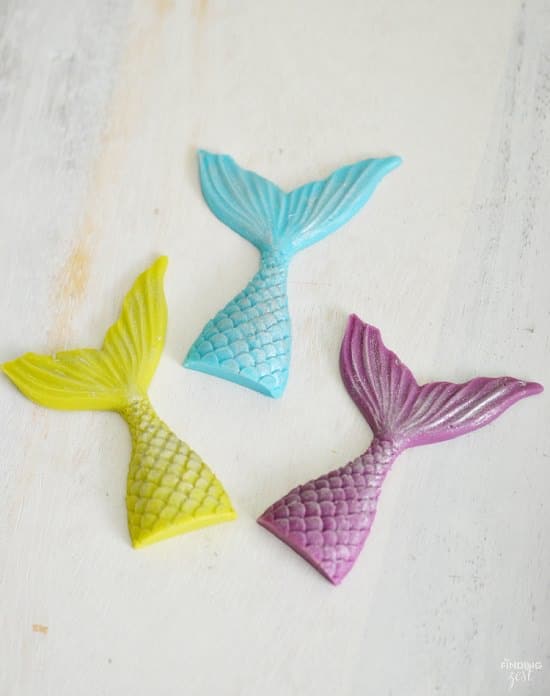 Not that anybody would want to eat them, but these chocolate-flavored mermaid tails are the next-level substitute to candy. Use them to top up cupcakes or lay them on a platter to set the table in style. Here's the DIY.
46. DIY Mermaid Tail Finger Puppets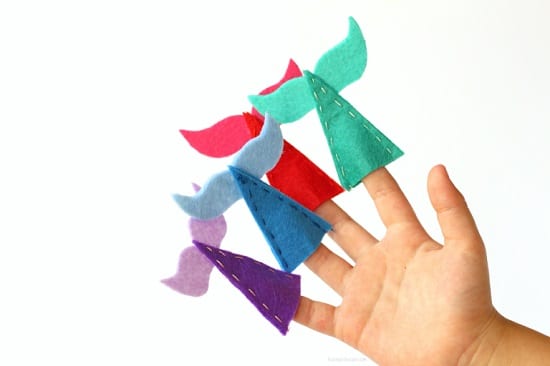 Finding non-toxic child's crafts that not only interesting but also last in the long run is hard. These mermaid tail finger puppets are one of them. Here's the DIY.
47. Mermaid Tail Monofin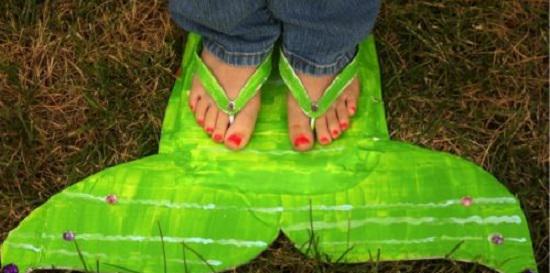 This super fun and cool monofin crafts are sure to make your Sunday afternoons less boring as you make a bunch of them and pretend-play with your children. Here's the DIY.
48. Printable Mermaid Tail Cake Toppers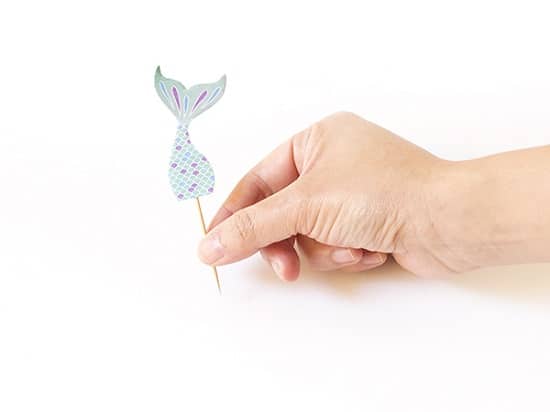 If you like having easy party projects to showcase your powers as an excellent hostess, just grab some toothpicks, craft paper and tape. This DIY is all about that.
49. DIY Mermaid Tail Hairbows
If you're fond of colorful glitter as hair accessories, look no further than this Disney-themed craft idea.
50. Mermaid Tail Snuggie Blanket DIY
Somewhere between princess and beach is this lovely mermaid-style blanket that will ensure you never have to leave the couch to snuggle into your bed for comfort again.
51. DIY Mermaid Tail Puppy Party Hat
Reward your little pup for being a good girl with this regal mermaid-themed hat embellished with a fun combination of colorful glitter.
52. Mermaid Tail Bracelet
Get a touch of the sea on your wrist and flaunt handpicked sea treasures with this nautical-themed bracelet.
53. Duct Tape Mermaid Tail
Hands down the easiest DIY for lazy DIYers, this one uses just duct tape and tracing paper to create a gorgeous mermaid costume from head to toe. Get the instructions here.
54. Mermaid Tail Headband
Sporting your love for animals with cat ear headbands is great but when the occasion calls for more bling, this DIY mermaid-themed headband with its stunning design and color palette will do the trick.
55. Lego Mermaid Tail
Creating a mermaid tail from Lego bricks is undoubtedly one of the most unique projects in this DIY mermaid costume and craft list, and makes the process even more fun when kids are involved.
56. Fin Fun Mermaid Tails
This easy-to-sew monofin is actually functional, meaning it helps you swim faster and can be made using any of your favorite fabric.
57. Mermaid Tail Throw
This DIY gives you expert hacks to get the dimensions and measurements right when you're starting out with your own DIY mermaid-style wrap-around for the very first time.
58. DIY Hot Glue Barbie Mermaid Tail
Encourage your child to create this fabulous shimmery mermaid costume for his next crafts project with this easy DIY.
59. Rainbow Loom Mermaid Tail Charm
This adorable mermaid tail charm made from different colors of bands and lots of glitters makes for a fun addition to any part of the children's room that lacks charm.
60. Mermaid Tail Loaded Envelope
The best thing about this DIY mermaid tail is that it can be made using all those attractive pieces of craft paper that you have been saving up for special projects. In fact, the more overboard you go with the color range, the better will be the results.
61. Crochet Mermaid Tail Scarf
Unlike the other DIY mermaid tail costume and craft, this one is here to stay. And the pattern is easy to create, even if you have zero crocheting skills.
62. Own Mermaid Tail With Izzy Sparkles
With just a stretchy pair of pants, tape and some sparkle, this DIYer managed to create a stunning mermaid outfit for her beach-themed tea party.
63. DIY Mermaid Halloween Tail
Get the A-Z of looking like a mermaid, right from the hair to the makeup and the costume with this detailed tutorial here.
64. Goldfish Hermes Mermaid Tail
For a realistic luminescent touch to your mermaid tail DIY, look into this video for inspiration.
65. Iridescent Mermaid Tail
This money-saving DIY shows you how to create a unique iridescent mermaid tail using household supplies.
66. DIY Galaxy Mermaid Tail
Capture the surreal colors of the sky and the beach in this awe-inspiring mermaid tail DIY to turn heads and raise brows as you glide.
67. Mermaid Tail Balloon Decoration
For your next party decoration, arrange balloons over a mermaid tail template for that extra impact.
We hope you found something that you can try by yourself at home from this extensive list of DIY mermaid tail costume and craft ideas. Feel free to share your suggestions or any further ideas related to DIY mermaid tail costume and craft.