The first signs of aging are sagging skin which loosens the skin on our neck too. These tighten neck skin home remedies are easy to follow and completely natural.
1. Aloe Vera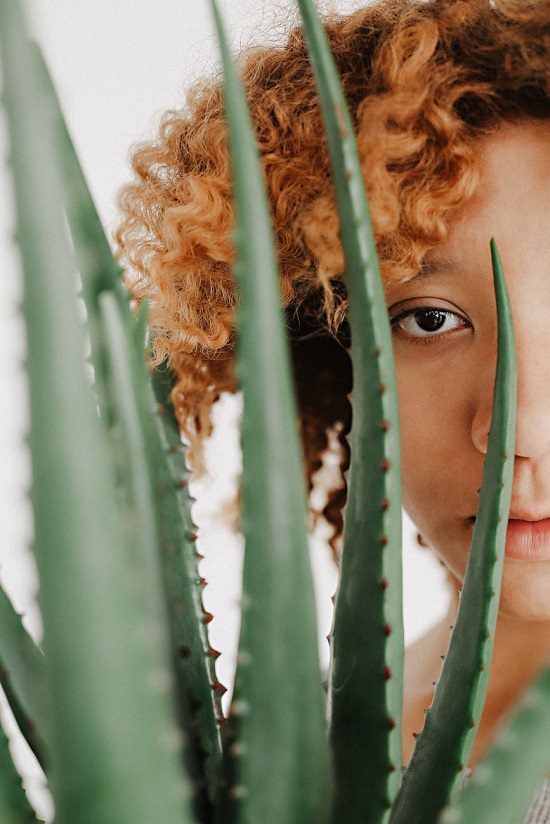 Use of aloe vera gel to treat skin ailment is not something new, and it is also used widely many skin care products. When it comes to preventing wrinkles not only does aloe gel moisturizes the skin, but it also removes dead skin cells, thus boosting collagen production. NCBI backs up the fact that aloe gel improves the elasticity of the skin and prevents skin aging.
How to use:
Scoop out the fresh aloe gel from the aloe vera in a bowl using a spoon and knife.
Massage this gel on your neck by applying light pressure with fingertips. Keep massaging for 15-20 minutes.
Wash your neck with cold water and repeat this process daily for best results.
2. Lemon
The richness of vitamin C in lemon makes it an ideal choice to encourage collagen production. For the skin to retain its elasticity, the production of collagen is essential. Also, lemon tightens the skin and prevents wrinkles because of its astringent properties.
How to use:
Squeeze out the fresh lemon juice and apply in on your neck.
You can apply it with hand or by using a cotton swab or cotton ball.
After 5-10 minutes, wash it off with lukewarm water and towel dry your neck.
Make sure that you apply moisturizer after using lemon juice as it makes the skin dry.
NOTE: For dry and sensitive skin dilute the lemon juice with equal parts water before application.
3. Coconut Oil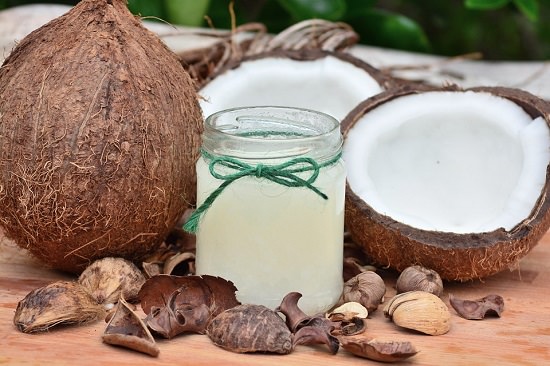 The skin readily absorbs coconut, and it keeps the skin well hydrated and moisturized. Also, the free radicals which damage the skin are kept in check because of the antioxidants in coconut oil. Thus, you get wrinkle-free, smooth skin.
How to use:
Dip your fingertips in coconut oil and massage it on the neck.
For 5-10 minutes, continue massaging the skin and leave it overnight.
Wash your face and neck in the morning with cold water.
4. Rosemary Oil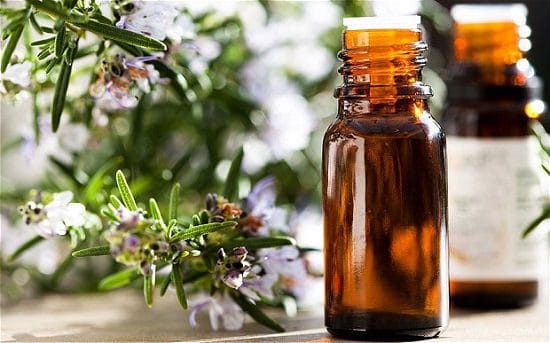 Improved blood circulation is known to facilitate collagen production, and that is what happens when you use an essential oil on the skin. Rosemary essential oil not only improves blood circulation but also slows the aging process because of the compounds such as carnosol and squalene present in it.
How to use:
Take a cucumber, peel off its skin, and then cut it in half. Run this cucumber into a grinder to obtain a smooth, juicy paste.
To this add one tablespoon of rosemary oil and stir well.
Apply this mix on the regions of the neck with sagging skin or over the entire neck.
For 15-20 minutes, let the solution sit undisturbed and wash your neck after that.
5. Tighten Neck Skin Home Remedies – Egg White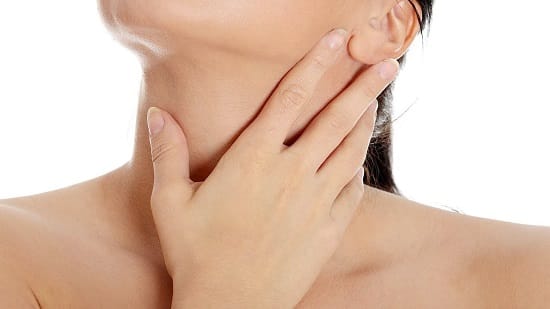 Egg whites are rich in protein, which not only promotes the production of collagen but will also give your skin a healthy glow. One good thing about using egg whites is that the tightening effect on the surface is instantaneous and will last for around an hour. Removing excess oil, whiteheads, and dead skin cells are some other added advantages of using egg white mask.
How to use:
Crack open an egg and separate the yolk from the egg white and pour the egg white in a bowl.
Whisk off the egg white vigorously till it becomes frothy then apply it on your neck in an upward motion.
Wear old clothes as the egg white is not much viscous and will stain your clothes.
After 15-20 minutes, rinse off your neck with lukewarm water.
NOTE: Add a tablespoon of honey in the egg white for dry skin and a tablespoon of lemon juice for oily skin.
6. Fuller's Earth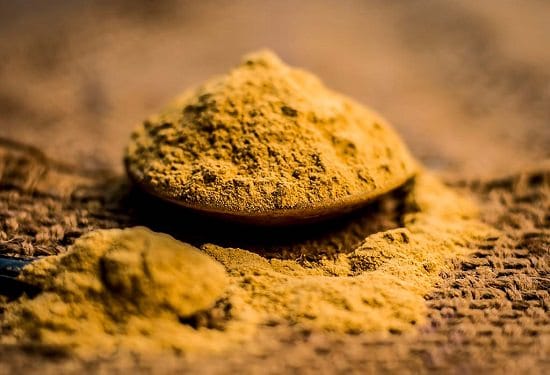 Also known as Multani mitti, fuller's earth treats many skin ailments such as scars, acne, oily skin, and many more. The skin's elasticity will also be restored by the subsequent use of fuller earth on the skin.
How to use:
Take one tablespoon of fuller's earth and add two tablespoons of water in it. You can also use rosewater to make the mask even more effective.
Continue mixing the ingredients until you obtain a uniform paste of fuller's earth.
Apply this paste on your neck, take help from a friend if you are unable to reach on your own.
Let this paste sit on your neck for 2-0-25 minutes till it becomes dry to the touch.
Using lukewarm water wash your neck thoroughly getting rid of all the traces of fuller's earth mask. Repeat this process 3-4 times in a week.
7. Tighten Neck Skin Home Remedies – Cinnamon Powder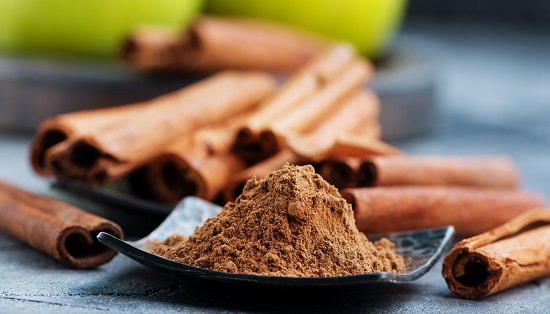 Improving the elasticity of the skin by stimulating the collagen production is what cinnamon does when applied topically. By absorbing excess oil and promoting blood circulation, it further has an anti-aging effect. Also, cinnamon fights acne and improves complexion because of its antibacterial properties.
How to use:
Take about a half tablespoon of cinnamon powder in a bowl and add two tablespoons of honey in it.
Mix both these ingredients and apply the paste on the sagging skin of your neck.
Wait for 30 minutes before washing the neck with cold water. Use this paste thrice a week for noticeable results.
8. Shea Butter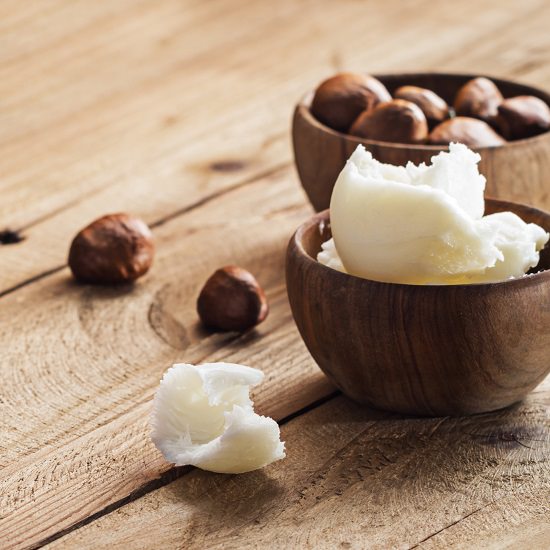 Extracted from the nuts of the shea tree, shea butter is nothing less than a marvel for the skin. It works for all whether its blemishes stretch marks or wrinkles by boosting the collagen production. Also, it's an excellent moisturizer which instantly turns the skin smooth and supple.
How to use:
Take shea butter in a bowl and melt it by placing it over a heater turning the heat on. Turn off the heat as soon as the shea butter melts.
Apply this melted butter rich in fatty acid on the neck area.
Allow it to remain on the skin for 15-20 minutes. Wash the skin with lukewarm water and pat it dry. You can apply shea butter daily or on alternate days.