DIY Dog Toys that you can make easily at home with these quick tutorials. Most of these can be made from household stuff and will keep them busy for long.
The best thing about homemade DIY dog toys is that they are chemical unlike cheap commercial products and you have full control over the quality of your dog toy.
1. PVC Pipe Puzzle Treat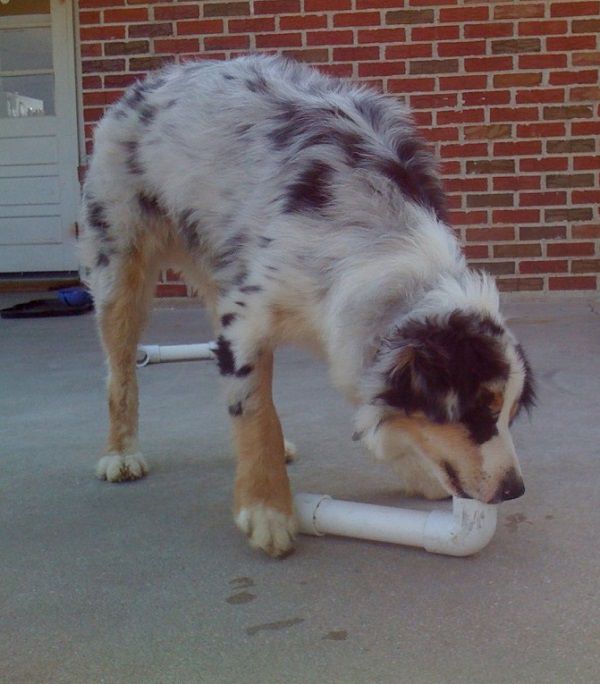 Do PVC pipes and dogs really mix? Of course, they do! This DIY idea shows you how. When other DIY dog toys get destroyed in a few minutes, this cheap and durable toy keeps your dog occupied and entertained while you go about your household chores.
2. DIY Dog Toys – Boredom Buster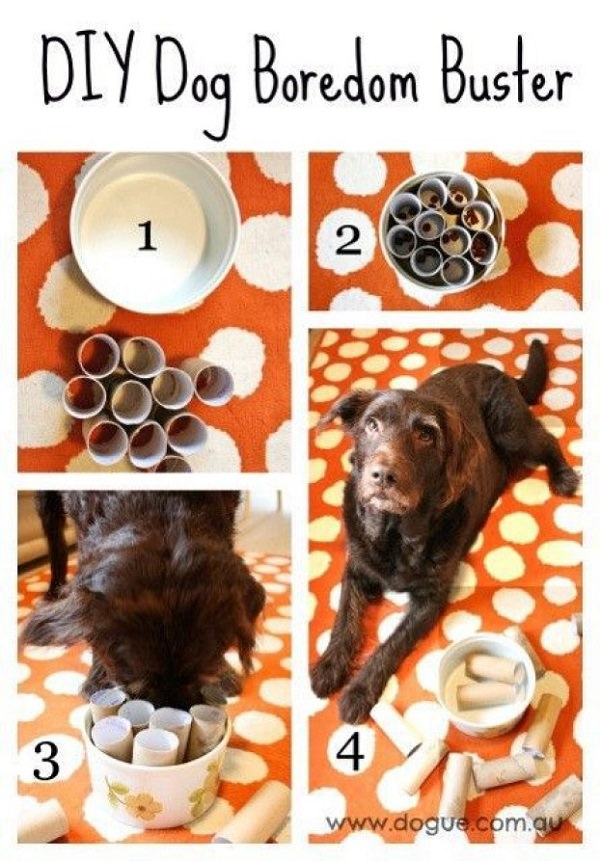 Interactive toys are great as they keep dogs entertained and train them at the same time. This one particularly is easy to make and essentially free of cost. Just slice some empty toilet paper rolls into half and pack them into a bowl. Throw in a few treats in the bottom and watch your pooch struggle to get to the tasty delights. See the DIY article here!
3. No-Sew Fleece DIY Dog Toy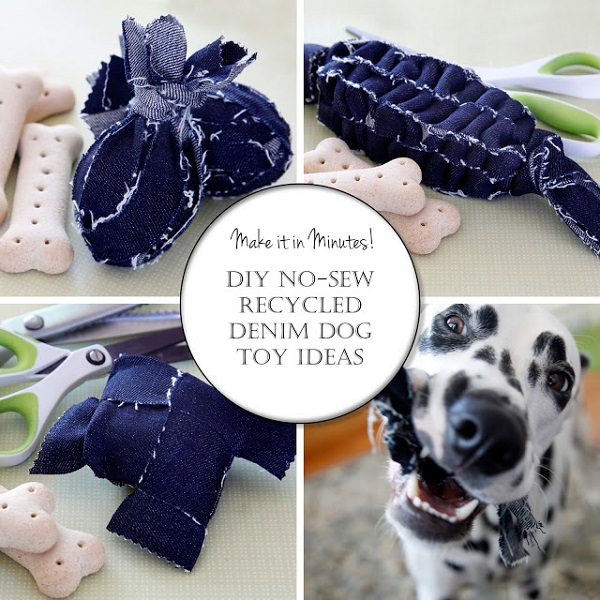 This easy, no-sew project takes a little time but worth this as it can make your pup happy and busy. All you need is a few strips of fleece to tie together and form a tight ball. Click here to see the tutorial.
4. Old Towel Toy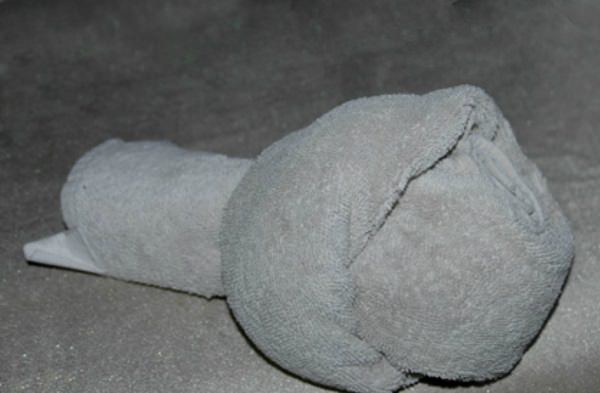 An old towel can be used as a dog toy! If your companion loves to tug at the towel that is used to dry him after a bath, this toy is perfect. And it's super simple to make: Just roll up an old towel, make a few knots here and there, and it's done! See more of it here.
5, DIY Ball & Cloth Toy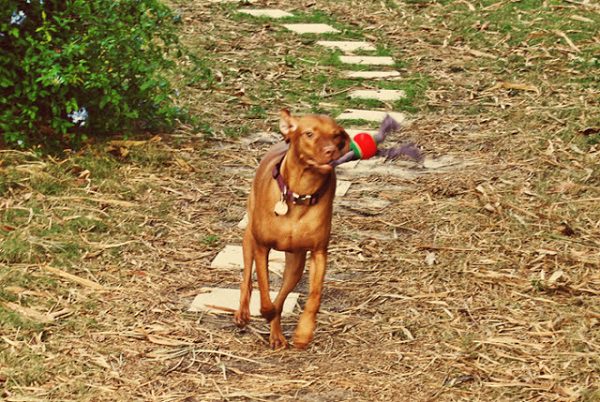 A braided cloth toy like this can excite your doggie. Conflate it with a tennis ball and what you get is an addictive and resilient toy that can be tossed, tugged and chewed without breaking down. This DIY idea is also an excellent way to recycle old clothes lying around your closet.
6. Tennis Ball Treat Puzzle Toy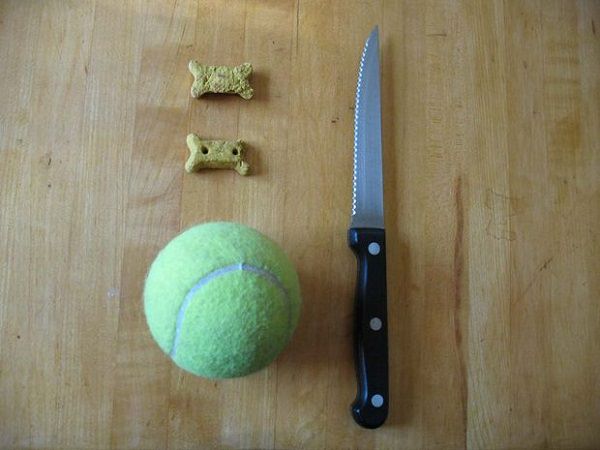 Transform an ordinary tennis ball into an engaging puzzle game for your dog with this DIY idea. Crunchy, smelly, moving tennis balls are enticing to dogs and so are puzzles. Combine them both to have a creative dog toy that lasts longer than the store-bought versions.
7. Taped Cereal Box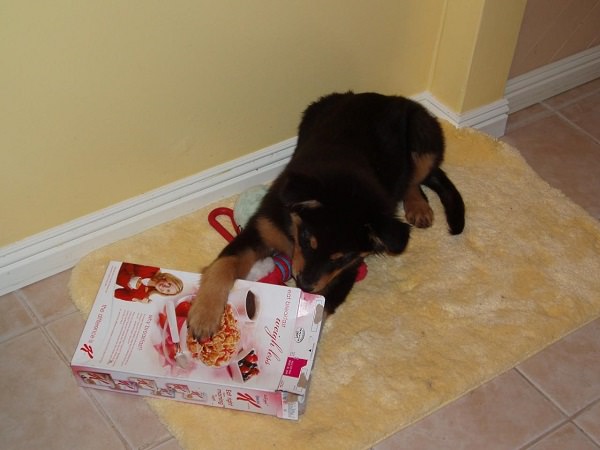 This is one of those DIY dog toys that are intended for destruction. Stuff, an empty box with the dog, treats and place it in front of your canine. Here's how to do this!
8. DIY Chew Toy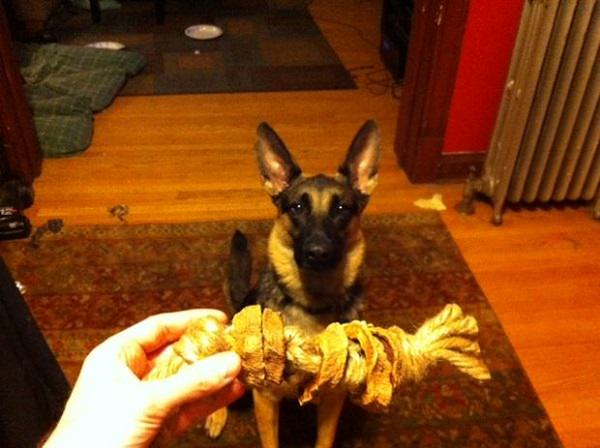 Your best companion will enjoy dismantling this indigenous rope and sweet potato contraption. While intended for destruction, this consumable puzzle treat lasts a little longer for puppies and dogs who take no time to shred toys. See more of it here!
9. Slingshot Ball Toy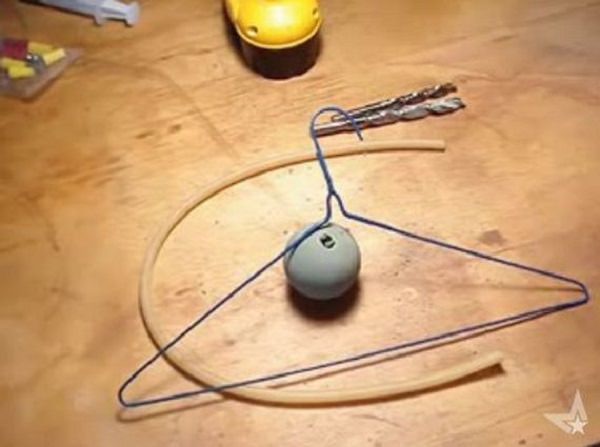 Pizza is to humans what slingshot ball is to dogs. Apt for pups that love to play fetch, this launchable dog toy uses a hanger, rope, and a ball to assemble. It's fun to use and stays put even with days of rough use. Take a look at the tutorial here!
10. Simple Puzzle Treat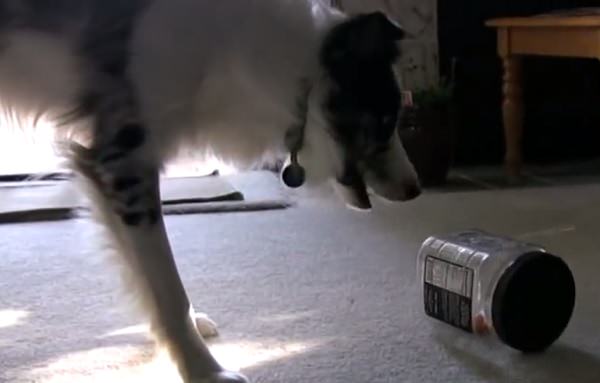 Why waste money on a food dispenser toy when you can make one yourself at home. All you need is a plastic container, scissors, and dog food, that's it. You can experiment with various shapes and sizes of containers, but just make sure never to use glass or anything that can cause harm to your buddy. Watch the video for more details!
Here are some dog food station ideas you might like.
11. DIY Toy from Socks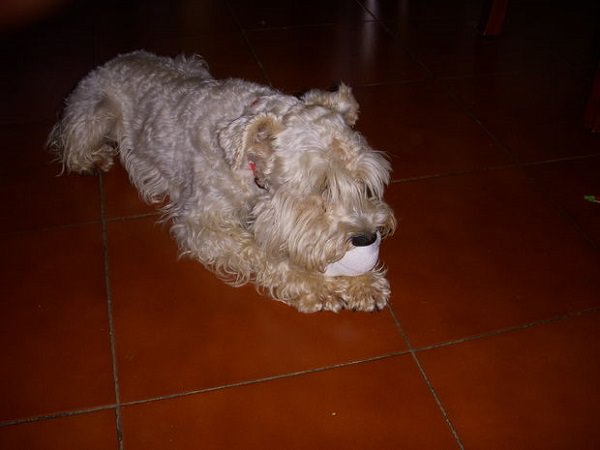 Dog love chew toys, but they are expensive and buying them, again and again, is not possible for most of us. Here is a quick DIY idea of a durable chew toy that can be made from materials found at home. Visit Instructables to learn more!
12. Ring of Rope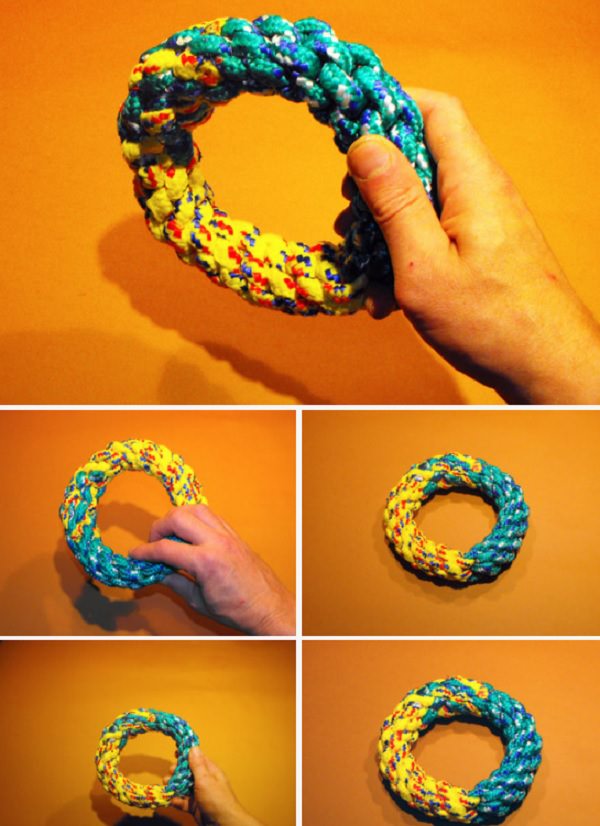 A creative way to use ropes, this homemade dog toy captivates your pet and keeps him away from tearing away your carpet rug or chewing away at your computer wires. Use two contrasting colors of rope for an attractive toy that looks great on the shelf as well.
13. Puppy Popsicles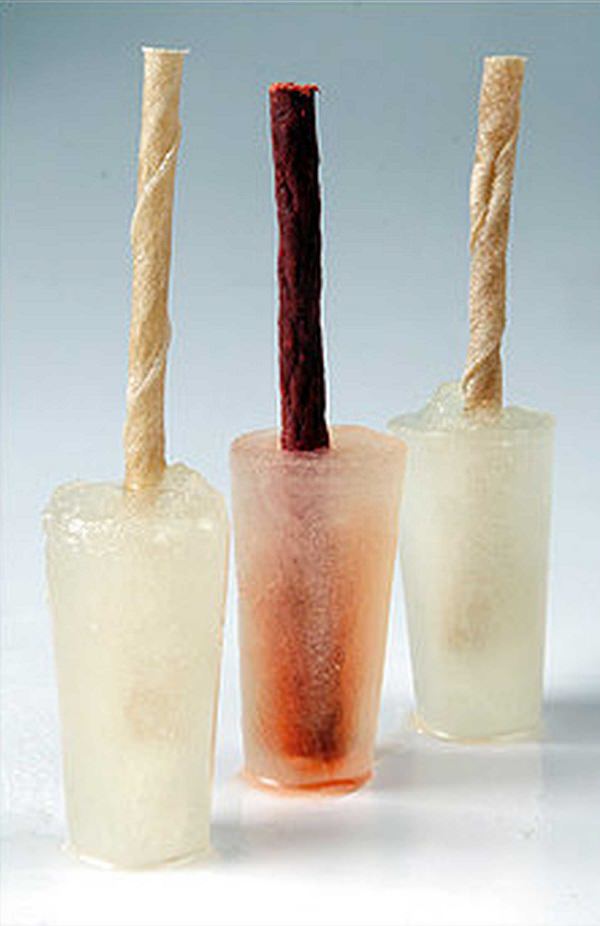 Reward your dog for being a good boy with a special, icy treat that cools him down after a long run. The ingredients are easy to find, see the "how to" here!
14. Bow Tie Toy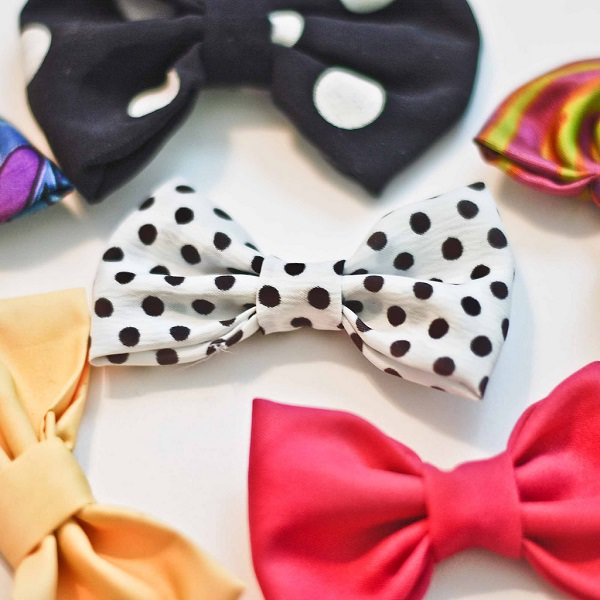 Make your dog look sharp and handsome by making a bow tie for him or else give it to him to play. He'll find great fun to chew and toss around when done. DIY Dog Bow Tie!
15. 'Fetching' Dog Toy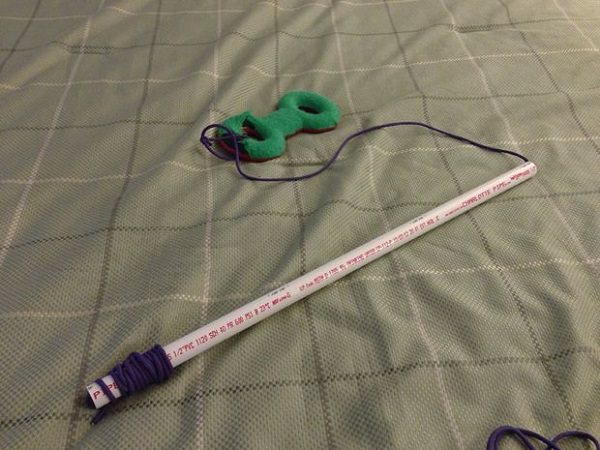 Are you always looking for new ways to play and interact with your canine? Well, then you need to make this fishing pole type toy. Super easy and easily customizable to suit any material, this toy is a great idea to play the same tug game in a novel way and still get your dog to interact and train with you. Click here to see the directions!
16. Knotty Ball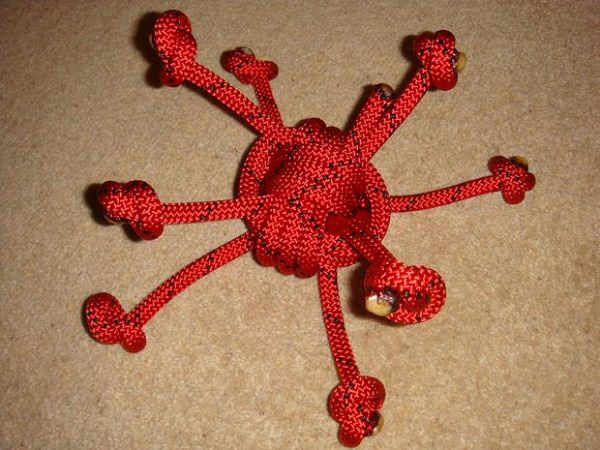 This complex and intriguing contraption DIY dog toy does justice to your hard work and keeps your pooch busy and interested for hours, if not days. See the tutorial here!
17. T-Shirt Frisbee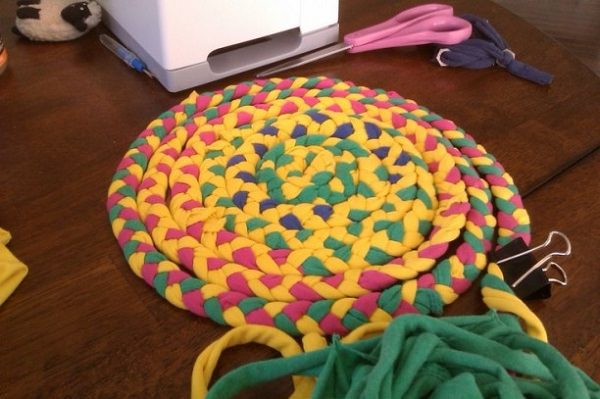 What's better than a store-bought cloth Frisbee for your dog? A homemade t-shirt Frisbee! Made by braiding and coiling old t-shirts in brilliant colors. Actually, this DIY is about making rugs from a t-shirt, but you can use it this way too.
18. DIY Dog Feeder Toy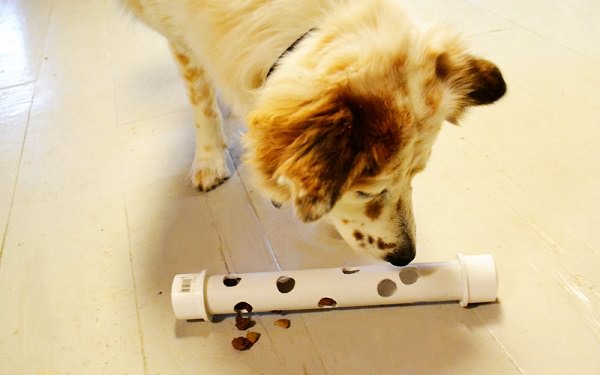 An interactive feeder toy is exactly what your dog needs to get his brain working on a dull, lonely day when you're busy. The step by step DIY is here!
19. Rope Dog Toy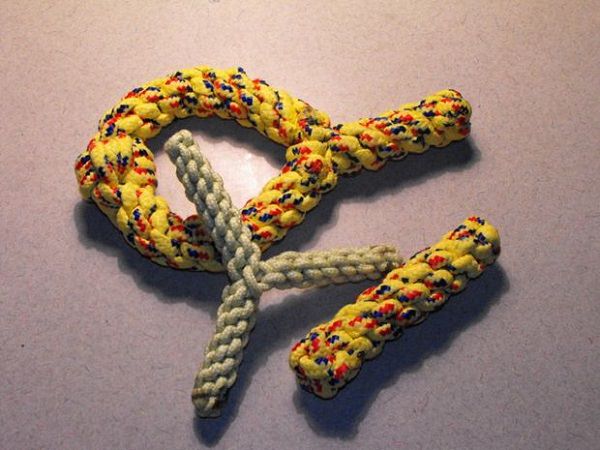 Contrary to your beliefs, your cute little canine can perceive yellow, blue and purple colors. So, use ropes of these colors to make a beautiful coiled toy; just make sure to adjust the diameter so that it fits him. Find the directions in this article!
20. DIY Dog Toy – Homemade Squeaky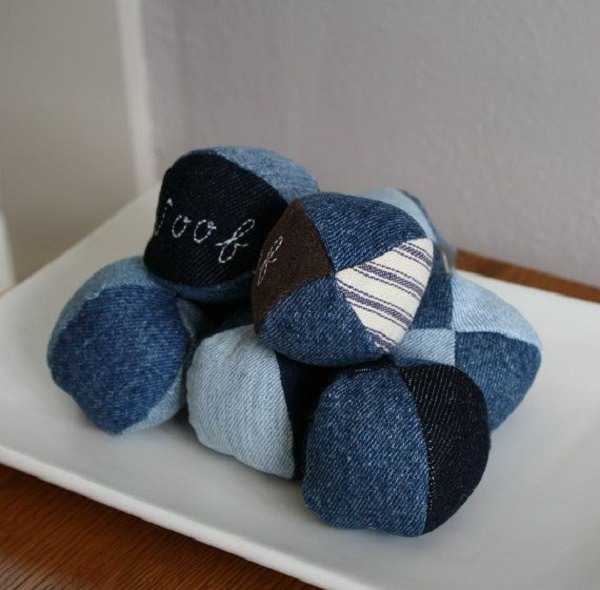 This DIY idea shows you how to save money and reuse any non-punctured squeakers you might have somewhere in your home. Here's the DIY post!
21. Tennis Ball Buddy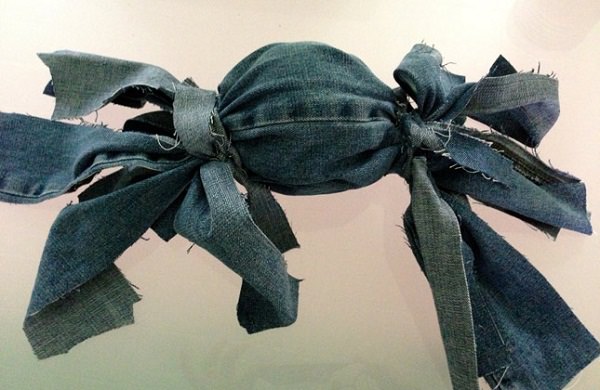 If your teething pup is on a chewing spree, this DIY available at vetSTREET is a good one to follow.
22. Water Bottle Sock Puppet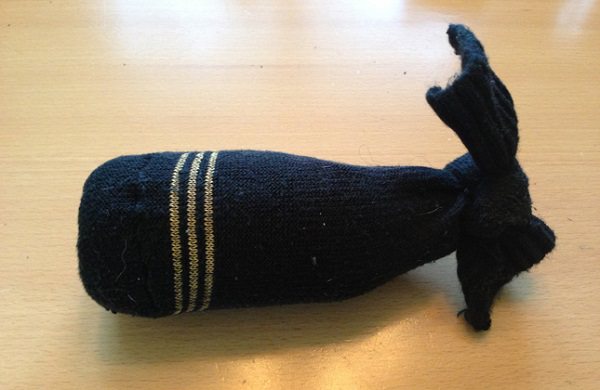 Yes, this toy does work, but for a little while only. Then your pet is on to the next one. Nevertheless, the sock puppet can be easily refurbished once it gets too crinkled and slobbery for your dog. Click here to view the DIY article!
23. DIY Wolf Stick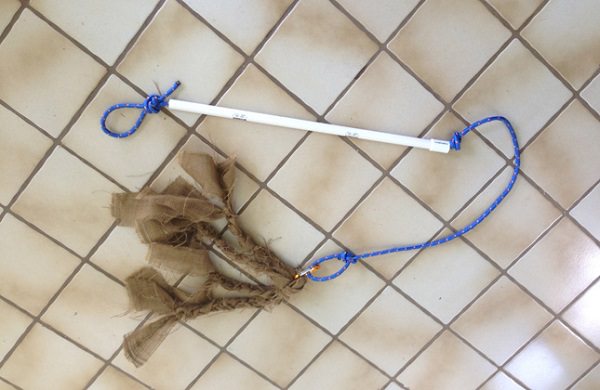 The best thing about this DIY dog toy is that it's easy to make than it looks. All you need is a pair of scissors, a couple of square knots and a few slices, that's it. Go here for the tutorial!
24. Woven Rope Bone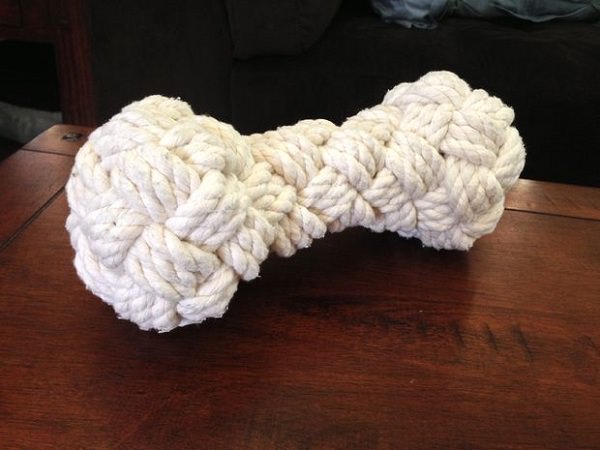 Wrap ropes according to the instructions and what you have is a toy that your dog will love to play with. Visit Instructables to see the tutorial!
25. Rope Ball Surprise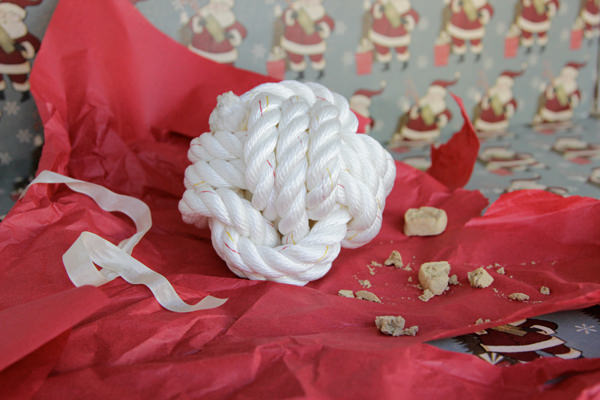 This rope knot toy houses tasty treats within, which can be a surprise for your dog. Also, since the knotted ball is pretty challenging to resolve, it keeps your dog busy.
26. DIY Pet Stick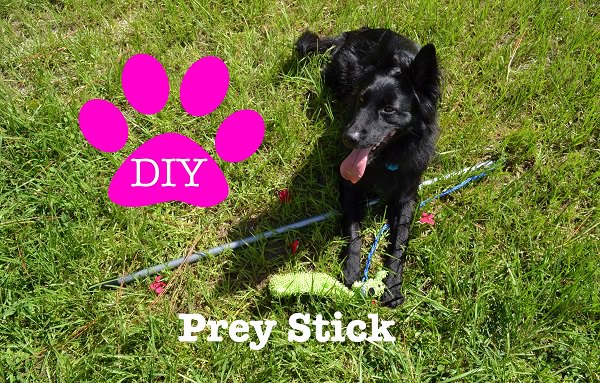 If your pet enjoys playing with a stick, it's time you forgo the store versions for a homemade pet stick. It's cheap, easy and a great tool for teaching your little puppy how to chase and retrieve stuff. Watch the video!
27. Puppy Teething Toy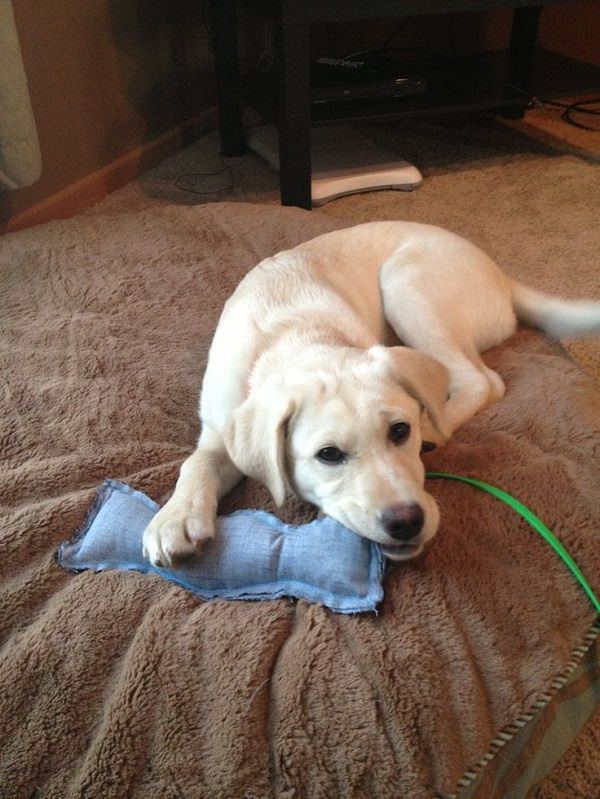 If your pup is teething and you're tired of buying new toys, then this soft, chewy puppy toy can be a choice too. This DIY idea is available here in detail.
28. Olympic Ring Toy
This Olympic-inspired chain of rings is an attractive and inviting chew toy that will keep your dog glued while you are busy cheering for your favorite basketball team on TV. It's also nice for playing endless games of tug-of-war outdoors. Click here for the tutorial!