Check out these 21 DIY Dog Leash Ideas to make a handmade leash all by yourself for your favorite companion.
1. Dog Nautical Leash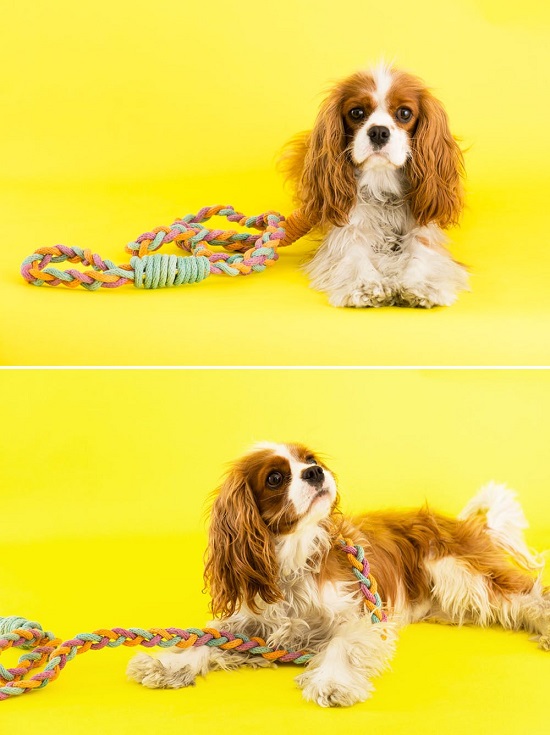 A leash that looks like a toy is a definite winner for the unbridled pup. All you need is a rope and dye of your favorite colors, and you're ready for a stylish doggie's day out. Follow this DIY for instructions.
Also Read: DIY Dog Toy Ideas
2. Braided Rope Dog Leash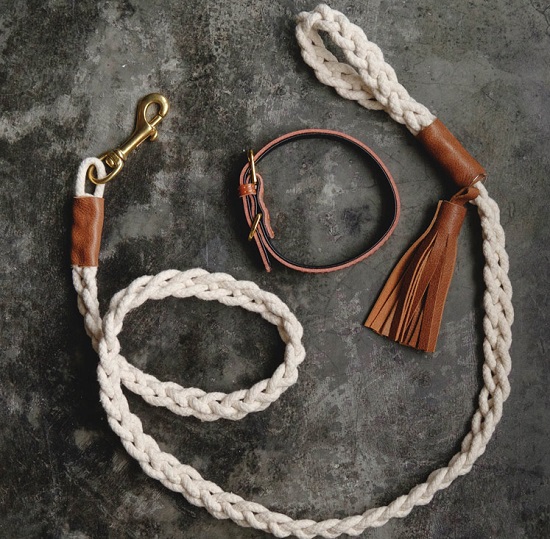 The best thing about this DIY is that it gives you an economical way to add some flair to your existing dog leash using some leather, tassel, paint, or dye.
3. Ombre Rope Dog Leash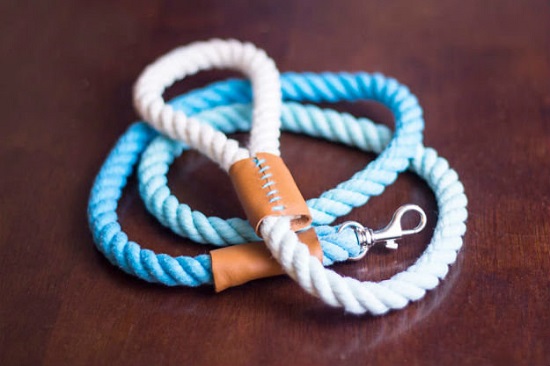 Walk your pooch in style with this ombre, dip-dyed rope leash. This frugal DIY requires just a few leather scraps, a simple rope, and any dye that suits you and your dog's tastes.
4. DIY Tassel Dog Leash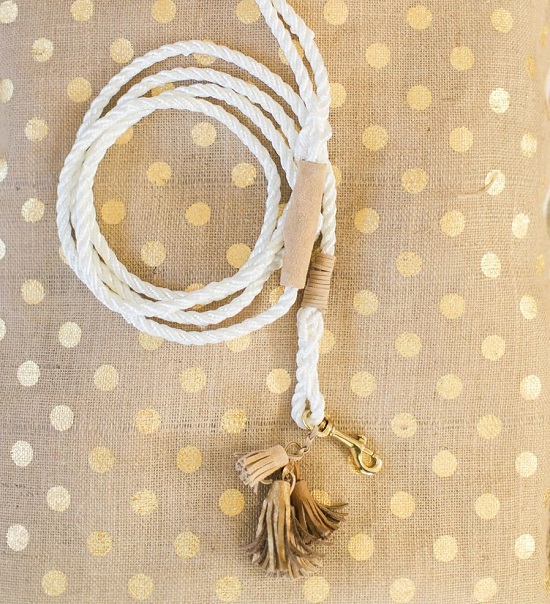 What better way to class up a simple white rope than with copper-colored tassels and brass snap hooks. Get the DIY here.
5. Modern Dip-Dyed Rope Dog Leash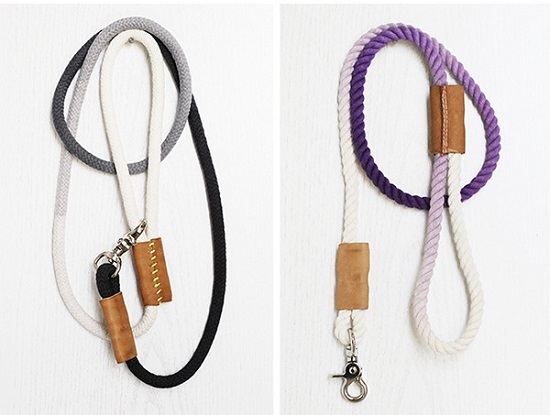 Colorful rope leash is a rage these days, but considering how expensive they are, it's better you give this customizable DIY a try instead.
6. DIY Scrappy Dog Leash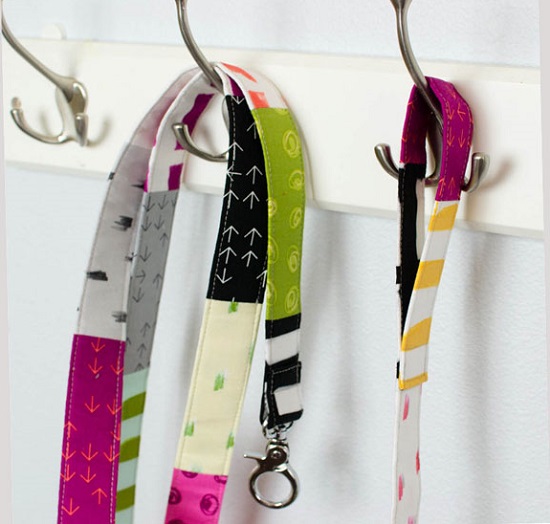 Featuring the magic of fabric interfacing, this easy DIY requires weaving of several scrap pieces of cloth to create an eye-pleasing leash at the cost of pennies.
7. DIY Upcycled T-Shirt Dog Leash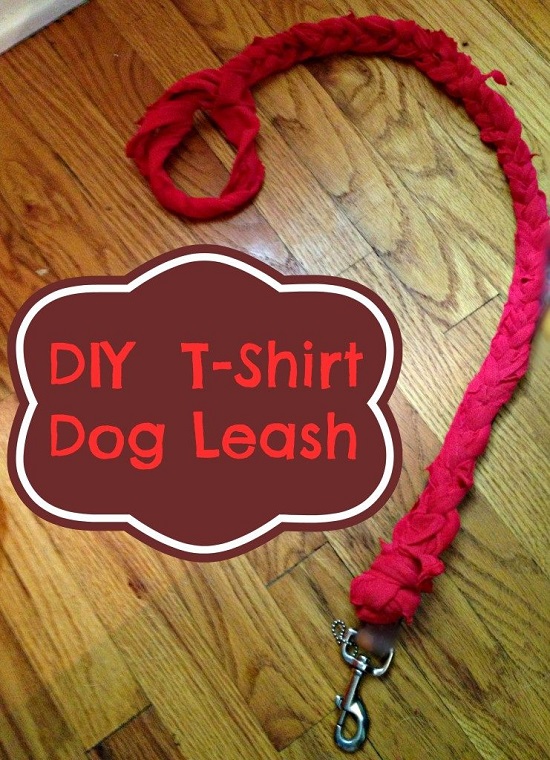 This super quick and fun DIY is a clever way to upcycle old t-shirts that are still in good shape to create a nice accessory for your dog that he won't mind wearing for outdoor trips.
8. Paracord Dog Leash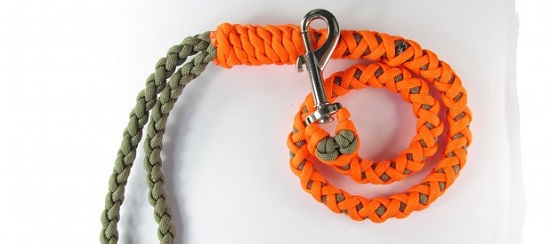 This four-strand braid DIY also includes an added overlay step to make the leash more bulky, sturdy and eye-catching, making you and your dog the envy of the neighborhood.
9. Wood and Rope Dog Leash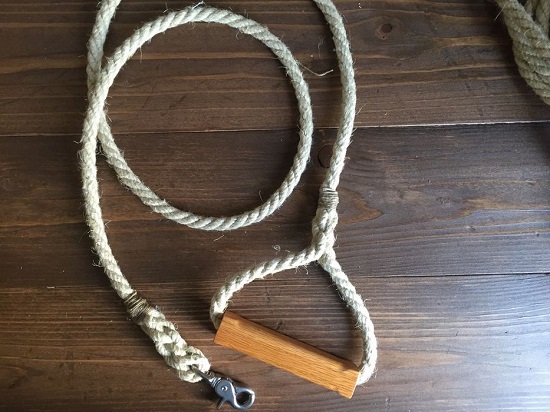 This DIY involves repetitive splice-and-whip steps to create a sturdy yet beautiful rope leash outfitted with a wooden handle that not only adds a nice texture but also eases grip.
10. Own Dog Leash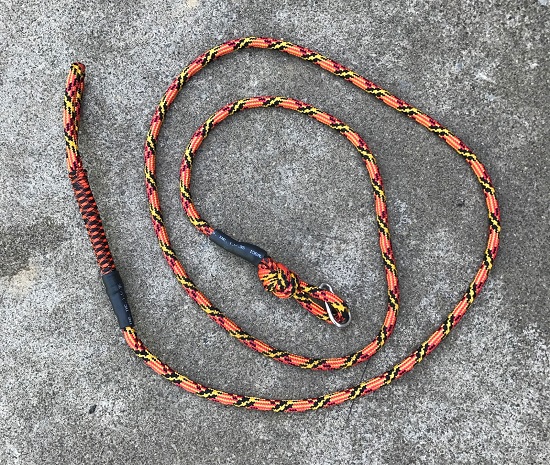 Easy to customize with respect to size and color, this paracord dog leash even comes with a heat shrink that may not provide visual interest but lends the strength and grip you need when your dog pulls harder than you're ready for. Make one with this DIY.
11. DIY Technicolor Leash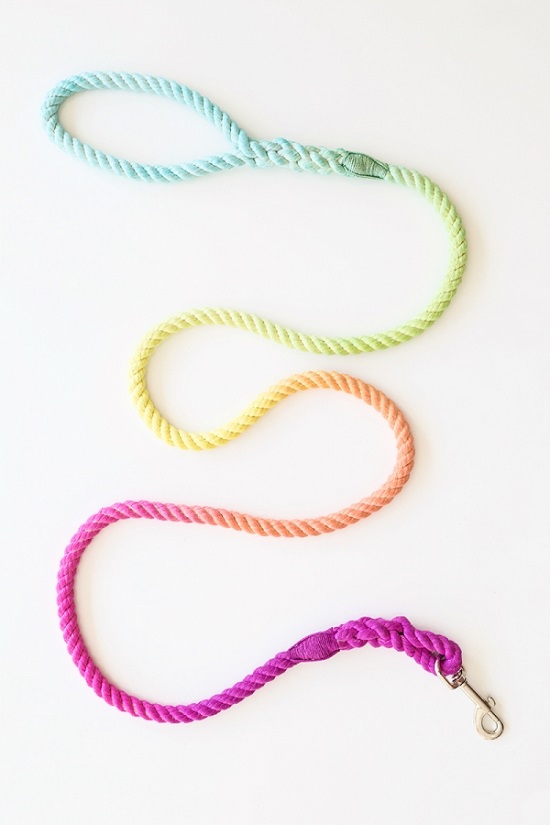 This tie dye DIY is an easy way to update an old cotton rope with fun colors and create a leash that is as pretty as your dog.
Also Read: Homemade Dog Deodorant Recipes
12. Reflective Dog Leash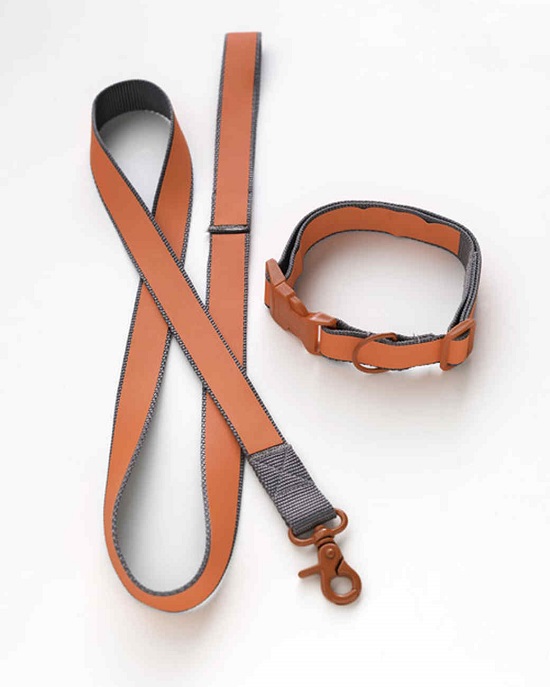 This reflective dog leash is great for walking your dog downtown, as it makes you both visible to the traffic, thereby increasing safety. Here's the DIY.
13. Easy Homemade Dog Leash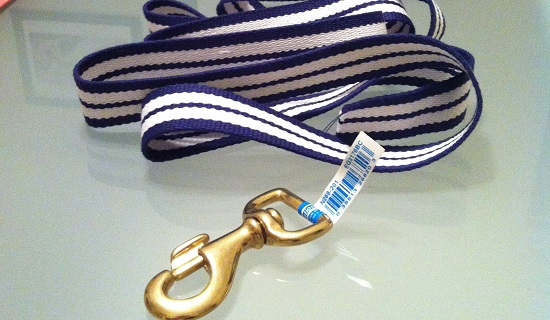 The striking combination of brass clips with the nautical vibes from the subtle white-blue color theme makes this leash a smart choice for enthusiastic pups. Make one with these instructions.
14. DIY Bridal Dog Leash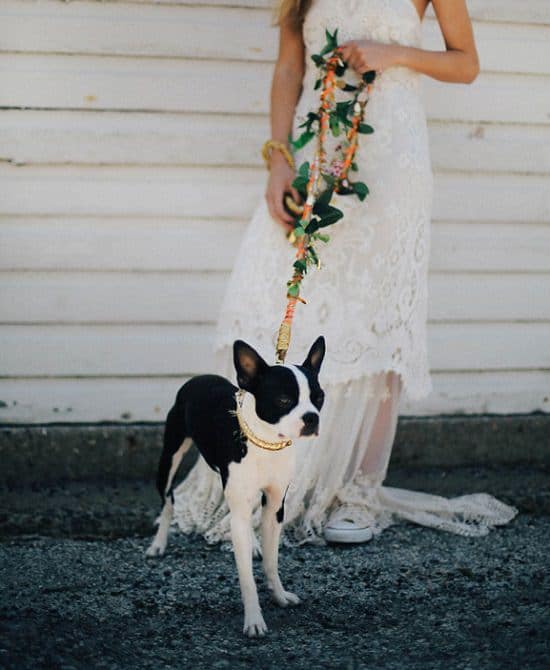 With silken flowers, ribbons and decorative trimmings, this is arguably the ultimate bridal collar leash to fancy up your pup of honor before you finally tie the knot. Find complete instructions here.
Also Read: Dog Feeding Station Ideas
15. Scrap Ribbon and Fabric Dog Leash
If you enjoy sewing projects and want an outdoorsy-looking leash for your pup, consider making this fabric leash with scrap ribbon for embellishments. Here's the DIY.
16. DIY Braided Leather Dog Leash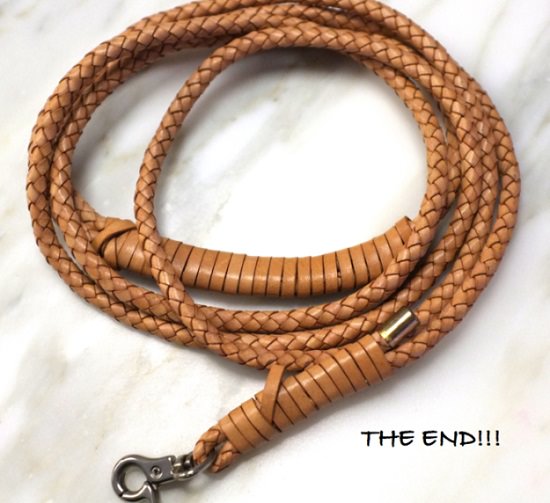 For more buff dogs, this braided leather leash works best. It gives you a good grip and is resilient to pulling and tugging action. Here's the DIY.
17. DIY Paracord Dog Collar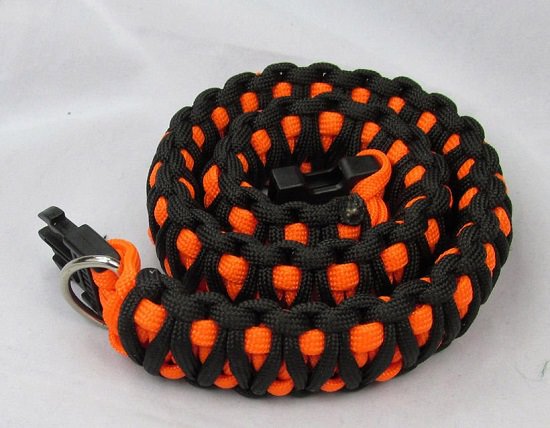 If you are good at tying knots, consider going the extra step and making this stunning paracord leash with double cobra knots. Here's the DIY.
18. DIY Dog Leash Out of Rope
If you want a more durable and permanent solution for a particularly mischievous dog, consider this rope leash DIY. It places special focus on the aesthetics without compromising on quality.
19. DIY Dog Leash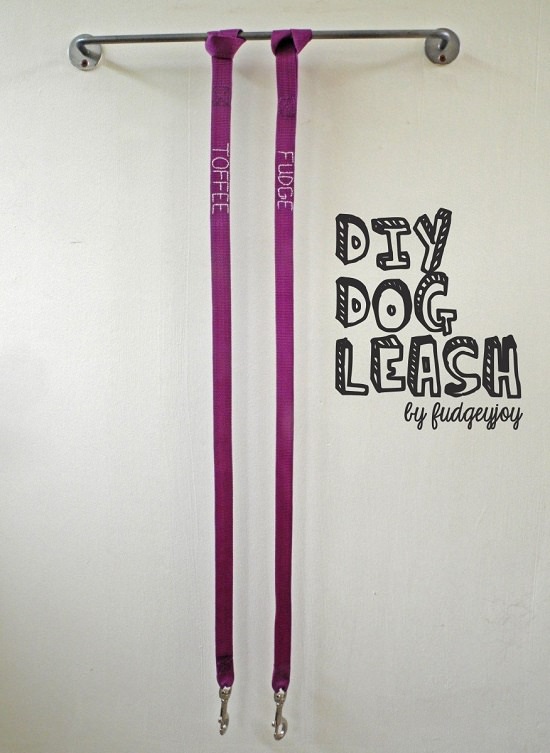 The DIY hits two birds with one stone- it solves the length problem of overly long, commercial leashes and brings down the price by nylon webbing that is dirt cheap and remarkably easy to sew.
Also Read: DIY Cat Shelves Ideas
20. DIY LED Dog Leash
This DIY shows you how to sew up a leash and embed LED lights within, so your pooch can be easily spotted by approaching cars in a dark neighborhood.
21. Sew Your Own DIY Dog Leash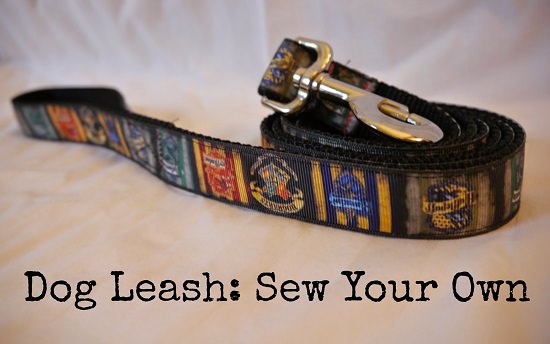 Why settle for a shoddy rope leash when you know your dog deserves better! This Hogwarts-style dog leash is every bit suited to the larger-than-life personality of your pooch. Follow the DIY here.
Also Read: 91 Dog House Plans and Ideas