These cat water fountain ideas are sure to help you with providing your pets an ample amount of water without investing much money!
1. Very Cool Cat Water Fountain
This chic water fountain made from PVC pipes requires some clever yet easy engineering, and the results are worth the effort, mainly because it allows your cats to drink and play without bending at an uncomfortable posture. Learn the steps in the video.
2. Plastic Bottle Cat Water Fountain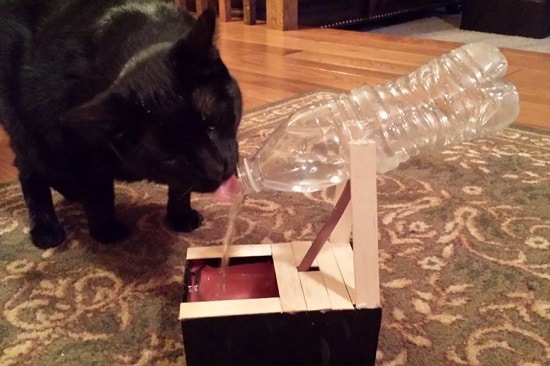 Even humans without cats will be tempted to try out this five-dollar fountain DIY involving popsicle sticks and an empty plastic bottle.
3. Filtered Cat Watering Bowl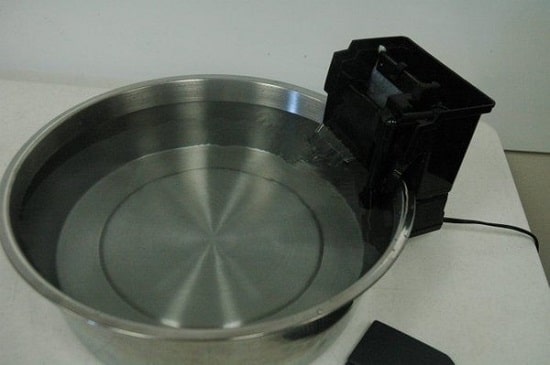 With a capacity of over two gallons, this self-filtering water bowl is a unique solution to ensure a steady supply of fresh water at all times, making it a superb addition to every home with multiple pets. Find the tutorial here.
4. DIY Cat Water Fountain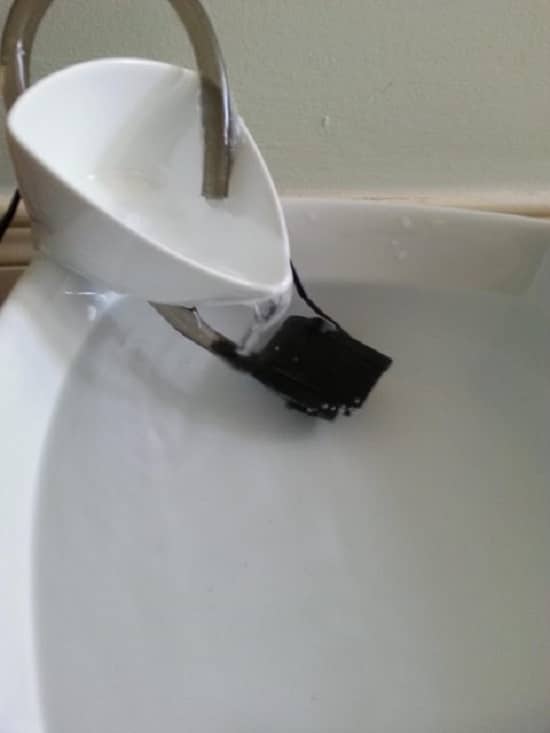 This beginner-level water fountain DIY ensures your cat not to get electrocuted from chewing wires, or you won't end up with water being sprayed all over your home.
5. DIY Cat Drinking Fountain
If you love no-tool, no-fail DIYs and also happen to love your cat, this video is a must-watch. It shows you how to assemble a tabletop fountain from household items and a pump, in case you don't have one.
6. DIY Cat Water Fountain Under $15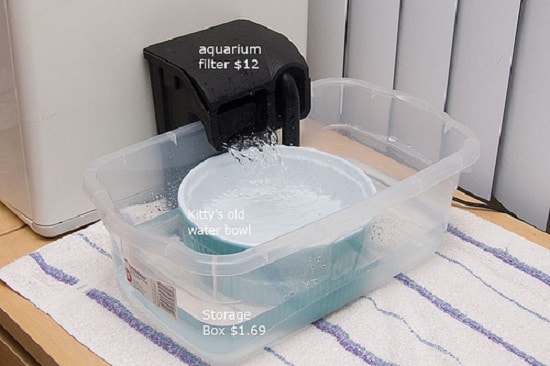 While not as aesthetic as the others on this list, this water fountain DIY is unbelievably cheap and does what it's meant to do-create a stream of trickling water to excite your feline companion's curiosity.
7. CAT Self-filling Water Dish
This ingenious, wire-free fountain idea shows you how to create a stream of flowing water with just a plastic bottle and a bowl. Get the details in the video.
8. DIY Water-Fountain for Cats
When making fountains for particularly pesky cats, you need a safe, non-toxic solution like a stainless steel structure because it would repel bacteria and a low-wattage pump that negates the risks of electrocution. Find the complete tutorial in the video.
9. Easy DIY Cat water fountain
With a modern contemporary look that does justice to urban apartments, this watertight ceramic fountain includes filter pads and activated carbon to ensure a constant supply of purified water.
10. Cheap Water Fountain for Cats
Including a deep-bottom dish that prevents tipping off efficiently and a compact aquarium filter, this mini water fountain is a perfect solution for those space-cramped interiors.
11. Simple Cat Water Fountain
Here's a nice fountain idea for the bathroom to ensure you don't end up creating a mess in your living room.
12. Water Bowl Pet Fountain For Cat
This pint-sized water fountain idea is not only cheap and easy to clean but also travel-friendly, so your cat's hydration needs are met no matter where he trots off to. Refer to the video.
13. Cat Water Fountain
Using a 5-watt aquarium pump and an old clear vase, this cost-effective water fountain DIY shows you how to pamper your cat without spending a whole lot of money.
14. Handmade Ceramic Cat Water Fountain
This tabletop water fountain using a simple pump and a ceramic bowl is perfect for those who like to keep their cats beside them as they work. And the soothing sounds of water are sure to relax you as well.
15. DIY Disco Light Cat Bubbler Fountain for Under $10!
Encourage your kitty to drink water with this enigmatic bubbling fountain made under 10 dollars. All you need is a fancy glass bowl, a basic water pump and LED lights.
16. DIY Wooden And Plastic Box Cat Water Fountain
There's no water fountain easier to assemble than this one that combines a spare aquarium filter and a wooden stock box for aesthetic appeal. Adding pebbles help create a dreamy feel. Find complete instructions in the video.
17. Bamboo Cat Water Fountain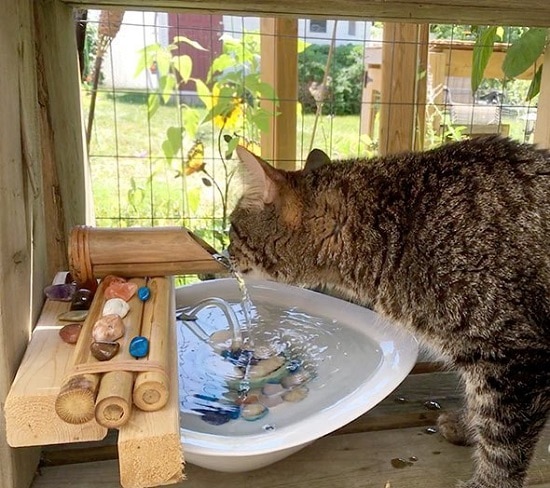 This lightweight and portable bamboo fountain create Zen vibes in the patio; Decorate with gemstones and pebbles for a peaceful ambiance where your kitty can sit and ponder on the complexities of human existence. Here's the DIY.