These DIY Insulated Cat House Ideas are very practical for your kitty that love spending time outdoors and other feral cats!
1. Plastic Tub Insulated Cat House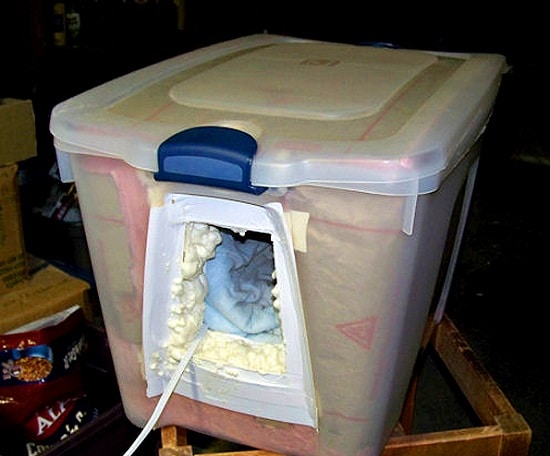 This easy, low-budget shelter is made from a plastic tub propped up with fluffy bedding and cushions for warmth. Head over to this DIY for the complete tutorial that also involves hacks to cut holes.
2. Insulated Feral Cat House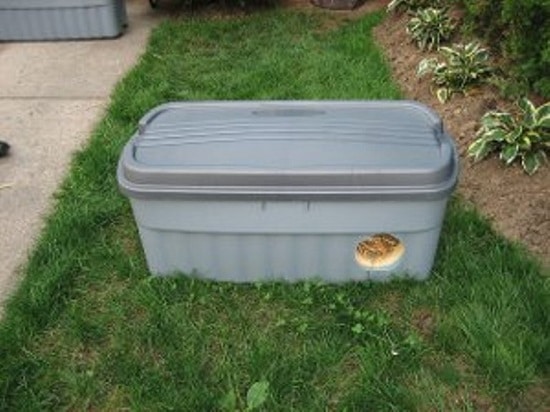 Probably one of the simplest cat houses ever, this one uses an upcycled storage bin lined with polystyrene for insulation. Make a bunch of them to house the feral cats that stop by looking for a warm corner in freezing weather. Here's the DIY.
Also Read: DIY Cat Enclosure Ideas
3. Styrofoam Insulated Cat House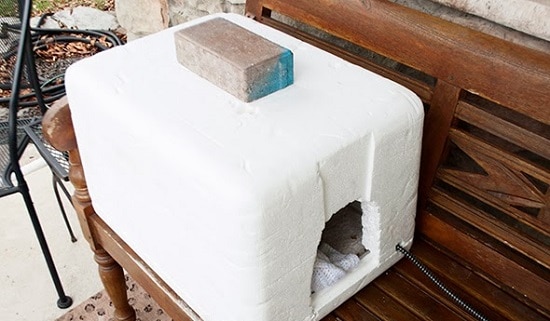 This DIY cat house may look like an igloo from outside but has a warm, cozy feel to it, thanks to the weatherproof styrofoam covering inside. Make one with these instructions.
4. Insulated Waterproof Cat House
Fitting a small rubber bin inside a larger one and filling the gap with lots of hay seems like an insanely easy yet clever way to keep your kitties snug as they sleep through the winters. Check out the detailed instructions here.
5. Winter Insulated Cat House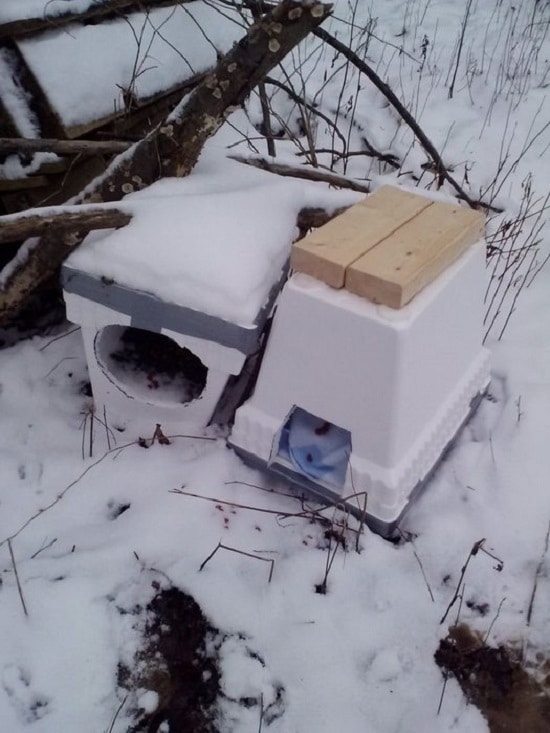 This styrofoam cooler cat house takes just about an hour to construct and requires things that are probably already around your home. Undoubtedly, one of the easiest and cheapest ways to pamper feral cats. Find the instructions here.
6. Insulated Shelter Bin Q&A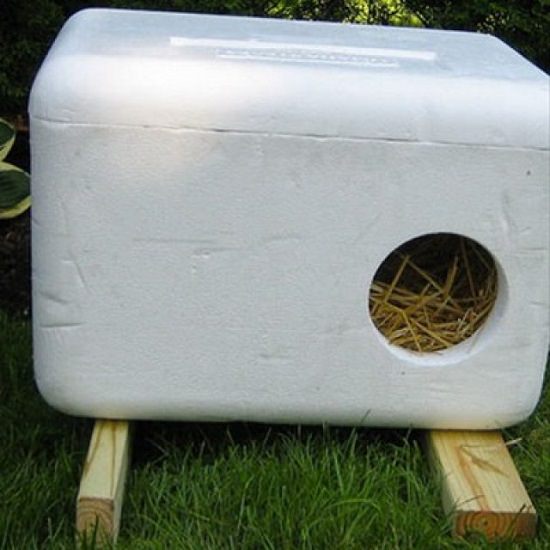 Foam coolers, thanks to their thickness and insulating properties are perfect as cat houses. For a sturdier option, Rubbermaid bins are a good choice as they are doubly thick and waterproof to boot. This DIY discusses ways to create both of them.
7. Cooler Insulated Cat House
Made from a repurposed cooler, this robust cat house has plenty of room for a food bowl, water and two of your cats. Plus, it's easy to clean and will last years due to its sturdy make. What else can you ask for! Follow the DIY here.
8. Insulated Heated Cat House
A large storage bin outfitted with a pet door and lined with foam insulation inside serves as a nice, economical shelter for cats during chilly days. Get the DIY here.
9. DIY Insulated Cat House from Recycled Materials
A box cutter and a few big boxes are all you need to create this frugal, multi-chambered cat shelter equipped with bubble wrap inside for warmth. Get more instructions in this video.
10. Insulated Heated Winter Cat Shelter
Build this heated cat shelter so that it can stay warm outside in winters.
11. Insulated House for Stray Cats on Porch
If winters are particularly cold where you live, your cats could benefit from this double insulated cat house idea involving a Rubbermaid bin and a styrofoam container with lots of hay in between.
12. Styrofoam Coolers Insulated Cat House
Involving minimal effort and just two supplies–A styrofoam cooler, and a serrated knife, this easy DIY shows you how to make weatherproof shelters for your fur bunnies.
13. Simple Feral Insulated Cat Shelter
Made from an upcycled storage box, this cat house includes store-bought insulation and a pile of hay to ensure a warm and snug environment for feral cats. Follow the DIY here.
14. Wooden Insulated Cat House
This DIY serves two purposes at once- it gives you a cat house compact enough to fit in the window box, and, includes multiple layers of insulation, from the heating pad on the floor to the foam on the walls, making it perfect for below-freezing temperatures.
Also Read: DIY Cat Shelves Ideas
15. Insulated Cedar Cat-House
For lazy cat-lovers looking to house their kitties in a more durable and permanent housing solution, this cedar wood house is the ultimate answer. Check out this DIY for detailed assembly instructions.
16. Insulated Cat House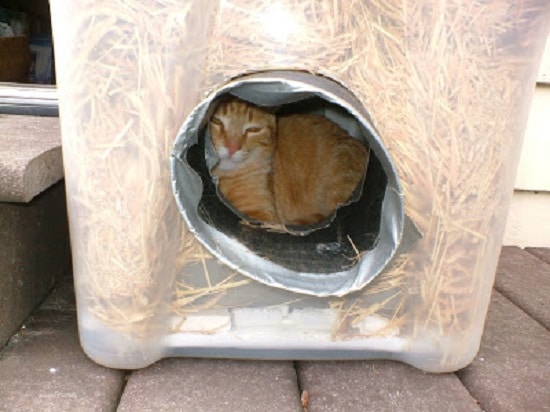 Whether you want to protect your kitty from cold drafts or keep her warm in the rain, this DIY gives you two outdoor shelter ideas to choose from–one with hay for insulation and the other with dry blankets for extra comfort.
17. Straw Bed Insulated Cat House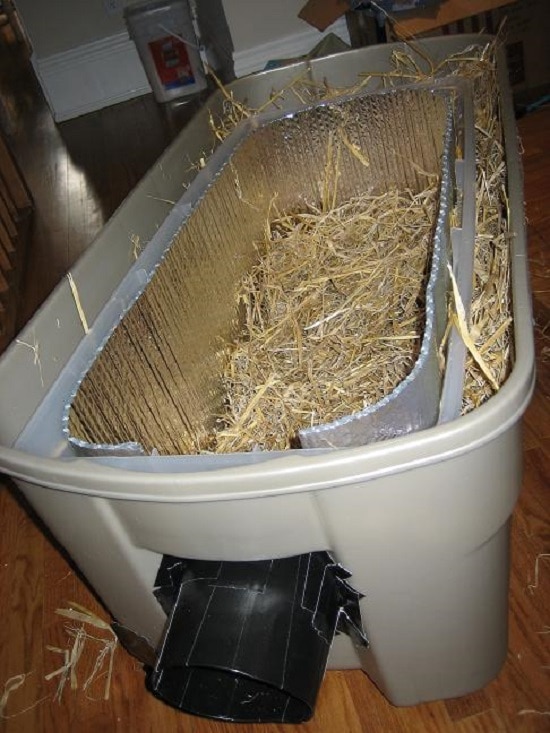 If winters are particularly cold where you live, these double-walled shelters with a sturdy exterior and stack full of hay for insulation are a nice home for housing up to five outdoor kitties. Get the DIY here.
18. Outdoor Insulated Cat House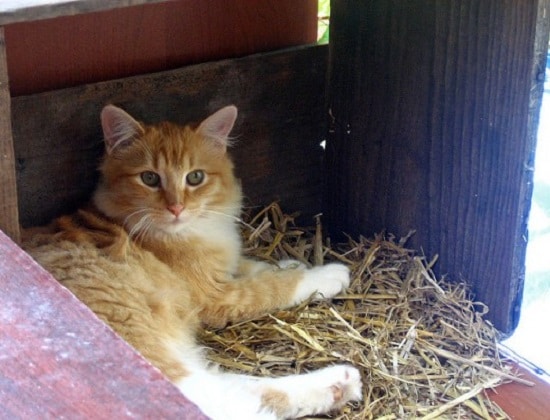 This DIY gives you a clever way to upcycle your plastic tote and convert it into a modern cat house, complete with a styrofoam cooler inside for insulation.
19. Feral Cat Shelter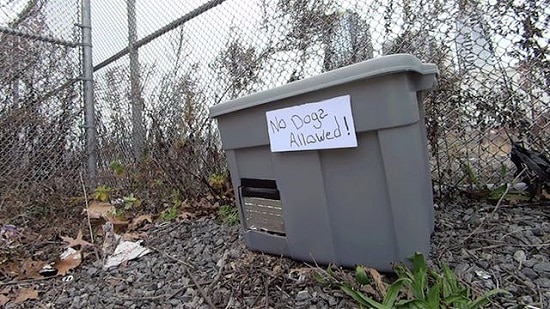 When you want a winterized cat shelter that doesn't absorb body heat by getting all soggy from the frost and rain, this robust cat house equipped with commercial-grade insulation is a must-try. Here's the DIY.
20. Plastic Container Insulated Cat House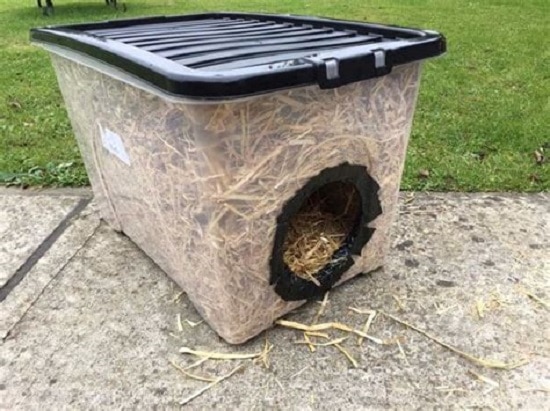 If you don't have time for a burly cat house like the one discussed above, consider this low-cost solution involving a plastic container and a heap of hay. Here's the DIY.
21. Insulated Wooden Cat House Outdoor
This weatherproof cedarwood house has a raised bed and separate sections for keeping food bowls and water. Plus, there's a lot of room to keep your feral furbabies protected through winter. Make one with this DIY.
22. Insulated Cat House with Reclaimed Wood
This cat-lover collected scrap wood from his yard and made a sturdy cat house with a raised platform for extra strength on the stormy days of winters. Follow the DIY for more instructions.
23. Insulated House for Outdoor Cats
If you don't have the skills or the time to carry out a complete woodworking project, consider creating an insulated cat house with a styrofoam bin instead. This video has the guidelines.
Did you like these DIY insulated cat house ideas? See more similar DIY cat house projects here!