Learn how to make seashell jewelry all by yourself with the help of these gorgeous DIY Seashell Jewelry Ideas perfect for many styles.
1. Sea Shell Crown
This seashell crown will have you looking for excuses to wear it long after the Halloween party. Get the DIY here.
2. Basic Seashell Necklace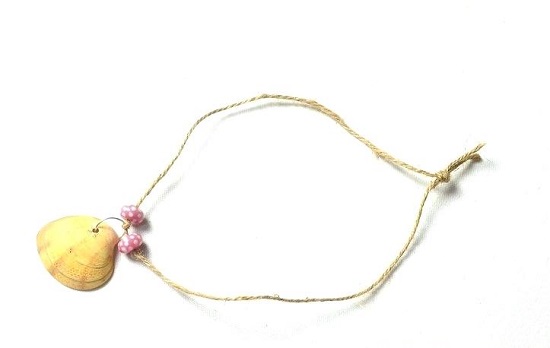 If you're a novice to making seashell jewelry, this lucid guide will walk you through the know-how and even give you tips to select the best seashells on your next beach holiday.
3. Cowrie Shell Flower Necklace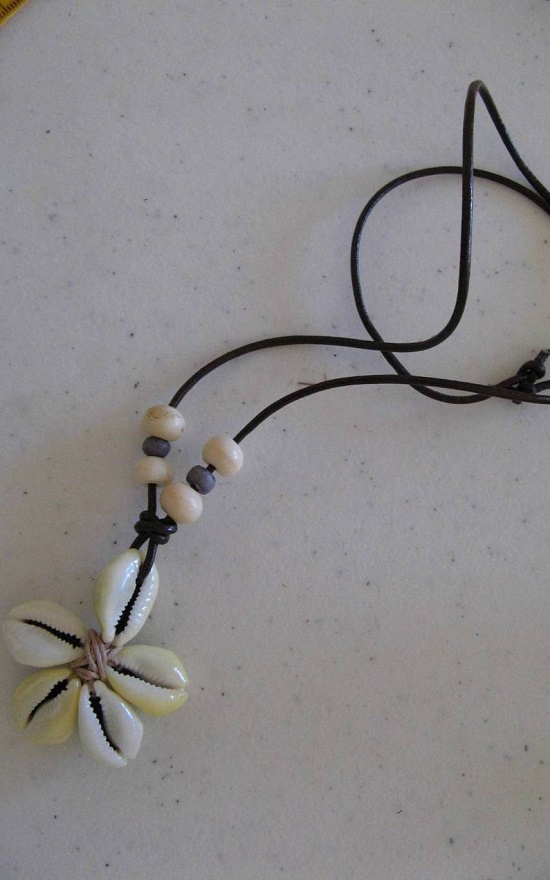 Cowrie shells are easy to work with as they are durable and have holes that can be used to tie them together to create a sturdy piece as this flower necklace here.
4. DIY Ursula Shell Necklace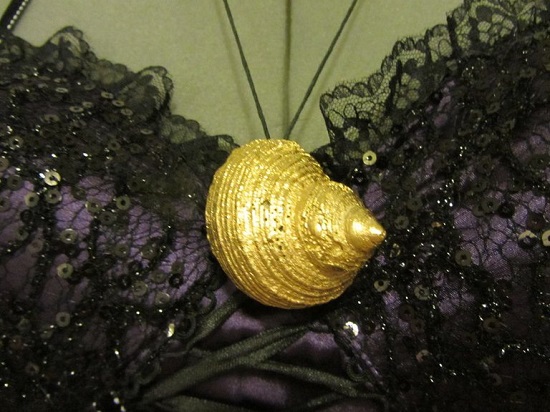 This DIY shows you how to create pendants from seashells without drilling holes or requiring any tools. And once you master that, no one can stop you from making intricate pieces with ease.
5. Sea Shell Earrings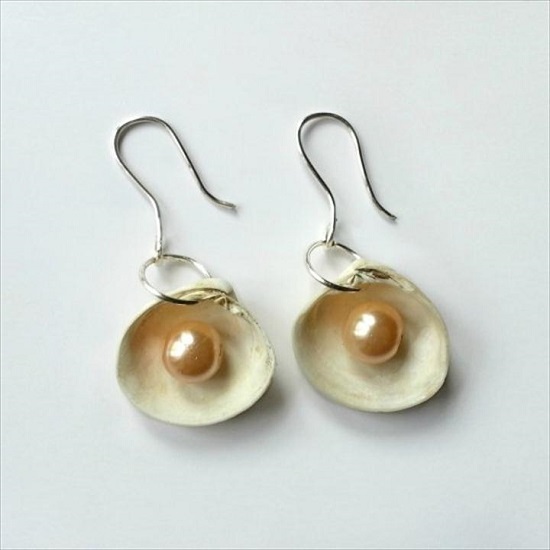 If you're fond of elegant danglers that go well with formal outfits and take little time to make, these DIY seashell earrings are sure to interest you into making them yourself. Follow the DIY here.
6. DIY Silver Leaf Seashell Necklace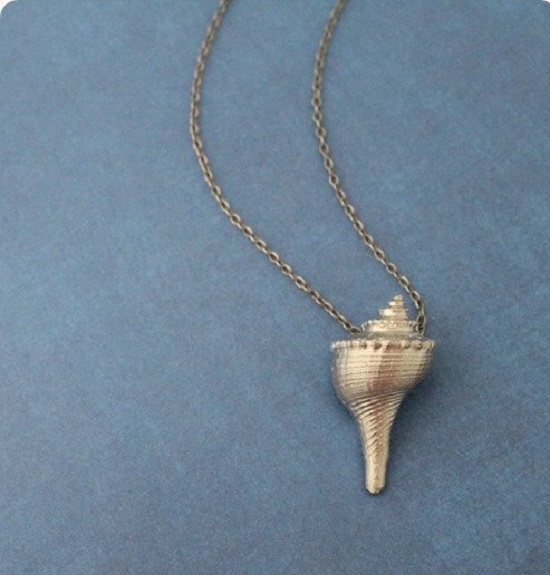 When you want to switch from a formal look to party wear at the drop of a hat, this silver leaf seashell necklace can help. Check out the DIY here.
7. DIY Silver Leaf Shell Bracelet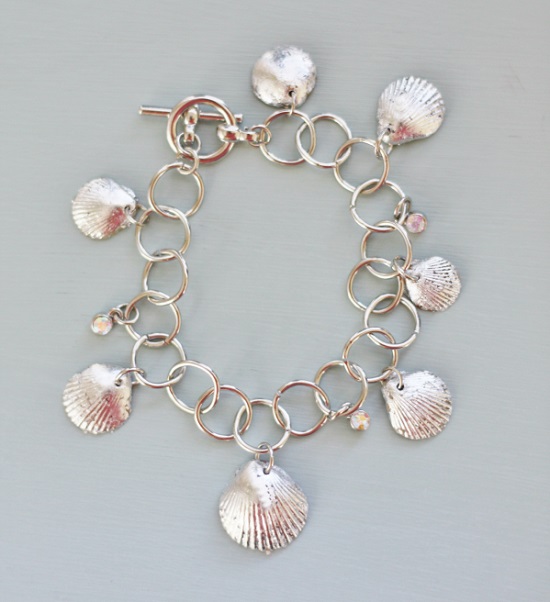 Made with gilded seashells, the silver leaf bracelet makes a pretty pairing with the necklace discussed above. Check out the DIY here.
8. Seashell Beaded Headband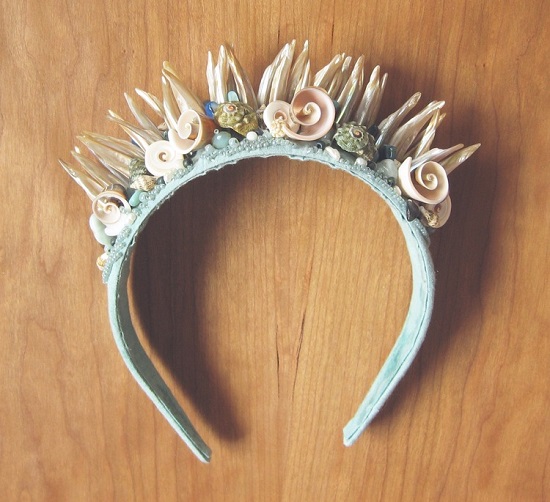 Add sparkle to your boring life with this flamboyant headband, it is one of the most unique DIY Seashell Jewelry Ideas in this list. Here's the DIY.
9. Simple Seashell Bracelet
This DIY requires basic knowledge of crocheting and tiny shells to create an elegant bracelet that deserves a mention in your DIY brag book.
10. White Shell Necklace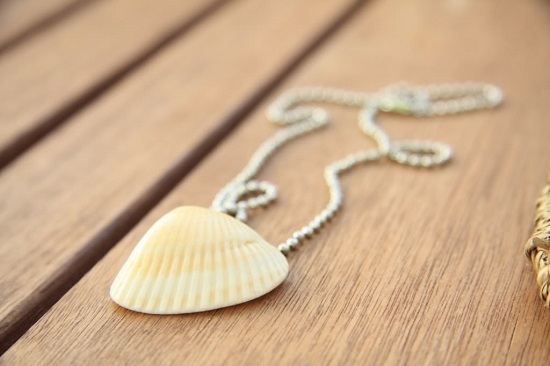 The solo seashell pendant has an understated appeal that complements swimwear wonderfully, making it a nice accessory for your summer outings. Get the instructions here.
11. Beach Shell Hair Pins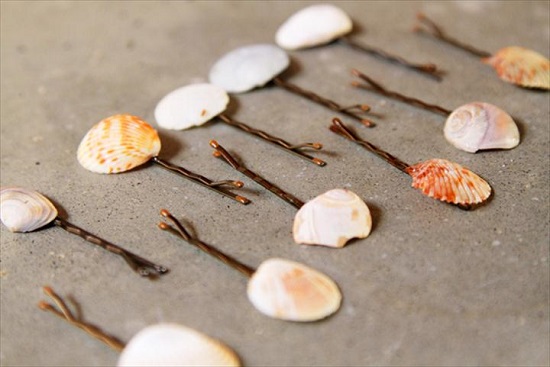 Perfect as tiny gift items, this DIY is an insanely easy way to convert ordinary hairpins into cool accessories with zero effort.
12. DIY Seashell Hoop Earrings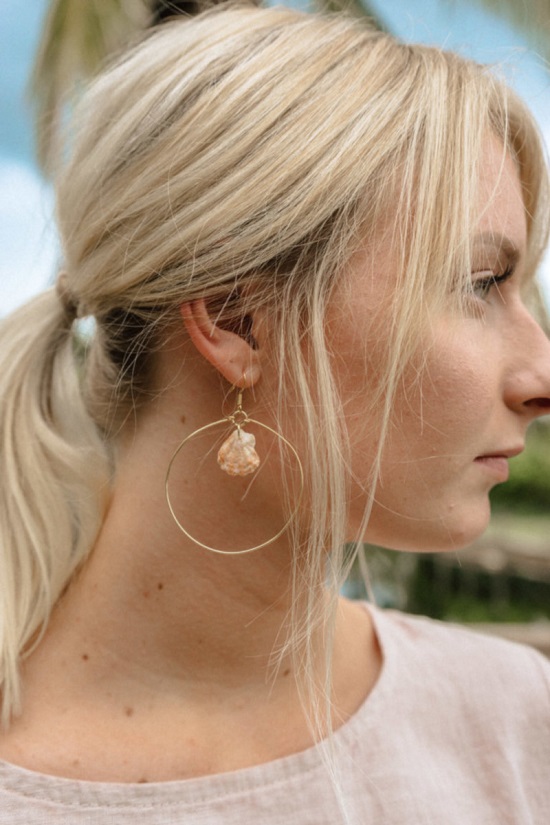 Don't you think that seashell jewelry is cheaper to create than to buy! Take this DIY for instance. It involves encasing fancy seashells handpicked from the shore within metallic loops for unmatched elegance.
13. Own Seashell Earrings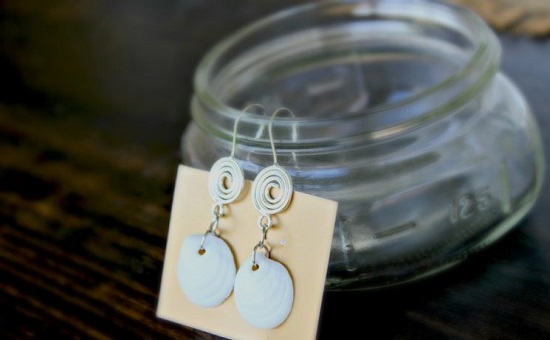 If you're learning how to make seashell jewelry, must try this pretty earring design. Here's the DIY.
14. Easy DIY Shell Bracelet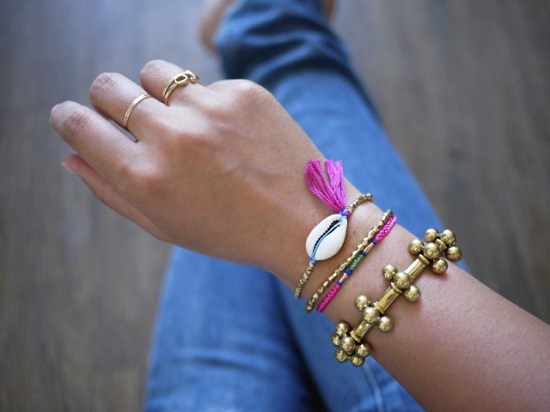 If you're rather picky about collecting seashells and take pride in having the most beautiful selection of them, consider putting them to good use with this summer bracelet DIY.
15. Recycled Abalone Shell Necklace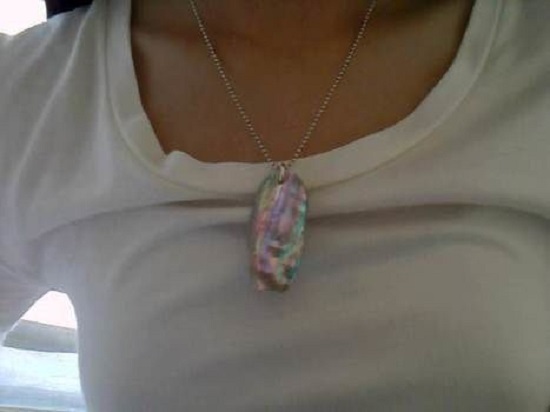 A fine example of turning trash into cool, and wearable stuff, this DIY uses simple starting materials like coke cans and the abalone of dried shells.
16. Vintage Shell Necklace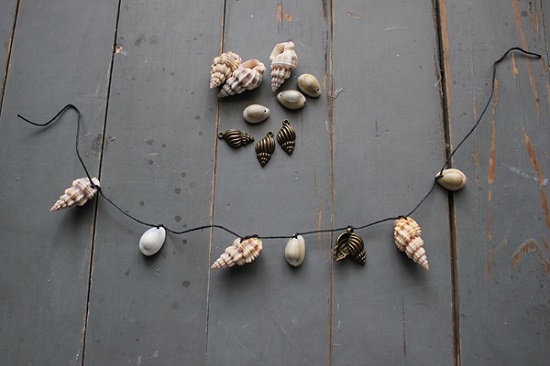 The next time you go hunting for shells, don't throw away the ones with holes in them. Instead, you can string them up quick to make a pretty necklace without using any power tools. Follow the tutorial here.
Also Read: 40 DIY Jewelry Ideas
17. DIY Oyster Shell Necklace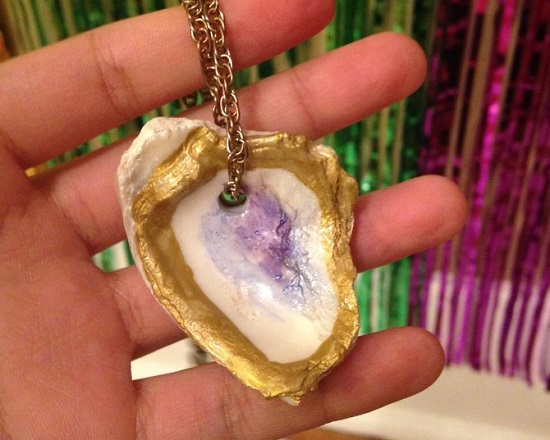 Spruce up your daily look with the unexpected bling of this giant Oyster charm necklace. Get the details here.
18. Mermaid Seashell Necklaces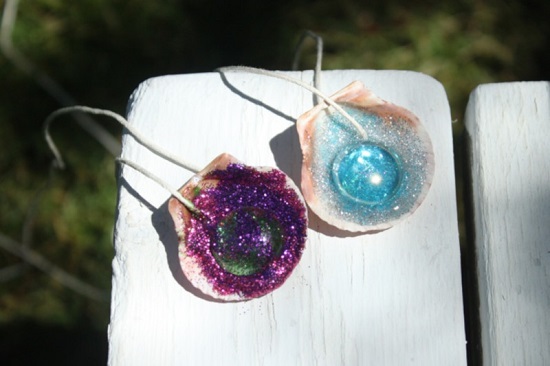 Embody the ocean theme on your seashell jewelry to look like a mermaid for a pool party. Follow the instructions here.
19. Seashell Braid Bracelet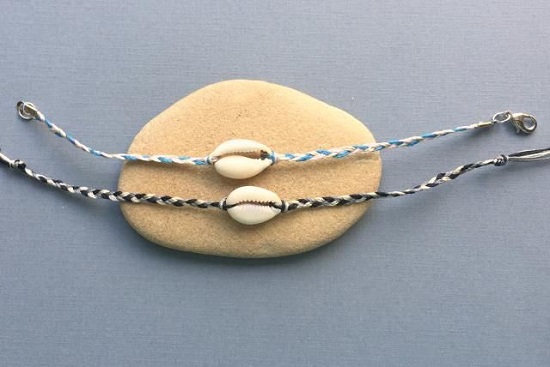 Featuring colorful nylon chords wrapped around tiny cowrie shells, this cute little bracelet is a breezy reminder of happier times. Find the tutorial here.
20. Sparkly Marbled Shell Necklaces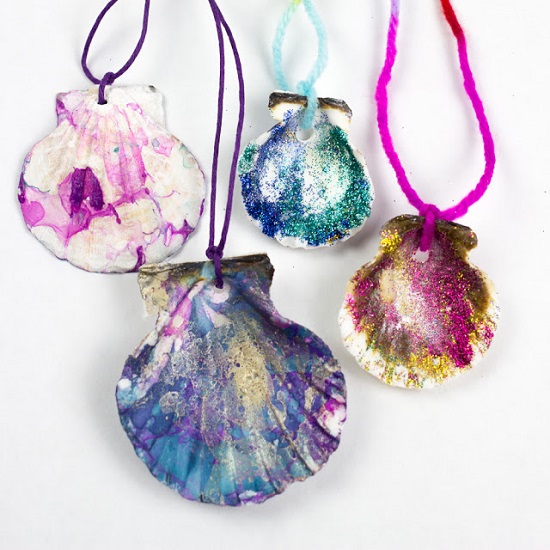 Mixing seashells with glitter gives you these flawless looking pieces of jewelry that are sure to attract compliments with their ethereal, other-worldly charm. Click here for the template and tutorial.
21. Seashell Flower Pendant
For a standalone statement piece that can be customized to go with the outfit you have chosen for the special night, this DIY is your answer.
22. DIY Gold Dipped Seashell Necklace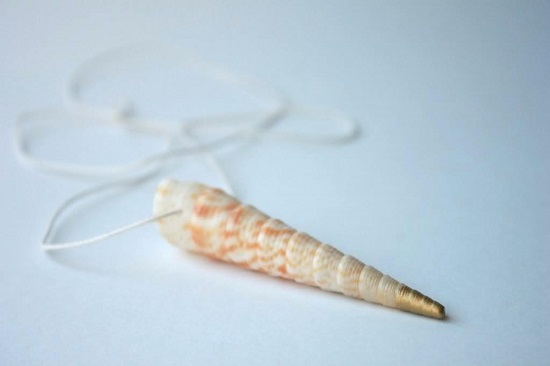 When it comes to seashell DIYs, less is more. Take this one for example. A lone shell dipped in gold paint is all that is needed to capture attention and have people praising your creativity. Find more details here.
23. Spray Paint Seashell Earrings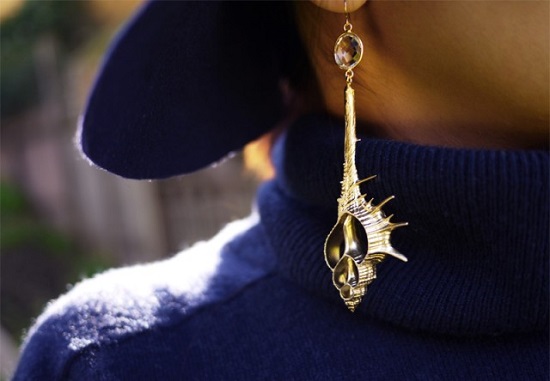 If a little dip in the paint is not enough for you, consider this fancier DIY that gives you classy seashell earrings with little effort and making cost.
24. DIY Mermaid Shell Hair Clip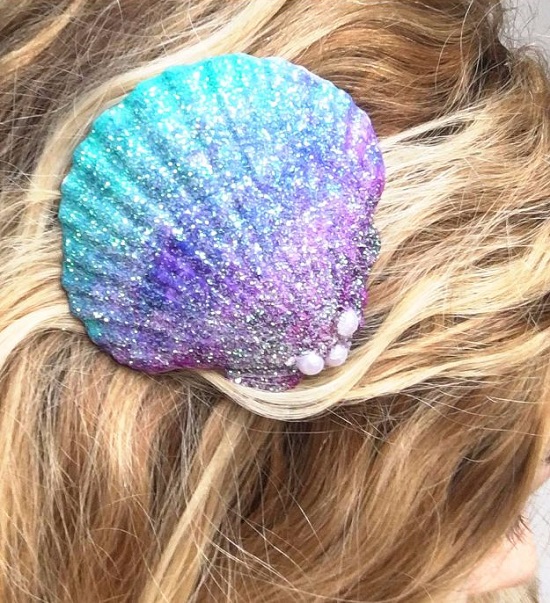 Perfect for Halloween parties and festivals, this cute hair accessory makes a nice gift for kids who love dressing up as mermaids. Get the DIY here.
25. Seashell Pearl Ring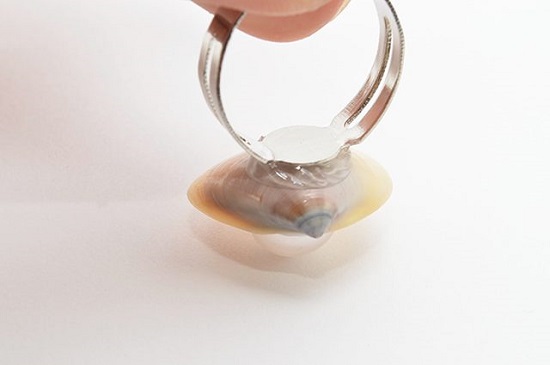 Every girl deserves to have this lovely pearl pendant in her collection. It's a subtle way to enhance your appearance and complements your everyday outfits. Check out the DIY here.
26. DIY Shell Choker
Seashell chokers are too underrated, don't you think! Considering how flattering they look, it's time you make your own with this easy DIY here.
27. Falling Waterfall Shell Necklace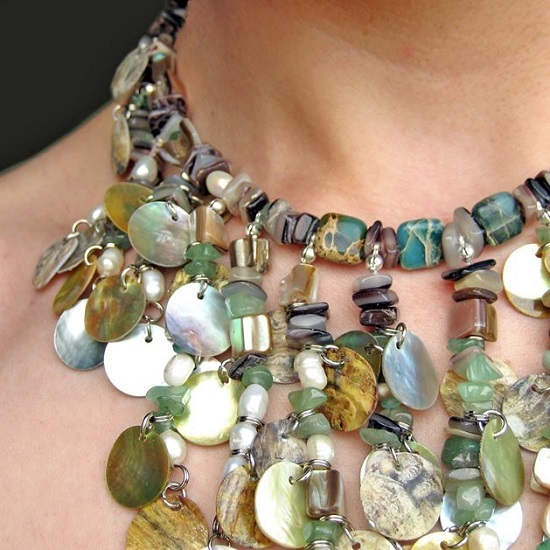 Tinkling with colorful pearls, cowries, stones, and seashells, this intricately detailed necklace is a chic way to jazz up a boring outfit. Get the details here.
28. Colorful Shell Necklaces for Children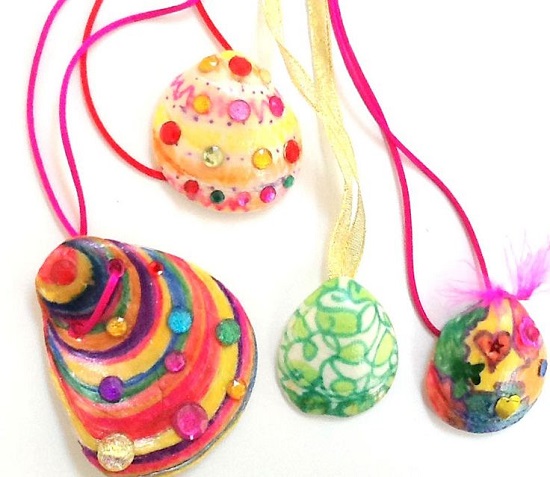 Bursting with cheery pastel colors, these seashell necklaces are perfect as cute children's accessories, something that they will have fun making on boring summer afternoons. Get the details here.
29.  Summer Ankle Seashell Bracelets
The breezy Bohemian vibes of this summer-special anklet is hard to miss. The DIY is super easy and lets you put all your favorite shells and charms to good use. Find the instructions in this video.
30.  DIY: $1 Shell Necklace
This one-dollar seashell necklace makes a fancy yet budget-friendly handmade gift to a self-confessed style maverick friend. Or, you could it keep it for yourself as a more artsy alternative to your regular collar neckpiece.
31. 3 Seashell DIY Jewelry
With similar-size seashells for an aesthetic touch and copper and brass chains for contrast, this antique set of DIY jewelry is the perfect accompaniment to both formal and casual outfits. Get the instructions here.
32. Amazing Easy Seashell Necklace
Whether you love the beach or not, you're sure to fall in love with this seashell necklace, as it is the ultimate accessory for making heads turn. Watch the tutorial here.
33.  DIY Seashell Ring Holders
Even if you're not fond of rings, this charming seashell ring holder is versatile enough to hold other knick-knacks in place, so you have them handy in time. Get the details in this video.
34. DIY Seashell jewelry Organizer
This ocean-inspired jewelry organizer lends a beautiful touch to the dressing table and uses things that can be obtained from nature, making it a zero-cost DIY. Find the details here.