Give a shot to any of these DIY Outdoor Cat House ideas to provide your furry friend with an independent home! Most of the designs are easy to do and budget-friendly.
1.  Weather Protected DIY Outdoor Cat House
If you want to house all your stray cats in a single villa, consider this multi-panel wooden structure that makes a tasteful addition to the deck as well. Get the instructions in the video.
2. Cat House Idea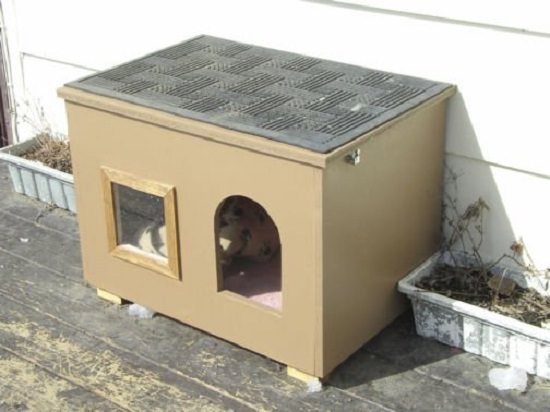 Taping 2×2 wooden boards together gives you this rustic-looking cat house that adds a charming touch to the porch. Don't forget to finish up with a few strokes of waterproof paint. Learn all the steps here.
3. DIY Outdoor Cat House

Give your colony strays a warm, dry spot to lounge in the winters with any two-nested container of your choice. Get complete instructions here.
4. Winter Shelter Bins for Community Cats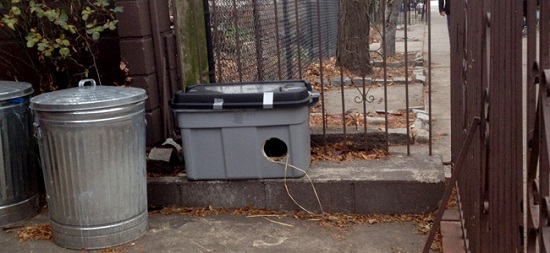 Being waterproof and insulated, foam bin coolers make unusual starting materials for building inexpensive houses for the neighborhood cats. Make them with these instructions here.
5. DIY Picnic Cooler House For Cats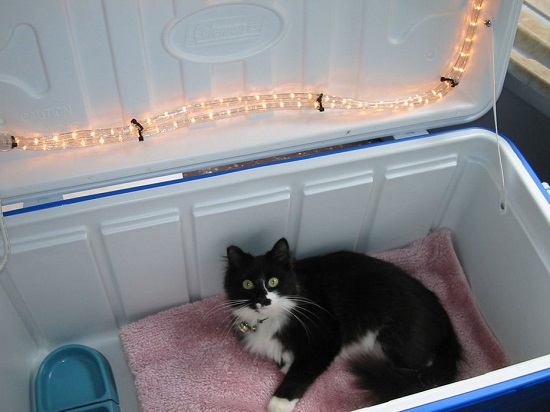 This DIY shows you how to convert a cooler into a heated shelter that has enough space for accommodating the food, water, and bedding of your cats. And since it's already weatherproof, there's no need for extra insulation. Get the details here.
6. Insulated Outdoor Cat Shelter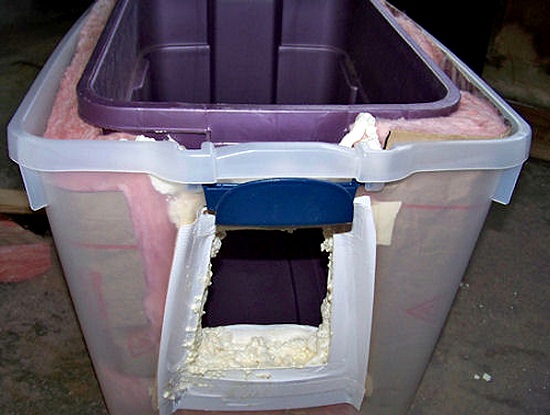 Winter can be harsh on geriatric kitties. Do them a favor and create these inexpensive houses from 18-30 gallon storage containers. Find the rest of the instructions here.
7. Modern Cat Shelter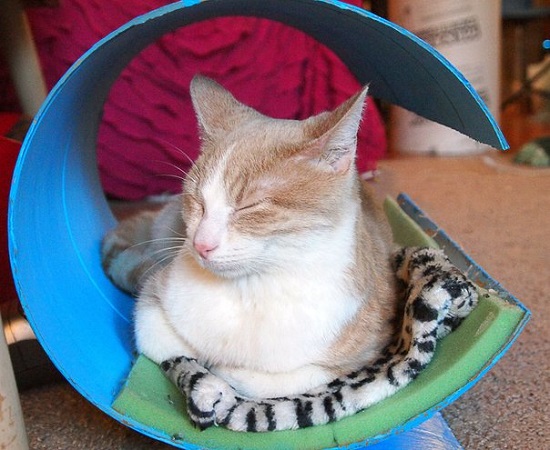 More like a makeshift seat, this kitty lounge is sure to be a favorite hangout spot for cats in-between naps. It's easy to create and perfect for kitties who like having a sense of privacy. Check out the DIY here.
8. Wooden Cat House Plans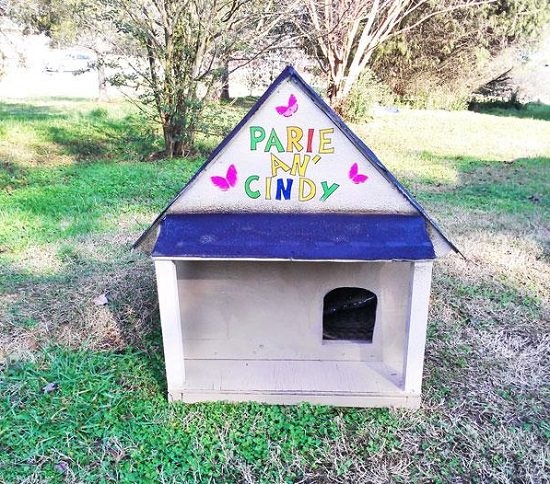 This 2×2 plywood house makes a pretty addition to the garden. Also, it is durable and weatherproof. And all you need to make this is a few tools and the basics of woodworking. This guide can help.
9. DIY Shelter Made From A Flowerpot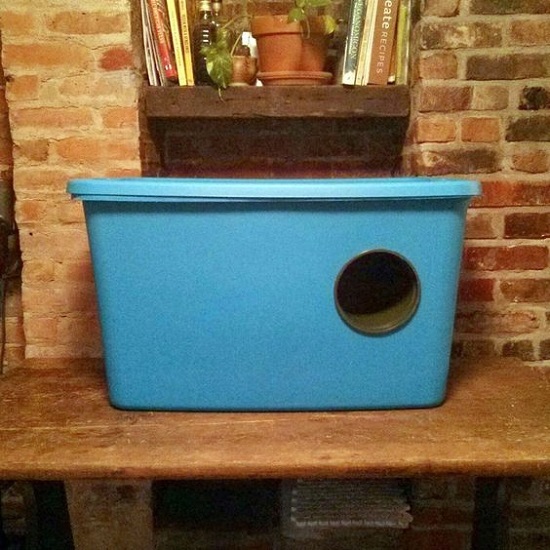 Your outdoor cat is sure to benefit from this insulated plastic storage tote when winter sets in. Don't forget to keep it in a location safe from direct winds and predators. Check out this guide for more details.
10. Simple Outdoor Cat House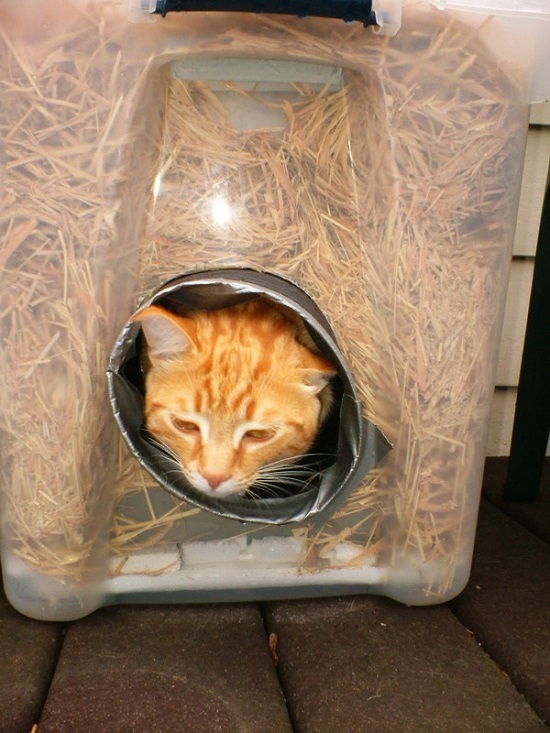 If the colony cats intend to spend the winter in your yard, it's time you do your part, and fashion cat houses for them like this DIYer did use plastic bins as the framework and lots of hay for insulation. Or, you could opt a newer shelter look and create layers of dry blankets to keep them warm.
11. Feral Cat Shelter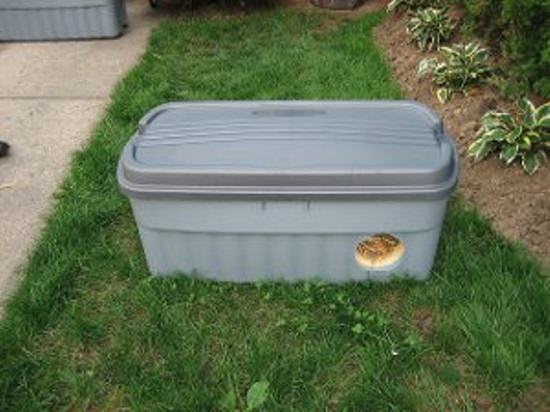 This cat house comes in the form of a polystyrene-lined storage bin that is large enough to house a mom kitty and her babies. Placing a heated water bowl will be a lifesaver on cold days. Follow the tutorial here.
12. Easy Outdoor Cat House
This DIY gives you easy hacks to convert an ordinary shelter weatherproof. Some of them include layering up with a heating mat. Check out the rest in the video.
13.  Cheap and Easy Outdoor Cat Shelter
Prop up an ordinary plastic box with a towel and some straw and tape the lid to create an insulated shelter for cats. Get the instructions in the video.
14.  Wooden Modern Outdoor Cat House
If you don't mind going the extra mile for your kitties, try taking up this DIY that is also a good test of your woodworking skills.
15. Heated Igloo Shelter For Outdoor Cats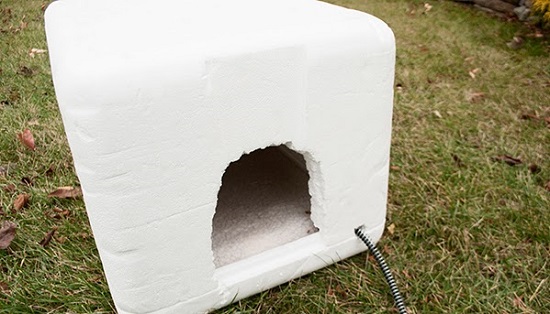 The Igloo design that you see was the result of fitting a kitty heating pad inside a Styrofoam cooler bored with strategic holes so that your cat not only survives winter but also has a safe spot to sit and watch other creatures. Check out the tutorial here.
16. Storage Bin Outdoor Cat House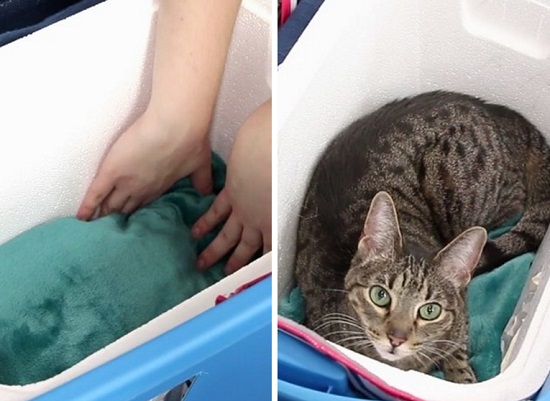 Here. an empty storage bin has been turned into a plush cat house with the help of soft, fleece bedding, some styrofoam or packing peanuts, and a nice big exit for easy access. Get all the instructions here.
17. Heated Wooden Outdoor Cat House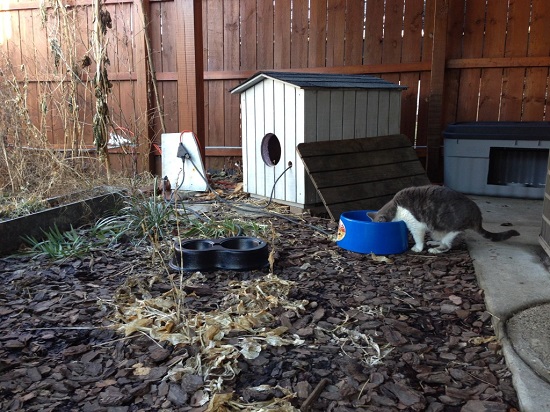 Even if you don't DIY your cat house, you can still get storebought ones and customize them to your kitty's liking. For instance, you can place a bed of straw or install an outdoor heating pad inside it. Find more ideas here.
18. DIY House For Community Cats
Combining the comforts of a wooden cat house and a little sunroom solarium, this elaborate cat condo arrangement lets your kitty sunbathe in the mornings and sleep cozily at nights, feeling protected all the while. Watch the video for more details.
19. Winter Cat Shelter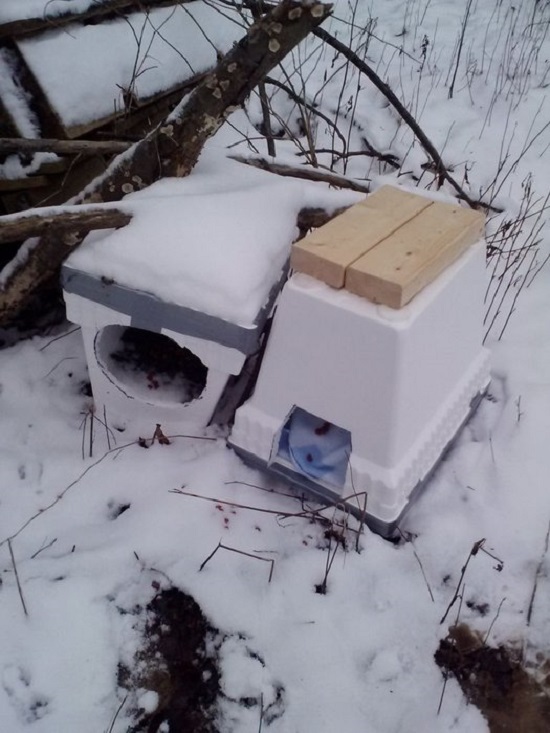 If you think about it, an empty cooler makes a charming home for cats. It has a full floor-length and a tapered chamber that heats up quickly. Include some styrofoam insulation and fleece cushioning, and you have a top-notch kitty shelter in just a few minutes. Here's the complete DIY.
20. Outdoor Heated Cat Shelter
If you're not quite the DIYer and still want to do something for your outdoor cats, consider this premade solution involving easy assembly and a weatherproof heated bed for premium comfort. Get more info on the above video.
21. Styrofoam Outdoor Cat House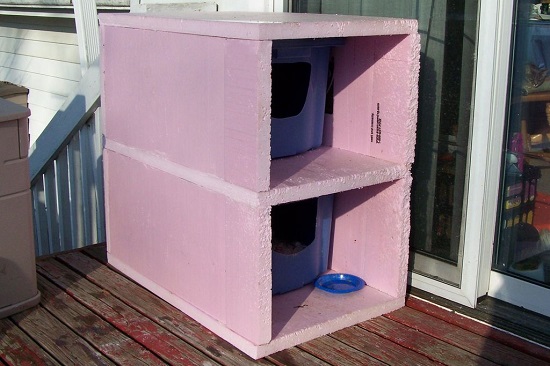 Made from 18-gallon containers, this multi-tiered cat condo lets you house multiple feral cats together. What's more, the L-shaped design helps block out cold drafts while the styrofoam covering further improves the insulation, keeping them warm and cozy. Get the DIY here.