Give your cat a personal space to freshen up with these DIY Cat Litter Box ideas. They are easy to customize and affordable too!
Are you tired of constantly cleaning up after your feline friend? Does the sight and smell of litter pans and trays give you a headache? Fear not, and check out these DIY Cat Litter Box Ideas. With a little creativity and elbow grease, you can create a litter box that keeps your home clean. So put on your crafting hat and read this article till the end.
Check out the best DIY cat hammock ideas here
---
DIY Cat Litter Box Ideas
1. Homemade Litter Box For Large Cats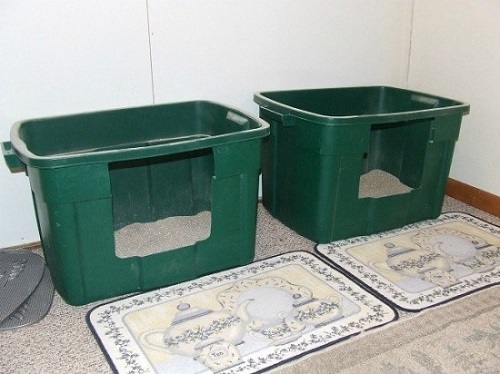 If you're having a hard time finding litter boxes that are deep enough for your big-sized kitties, consider these no-spill options. Here's the DIY.
2. DIY Wooden Bench/Litter Box
Made from an Ikea toy box, this fancy litter box enclosure has a matted top to prevent cat litter tracking. Here's the DIY.
3. DIY Kitten Litter Box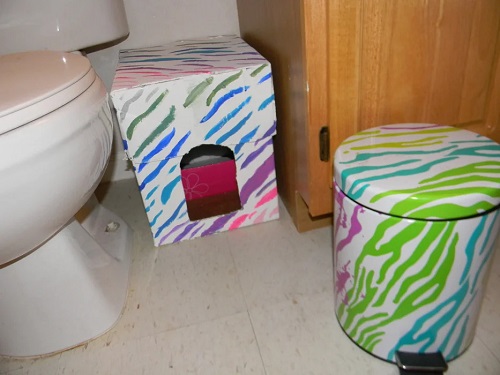 Follow these instructions to build a cute litter box for your little kitten. It's one of the cheapest DIY cat litter box ideas.
4. Hidden Kitty Litter Box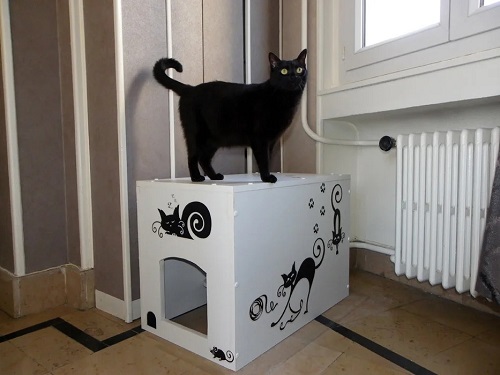 Featuring cute cat silhouettes and a litter tray inside, this enclosure is what you need to make this weekend. Take inspiration from this tutorial for the details.
5. Deluxe Ikea Litter Box
In this article, the DIYer turns an Ikea cabinet into a deluxe feline litter box enclosure. Hop to this DIY for more info.
6. Mess-Free Cat Litter Box
If you want a litter box that creates no mess, this idea is for you. This cat litter box is made from an empty plastic bin.
7. DIY Cardboard Cat Litter Box
Watch this video tutorial to create one of the most cost-effective kitty litter boxes out of cardboard.
8. DIY The Best Litter Box
If you're looking for an inexpensive giant litter box for your litter fur baby, consider this video tutorial.
9. DIY Wooden Cat Litter Box
Made with wood and a plastic storage container, this cat litter box is elegant and affordable. Watch the video tutorial for more info.
10. DIY Tilt and Sift Litter Box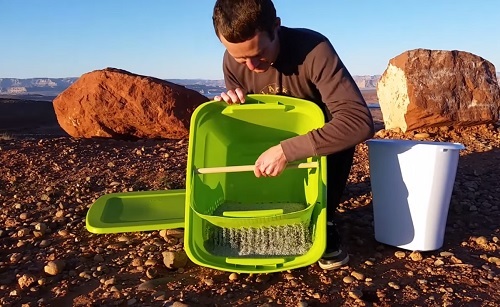 Buy two plastic storage bins and look at this video to create this unique litter box for your feline friend.
11. DIY Cat Litter Box With High Sides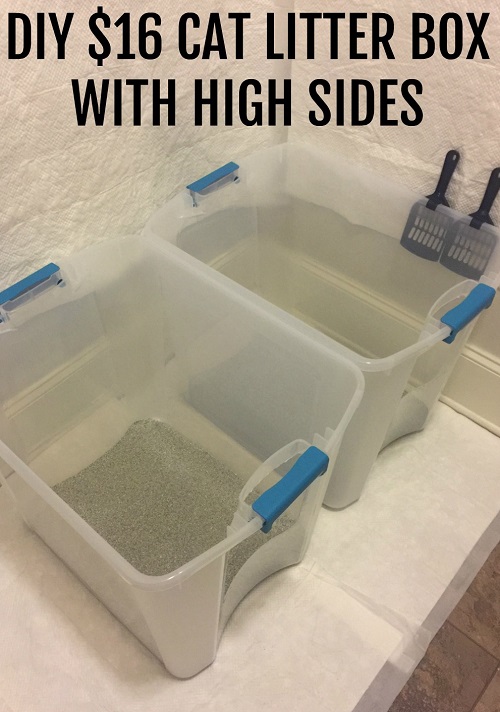 Do you have a cat that aims high or stands when urinating? With a little time and effort, you can have a sanity-saving litter box.
12. Handmade Cheapest Litter Box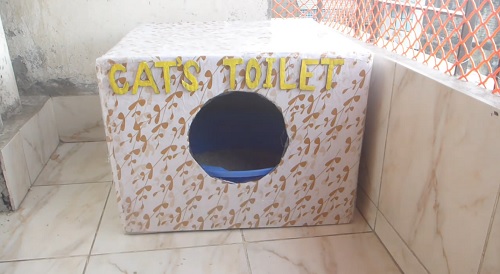 Looking for the cheapest and easiest cardboard litter box? Look no further and check out this DIY. It can be completed in a single afternoon.
13. Custom Cat Litter Box
Convert a plastic tote into a feline litter box with a few modifications. Get the visual instructions here.
14. DIY Dog-proof Litter Box
This litter box is dog-proof with an automated pet door that gives selective access to felines only. Follow the steps in the video.
15. Self-Venting Cat Litter Box
This self-deodorizing litter box has a pull-out cabinet structure to facilitate mess-free clean-up. Here's the DIY.
16. DIY "Hide-in-plain-sight" Cat Litterbox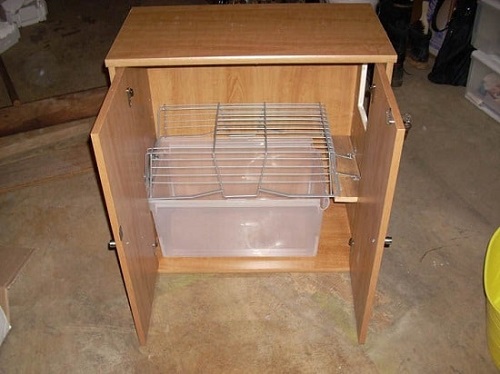 Build this wooden cat litter box that can be placed anywhere in your home. Hop to this article for the details.
17. Little Dresser Turned Litter Dresser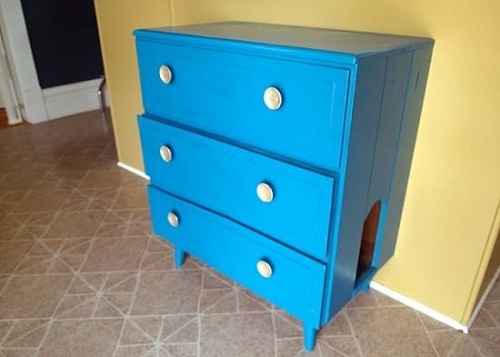 Turn an ordinary dresser into cat-friendly furniture by hollowing out the drawers and fixing plywood at the base for the litter tray. Get the DIY here.
18. DIY Modern Plywood Kitty Litter Box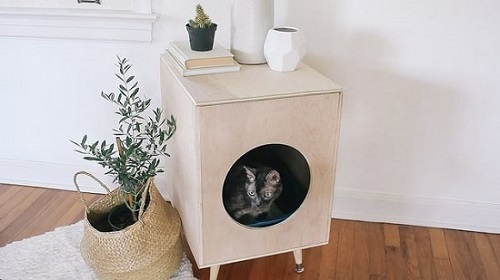 Kitty litter boxes can be quite pricey. Make one at home with a litter pan, plywood, and some tools. Follow the DIY here.
19. DIY Ventilated Cat Litter Box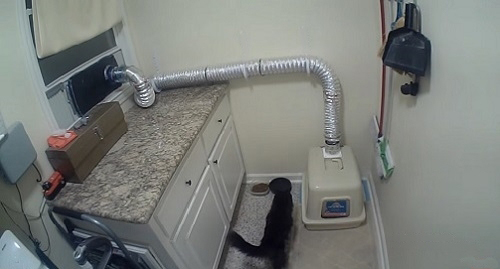 This self-ventilating litter box keeps the cat's stinking pop odor out of the home. Check out this DIY for instructions.
20. No-Stoop Cat Litter Box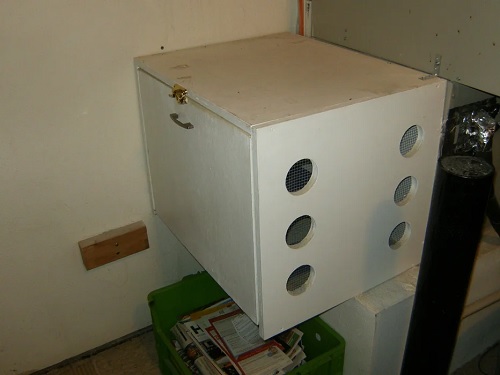 Build this cat litter box to hide the stinking litter tray of your little furball. The instructions are in this article.
21. Disposable Cat Litter Box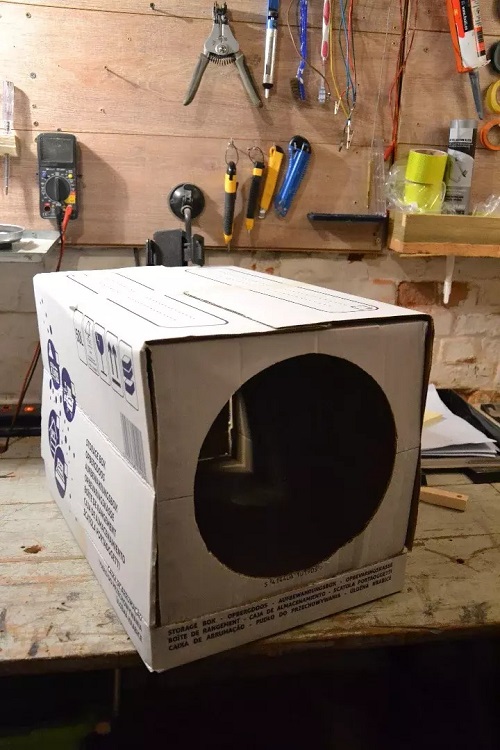 Learn how to convert a cardboard moving box into a disposable and foldable cat litter box, perfect for traveling.
22. Hidden Cat Litter Box House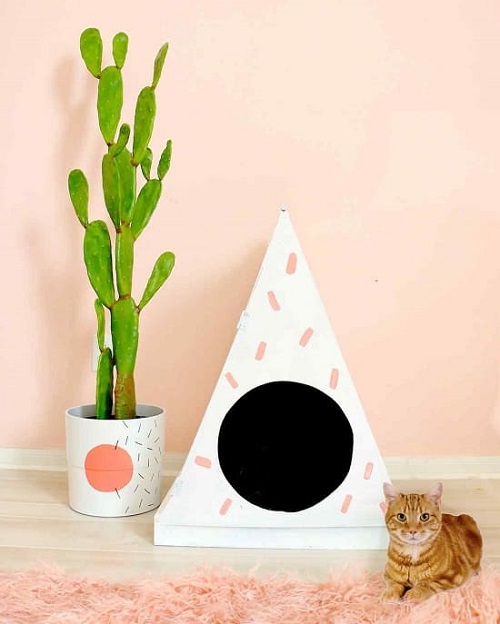 This litter box enclosure, upcycled from a side table, lets you discreetly tuck away your pet's disposable tray in any room. Get the DIY here.
23. DIY Farmhouse Style Cat Litter Box Furniture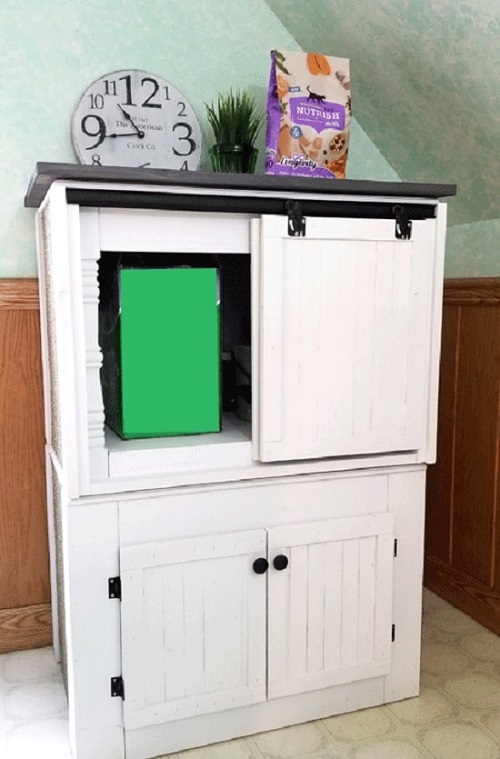 A litter box that looks like a vintage piece of furniture with a nice opening on the side is something that your furbaby will like. Get the DIY here.
24. DIY Mid-Century Litter Box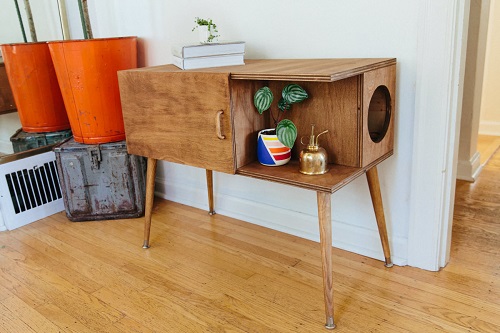 This mid-century litter box is not only perfect for your feline but also spruces up the room's aesthetic appeal as well.
25. MDF Cat Litter Box
Follow this step-by-step tutorial to build this simple yet functional kitty litter box out of MDF board and other supplies.
26. Pretty Rubbermaid Bin Kitty Litter Box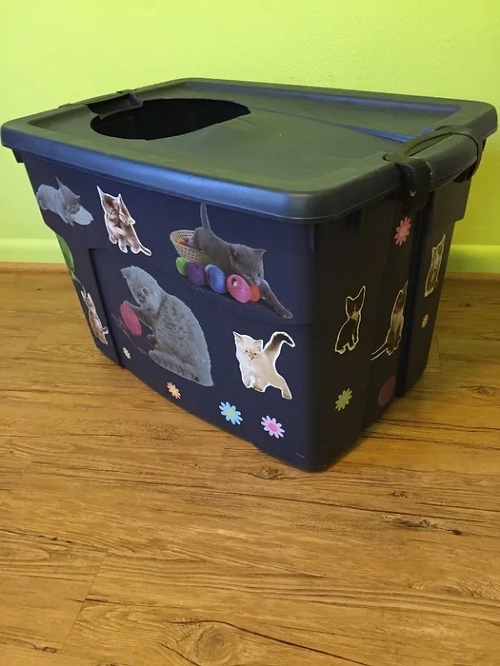 Adorned with pretty stickers, this modified Rubbermaid bin is an excellent litter box for your fur baby. Learn more here.
Check out DIY cardboard cat toys ideas here