These DIY Wood Headboard Ideas are perfect for every bedroom design styles. Find out your favorite one in this post!
1. DIY Barn Wood Chevron Headboard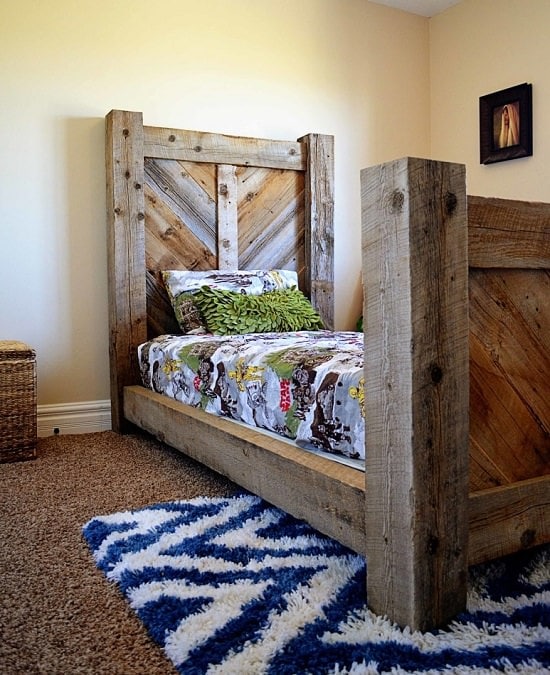 This gorgeous tall and narrow headboard is the result of aligning wooden plank diagonally to create a Chevron pattern that is left interrupted in the middle for a delicate layer of texture. Here's the DIY.
2. DIY Old Door Turned Headboard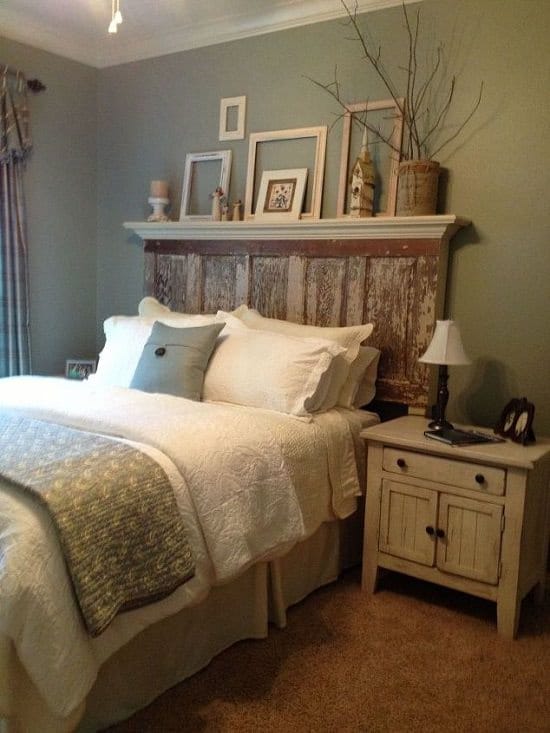 In this door-turned-headboard design, the DIYer decided to keep the chipped wood look intact while painting alternative trim details in a contrasting color for a cohesive, shabby-chic effect.
3. Raw Wood Headboard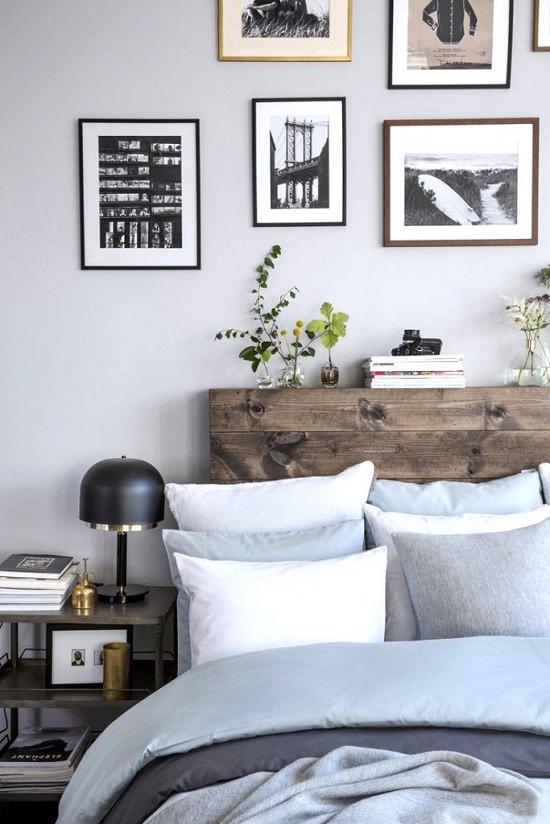 It's strange to see how a raw wood headboard sans additional accents or embellishments can bring so much character to an otherwise decked-up bedroom. Follow this DIY for more details.
4. DIY King Farmhouse Headboard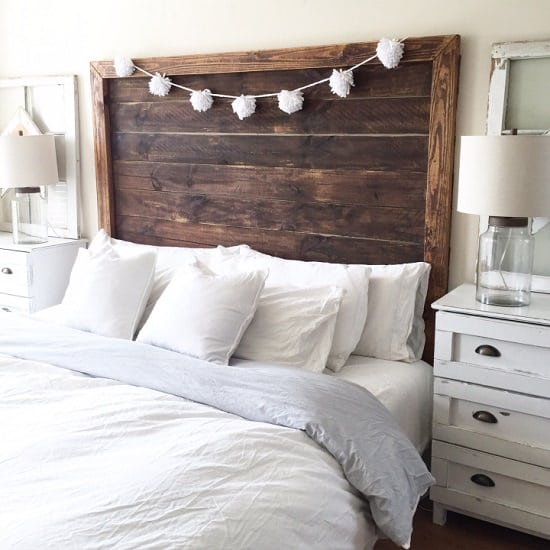 With this DIY, the efforts are more, but in the end, you have a solid headboard that has been varnished, waxed, and dark stained to mimic the royal effect of old wood.
5. Rustic Boho Headboard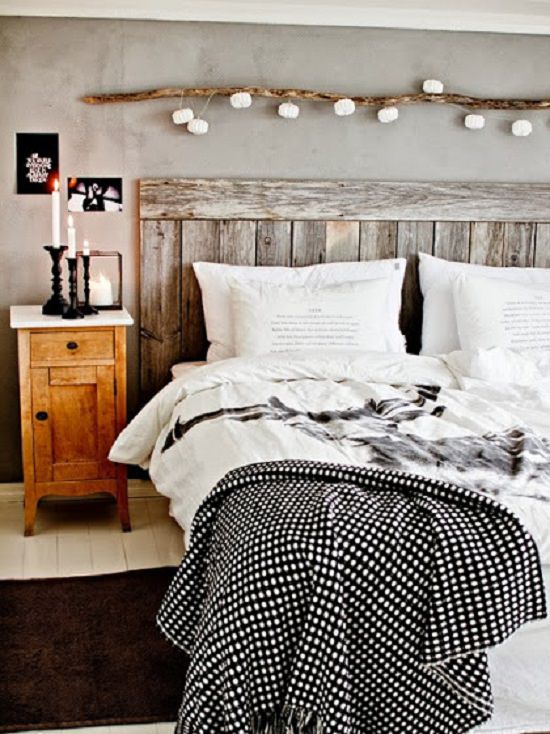 Made from lightly distressed wooden boards, the boho-chic look gets a dramatic accent with a rosy banner hanging above. Here's the full DIY. Also, check out these 31 Country Home Decor Ideas.
6. Wood Headboard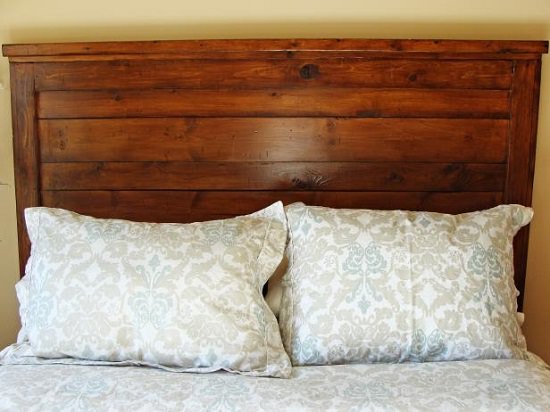 Made with whitewood boards, this stunning headboard looks too fancy to be DIY and is an easy way to bring some texture to your bedroom. Here's the full tutorial.
7. Beautiful Wood DIY Headboard
This free-standing headboard is easy to adapt to any bed type you want- from king-sized to twin beds. Get the steps demystified here.
Also Read: DIY Wood Wick Candle Ideas
8. Wood Storage Headboard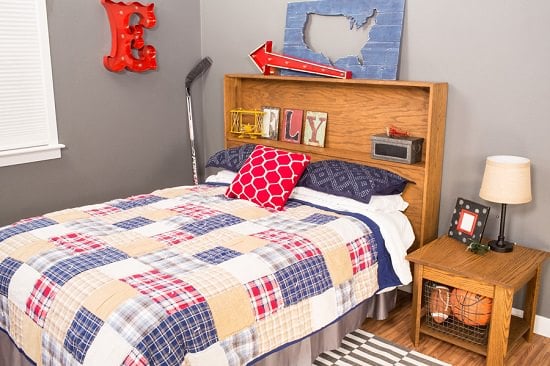 This compact, lightweight headboard design is great for a space-confined bedroom- it has complete shelves for storage and openings on either side. Here's the DIY.
9. Fence Turned Headboard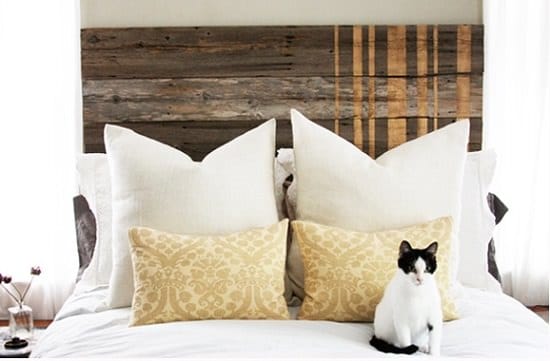 Bring a touch of the outdoors to your bedroom with this wooden headboard design salvaged from an old garden fence. Here's the DIY.
10. Starfish Headboard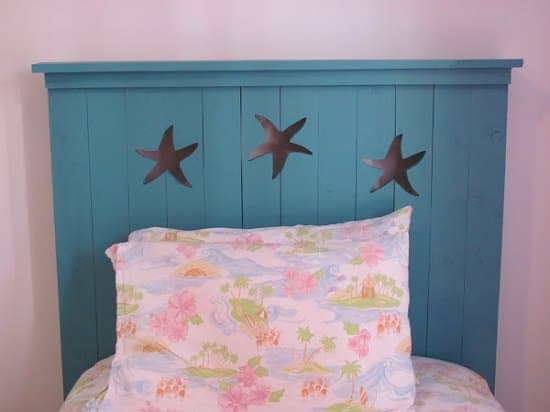 Make starfish cutouts on wooden planks and paint them in cool pastel colors for adding emphasis to the children's bed. Here's the DIY.
11. DIY Rustic Headboard Using Plywood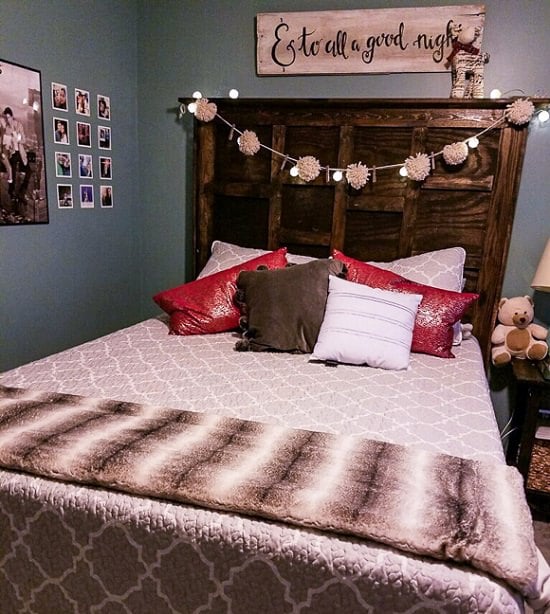 Take your wooden headboard DIY to the next level with wooden trimmings; then stain and sand down everything to give off dark, somber vibes that are perfect for the master bedroom.
12. Reclaimed Wood Headboard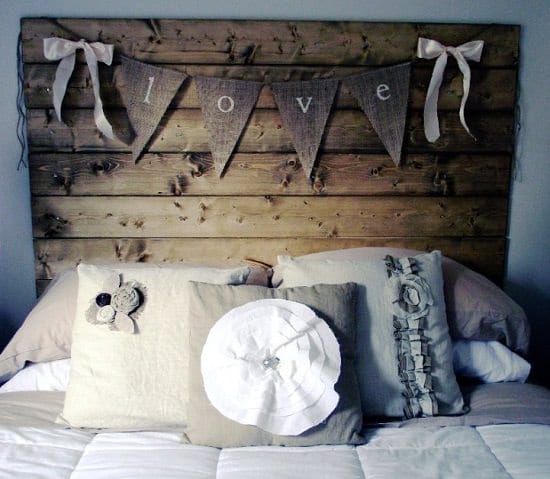 This super easy and unbelievably cheap project gives your headboard a very rustic, barn-like feel and that with minimal DIY skills. Here's the DIY.
13. Pottery Barn Inspired DIY Barn Door Headboard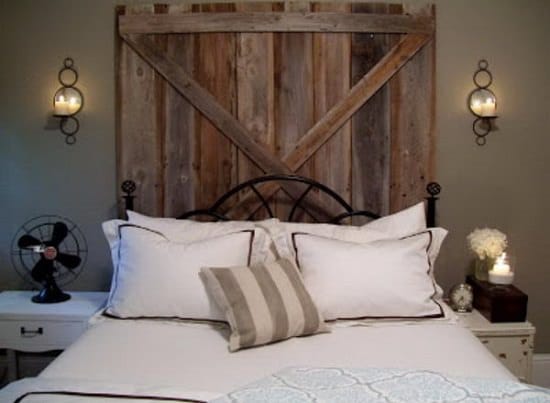 This gorgeous rustic headboard is another example of barn door restored and reframed to create a unique headboard. Here's the DIY.
14. Big Fence Headboard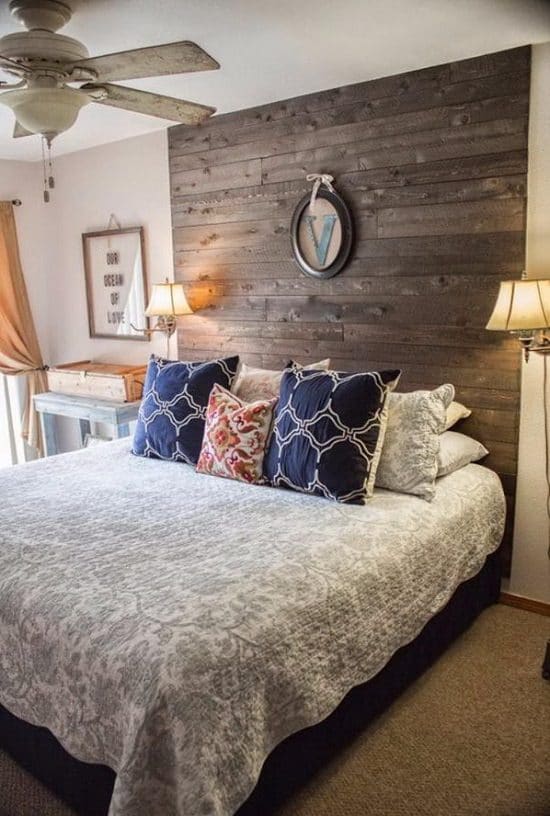 Customized for a king-sized bed, this DIY headboard has been assembled from several wooden boards of varying sizes, all stained to get a vintage vibe. Here's the tutorial.
15. DIY Pallet Headboard
Using pallet planks as your starting material gives you the freedom of customization and the flexibility of playing with dimensions with ease. Here's the DIY.
16. Wood Headboard for Less Than $100
Spruce up an old wooden door with these instructions for a neat little headboard that infuses aesthetic charm to a contemporary-style bedroom.
17. Rustic Queen Wood Headboard DIY
Originally intended for the queen-sized bed, this wooden headboard DIY shows how you can give purpose to a shoddy piece of wood.
18. DIY Wood Headboard For Under $40
Create accents on a plain wooden headboard with trimmings and stain the borders for a grungy look. Here's the DIY.
19. Quick DIY Headboard
Mimic the eclectic finish of dark walnut wood for your DIY headboard with this easy tutorial.
20. Simple Pallet Wood Headboard
Here, stained pallet pieces come together in different sizes to create a brick wall-like appearance that allows you to utilize the wall behind fully. Take a look at this DIY for instructions.
21. DIY Wooden Headboard With Built-in Lights
For the ultimate rustic-meets-romantic vibe, consider adding accent lamps on either side of your newly made wooden headboard, but don't forget to nail the tan finish with sandpaper first. Here's the DIY.
22. The Perfect Pallet Headboard
This monotone wooden headboard design is great for those who believe in the understated charm for their bedroom look. Get the DIY here.
23. Wingard's DIY Headboard
With this DIY, you can get the same paneled headboard as showcased in furniture catalogs at a fraction of the cost, provided you have a spare symmetrical door handy.
24. Easy Wood Lighted Headboard
Made of wide, straight wooden planks, this headboard design is great for filling up a bedroom wall all the way up to the ceiling. Get the DIY here.
25. DIY Wood Round Headboard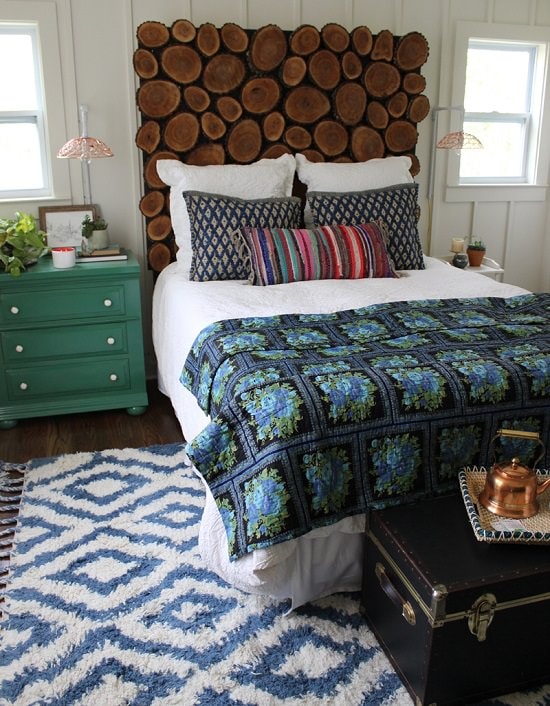 Created by assembling birch disks of varying diameter, this unique wooden headboard looks wonderfully rustic against the vertical pallet walls and the vintage bedroom furniture. Here's the DIY.
26. DIY Live Edge Headboard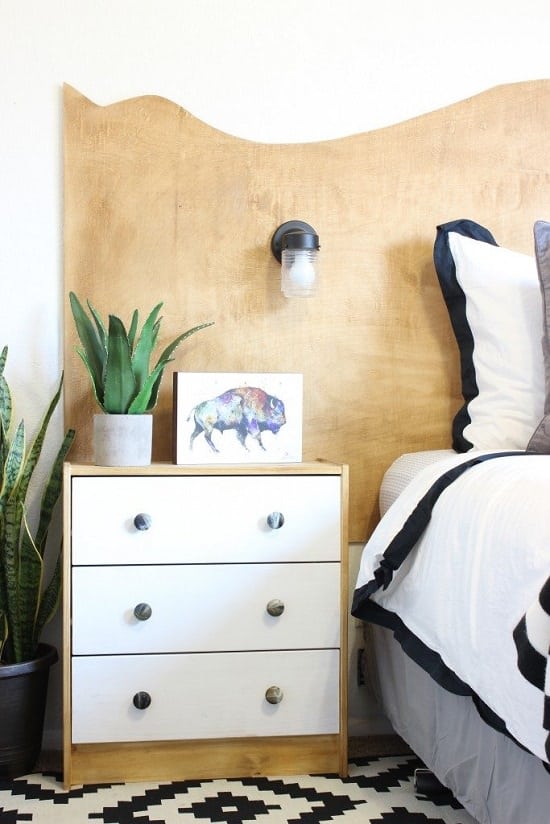 The naturally grainy texture of plywood makes it a perfect starting material to create this live edge headboard that gives off maximum impact with little effort. Here's the DIY.
27. Wood Block Headboard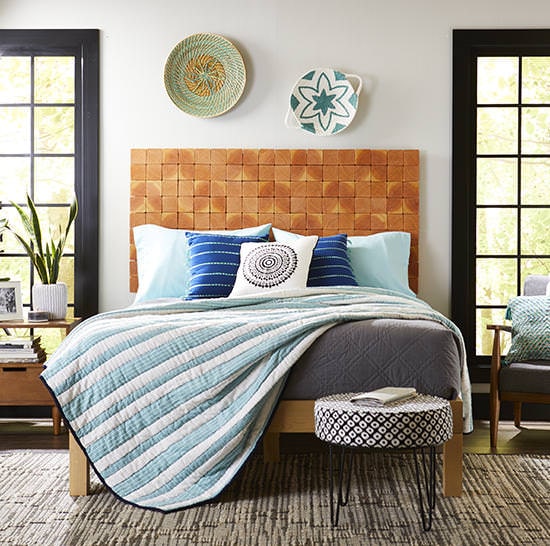 Made from one-inch-thick blocks of wooden posts, this DIY headboard is a real statement piece for those looking to refurbish their bedroom on a budget. Follow the instructions here.
28. Plywood Embroidered Headboard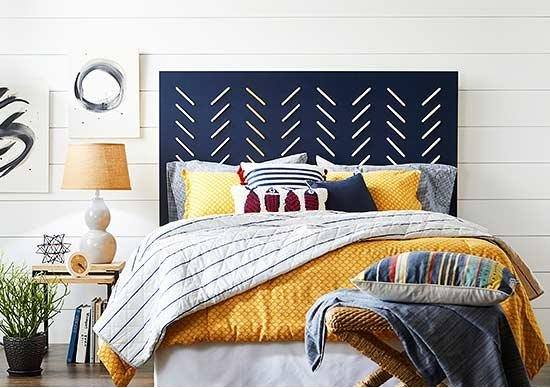 Lend a cozy effect to a plain wooden headboard with this simple chevron embroidered pattern. Here's the DIY.
29. Shutter Headboard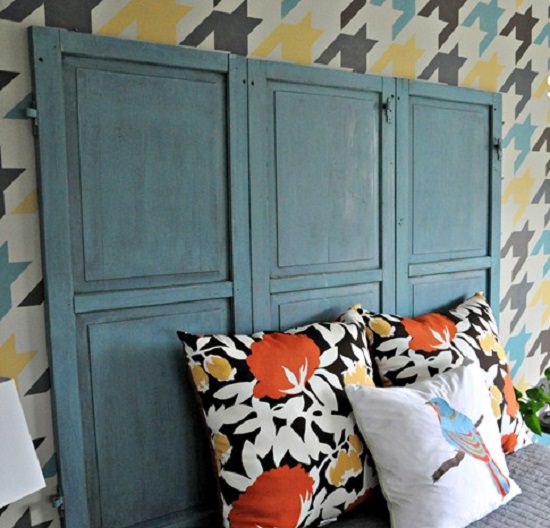 With salvaged shutters, you can either create a bold new look with paint or rely on the old chipped paint effect for maximum impact. Details are here.
30. Antique Window Headboard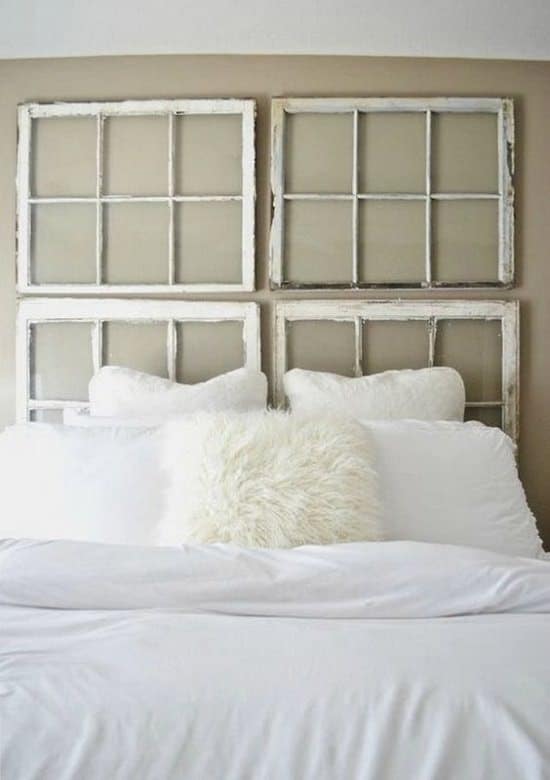 As appealing as a half-finished storybook, this is a case of a window-turned-headboard. Get the DIY here.
31. Painted Word Wood Headboard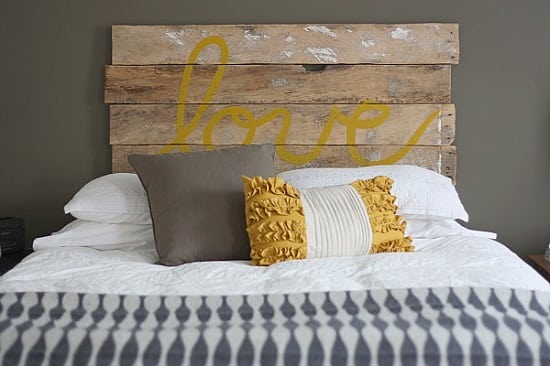 Sometimes, it's the little things that remind you which are the things that really matter in life, like this painted DIY headboard, for example.
32. DIY Stikwood Headboard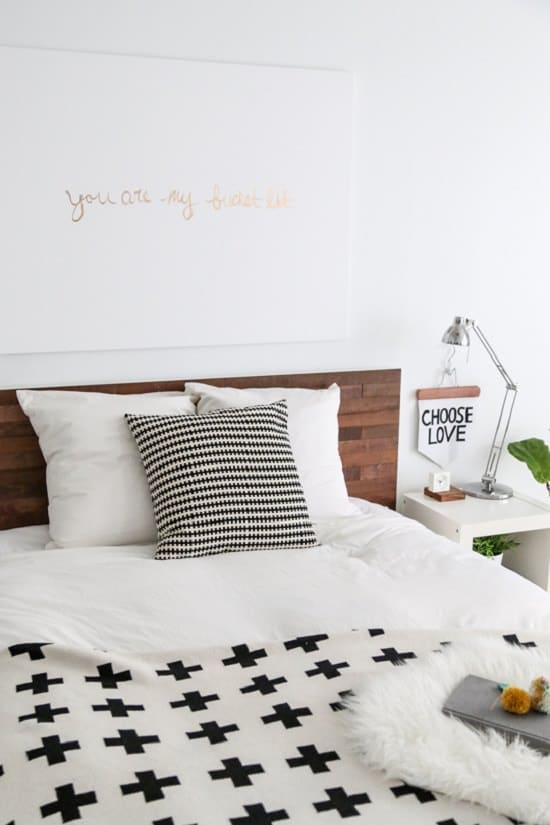 For lazy DIYers with zero woodworking skills, stikwood is practically Godsent, thanks to its beautiful finish and adhesive backing. Use it for your wooden headboard design with this DIY.
33. Pallet Love Headboard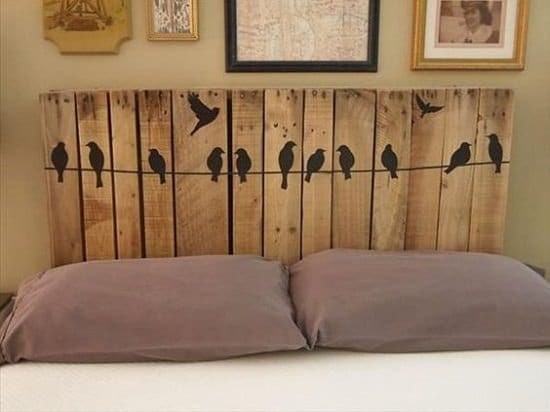 Vinyl wall decorations really help bring out the naturally elegant look of plain wooden pallets, while creating beautiful accents in your bedroom. Find the DIY here.
Also Read: She Cuts Pallet into 3 Pieces to Make this!
34. Light Up Wooden Headboard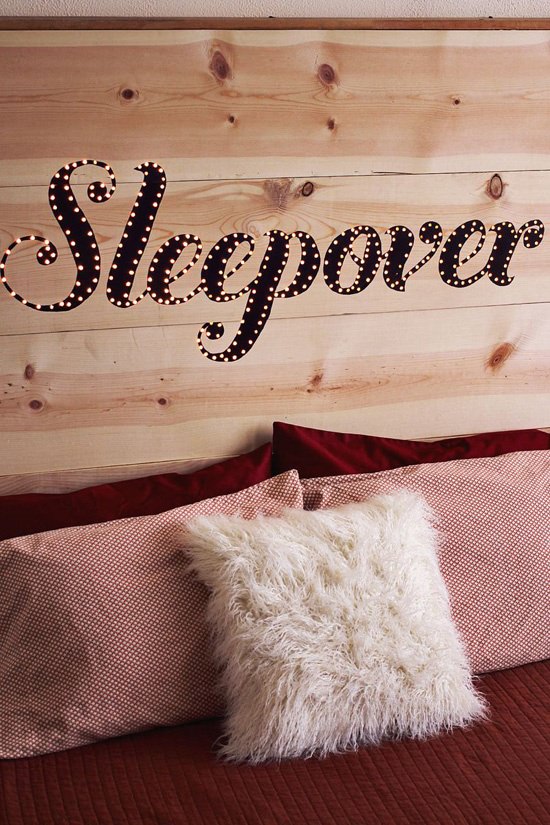 Inspired by Marquee designs, this glow-in-the-dark headboard is a quirky add-on to spruce up the guest bedroom in style. Follow this DIY.
35. Old Door to Chalkboard Headboard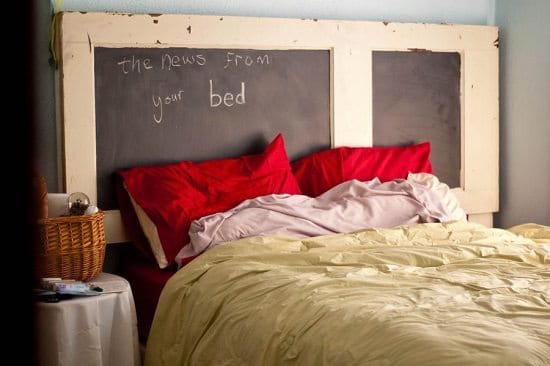 An excellent prop for the kid's bedroom, the chalkboard headboard will make taking down notes and solving problems extra fun. Here's the DIY.
Also Read: 16 DIY Kids Headboard Ideas
36. DIY Herringbone Headboard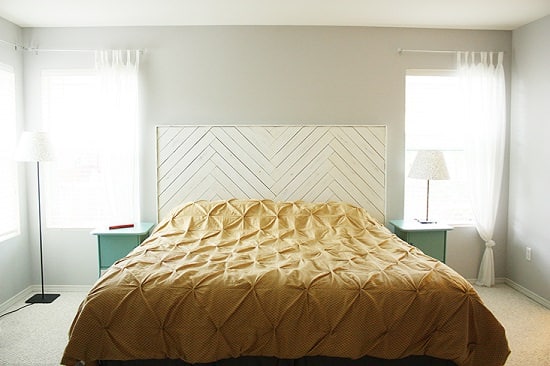 Made from painted cedar wood planks and then arranged in a herringbone pattern, the finished piece stands out in an all-white bedroom, while creating a gorgeous focal point in the process. Here's the DIY.
37. DIY Pegboard Headboard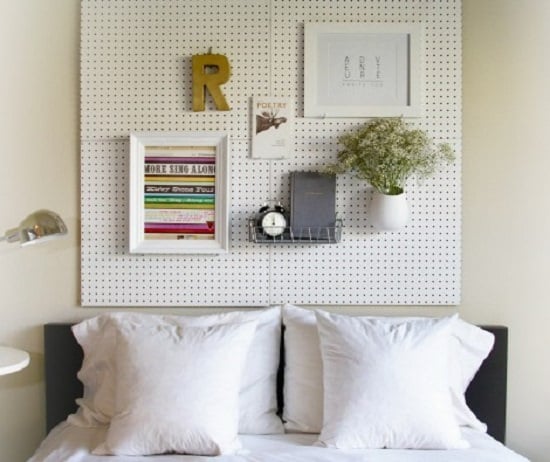 The pegboard headboard is great for those who like to make the most of empty wall space by putting up their knick-knacks for display-cum-storage. Here's the DIY.
38. DIY: $60 Headboard with Storage and Fold Down Trays
A rather ambitious project for the beginner DIYer, this one gives you a rather purposeful headboard design at the end, where you can keep your bedtime books and a lamp as well. Here's the full tutorial.
39. DIY Modern Wooden Headboard
With unique, brick-like detailing, this one uses a repetitive structure to fill up an empty wall, creating a beautiful contrast with classic bedroom furniture. Here's the DIY.
40. DIY Wood Wall Headboard for $40
Here, uniformly sized wooden planks have been stained and painted, each in a different way, to create an orderly arrangement of creative clutter. Here's the DIY.
41. $35 Rustic Wood Headboard
Featuring a unique A-shape with roughed up corners, this heavily sanded headboard looks like it has aced the test of time. Get the look with this DIY.
42. DIY Chevron Pallet Wood £10 Headboard
This wooden headboard is strikingly different from the others in this list, as narrow dark pieces of wood painted in various shades are arranged to converge at the center. Take a look at this DIY for details.
43. Custom Headboard With LED lights
While a plain block of wood is nonetheless fascinating in itself, it never hurts to add emphasis with raised wooden trimmings on the border and added lamps on the corners that offer light in the absence of bedside tables. Here's the DIY.
44. Floating Headboard From One Sheet of Plywood
Made from a single plank of plywood, this pretty headboard comes with attached cubbies as an interesting detail to hold up your mug of morning coffee and a nighttime lamp at either end. Get the DIY here. Don't forget to check out these Floating Nightstand DIY Ideas
45. DIY Wood Slat Headboard
The clean lines of layered wooden slats offer the perfect juxtaposition of rustic charm and modern aesthetics. Get the complete DIY here.
46. Wood Plank Headboard
Created using a plank of reclaimed wood, this headboard comes with an interesting shape and texture, making it worth a shot. Get the DIY here.
47. DIY Dorm Wooden Headboard
The stained dark wood panel with the absence of frames or trimmings creates a distinctive farmhouse look, which is accentuated further by the use of a banner or lamps. Here's the DIY.
48. DIY Headboard Using Wood From The Old Dock
Repurposed from old docks, this DIY headboard has been assembled from scratch in under 10 minutes. Get the instructions here.
49. White Oak Headboard From Salvaged Wood
Get the luxe feel of fancy oakwood to any piece of reclaimed wood with this easy tutorial.
50. Salvaged Door Headboard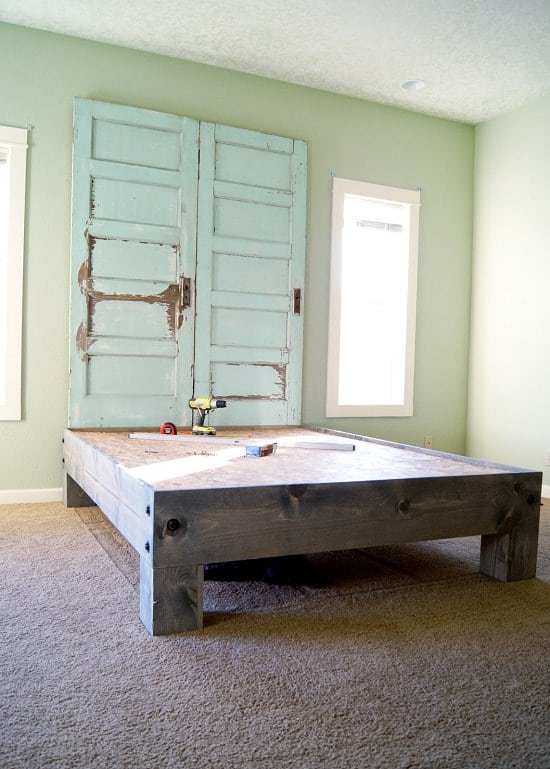 There's something beautifully grungy about screwing old doors as a headboard for the bedroom. A rustic appeal makes it interesting. Check out this DIY for inspiration.
51. Stained Pallet DIY Wood Headboard Idea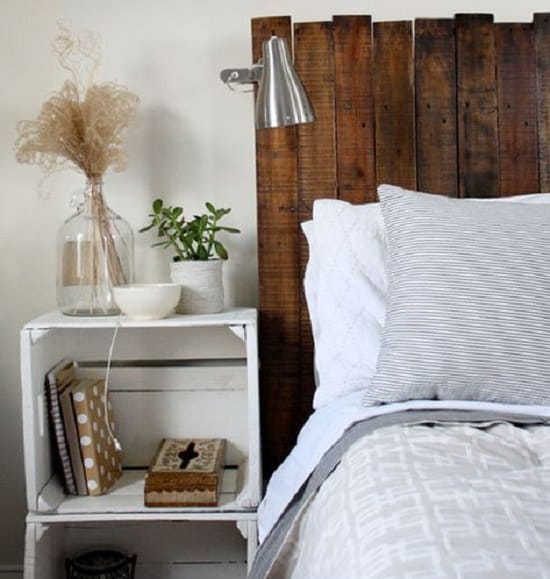 Turning spare pallets into a headboard that even acts as the decor is an incredibly easy way to create a standout element in a contemporary-style bedroom. Get the DIY here.
52. DIY Textured Headboard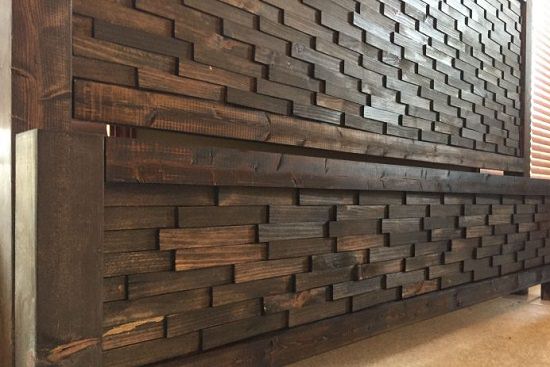 An ambitious DIY for the skilled DIYer, this one hits homerun by framing off a not-so-impressive bed and creating a beautiful contrast, thanks to the stained plywood. Check the DIY here.
Which one of these DIY Wood Headboard Ideas is your favorite? Share in comments.