Find out 25 DIY Floating Nightstand Ideas & Designs that don't take any floor space for your modern limited space home.
1. How to Build a Floating Nightstand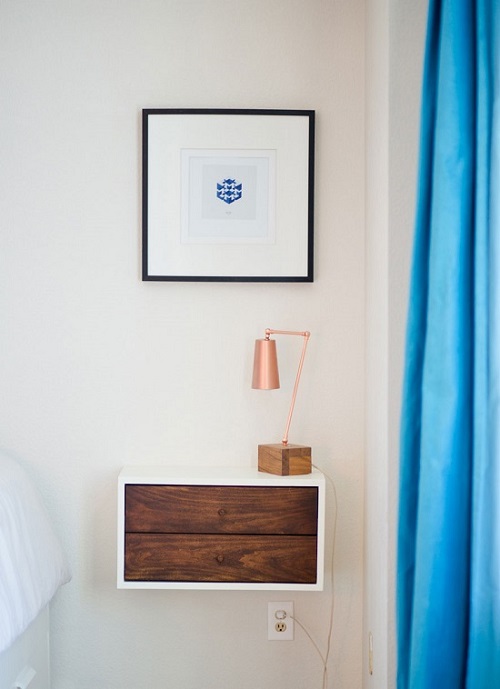 Sporting a wooden top for quick access and extra drawers for storage, this floating bedside table with its contrasting borders lets you have the best of form and function. Get the instructions here.
2. White Floating Nightstand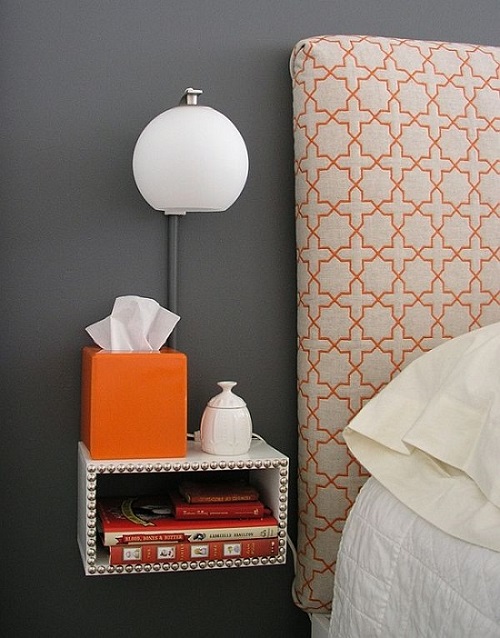 Featuring sanded wood with small finishing nails, this hanging bedside table design has just the right amount of storage space to fit in a small lamp and your favorite books. Check out the DIY here.
3. DIY Under $15 Floating Nightstand Decor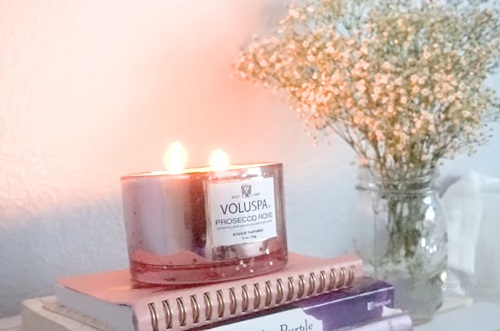 Are you put off by the staggering prices of Ikea nightstands? Consider this eco-friendly and cost-effective recreation of the same. Here's the DIY.
Also Read: 40 Flower Vase Ideas
4.  Zoë: Floating Night Stand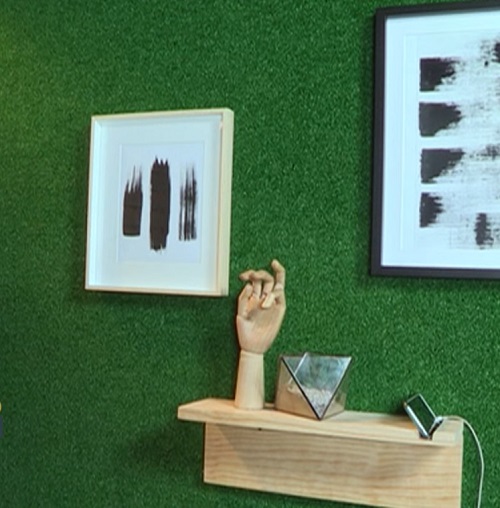 With a simple build and an adaptable design, this floating table design lets you achieve a fancy look with little effort. Get the details here.
5.  Some Inspiring DIY Floating Nightstand Ideas
When you have no more than ten-inch space to squeeze in your nighttime essentials all within easy reach, this compact floating table is what you need. Watch the video for more details.
6.  DIY Hanging Table or Floating Nightstand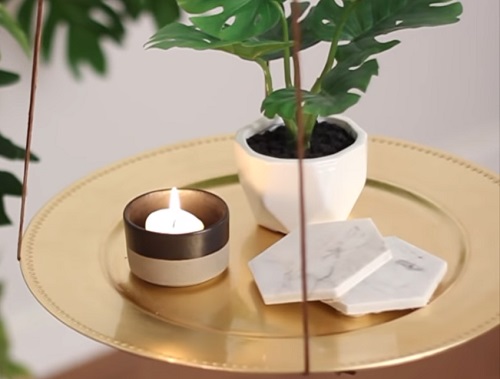 One of the most unique DIY floating nightstand ideas we have here, suitable for less windy space. Follow the instructions in this video to make a similar one for yourself.
Also Read: 25 Awesome Things You Can Make from Tree Branches
7. Pine Board Floating Nightstand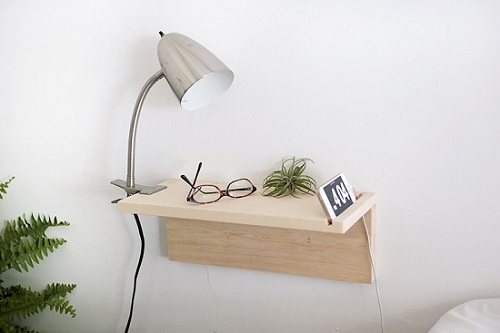 This intelligent space-saving design comes with phone slot for easy access, thereby proving once again that the best things come in small packages. Get the instructions here.
8. Narrow Floating Nightstand
When your sleeping quarter is already crowded, what you need is this narrow floating stand that has customizable dimensions and a depth that is perfect for keeping your books, phone and a glass of water within reach. Get the steps here.
9. DIY Platform Bed with Floating Night Stands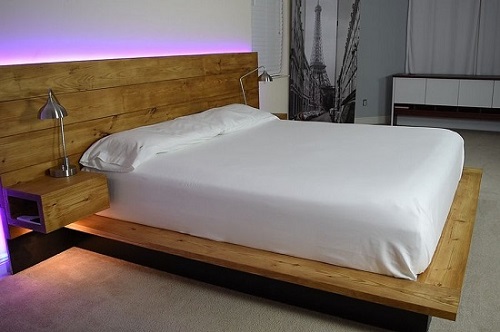 Mounting a solid wooden block for a bedside table not only complements a wooden bed but also adds a mid-century feel to the bedroom. Check out the instructions here.
10. Hanging Nightstand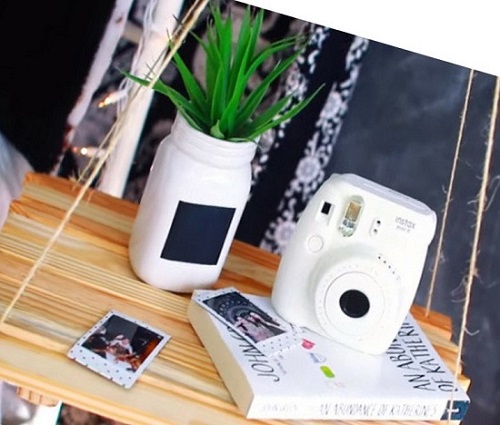 Sometimes focussing on a single detail is a great way to give character to a simple design. Take this floating nightstand with its twine ropes, for instance. Find out how to build one here.
11. Easy Floating Nightstands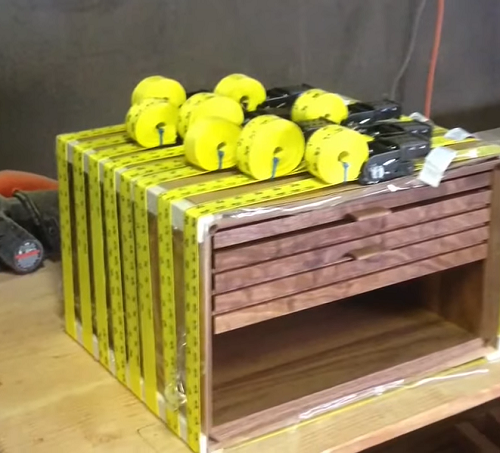 If you fancy wooden furniture and love to DIY them, this tutorial is for you. It entails a basic design, and you can even paint the wooden top in contrasting colors for a nice detail.
12.  IKEA Nightstand Hack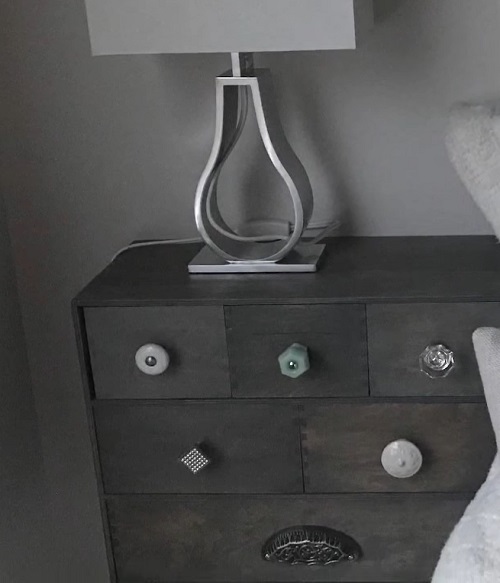 If you're looking for a versatile design that combines the practicality of both a table and a drawer, consider this idea. A clever recreation of an Ikea moppe, it can be made by simply assembling drawer cabinets.
13.  Floating Nightstand with Old Drawer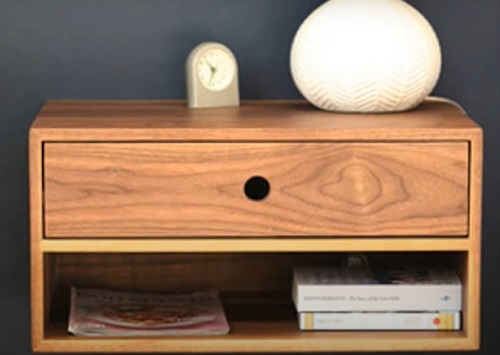 If you want a simple bedside table with just a little bit of storage space, the single-shelf nightstand is your answer. It's one of the ideas that look chic with minimal effort. Find out the details here.
14. Wooden Floating Nightstand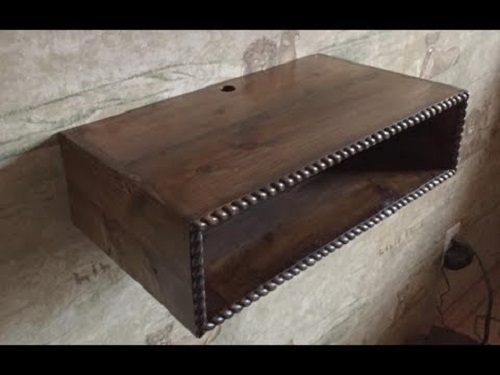 When you have light-stained wood as your starting material, the open-end table is a nice way to show off its beauty. Watch the DIY here.
15.  Woodwaves Wall Mount Floating Nightstand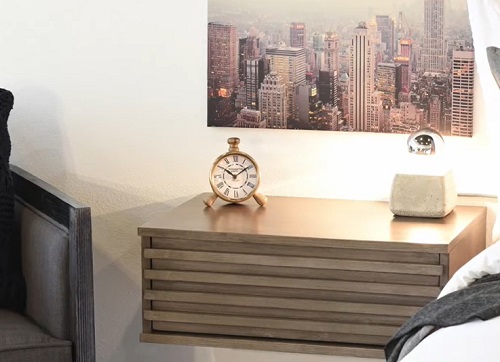 Using a ridged wooden slab as the drawer is another way of creating visual impact while storing your stuff privately. Follow the tutorial here.
16. Easy Floating Nightstand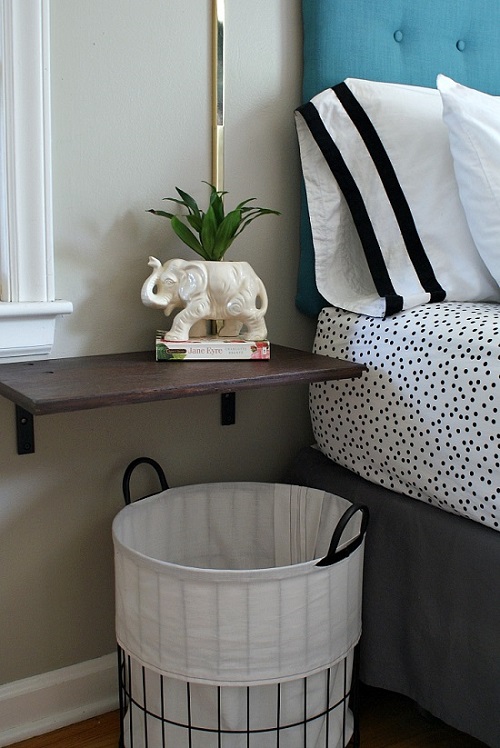 The neat geometric lines of this simple shelf make it effortlessly chic and a perfect DIY project for busy homeowners hoping to save a few bucks. Check out the details here.
Also Read: 53 Makeup Vanity Ideas from Repurposed Items
17. Floating Night Stand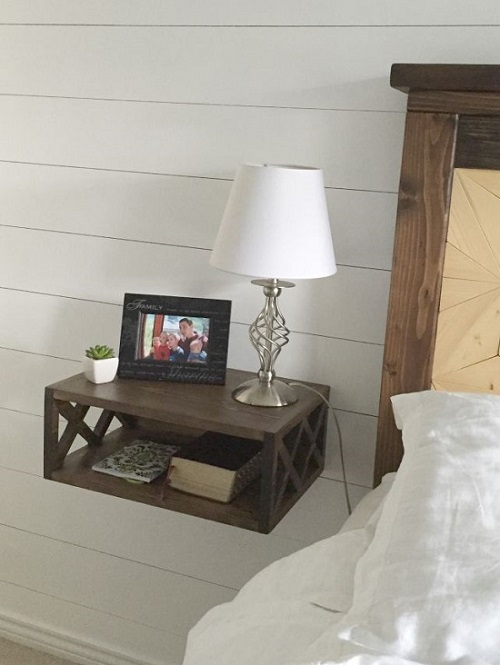 With this one, you can store your knick-knacks as well as add a colorful accent to your bedroom at a minimal cost. Find the DIY here.
18. DIY Floating Nightstand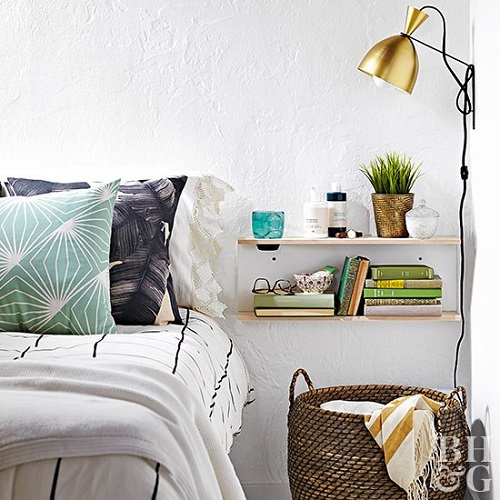 This floating nightstand is a nice addition to a space-cramped bedroom, keeping your glasses, alarm clock, and water within easy reach. You can even customize the shelves to fit your space better or stain them to achieve your desired look. Follow the DIY here.
Also Read: How to Make Your Home Look Expensive in Budget
19. Easy Floating Bedside Shelf Tutorial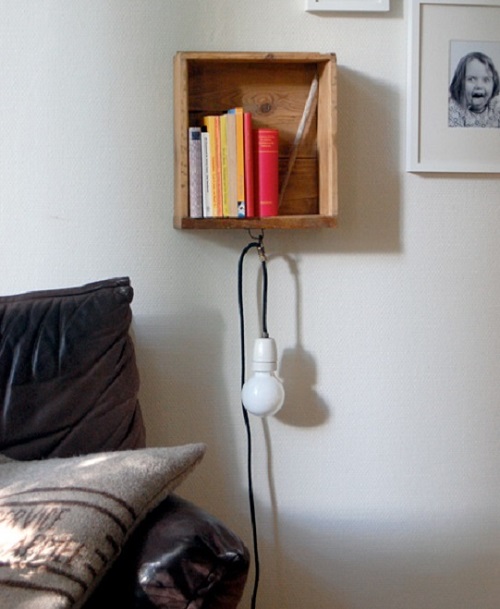 The raw, utilitarian style of this assembly makes it the focal point of the room and is a perfect fit for lazy DIYers who just want to get their job done with things lying around the home.
20. Wall-Mounted Floating Book Shelf
Mounting this cute bookshelf by the bedside is a clever way to create a makeshift table where you have lots of room for your keys, coffee mug, and even a book or two. Make one with this tutorial.
21. Toothbrush Cup Nightstand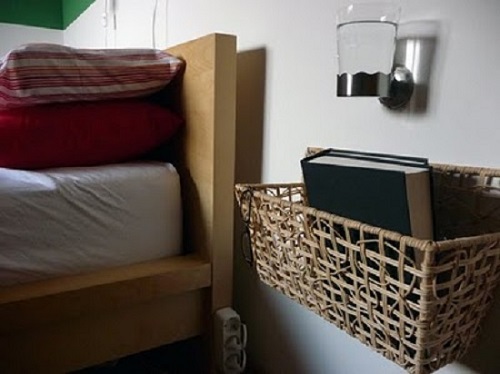 If all you want before switching off from the world is to read and sip water, this creative use of a wall basket and a toothbrush holder is sure to excite you. Here's the DIY.
22. A Simple Floating Bedside Table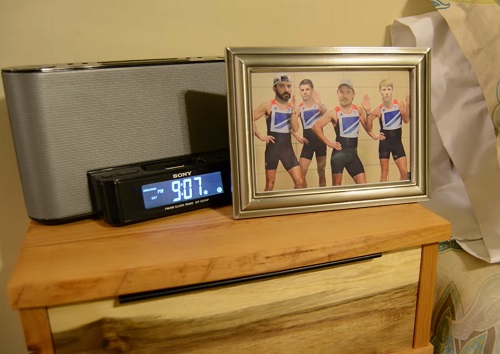 Every bedroom deserves a rustic touch. Get yours with this purposeful and easy-to-build wooden table DIY.
23. Live Edge Wood Hanging Nightstand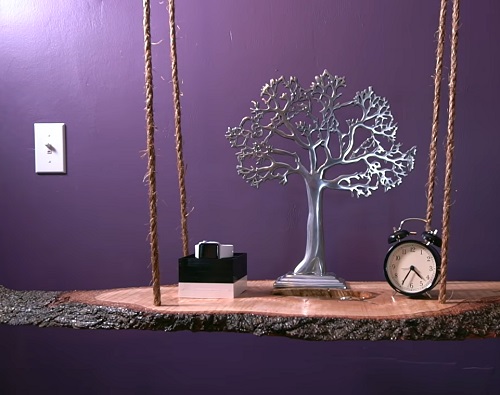 Combining the chaotic beauty of nature with humanmade, smooth surfaces, this live edge wood nightstand is a nice addition to a contemporary-style bedroom. Watch the tutorial here.
24. DIY Wall-Mounted Bedside Table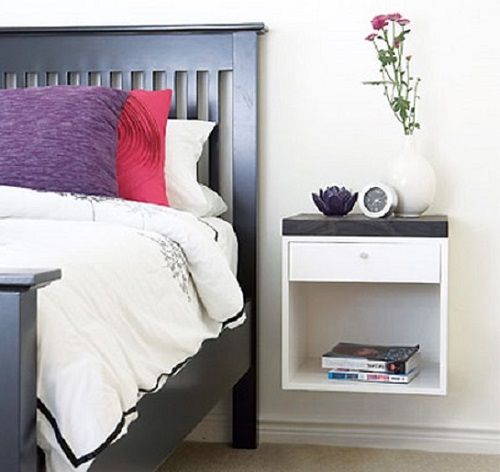 This neat little table design with a drawer and open storage gives you ample opportunities to hide away your secret stuff while keeping books handy for easy access. Find the DIY here.
25. Wooden Board Floating Night Stand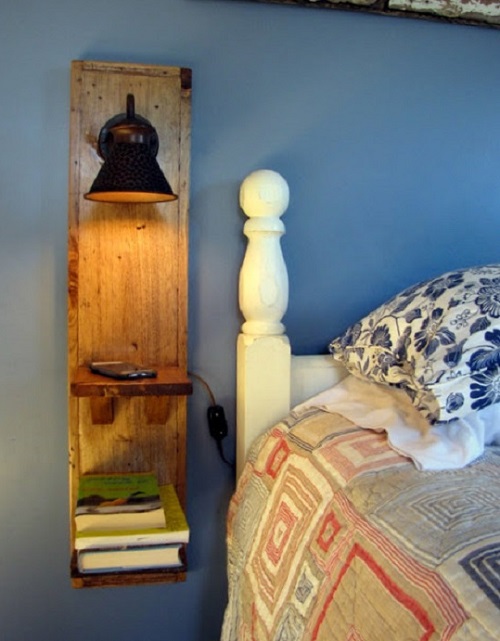 Enhance the utility of your wall table further by wiring in your favorite light, thereby creating a cozy environment for bedtime readings. Get the instructions here.
Also Read: Amazing DIY Repurposed Furniture Projects
26.
27.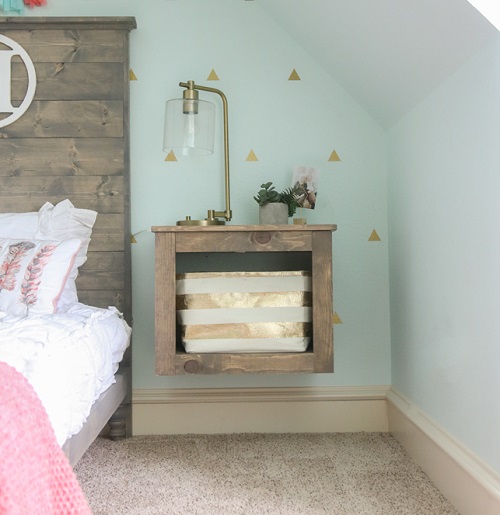 28.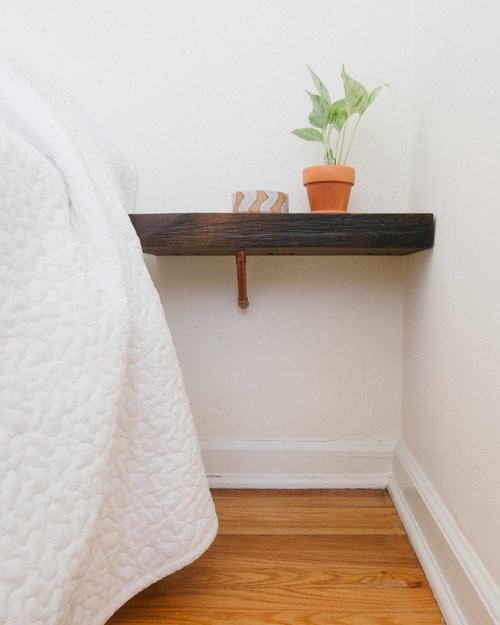 https://woodandfaulk.com/blogs/journal/35919937-walnut-slab-bedside-tables
29.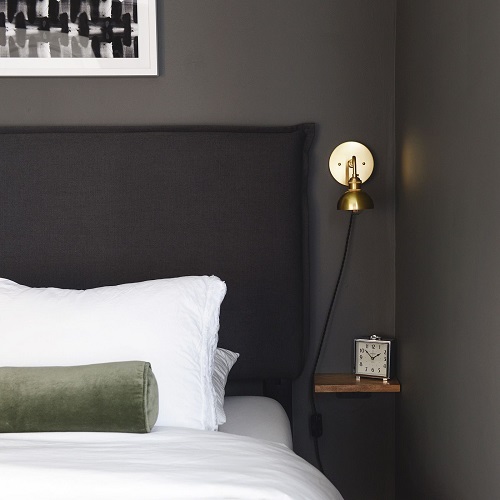 31.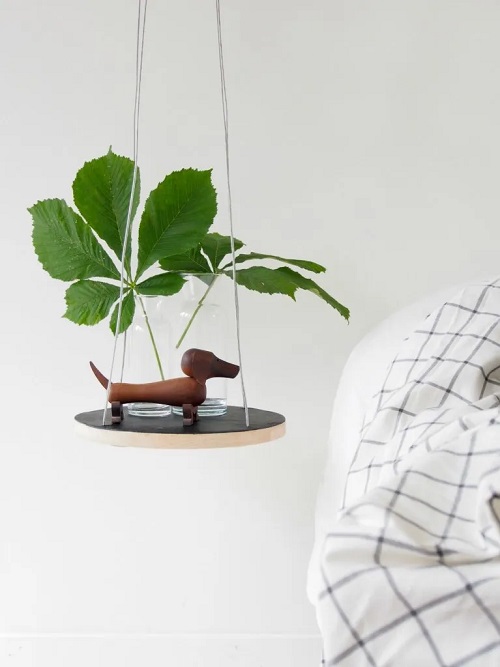 32.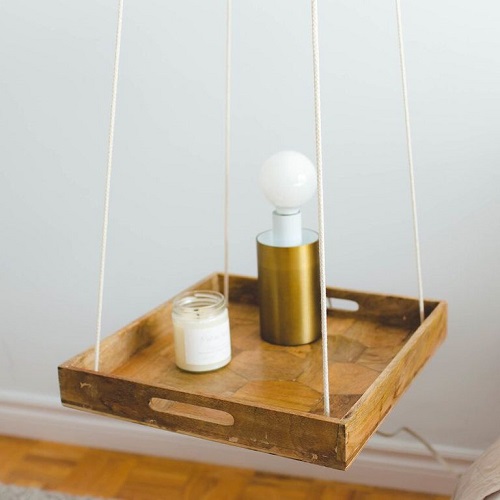 https://www.countryliving.com/home-design/decorating-ideas/g31120194/floating-nightstand/?slide=13