Check out the below recipes infused with the goodness of potent herbs for face steaming to rejuvenate your skin naturally and quickly at home!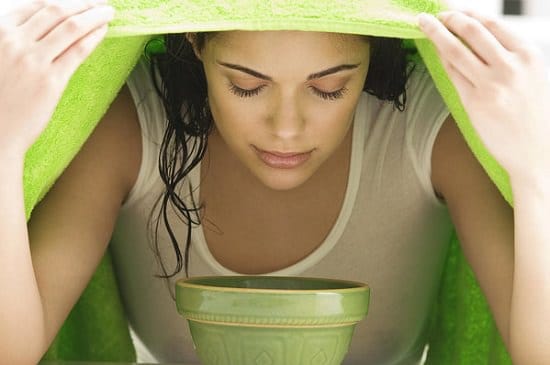 Face steaming is a therapy that has a calming effect on your facial skin and enhances blood circulation. Furthermore, it unclogs the pores to remove the pollutants present in them. If you are thinking about the herbs that are good for face, then check out the below herbs for facial steaming with recipes to enrich your skin with their multitude of benefits!
Benefits of Steaming Face
If you are wondering whether or not  steaming is suitable for the face, then consider reading the below benefits of facial steaming:
Promotes Relaxation
Gives Glowing Skin
Prevents Acne and Blackheads
Hydrates the Dehydrated skin
Promotes Collagen Production
Helps With Sinus Congestion
Increases Blood Circulation
Loosens Debris & Unclogs Pores
Herbs for Face Steaming
Try the below recipes, enriched with the goodness and essential nutrients of multiple herbs, for face care!
1. Soothing Herbal Facial Steam Recipe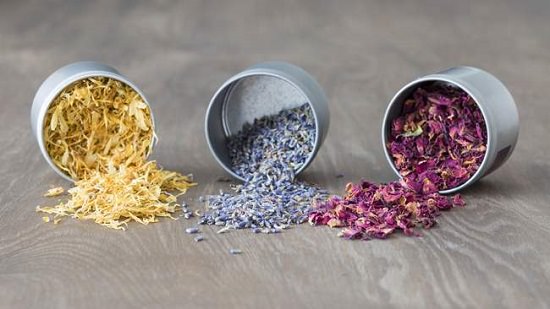 Combining the soothing, hydrating, antiseptic, and anti-inflammatory qualities of herbs such as lavender, rose petals, calendula, and chamomile, this DIY will be your dry skin's new best friend!
Supplies
Two Tablespoons of Dried Lavender
Two Tablespoons of Dried Rose Petals
Five Drops of Geranium Essential Oil
Two Tablespoons of Dried Calendula
Two Tablespoons of Dried Chamomile
Four Tablespoons of Lemon Juice
One Large-Sized Heatproof Bowl
Six Cups of Water
One Cooking Pot
One Towel
Directions
Add two tablespoons of each dried lavender, rose petals, calendula, and chamomile, and six cups of hot water into the cooking pot. Now, place it on the stove and simmer it for 4-5 minutes.
Once it's done, empty the resultant mixture into the bowl and pour five drops of geranium essential oil and four tablespoons of lemon juice into it.
2. Herbal Facial Steam Recipe for Oily/Acne-Prone Skin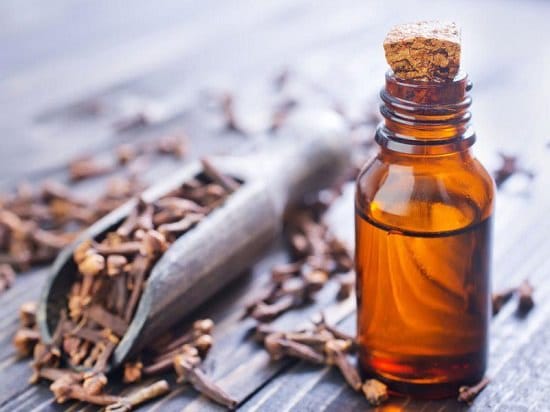 This recipe is a mixture of multiple herbs that helps you to get rid of excess oil. The pine essential oil present in this blend also prevents acne along with alleviating the muscle pain as well.
Supplies
10 Drops of Pine Essential Oil
3 Teaspoons of Whole Cloves
A Handful of Fresh Basil Leaves
4-6 Dried Bay Leaves
4 Cups of Water
One Cooking Pot
A Towel
One Medium-Sized Bowl
Directions
Mix 4-6 dried bay leaves, three teaspoons of whole cloves, a handful of basil leaves, and 4 cups of water into the cooking pot and boil it around for 3-5 minutes.
Now pour the mixture along with ten drops of pine essential oil into the heatproof bowl and combine them well.
3. Anti-Aging Herbal Facial Steam Recipe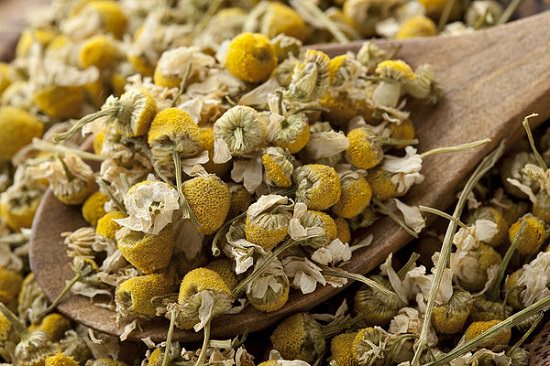 With the anti-aging properties of the rosemary and chamomile herbs, this recipe may help to slow down the aging signs.
Supplies
A Handful of Rosemary Flowers (Fresh or Dried)
A Handful of Chamomile Flowers (Fresh or Dried)
Five Drops of Frankincense Essential Oil
One Stew Pan
One Bowl
A Towel
Directions
Combine a handful of each rosemary and chamomile flowers along with five drops of frankincense essential oil into the stewpan, then place it on the stove for about 4-5 minutes.
Once it's done, fill the resultant liquid into the bowl for further process.
How to Apply
To do the above recipes, sit or stand in a comfortable position, then put your face above the top of the bowl at some distance and use a towel to cover your head. Always make sure to maintain a suitable gap between your face and the container to avoid any burning sensation.
In case you have a steamer, follow the instructions given on the box to add the herbs infused water to it and steam the face.
Steam your face for around 10 minutes and take intervals every 3 minutes. Clean your face with lukewarm water, followed by a moisturizer.
Once it's done, you can use a face mask to remove the impurities present in the skin pores.
Make sure to apply a skin serum after the steaming session to close the open pores, thus preventing the buildup of dirt and grimes.
Notes:
Before using the above recipes, always make sure you don't aren't allergic to any of the ingredients. Even if you notice any signs of allergy after using the stem, discontinue the use immediately and try a different blend.
Take facial steaming only once in 2 weeks, as overdoing can cause acne breakouts.
The above recipes with herbs for face steaming are enough to inspire you to ditch the expensive spa therapy sessions.