Bags and dark circles under the eyes will make your face look tired and aged. To get rid of this, here are some nourishing DIY under eye mask recipes.
All these DIY under eye mask recipes are 100% natural and have no side effects, unlike chemical products.
1. Under Eye Cucumber Mask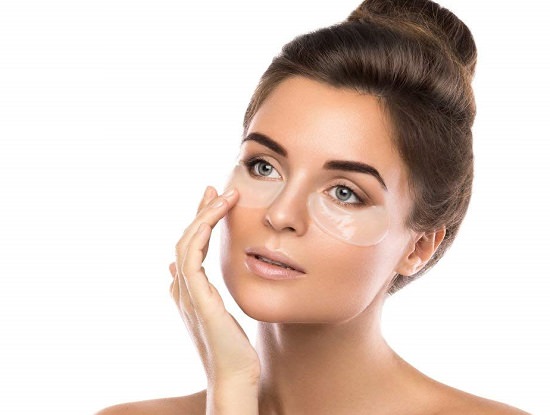 Cucumber has a soothing effect on the eyes; that's why cucumber slices are commonly placed over the eyes. Also, it's rich in vitamin C, so it has skin lightening and tightening effects too. This DIY under eye mask will relieve tiredness and nourish your under eye skin.
You'll need:
Gelatin
Lavender Essential oil
Cucumber Juice
Warm Water
Butter Paper
Steps:
In a glass bowl add one tablespoon of unflavored gelatin, warm water, and cucumber juice each. Mix all these ingredients until you obtain a uniform gel-like paste.
Add 2-3 drops of lavender essential oil in this paste and whisk it again. Spread this mixture onto a butter paper with the help of a spoon or spatula.
Allow this mix to cool off at room temperature. In the shape of semicircle cut the butter paper and place it underneath your eyes.
After about 20 minutes remove these gels pads and wash your face.
Also read: DIY Eye Mask Recipes
2. Rose Water DIY Under Eye Mask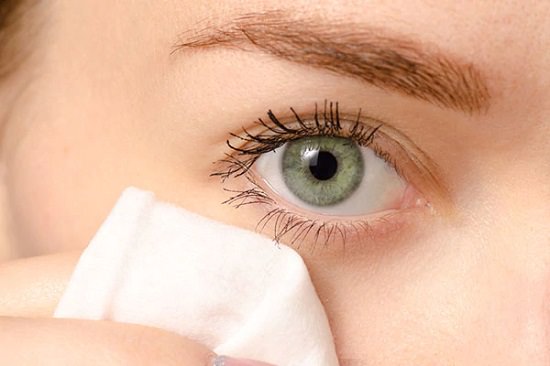 Rose water is an effective remedy for tired looking eyes whether they are because of the lack of sleep or from stress. Also, just like cucumber it also has a soothing and relaxing effect on the eye.
You'll need:
Bowl
Rosewater
Cotton Pad
Steps:
Cut two cotton pads into a semicircular shape using a sharp pair of scissors.
Take rosewater into a bowl and immerse cotton pads in it. You can also pour drops of rosewater onto the cotton pad.
Place these pads under your eyes and leave it for around 15 minutes. You'll observe a considerable difference in puffiness after just one use.
3. Egg White Eye Mask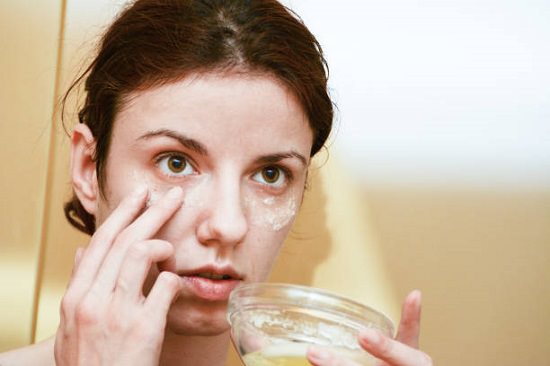 This DIY under eye mask promote collagen growth in the skin which in turn is beneficial to get rid of wrinkles. You can also add honey to this mix for sensitive and dry skin.
You'll need:
Steps:
Separate two egg whites from the yolk and pour them in a bowl. Add one tbsp. of honey in this mix.
Whisk off the egg whites and honey till you get a uniform viscous solution.
Apply this paste under your eyes using a makeup brush or with your fingertips.
Let it dry for 10 minutes and wash your face with lukewarm water after that.
4. Tomato and Yogurt Mask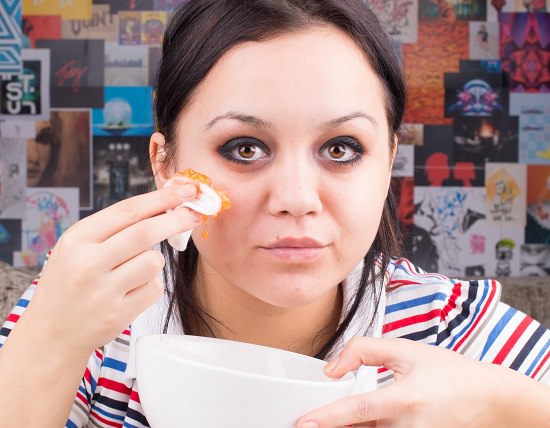 If it's dark circles under the eye that you are worried about, this unique blend of tomatoes and yogurt will surely remedy that. Tomatoes are rich in antioxidants and remove excess oil, making the skin under eyes more bright. Lactic acid present in yogurt helps in the removal of dark spots under the eye.
You'll need:
Procedure: Put one small tomato and a tbsp. of yogurt in a blender and turn it on. Apply this mixture under your eyes and let it sit there for 20 minutes. Wash your face with lukewarm water and towel dry.
5. Baking Soda and Milk Eye Mask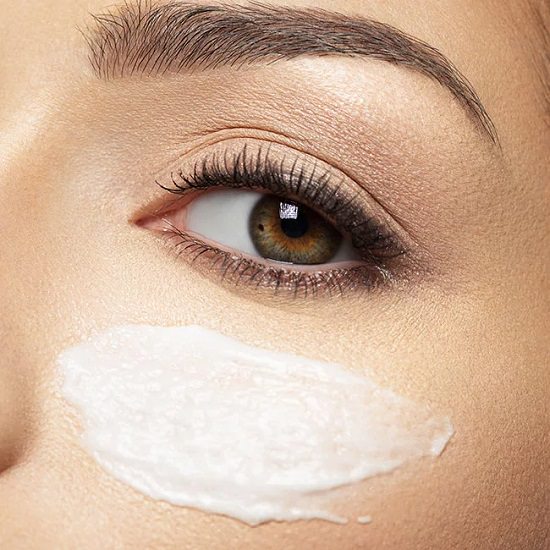 The saggy skin you get underneath your eyes is mostly caused due to lack of sleep and tiredness. Milk and baking soda when combined can do wonders for the tired eyes.
You'll need:
Milk
Baking Soda
Spatula
Glass Bowl
Steps:
Pour four tablespoon of fresh whole milk and two tablespoons of baking soda in a small bowl.
Blend these ingredients with the help of a spoon till a creamy, consistent mixture forms.
Put the glass bowl in a refrigerator for around an hour and take it out after that.
Apply this chilled mix underneath your eyes and forget about it for next 20-25 minutes.
Wash off your face especially the area under eyes with cold water and see the difference.